Prague's incredible architecture, low costs, and safe streets made it the fourth most popular European city for foreign visitors in 2018. The summers are especially busy. If you're planning a trip to the Czech capital, consider using it as a base to explore nearby sights that are less overrun by tourists.
It seems as if almost every Czech town has a spectacular castle, palace, or church. The Czech Republic has 12 UNESCO World Heritage sites—outstanding examples of culture and history. Pretty impressive for a country of just 10 million people.
As part of my "after-career" adventure, I spent six months teaching English as a foreign language in Prague. While I explored the city itself, I also took a dozen or so day trips throughout the country. I enjoyed every Czech town I visited, but the three trips below are at the top of my list.
Leaving Prague gives you a glimpse of the gorgeous Czech countryside, with its forests and mountains and bright yellow fields of rapeseed. English will be less common, but most Czechs who deal with tourists speak enough to be helpful. The Czech Republic has been ranked as the second most welcoming country in the world, according to Booking.com. And, of course, your money will go even farther once you leave the cobblestoned streets of Prague.
Three trips less than two hours from Prague
All three trips highlighted below are two hours or less from Prague by public train, starting from the main station. Round-trip transportation will run between $10 and $15 (roughly 20 percent of what you'd pay for a private bus tour). The cities closest to Prague are the busiest, but if you plan your arrival for when the sites first open, you'll avoid the worst of the crowds.
Plan your trip and buy tickets on the IDOS phone app or website (tickets cost less online than at the station). It costs a little more to reserve a seat, but it's worth it. Check the name of your bus or train station carefully because Prague has many different stations. The initials "hl.n." ("hlavní nádraží") mean central train station. (Prague's main station is listed as "Praha hl.n.") I often took the train and buses by myself, and never had a problem finding my way or feeling unsafe, even at night.
Karlštejn: Karlštejn Castle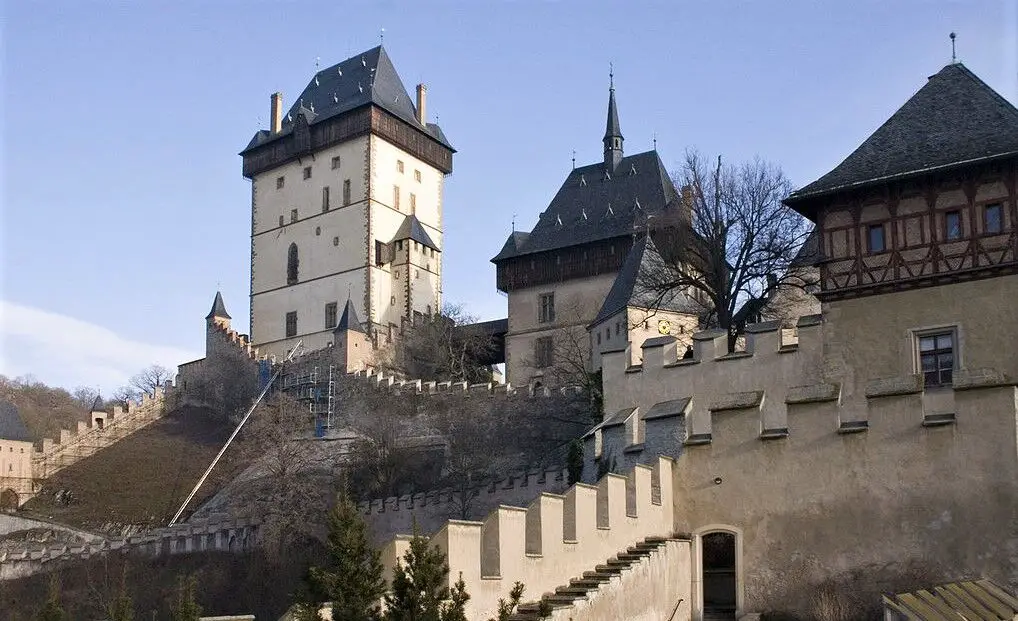 Karlštejn Castle is not the prettiest Czech castle, but it's one of the most historically significant. Charles IV, the Holy Roman Emperor, built it in the 1300s to protect the crown jewels. Set atop the small town of Karlštejn, surrounded by forests and vineyards, it is a lovely contrast to Prague.
How to get there
Karlštejn is an easy half-day trip from Prague. You can visit the town even if you only want to see the castle. After a 40-minute train ride from Prague, walk across the Berounka River and then uphill through town. It's impossible to get lost as there's just one, pedestrian-only street heading up to the castle. If you can't handle the 30-minute climb, take a horse-drawn carriage.
Touring the castle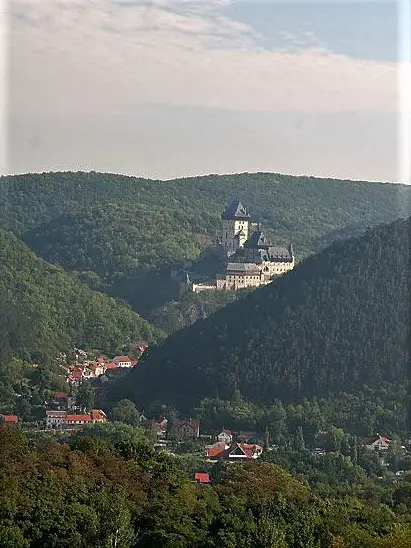 Once you reach the castle, it's free to wander around the outside. Views of the forests and town below are spectacular. You can also see the Well Tower in the courtyard from there. The castle has been restored to its original medieval state with later additions removed.
You can only view the inside of the castle with a guided tour, so it's best to buy your tickets first (or get them online) and explore the exterior while you wait for your tour to start. I went on the basic tour of the Imperial Palace and the Hall of Knights (in English). This tour takes just under an hour. Highlights are the first and second floors of the Imperial Palace, the Hall of Knights, and the first floor of the Marian Tower with furnishings dating back to the 13th century.
There is also a longer 100-minute tour as well. This tour includes the Chapel of the Holy Cross–the spiritual heart of the Holy Roman Empire–and the Great Tower which features a staircase decorated with Gothic murals. You must book this tour by phone ahead of time.
Before you leave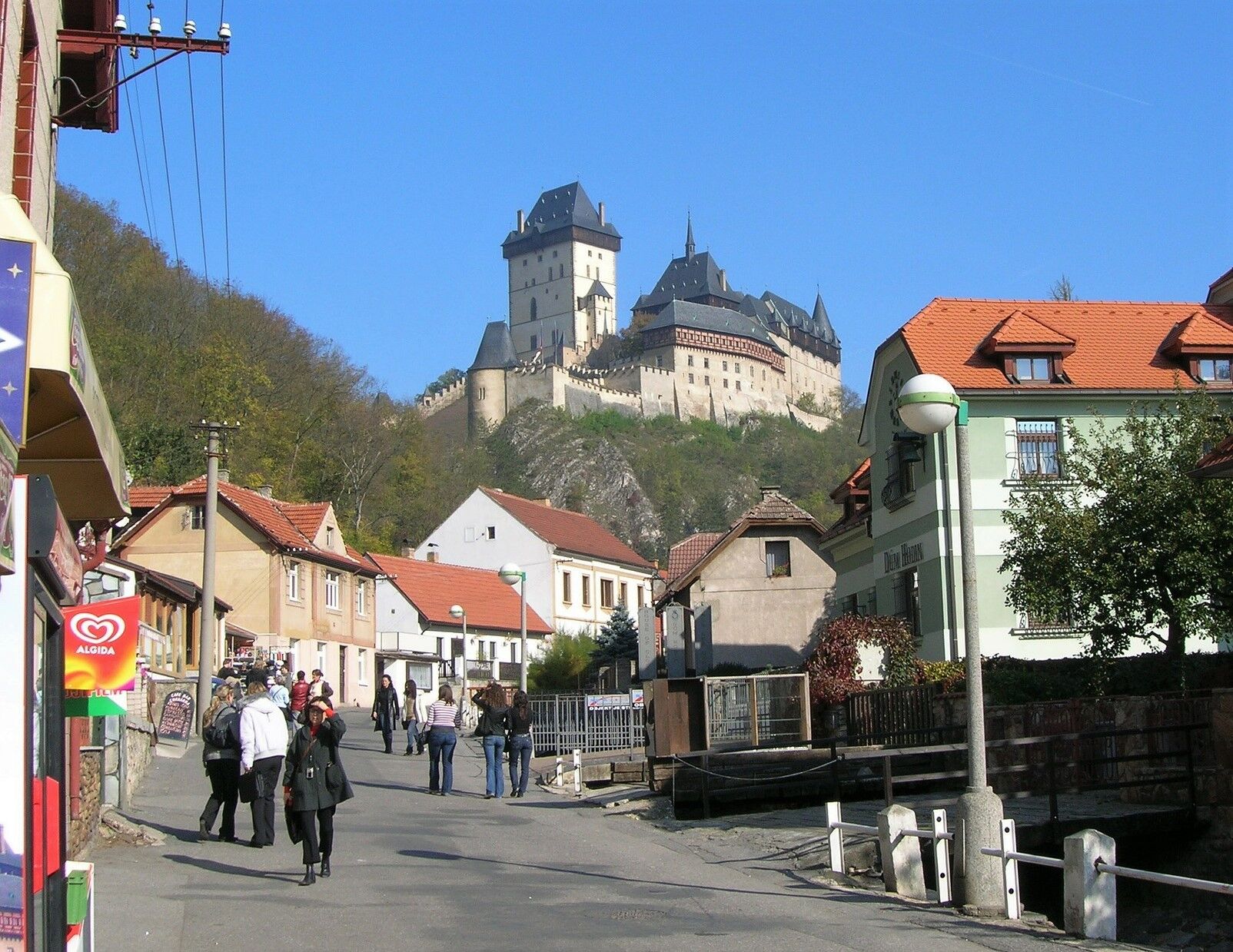 After visiting the castle, take your time walking back down through town to check out the shops. While Karlštejn is a bit touristy, you can get nice hand-made wooden souvenirs at a good price. One of the shop owners offered my friend and me a free beer. There are plenty of places to enjoy hearty Czech food and beer while enjoying the view. I had an excellent grilled trout, the best local seafood you can get in the Czech Republic. It's always served with the head on, usually with delicious potatoes.
If you really want to feel like a Czech instead of a tourist, try one of the hiking trails that begin just outside the castle gate. The trail from Karlštejn to Beroun is the oldest maintained hiking route in the country. It takes about three to four hours to walk to Beroun, where you can get a train back to Prague. I tried this hike and got a bit lost, ending up in a village where I easily caught a bus back to Prague. Of course, you can simply take a trail out and back and return to Prague from Karlštejn.
Kutná Hora: Bone Church and much more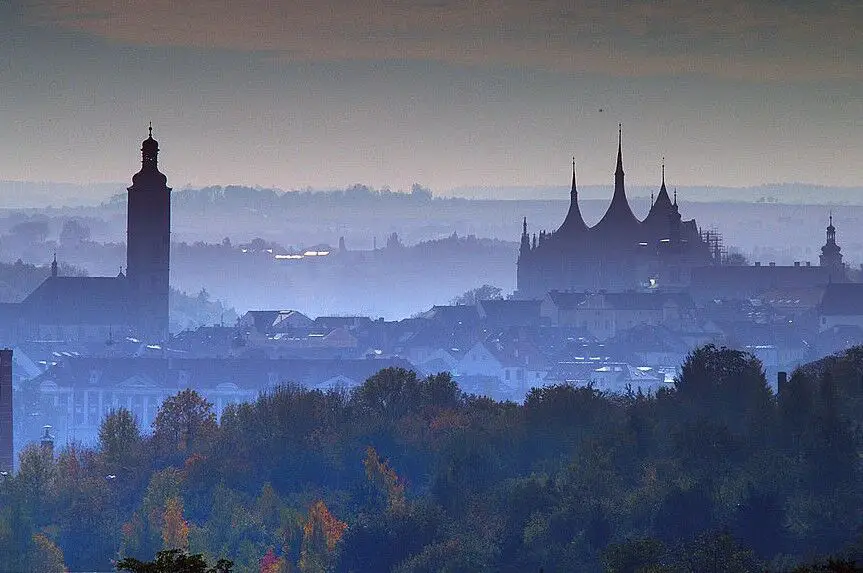 In medieval times, Kutná Hora was almost as important as Prague, thanks to its silver mines. Its biggest attraction now is the Bone Church or the Sedlec Ossuary, a basement filled with sculptures created from the bones of at least 40,000 people. You'll see chalices, candelabras, and even a chandelier made from bones. It felt almost like a Halloween fright house, but the skeletons are all too real.
Human remains started piling up in the Sedlec cemetery some 800 years ago after a local abbot brought back soil from Christi's crucifixion site outside Jerusalem. Everyone in central Europe wanted to end up here, including nearly 30,000 plague victims from the 14th century. A church was built and by the late 1800s, tens of thousands of skeletons were stacked below it.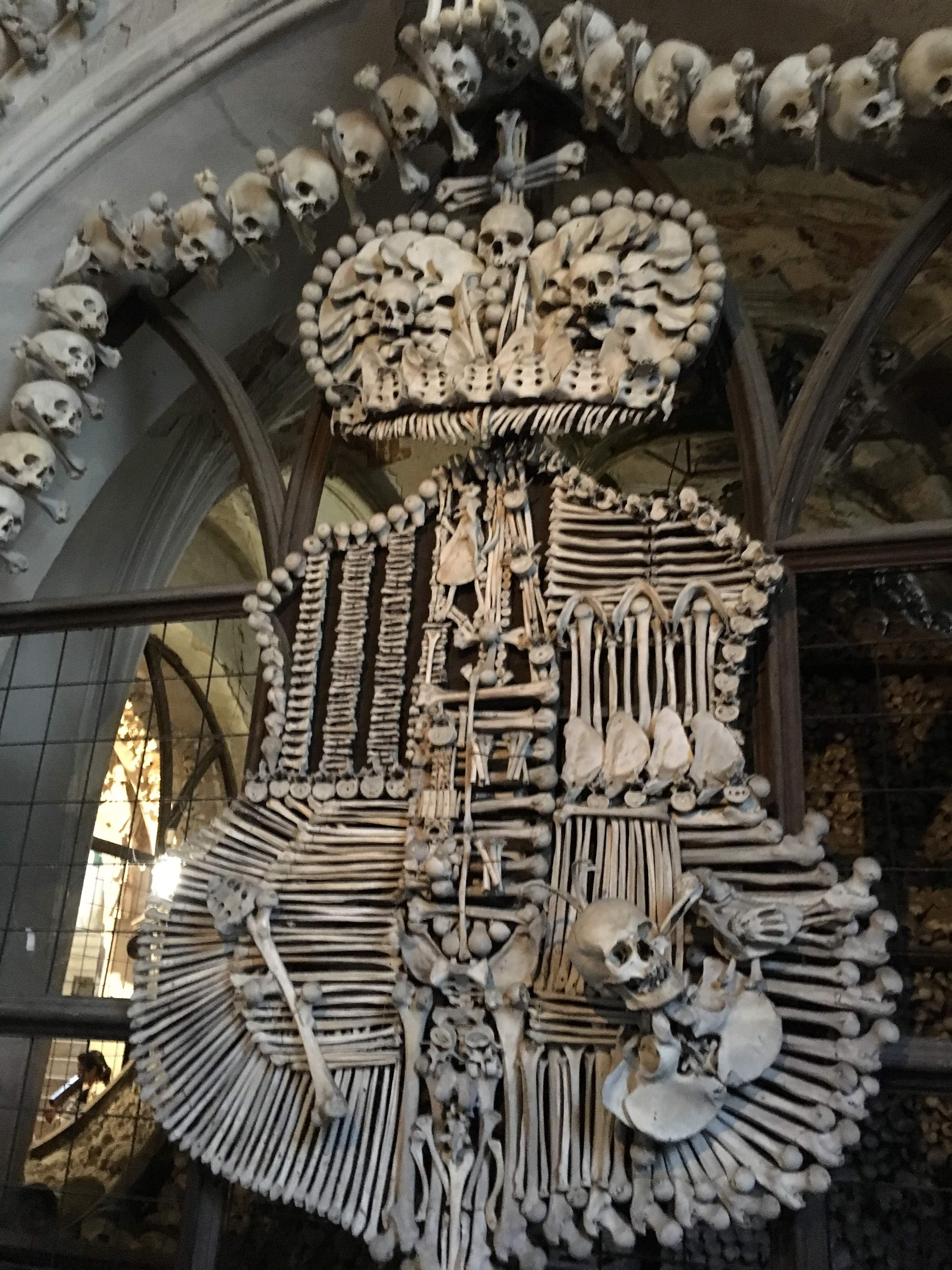 That's when a woodcarver was tasked with putting the bones into order. After bleaching the bones, he arranged them into sculptures and pyramids, like the Schwarzenberg family coat of arms, at left.
How to get there
The train from Prague takes just under an hour. You'll need to transfer to a local train after arriving at Kutná Hora's main station. The local train departs about five minutes after the train from Prague arrives.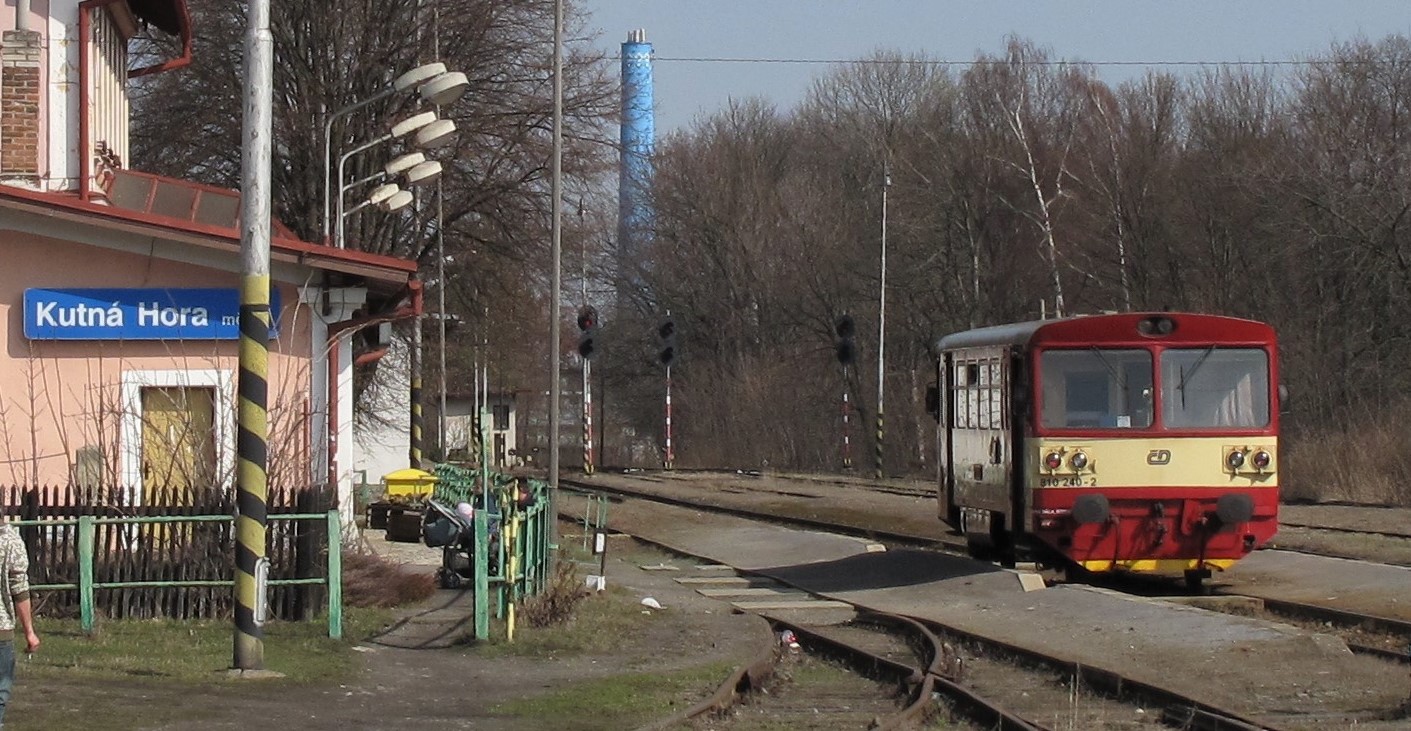 Buy a ticket to Kutná Hora "mesto" rather than "hl.n." The Bone Church is a short walk from the train station – along the way, you'll pass by the Cathedral of the Assumption of Our Lady and St John the Baptist. It dates from 1290 and was reconstructed in the Baroque-Gothic style. Unless you're a big cathedral fan, skip the entrance fee and wait to go inside the Cathedral of St. Barbara, located in the center of town. You can take either a tourist bus or local buses #1 or #7 to the town center, which is about a mile and a half away from the Bone Church.
But also see…
While the Bone Church is the second most visited destination in the Czech Republic, Kutná Hora's two cathedrals and historic town center are the reason it's on UNESCO's World Heritage List.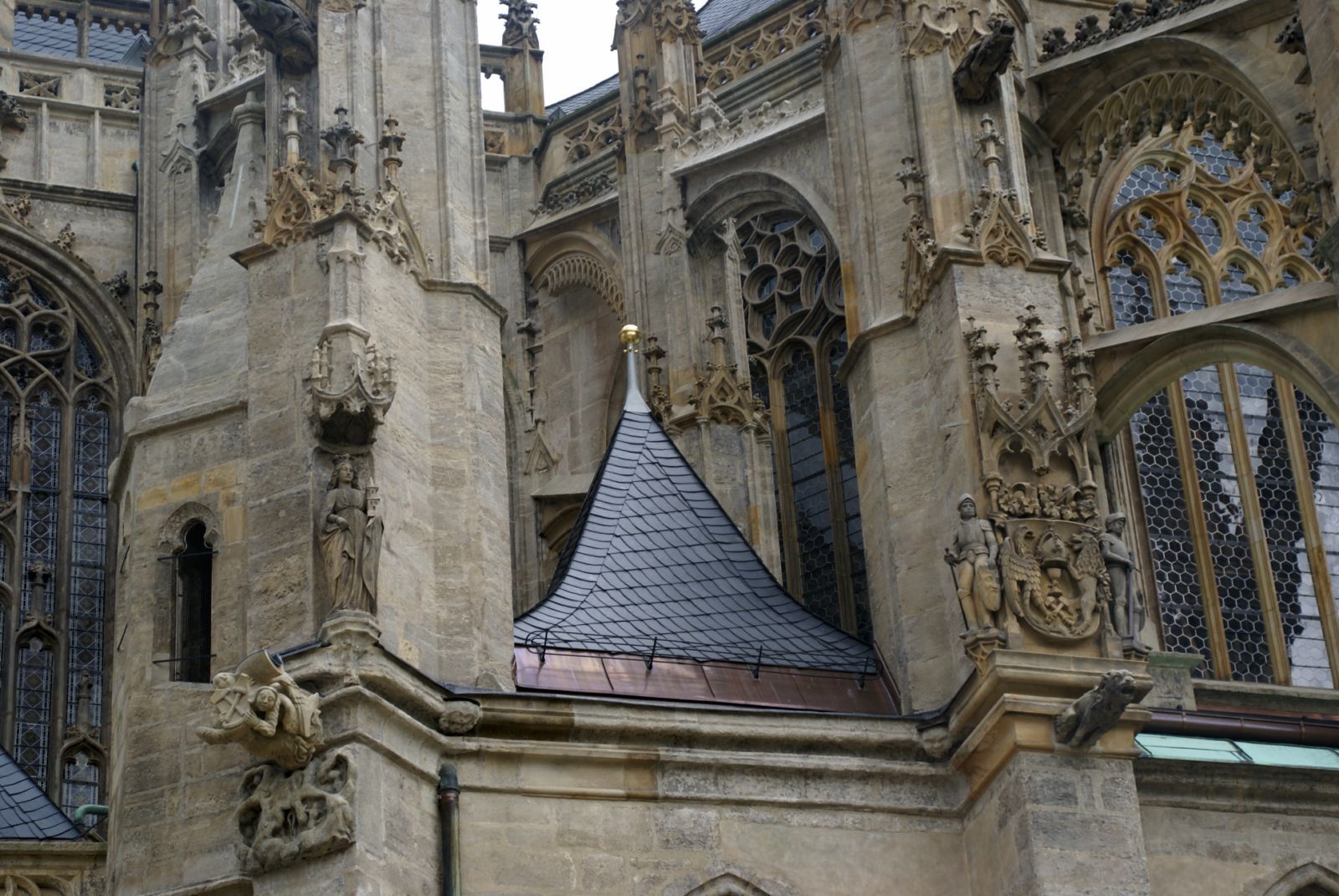 I spent a lot more time inside St. Barbara's, one of the most beautiful Gothic cathedrals in Europe. Built on a cliff, its three-tent roof and double-arched flying buttresses tower over the city.
The sandstone cathedral was built by the town's mine owners to celebrate the patron saint of miners. It features medieval frescoes and statues showing the town's mining past, along with 50 newer stained-glass windows. Construction began in the late 1300s but wasn't finished until 1905.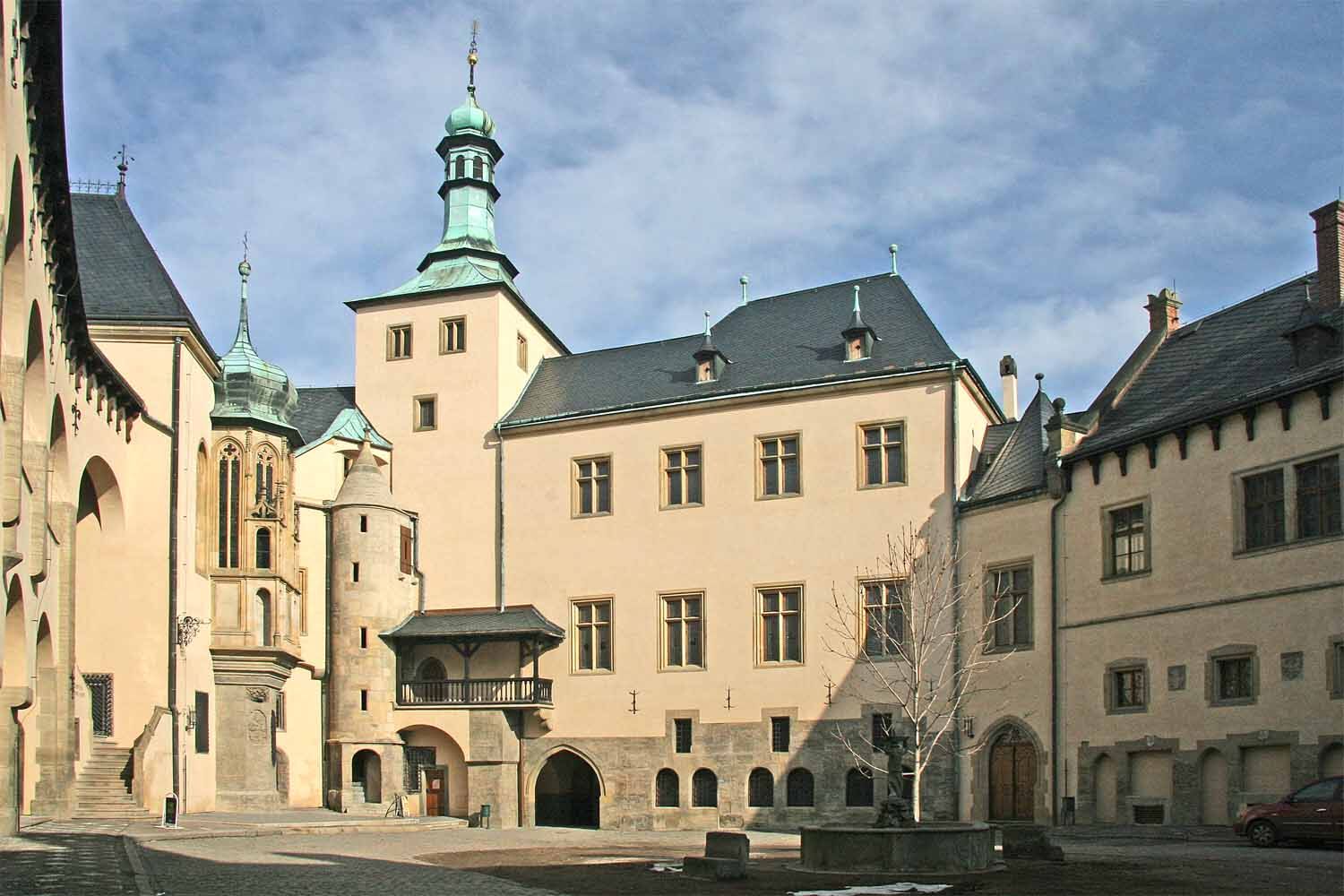 You'll also want to leave time to wander through the cobbled streets of the historic center, admiring the Stone Fountain, Italian Court, and other sights. You can even go inside a silver mine at the Czech Museum of Silver.
I didn't expect this to be one of my favorite trips
I spent five months in Prague avoiding a day trip to this medieval city–I wasn't sure I wanted to see a church filled with human bones. When I finally did, Kutná Hora turned out to be one of my favorite trips, with a lot more than skeletons to admire. Yes, the bones are creepy, but they are also quite beautiful.
Olomouc: columns, fountains, Baroque statues
Olomouc has two squares in Old Town, an upper and lower, filled with magnificent columns, fountains, and buildings. There are 36 Baroque statues, the largest collection in Central Europe. The Holy Trinity Column is the tallest monument, built to celebrate the end of a plague in the 1700s. Considered the most outstanding example of Moravian Baroque style, it's on the UNESCO World Heritage List.
How to get there
The fastest trains to Olomouc take just over two hours from Prague. From the station, grab one of the many trams heading to the city center.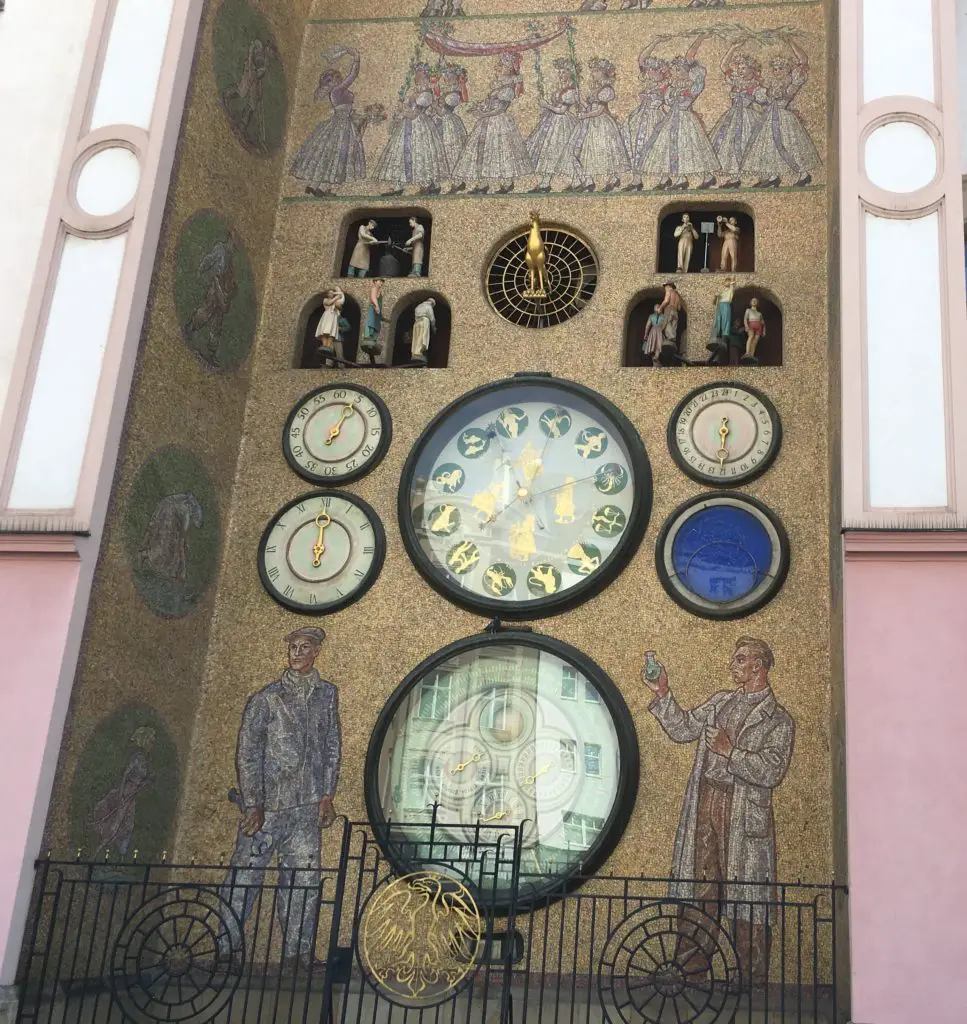 While Prague is known for its Old Town Square and astronomical clock, Olomouc rivals the capital for both these sights. Try to time your visit to the Upper Square so you get to Olomouc's astronomical clock at the Town Hall just before noon. For the next seven minutes you'll watch a parade of farmers, factory workers and athletes revolve in and out of the clock while music plays.
The clock was originally built in the 16th century, but after being damaged in World War II, it was remodeled in the style of socialist realism. If you can't be there at noon, you can still enjoy the clock's beautiful mosaics and workers at rest. I actually found Olomouc's clock much more entertaining than Prague's famous one.
Good St. Wenceslas looked out
Olomouc's other top sites include the Gothic St. Wenceslas' Cathedral, which has the country's second largest church tower, and the Archdiocesan Museum, which traces a thousand years of the city's history. On Sundays, it's free to visit the Museum of Modern Art, with quirky works by Czech painters and sculptors.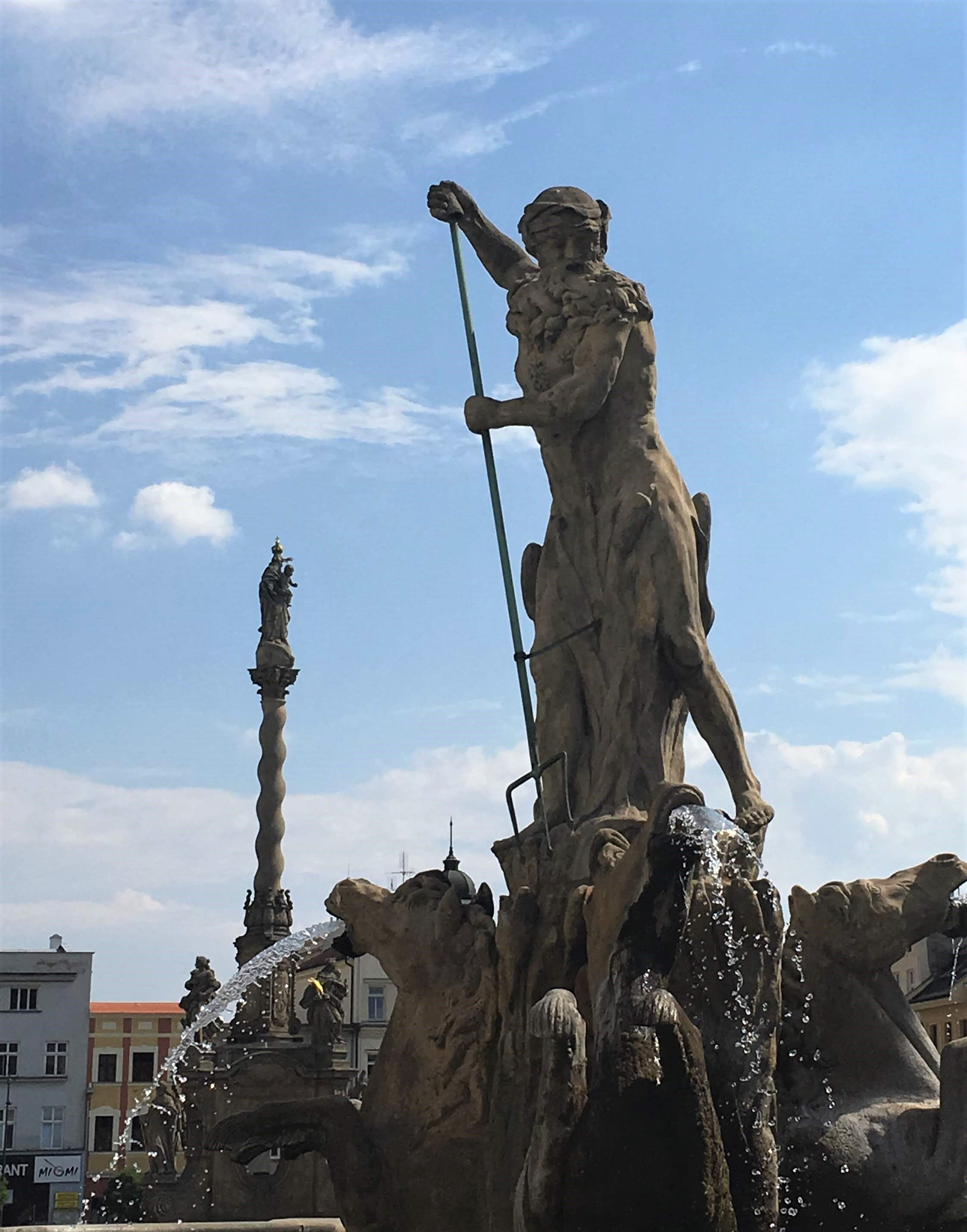 Visit Olomouc's Neptune Fountain
I enjoyed Olomouc's fountains even more – perhaps because of the young children drawn to them. Six of the eight fountains are Baroque, celebrating mythological figures like Neptune, Hercules and the less well-known Arion, who was rescued by dolphins.
The tourist office in Upper Square offers a one-hour orientation tour of the monuments and Town Hall for just $3. The tour runs even if just one person shows up—there were two of us on my tour.
Best kept secrets
Olomouc has many excellent restaurants and great pubs so try to squeeze in dinner before heading back to Prague. The city is also known for its very stinky, low-fat cheese, which is aged under hunks of meat. I was afraid to try it, but I'm told it's best to hold your nose if you do.
Even though Lonely Planet wondered whether Olomouc was the Czech Republic's best-kept secret several years ago, it remains off the radar of most tourists. Olomouc empties out in the summer when its university students leave. I visited on a Sunday in August and had the town almost to myself.
When a Day Trip isn't Enough
You'll often see the two cities below on lists of the best day trips from Prague. While both are definitely worth visiting, I recommend an overnight stay if you can spare the time.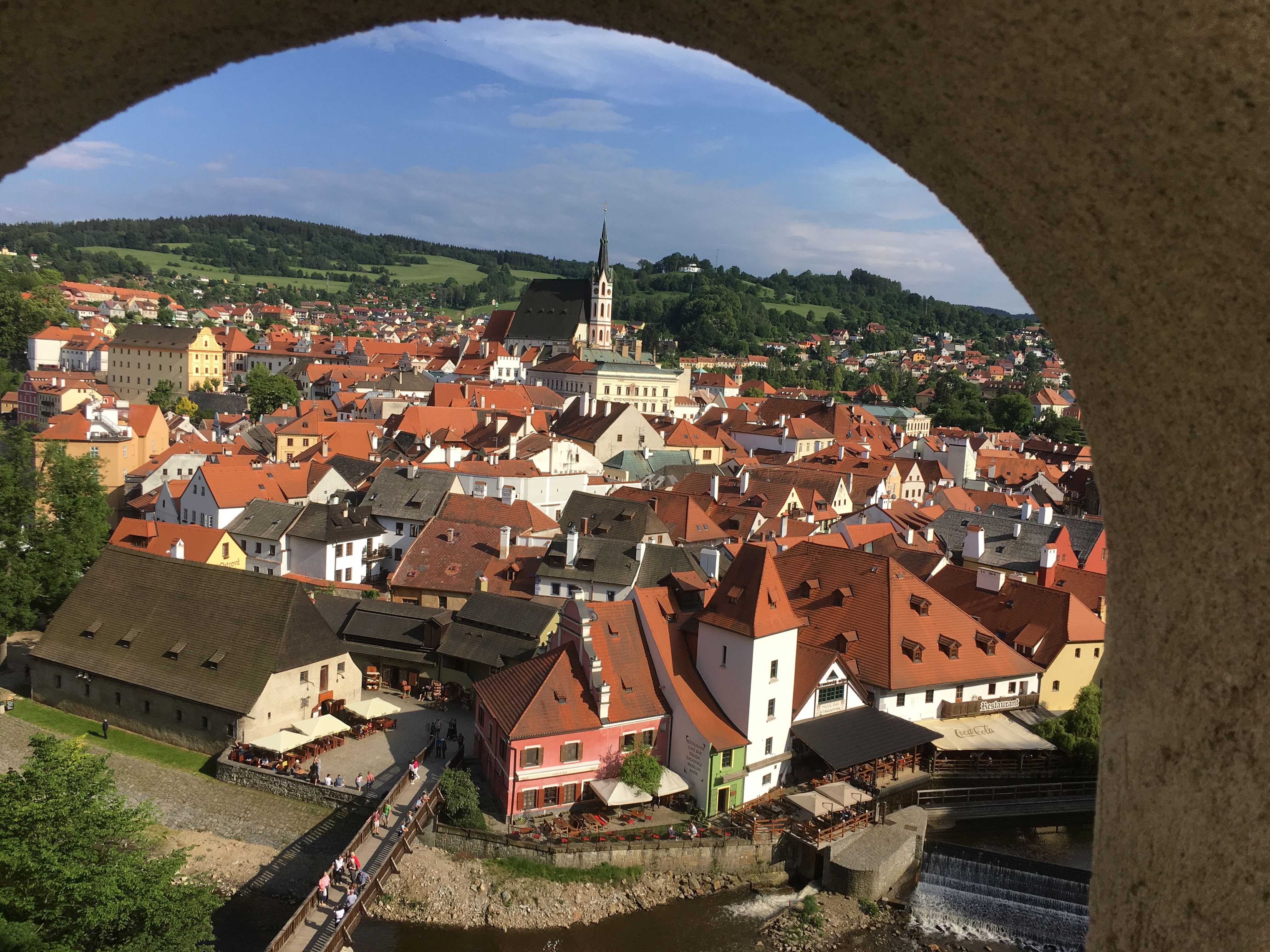 The most magical of Czech cities with a multi-colored castle and a cobblestoned Old Town that I couldn't quite believe were real. The train from Prague takes three hours, which doesn't give you enough time to enjoy such a beautiful place. In the summer, you can also float or canoe on the Vltava River, which separates the town and castle. An overnight stay allows you to appreciate the town after the day-trippers head home.
Dresden, Germany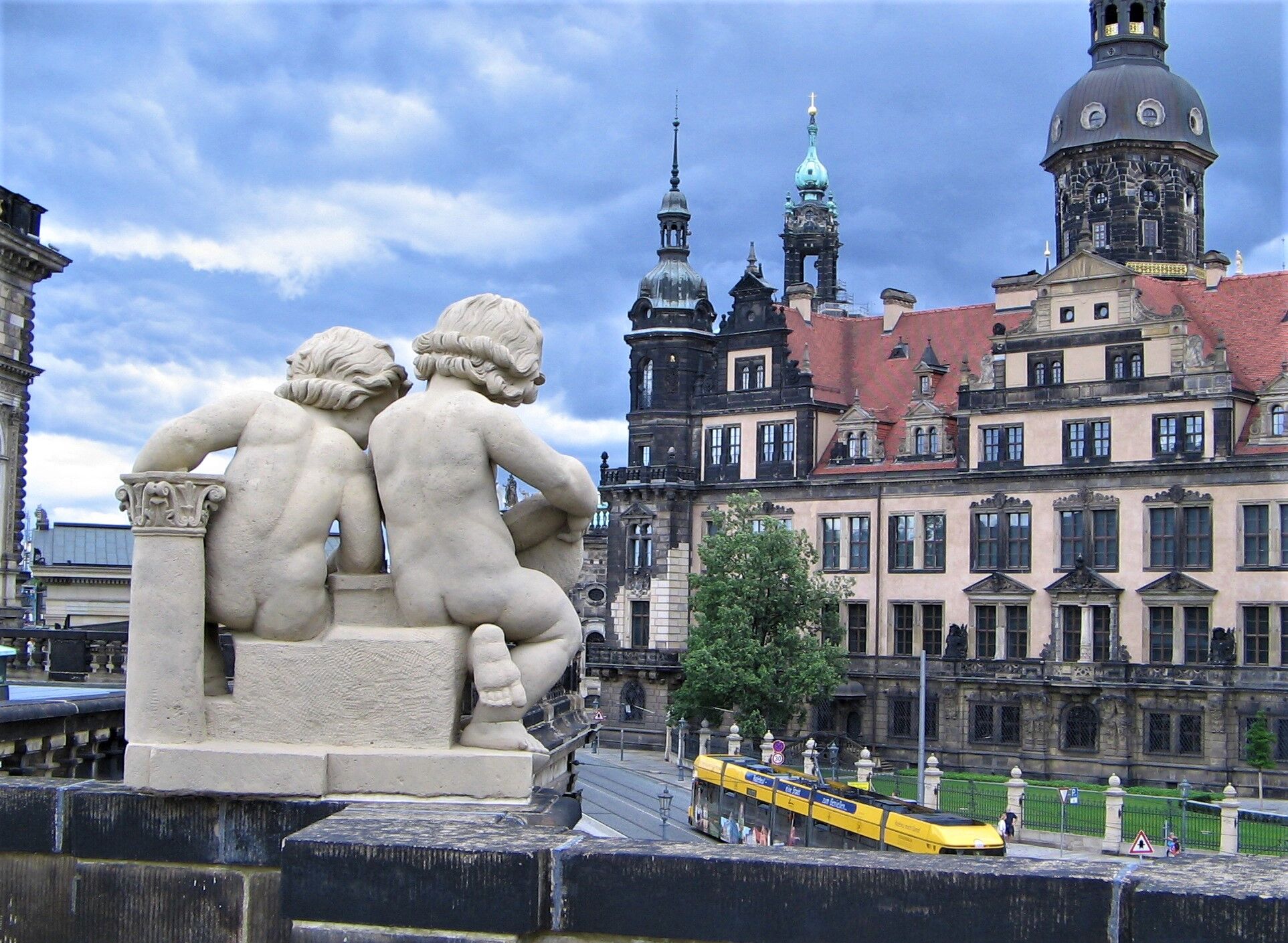 Dresden is about two hours by train from Prague. The bus costs much less, but you may get stuck in traffic and stopped at the border for a passport check. Dresden is one of Germany's most beautiful cities. If you like museums, one day isn't enough. Dresden also makes a great stopover if you plan to visit Berlin.
_________________________________________________________
_________________________________________________________
* * *
You might also like
Go to the BLUE HARE home page for more articles for fabulous women