London is always awe-inspiring but, after a few days in the city, you may want to get out and take a day trip into the countryside. There are endless possible destinations, but if you have not been to these four, they should be at the top of your list. Like steppingstones, they take you from the days of the island as Roman territory, through its terse medieval centuries, and on into its elegant Regency period.
Bath, named for the Roman-built baths, was once the most fashionable summer playground of the gentle folk. Canterbury, home to Canterbury Cathedral and the seat of England's Anglican Church; Stratford-upon-Avon, birthplace of William Shakespeare; and Hampton Court, site of King Henry VIII's grand palace.
There's no need to rent a car and fret navigating England's left-hand driving rules. These destinations are a train or bus ride away from central London. Book your tickets in advance to get the lowest prices. Then, relax, sit back, and enjoy your ride through history.
Canterbury
Canterbury, a UNESCO World Heritage Sit

e

, offers a rich and multi-layered history.
Just over 60 miles away from London, it is an easy day trip.  Take the Southeastern Railway from London Bridge Station. Average travel time is 1 hour 38 minutes, longer on weekends and holidays.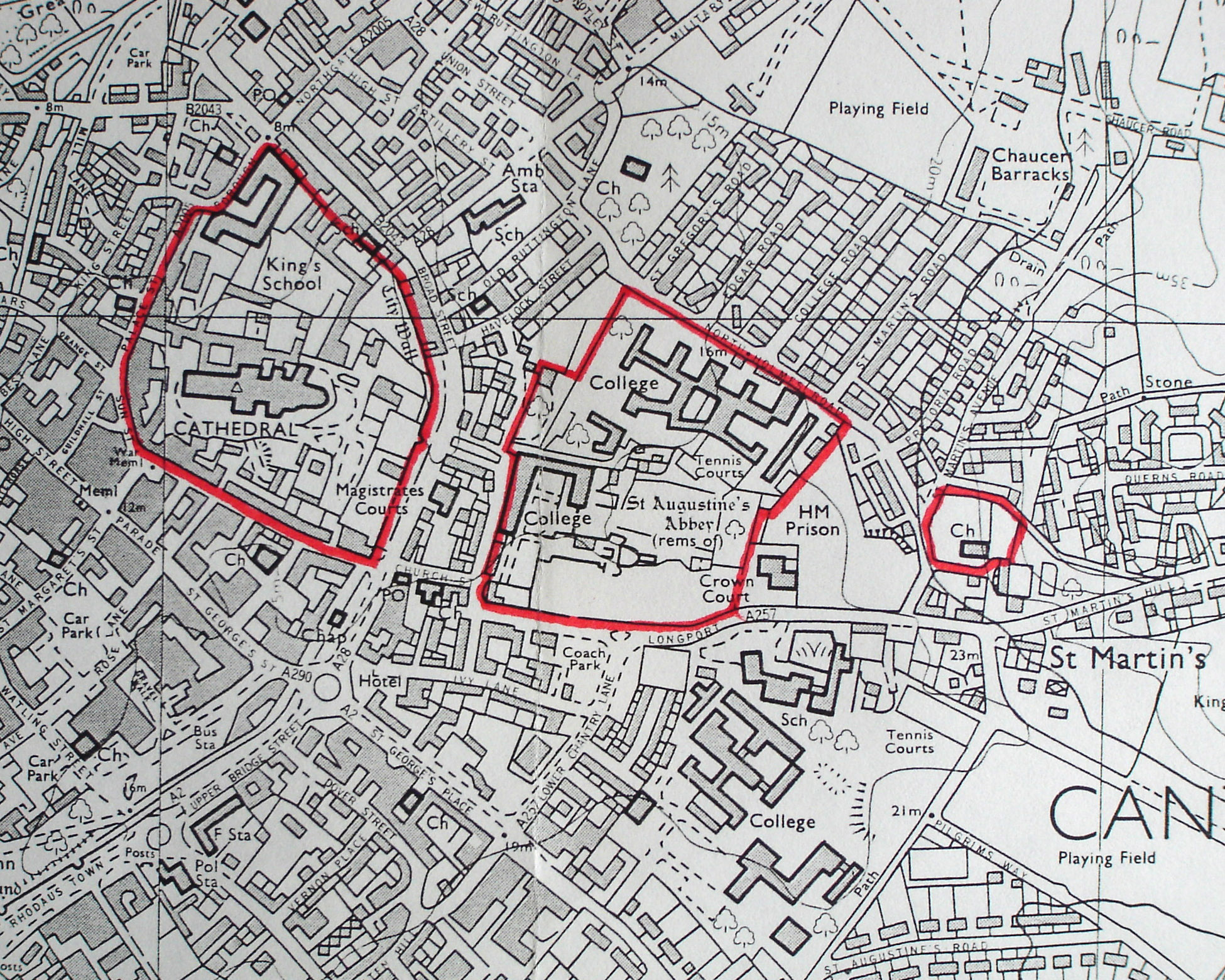 A richly textured city, Canterbury is best known for its cathedral and as the home of the Archbishop of Canterbury, head of the Anglican Church. Its medieval architecture—notably, Canterbury Cathedral, St. Augustine's Abbey, and St. Martin's Church—have earned it a place on UNESCO's list of World Heritage Sites.
And there's more. There are Roman ruins, a Norman castle erected shortly after the Battle of Hastings in 1066, and the oldest continuously operating school in the world, the King's School founded in 597 (alma mater to W. Somerset Maugham, Christopher Marlow, and, more recently, Orlando Bloom).
Canterbury is not short on cultural capital either. It was home to English poet Geoffrey Chaucer, the "Father of English Literature," and to playwright Christopher Marlowe, the foremost Elizabethan tragedian of his day.
At the top of our list of things to see is Canterbury Cathedral and the Canterbury Tales Attraction.
Canterbury is regarded as 'the birthplace of English Christianity.' It was here that St. Augustine (not to be confused with St. Augustine of Hippo who wrote his confessions) began converting the pagan Anglo Saxons.
Canterbury cathedral was founded in 597, the year Augustine became its first bishop. By the Middle Ages it had become an important pilgrimage site with the tomb of Thomas Becket.
Becket was murdered by followers of King Henry II in 1170 after he had crossed paths with the king. Some years earlier, in 1162, Becket had been named Archbishop of Canterbury by King Henry II. Once named, he shifted his allegiance from the King to the Pope and the Church. Conflicts ensued.
One day a furious Henry shouted, "Who will rid me of this meddlesome priest?"  Four knights took the King's rant at face value, went to Canterbury, and killed Becket as he was praying. Widespread shock reverberated across the land. Three days after Becket's death, miracles were witnessed that heightened his martyrdom. You can see some of them depicted in the miracle windows of the Trinity Chapel.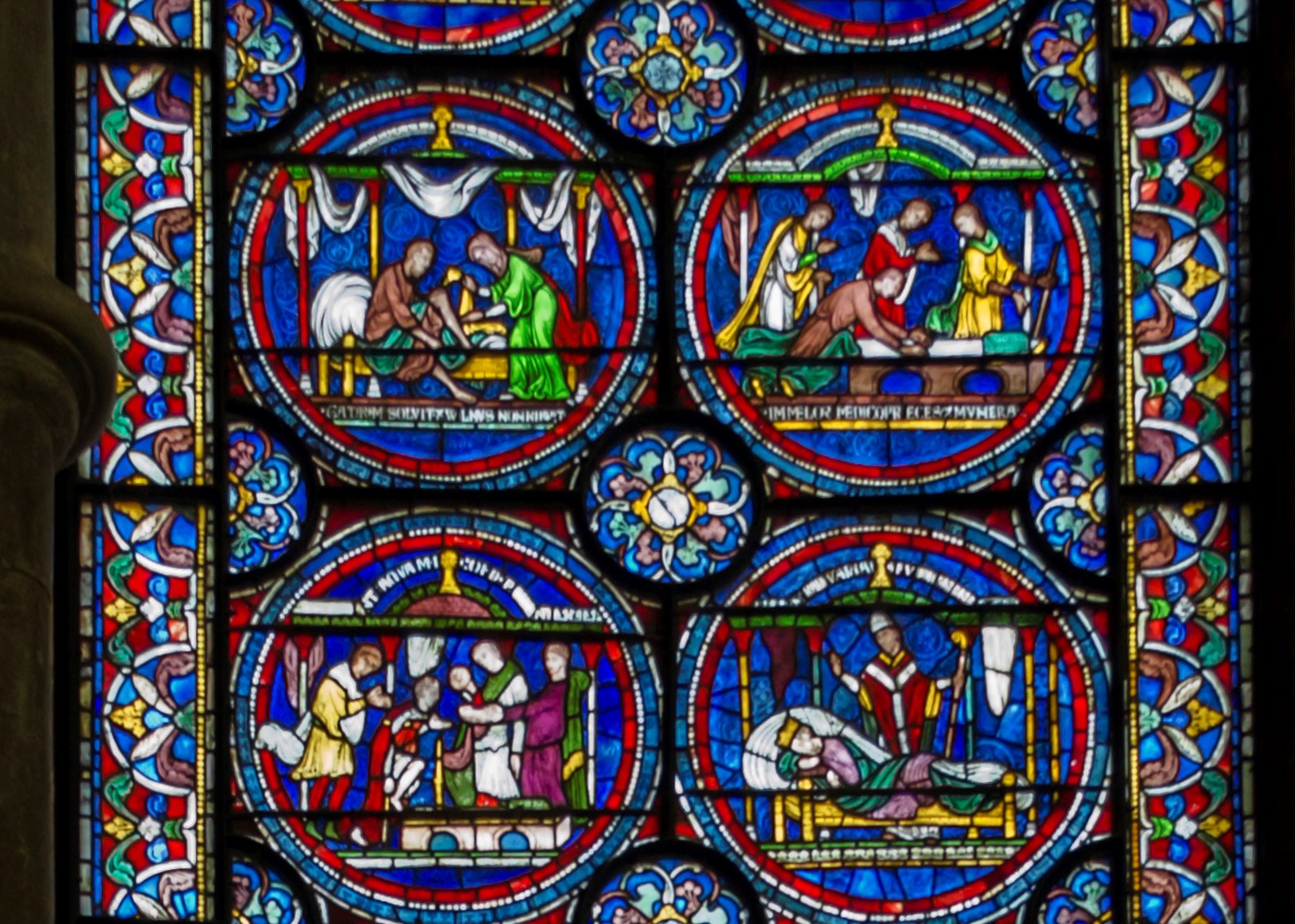 In 1173, Becket was canonized by Pope Alexander III. Thousands of pilgrims came to Canterbury to visit the shrine and pay their respects. An estimated 100,000 pilgrims visited in the year following his death. Henry II, wearing sackcloth and walking barefoot, could be seen among them—like the pilgrims in Geoffrey Chaucer's epic poem, The Canterbury Tales.
In 1174, a fire badly damaged the cathedral. It was restored over several centuries and now reflects various architectural styles. Be sure to see the perpendicular nave, with its stunning fan vaulting at the crossing, the 14th-century choir screen, the 14th and 15th-century cloisters, beautiful Romanesque side chapels, and stained-glass windows from the 12th century. The choir screen dates from 1411 and features magnificent stone work decorated with angels carrying shields and the crowned figures of six kings–Henry V, Richard II, Ethelbert of Kent, Edward the Confessor, Henry IV, and Henry VI.
The Canterbury Tales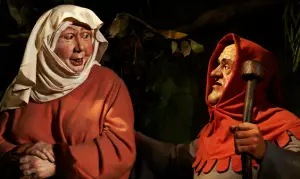 A visit to Canterbury would not be complete without first taking a pass at Chaucer's The Canterbury Tales—a collection of 24 stories that tells the story of 30 pilgrims walking from Southwark, London, through Kent to Canterbury, to pay their respects at the shrine of St. Thomas Becket.
En route, the pilgrims compete to tell the best story. The prize? A meal at the Tabard Inn.
One of the tales was the Wife of Bath. It asks the question thought to be on every man's mind, 'What do women most desire?' The Wife of Bath is uniquely qualified to answer—she's had five husbands after all. Or this one, the Knight's Tale. It's a tale of love, rivalry, and chivalry.  Two knights fall in love with the same beautiful young maiden.  But who will win her heart?
Written in a combination of verse and prose, The Canterbury Tales is a comment on English society. Chaucer's observations examined social class, love, courtship, infidelity, death, spirituality, and religion. Begun in 1386, Chaucer died before finishing his master work.
St Augustine's Abbey, St. Martin's Church, and other attractions
St. Augustine's Abbey was founded by Augustine in 598. In the years that followed, invading Danes and Normans built a Romanesque monastery to replace the old Saxon buildings. The abbey was ultimately abandoned during Henry VIII's Dissolution of the Monasteries in the 16th century, but a remnant of Romanesque architecture can still be glimpsed in a series of arches. Fyndon Gate, the abbey's 14th-century Gothic gatehouse, still stands. There you'll find the chamber where Charles I and Queen Henrietta Maria spent their marriage night in 1625 after their nuptials in the cathedral.
Sharing the UNESCO site with the cathedral and St. Augustine's abbey is the oldest church in the English-speaking world. St Martin's Church dates from the end of the 6th century. The church was built by the pagan King Æthelberht of Kent for his Christian wife, Bertha, a Frankish Princess. The church's stonework includes hundreds of Roman bricks. It's not known whether these bricks are remnants of an earlier Roman building or were repurposed in Anglo-Saxon times.
Still time to wander around? Consider these sites.
If you still have some time, wander through old town and view the timber-framed buildings from Elizabethan times. There's Christ Church Gate, the main gateway to the cathedral that rises above Buttermarket, a lovely medieval square with shops and pubs. There's Eastbridge Hospital, the almshouse established shortly after Becket's death to house poor pilgrims visiting his shrine.
There's also Westgate Towers—the last of seven Medieval gates defending the city—and the stunning Westgate gardens next to the Stour River. You'll find remnants of guard walls from Roman times and a Roman Museum, built around the remains of an excavated Roman town house. Lastly, check out the Marlowe Theatre, the city's premier performing arts venue. There's always something going on.
If it's October, it's showtime for the Canterbury Festival 
One of the most important cultural events of the region, this year's festival runs from September 26 until November 4. The festival offers nearly 200 possibilities in classical music, contemporary dance, comedy, world music, theater, lectures, and visual arts, to name a few.
Check out this site to help plan your visit to Canterbury.
Stratford-upon-Avon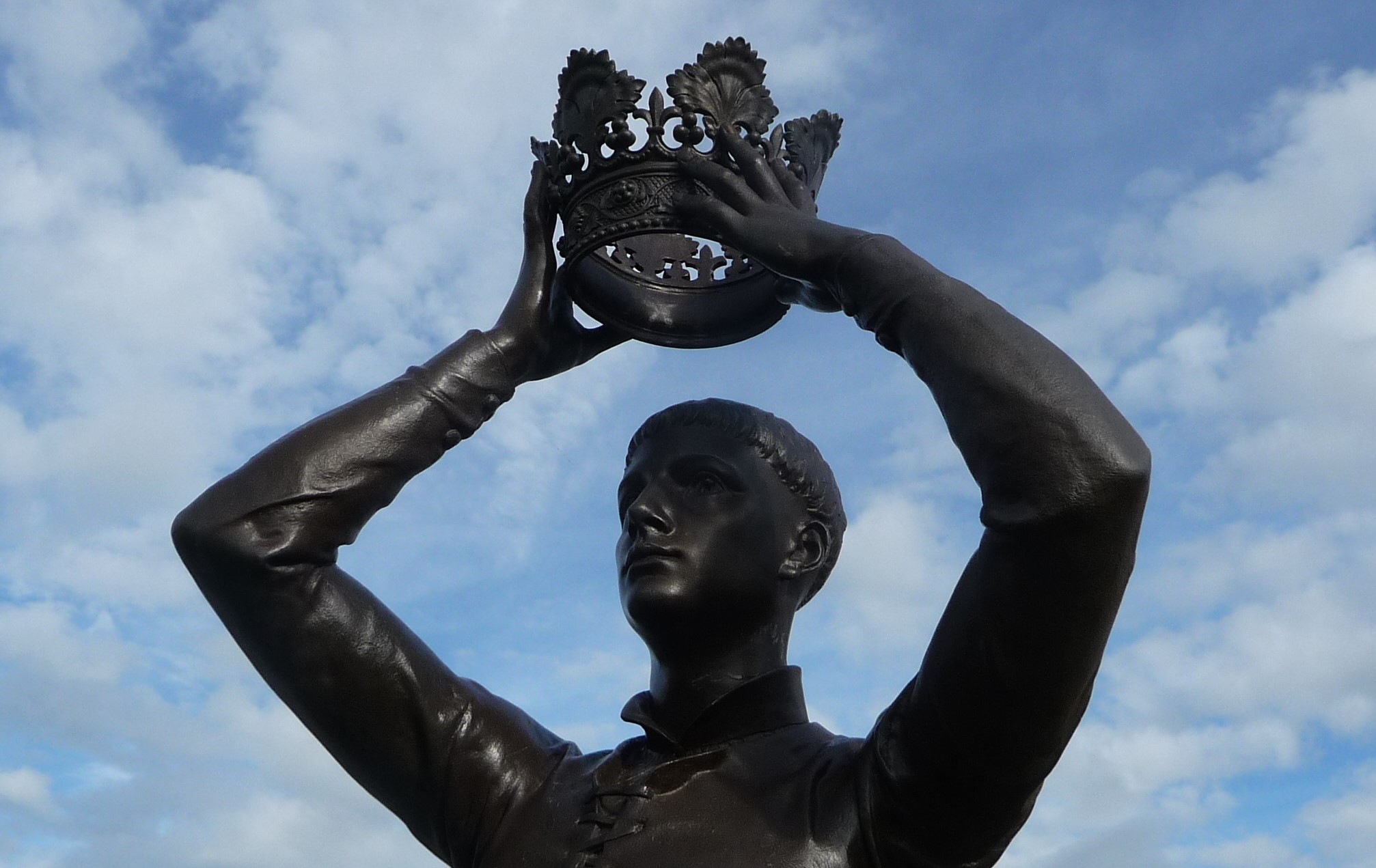 Stratford-upon-Avon was the birthplace and home of William Shakespeare, the greatest writer in the English language.
Who hasn't read Shakespeare in high school? "The quality of mercy is not strained…" and so on. It's time to revisit his plays as an adult, because now, world-weary traveler, you will recognize his genius. Shakespeare had a rare talent for capturing human emotions in simple yet sublime verse, while endowing his characters with human qualities that we can relate to—love, anguish, vanity, suffering, idealism, and innocence. His stories transcend time and culture.
You might be surprised to see how much Shakespeare has contributed to our daily speech. You can thank him for these expressions:
fair play
seen better days
[refuse to] budge an inch
[claim] it's Greek to me
stand on ceremony
tongue-tied
hoodwinked
too much of a good thing
seen better days
How to get there
There are around seven trains (Chiltern Railways) daily from London Marylebone to Stratford-upon-Avon. Stratford-Upon-Avon is 81 miles from London.  Average travel time is just under two and a half hours.
Shakespeare's birthplace, Anne Hathaway's (Shakespeare's wife) cottage, Royal Shakespeare theatre, Mary Arden's farm-the childhood farm of Shakespeare's mother, Hall's croft, Shakespeare's Schoolroom and Guildhall—are all within walking distance.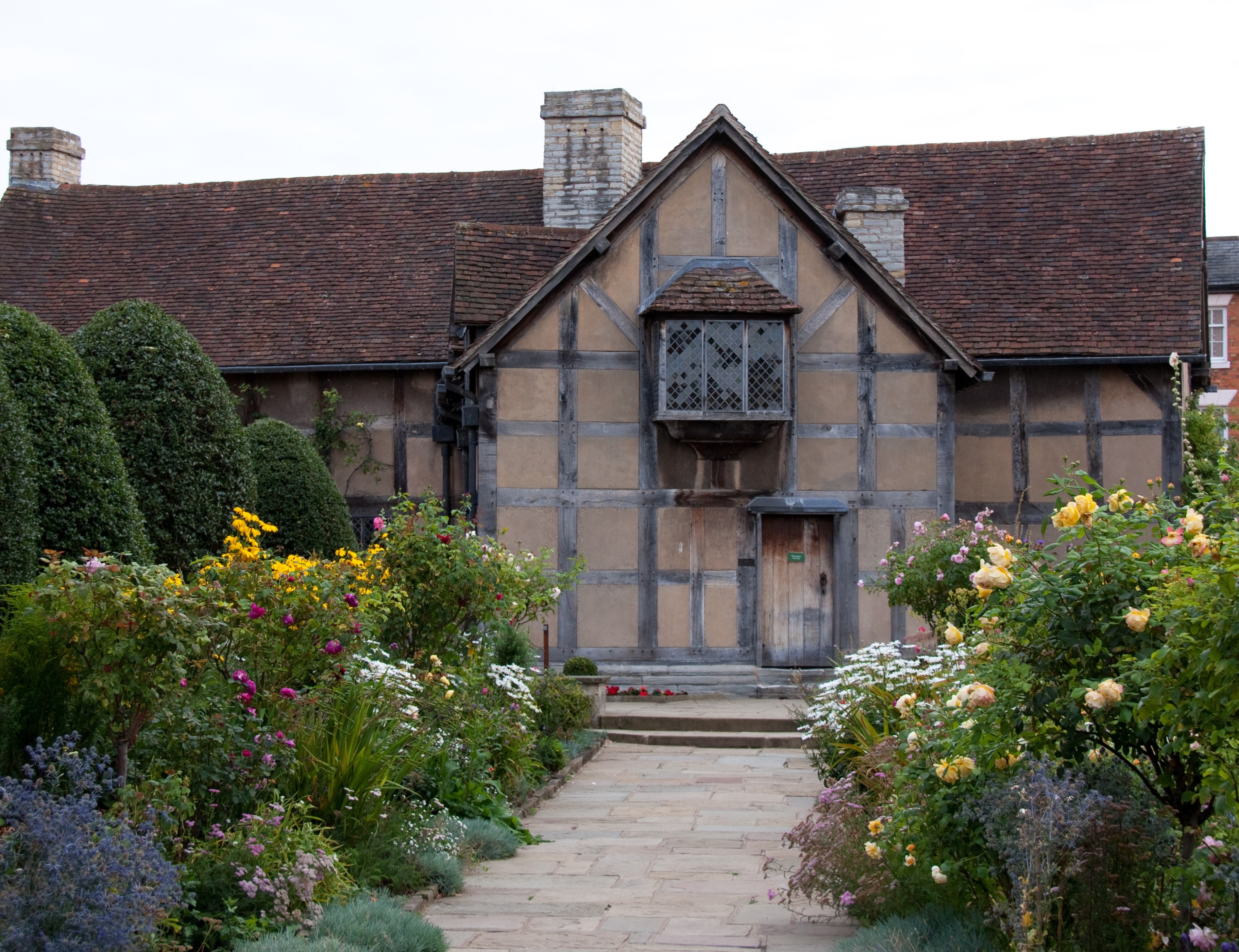 William Shakespeare was born and raised in this house and spent the first five years of his marriage to Anne Hathaway living here. His parents, John and Mary Shakespeare, owned the largest house on Henley Street. John Shakespeare lived and worked in this house for fifty years.
When he married Mary Arden, she came to live with him and they had a total of eight children, William was the third. He inherited the house when his father died in 1601. He leased part of the property and it became an inn called the Maidenhead (and later the Swan and Maidenhead). The inn remained until 1847 when it was purchased by The Shakespeare Birthplace Trust.
Anne Hathaway's Cottage was originally a farmhouse. It was built in 1463 of cruck construction and contained just three rooms. The kitchen and parlor still remain from the original medieval construction. Anne, later Shakespeare's wife, was born there in 1556. You can still see some of the original furniture including the Hathaway bed. Visit and learn about the 13 generations of the family who lived here for over five centuries. The Shakespeare Birthplace Trust purchased the cottage in 1892.
Other possibilities for your day in Stratford-upon-Avon could include a visit to the farm where Shakespeare's mother, Mary Arden, was raised, Shakespeare's new place–a garden where you can walk in Shakespeare's footsteps, the schoolhouse where Shakespeare was educated, and Shakespeare's grave at Holy Trinity Church.
See a play
The play's the thing, after all.
The Royal Shakespeare Company is based in Stratford. It has three theatres in Stratford-upon-Avon: the Royal Shakespeare Theatre, the Swan Theatre, which both share a building on Waterside, and The Other Place, which is a short walk away on Southern Lane. Plays by Shakespeare and other playwrights are performed year-round. For day trippers there are matinees—not everyday, but at least weekly. The RSC website has plays and dates and more information about the company and the theaters.
Bath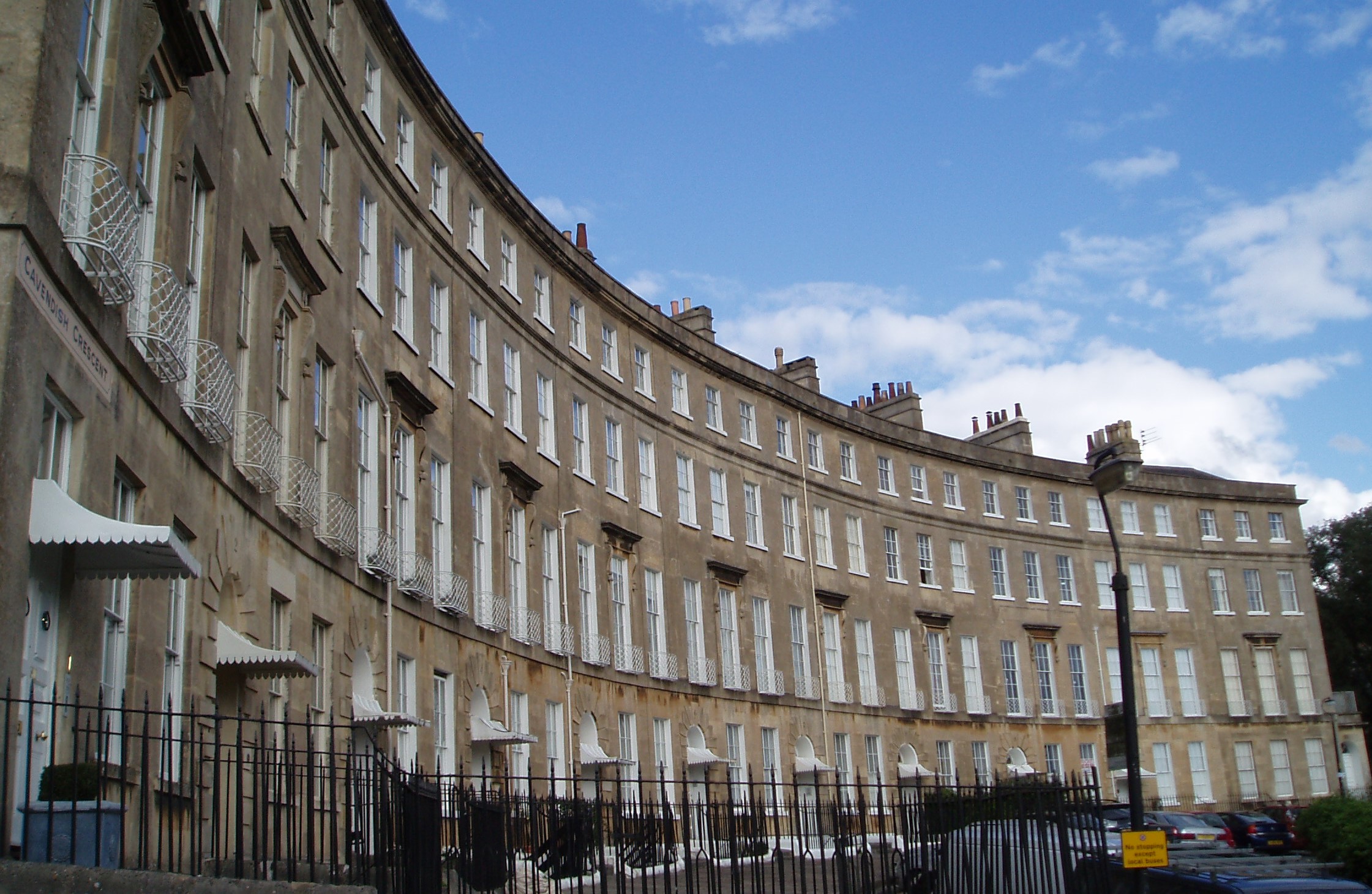 Bath has been a wellbeing destination since Roman times 
Known for its waters—it's named Bath after all—it has both ancient Roman Baths and a modern Thermae Bath Spa. Bath was also once the home of author Jane Austen. A visit to Bath is like a passage back to the Georgian era, with about 5,000 buildings in the city notable for their architecture. Highlights include the iconic Royal Crescent and the majestic Circus. For more information on Bath's landmarks, take a look at Bath's Top Ten Must Sees. The city became a World Heritage Site in 1987. It welcomes over 3.8 million visitors each year.
How to get there
Bath is 97 miles west of London with trains from either Paddington or Waterloo stations. Leaving from Paddington is the quicker but more expensive option. The train can take from 1 hour 35 minutes up to 2 hours 30 minutes. Book your tickets through Great Western Railway.
What to see in Bath?
A day trip to Bath is perfect for taking in the baths, both the Roman and modern, walking in the footsteps of Jane Austen, and visiting the Fashion Museum.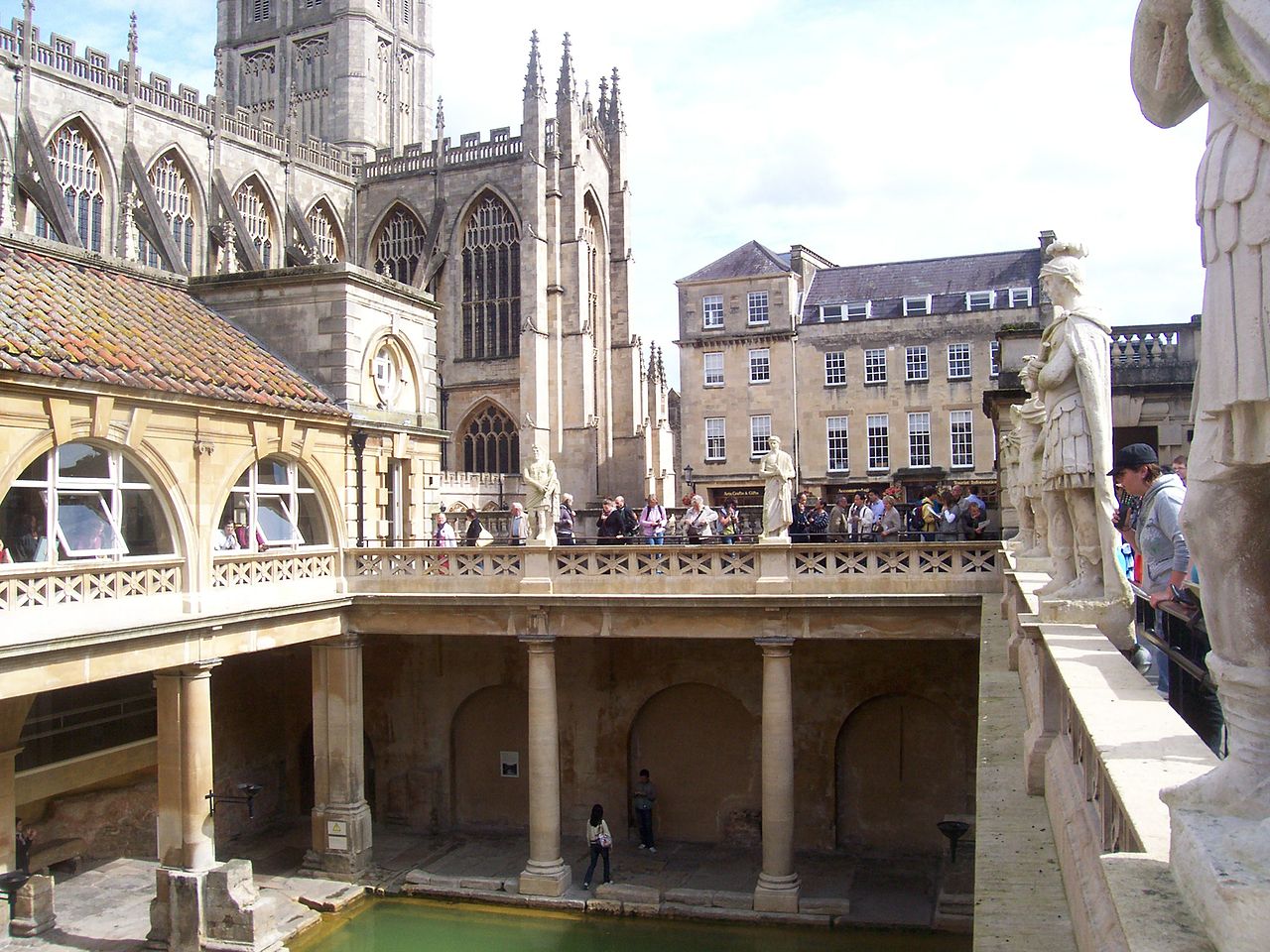 The Roman Baths.  Bath has one of the only two former Roman baths in the world that still stream hot mineral water. Constructed in around 70 A.D. as a magnificent bathing and social complex, the Roman Baths is one of the best-preserved Roman sites in the world. Some 309,000 gallons of steaming spring water, reaching 114°F, fill the baths each day.
The Roman Baths is the site of extensive ruins and an interactive museum that will transport you back to Roman times. In the Pump Room you can 'take the waters' with a sip of the spa water that contains 43 minerals and for centuries has attracted visitors for its curative powers.
While the Roman Baths no longer offer bathing, you can enjoy the same natural hot spring waters at Thermae Bath Spa. Thermae Bath Spa is a natural spa with Britain's only naturally warm, mineral-rich waters and an open-air rooftop pool with spectacular views of the city. One and a half to two-hour bath and spa sessions cost about $25 to $50.
If you fell in love with Mr. Darcy while reading Pride and Prejudice, you must visit The Jane Austen Centre in Bath.
Exhibits and costumed characters tell the story of Austen's life in Bath between 1801 and 1806.  You'll also get a sense of life during the Regency era—fashion, food, and society. The Centre also explores how the city of Bath influenced Jane Austen and her writing in much-loved novels such as Northanger Abbey and Persuasion.
Set in a classically decorated Georgian townhouse, make sure to allow time for afternoon tea at the Regency Tea Room. The waitstaff serve you in full Regency regalia. Enjoy a delightful range of 15 loose leaf teas, Belgian hot chocolate, coffees, sandwiches, snacks, luscious cakes, scones, and toasties. Favorites include 'Tea with Mr. Darcy' and 'Lady's Afternoon Tea', a slice of Victoria sponge, and Crawford's crumpets.
The award-winning Bath Christmas Market will be back for 18 days of magical merriment, from Thursday November 23rd through Sunday, December 10th. With around 150 twinkling chalets spread out across Bath's picturesque Georgian streets, it's the perfect place to do a spot of Christmas shopping.
King Henry VIII's Hampton Court Palace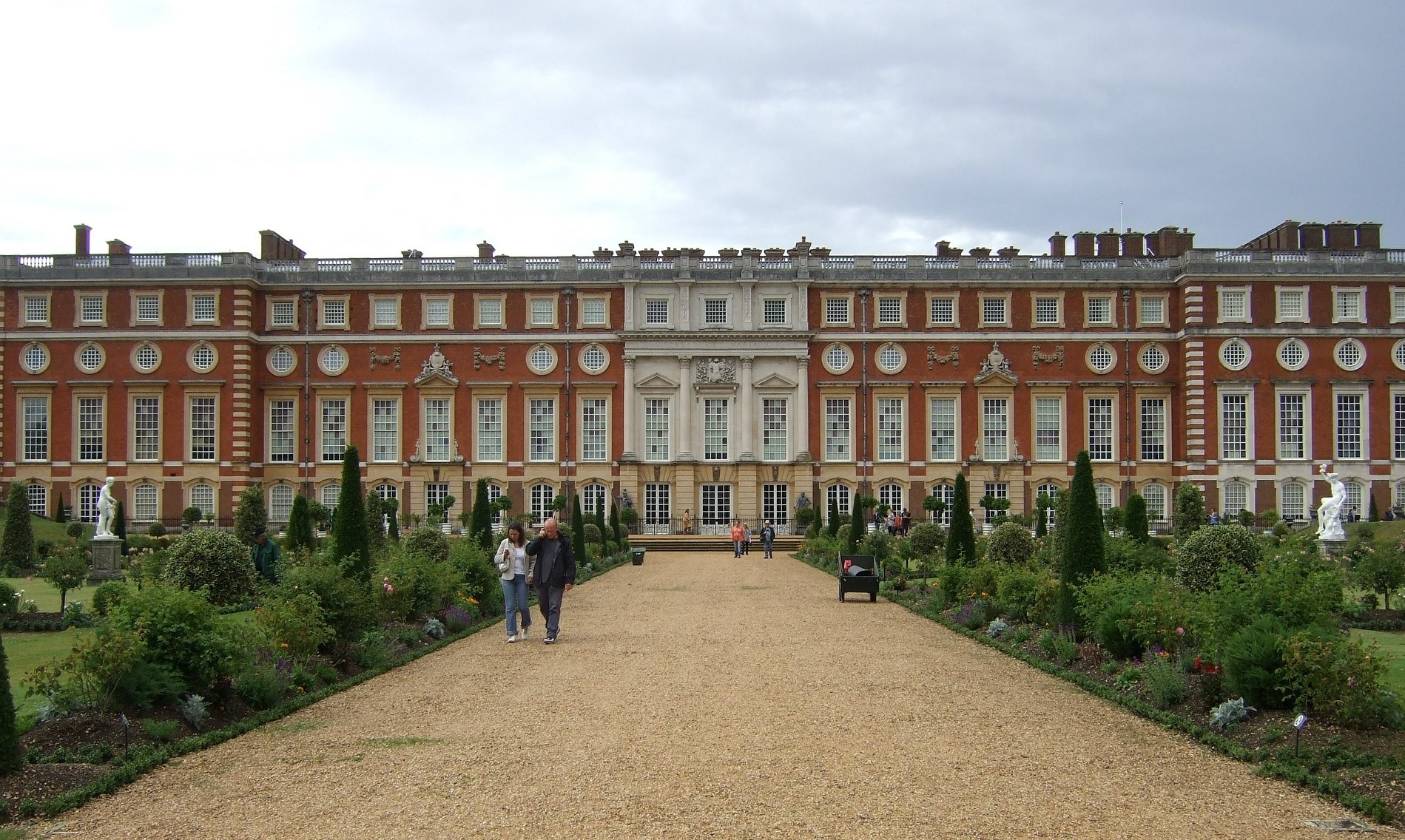 No king was more dramatic than England's Tutor King Henry VIII.
Henry is perhaps best known for his six marriages and for his efforts to have his first marriage (to Catherine of Aragon) annulled. His disagreement with the Pope on annulment led Henry to ignite the English Reformation, and separate the Church of England from papal authority. Of Henry's 55 palaces, Hampton Court Palace was his most famous residence. It was devoted to pleasure, celebration, and flamboyant display.
How to get there
About 16 miles from London, Hampton Court is reached by train from Waterloo station. South Western Railway trains leave every half hour. From the Hampton Court station just walk across the bridge (across the Thames) to the palace. Train time is about 35 minutes.
There is much to see in a day trip to Hampton Court Palace. There is Henry's Great Hall, the infamous Haunted Gallery, the Tudor kitchens, and the palace's celebrated maze.
A brief history
Building Hampton Court Palace began in 1515 for Cardinal Thomas Wolsey, a favorite of King Henry VIII. In 1528, knowing that his enemies and the King were plotting his demise, he passed the palace to the King as a gift. Wolsey died two years later in 1530. Along with St James' Palace, it is one of only two surviving palaces of Henry VIII.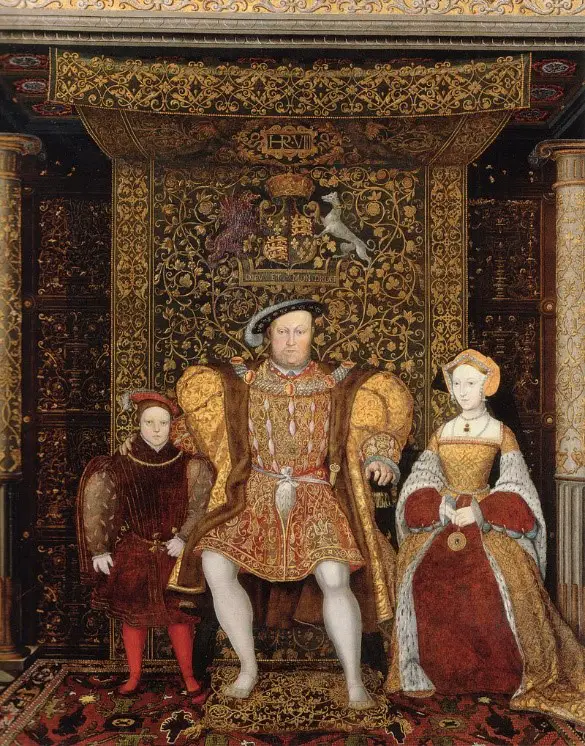 Once the palace was his, the King began an ambitious building and expansion plan. Henry VIII's court included over one thousand people, yet few of his many palaces were large enough to hold the assembled court.
One of his first building works was to build the vast kitchens. These were quadrupled in size in 1529 to become the largest kitchens in all of Tudor England. Two-hundred cooks, sergeants, grooms, and pages worked to produce over 800 meals a day for Henry's household, his knights, and servants. Cooking consumed some 1.3 million logs each year to fuel boiling cauldrons and roasting spits.
Stonemasons work day and night (by candlelight) to complete the Great Hall.  The Hall has a carved hammer-beam roof. During Tudor times, this was the most important room of the palace. The King would dine in state seated at a table on a raised dais. The King was so impatient for the Great Hall to be completed that the masons were required to work throughout the night by candlelight. It was completed in five years.
In the following century, King William III undertook a massive building and expansion to compete with the Palace of Versailles. This destroyed much of the Tudor palace, leaving the current palace with two distinct contrasting architectural styles, domestic Tudor and Baroque.
Hampton Court Maze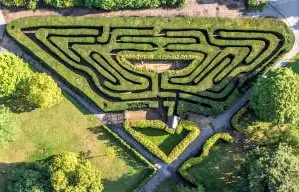 Hampton Court's maze is the oldest maze in the UK. It was planted sometime between 1689 and 1695 by George London and Henry Wise for William III of Orange at Hampton Court Palace. It covers a third of an acre and has a half mile of paths. Originally planted with hornbeam, it has been repaired with many varieties of hedges.
Other points of interest for visitors include the historic royal tennis court, and the huge grape vine, the largest in the world as of 2005. The palace's Home Park is the site of the annual Hampton Court Palace Festival and Hampton Court Palace Flower Show.
Hampton Court Palace in the movies
The palace has served as a location in many movies including A Man for All Seasons (1966); the HBO miniseries John Adams (2008) where Adams was received by King George III as the first U.S. Ambassador to the Court of St James's; To Kill a King (2003), Pirates of the Caribbean: On Stranger Tides (2011), Sherlock Holmes: A Game of Shadows (2011), Holmes & Watson (2018), and The Favourite (2018). The palace also served as a location for the live action film of Disney's Cinderella (2015), directed by Kenneth Branagh.
 *     *     *
This article originally appeared on October 9, 2019. Its content was thoroughly reviewed and updated on April 27, 2023. 
 *     *     *
You might also like
Go to the BLUE HARE home page for more articles for fabulous women