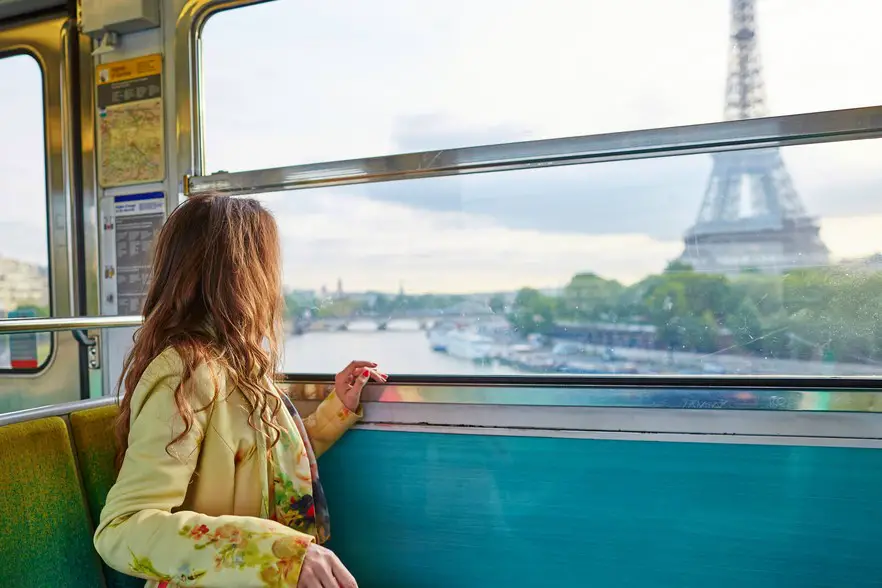 If you are planning a trip to Paris, think about spending a day out of town. Few pastimes are more enjoyable than wandering through France's many charming towns and villages.  Don't get us wrong—we adore Paris.  But greater France is rich in history and culture. Just consider these three towns—Chartres, Amiens, and Reims. Each is a short train ride from Paris and has so many interesting things to see and explore. This is especially true for those who delight in history, literature, and good food and wine. Each is also home to an awe-inspiring Gothic cathedral, each special in its own way. This is reason enough to consider adding these destinations to your agenda. If you think Notre Dame is amazing, you haven't seen anything yet.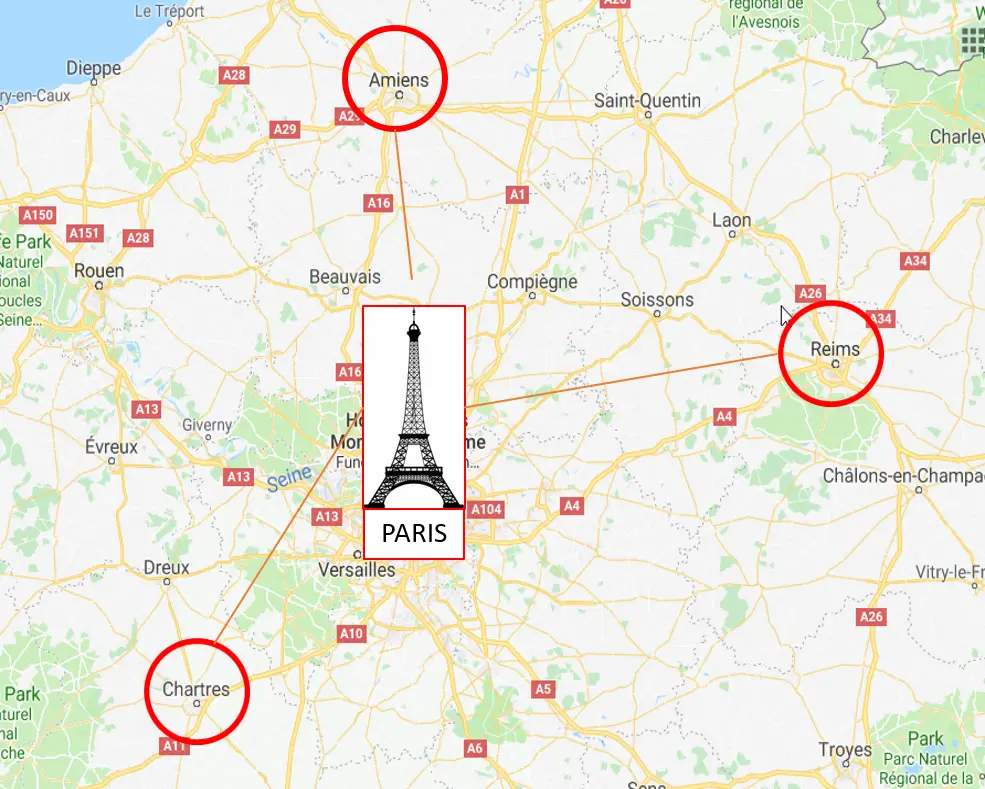 There's no need to rent a car to reach these towns. It's easy to check out the possibilities and book trips via the simple SNCF phone app, compliments of France's national rail system.  When you've had your fill of museums and crowded boulevards and want to explore someplace new, book a day trip to the country.
Amiens, the floating city on the Somme
Amiens, with a population of 133,000, is home to France's largest Gothic cathedral. Situated along and amidst the Somme river, it's also known as the "Venice of the North" for its extensive network of water gardens. The 19th century French author Jules Verne –'Around the World in Eighty Days' and 'Twenty Thousand Leagues under the Sea'— lived in Amiens.  Just east of Amiens during the First World War, a final decisive allied offensive lead to the war's end. French President Emmanuel Macron and his wife, Brigitte, are from Amiens. A trip to Amiens also gives you a peek at the region known as Picardy.
Amiens is 75 miles north of Paris. Thetrain from Paris takes just over an hour and brings you to the city center. When you arrive, head to the impressive Cathedral of Amiens. You can't miss it–it towers over the town.  It is both the tallest and largest cathedral in France. It is one of the largest 'classic' Gothic churches of the 13th century—so massive that two Notre Dames of Paris could fit inside. The inspiration to build came in 1206 when soldiers returned from the Fourth Crusade with a religious relic–the skull of John the Baptist. They needed a suitable place to house it for the inevitable pilgrimages it would inspire.
Built between 1220 and 1270, the cathedral escaped serious damage during the two World Wars despite being in the middle of much fighting. In addition to its remarkable size, Amiens is notable for the impressive elaborate sculptures of locally-important saints and martyrs and large scenes portraying the Last Judgment. The interior contains works of art and decoration from every period since the cathedral was built.
From the cathedral, meander through the Quartier Saint-Leu, a medieval quarter that stretches from the cathedral to the Somme River. The narrow cobblestone lanes are lined with quaint half-timbered houses and an abundance of art galleries, bookshops, and boutiques.
Take a languorous boat ride along the canals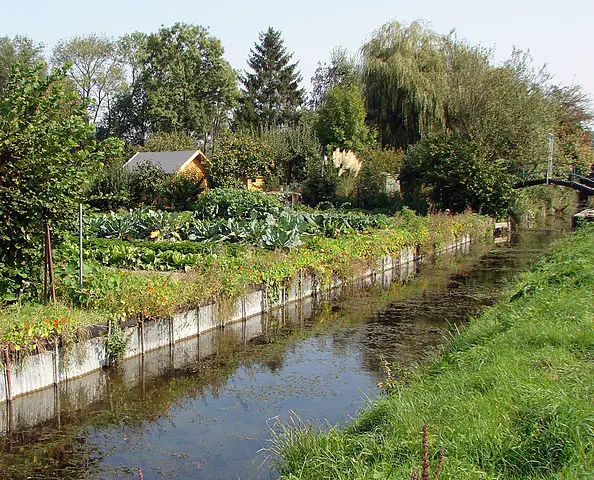 Les Hortillonnages, or "floating gardens," are a special feature of Amiens. You can discover them in special boats known as "barques à cornet." The hortillonages cover nearly 750 acres and are interlaced with just over 40 miles of small canals. The garden islands were formed from marshes and have been cultivated since the Middle Ages by "hortillons" (gardeners). Join a tour from April to October or click here and enjoy a short virtual tour en français.
First lady Brigitte Macron knows her macarons
When visiting Amiens, be sure to sample some of the local specialties. The Jean Trogneux confectionery, managed by the Trogneux family for five generations, is famous for their macarons d'Amiens (almond paste biscuits). They are also the family of First Lady Brigitte Macron née Trogneux. The company makes more than two million of these special macarons a year.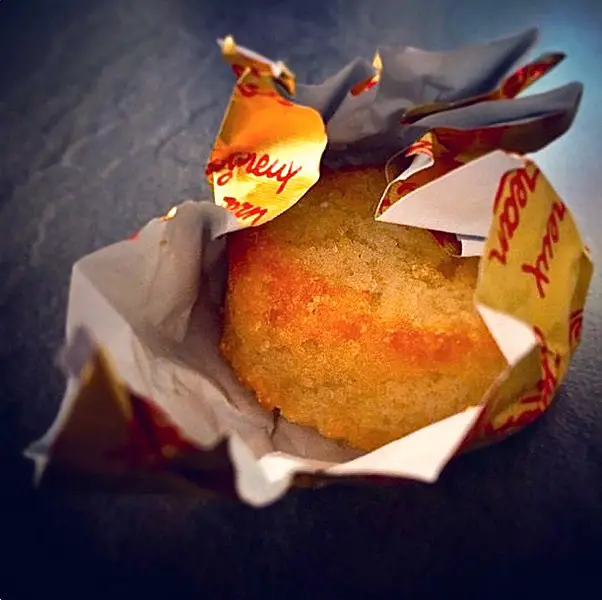 Another local delicacy is a chocolate and orange curved biscuit called tuile amienoise. Savory specialties include pâté de canard d'Amiens (duck pâté in pastry), la ficelle Picarde (oven-baked cheese-topped crêpe), and flamiche aux poireaux (a puff pastry tart made with leeks and cream).
Jules Verne slept here
Novelist Jules Verne and his wife made their home in Amiens from 1882 to 1900. The Maison de Jules Vernes is a beautiful 19th-century mansion that gives visitors a bird's eye view of Vernes' creativity. There's a library of about 12,000 works and models of the flying machines Verne imagined well before airplanes were invented. Another room features the model boat Saint-Michel III, an English yacht of the late 19th century. You will also see the writing desk where Verne started Twenty-Thousand Leagues under the Sea.
Amiens was fought over during both the First and Second World Wars. It suffered much damage and was occupied several times by both sides. The 1918 Battle of Amiens was the opening phase of the Hundred Days Offensive that led directly to the Armistice with Germany on November 11, 1918.
Chartres: heaven is shades of blue
The town of Chartres is most famous for its cathedral, with stunning 'Chartres blue' stained glass windows, and its pilgrims' labyrinth.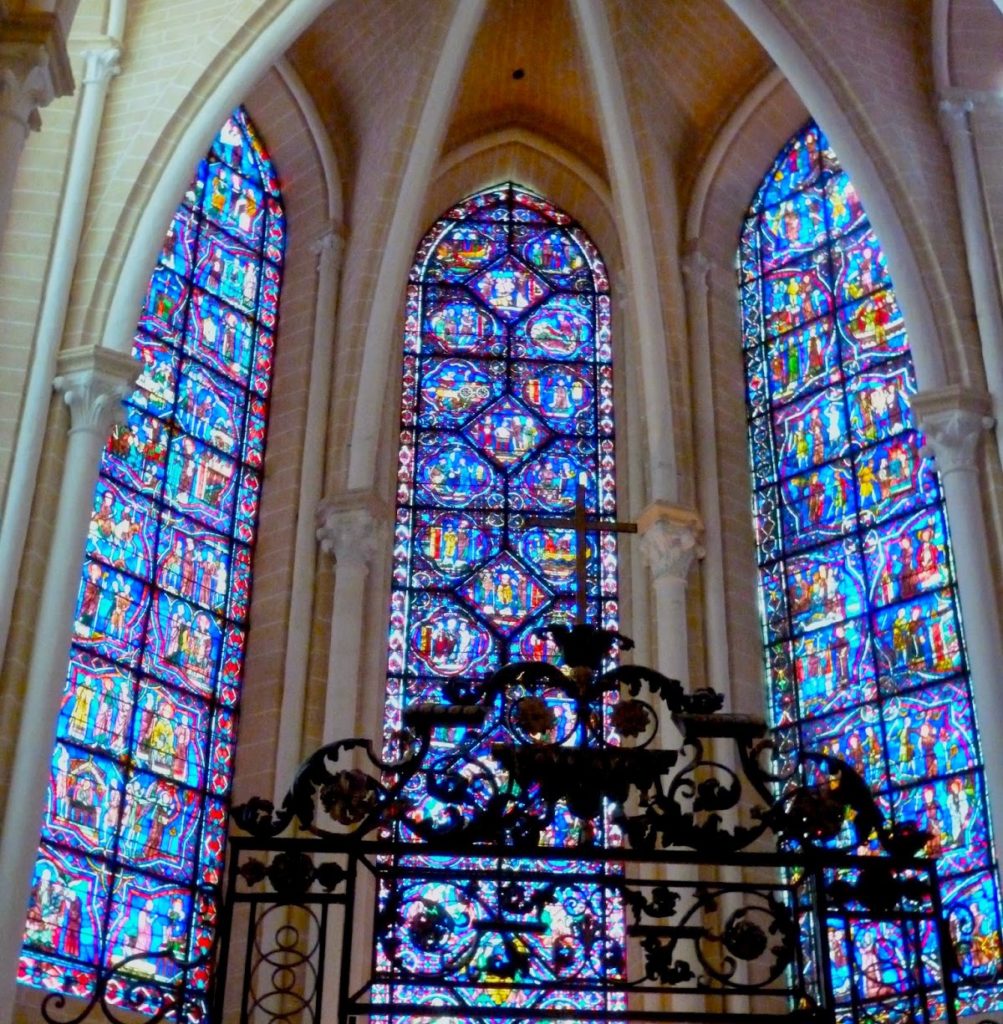 Here the cobblestones of the old town entice us to explore medieval lanes lined with classic half-timbered architecture.  No visit to Chartres would be complete without tasting a mentchikoff, a special confection that even Parisians make a special trip to buy and bring home.
The town of Chartres, with a population of about 39,000, is about 50 miles southwest of Paris. The majestic Chartres Cathedral, mostly constructed between 1194 and 1220, was nearly destroyed in the Second World War.
A cathedral built on a relic, rebuilt on a miracle
Chartres Cathedral features 176 stained-glass windows that are famous for their unique blue hue, bleu de Chartres. This unique color has been impossible to replicate. Christian pilgrims have visited the cathedral since the early Middle Ages. They come to walk its labyrinth or worship its famous relic, the torn veil believed to have been worn by Mary when she gave birth to Jesus. It was acquired by the church in 876. Later in 1194, a fire destroyed the old church but the veil was found miraculously unharmed.
The church and townsfolk interpreted this as a sign that Mary wanted a new church. So, they quickly went to work to build one. It was completed in 70 years, an astonishingly short time for a Gothic cathedral. A fragment of Mary's veil can still be seen today. The cathedral is most famous for its stained glass and statues. They tell the stories of the Old and New Testaments and were created to educate and inspire the illiterate masses in medieval France.
Anticipating imminent invasion by the Germans, locals removed the cathedral's stained glass windows, rolled them up (lead is soft and pliable), and hid them in nearby barns.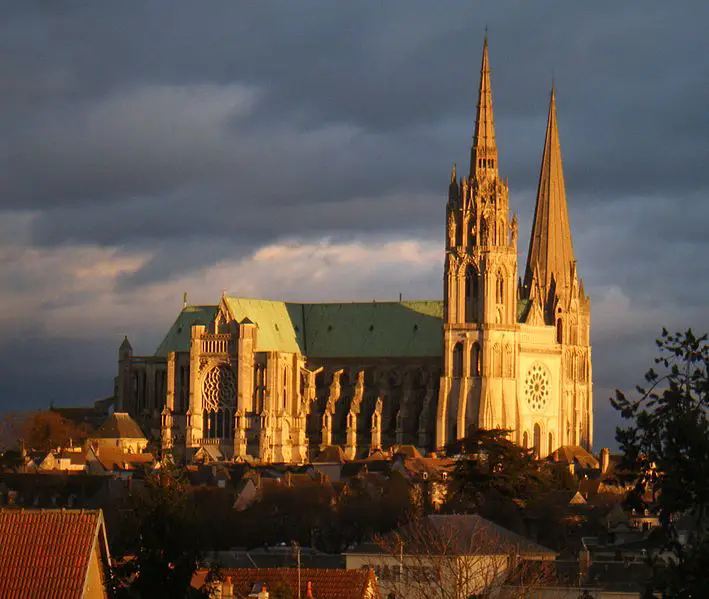 The cathedral is threatened, then saved.
While the city was heavily bombed during World War II, the cathedral was saved when an American Army officer, Colonel Welborn Barton Griffith, Jr. challenged the order to destroy it. He volunteered to go behind enemy lines to determine whether the German Army was occupying the cathedral. Accompanied by a single enlisted soldier, Griffith went to the cathedral and confirmed that the Germans were not using it. After reporting it was clear, the order to destroy the cathedral was withdrawn and Allied troops later liberated the area. Sadly, Griffith was killed in action later that day on 16 August 1944, in the town of Leves, near Chartres.  The French Government awarded him the Croix de Guerre and the Légion d'Honneur for his valor.
Visiting the cathedral today
The best way to appreciate the cathedral and its rich medieval symbolism is to find a good local guide. Consider historian Malcolm Miller, a man who has dedicated his life to studying the cathedral and sharing his knowledge with visitors. In high season, Malcolm can be found giving daily tours.
When darkness falls, you can experience Chartres from yet another perspective. Chartres en Lumieres, a free nighttime sound-and-light show, runs from April through September. Visitors are encouraged to follow a path of lights through 24 historical scenes throughout the town. Download the Chartres en Lumières app from Google Play or the Apple Store.
Don't miss the pastries
A visit to Chartres would not be complete without trying the mentchikoff, a local specialty.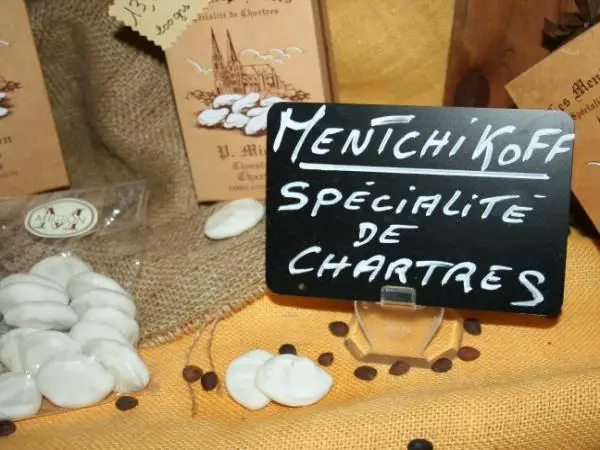 Imagine this: a chocolate core of hazelnut praline, butter and cocoa, encased in a thin coat of vanilla icing called Swiss meringue. Each piece is hand-rolled so that it is crispy on top and soft inside. They were created in 1893 by Chartres confectioner, Daumesnil, to celebrate the Franco-Russian Alliance. This sweet takes its name from Prince Aleksandr Danilovich Menshikov, a former confidant of Tsar Peter the Great.  Chartres also produces delicious almond macarons with a near endless assortment of fillings and colors.
Reims, royal coronations and Champagne
Reims, located 89 miles north-east of Paris, was founded by the Gauls around 80 B.C. It  became a major city during the period of the Roman Empire. Today it's a city of 187,000 transitioning into a modern business center. Tourists visit the magnificent Reims Cathedral, host to the coronations of French kings over the centuries. As the home of Champagne, France's magical sparkling wine, Reims also offers the possibilities of visiting local vintners.  And it was in a schoolhouse in Reims that the Germans signed the act of surrender on 7 May, 1945, ending WWII hostilities in Europe. They all present good reasons to stray from Paris for a day.  Reims is 89 miles northeast of Paris.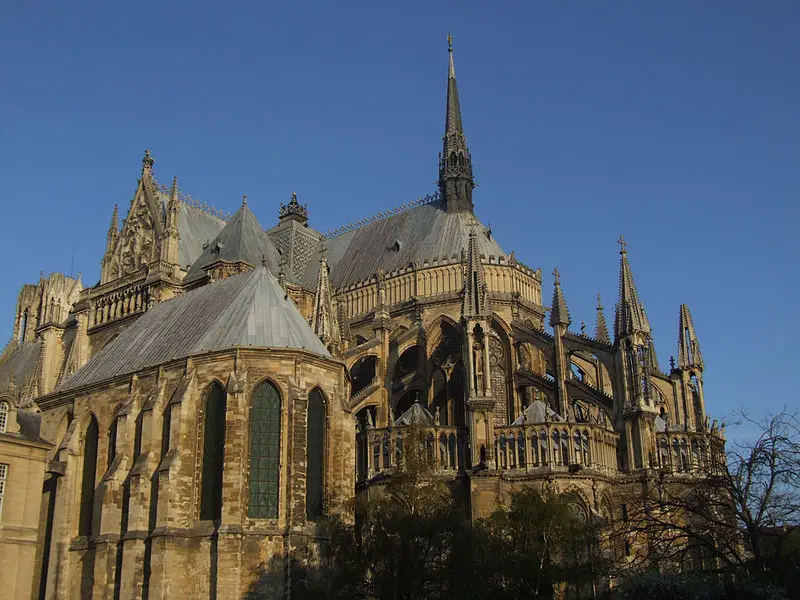 The 13th century cathedral in Reims was one of the first monuments to be named a UNESCO World Heritage site. It boasts exceptionally rich statuary—with no fewer than 2,303 statues—as well as an equally rich history. Located in the heart of the city, the cathedral's towers rise above the rooftops of Reims to a height of 266 feet. The nave has a vaulted ceiling some 125 feet high and the cathedral is over 490 feet long. Be sure to look for the stained glass windows created by Russian modernist artist Marc Chagall, 1887-1985.
Royal cathedral with a fascinating past
The current cathedral was constructed when the prior church was destroyed by fire in 1211. That church had been built on the site where Clovis I, the first king of the united Franks, was baptized by Saint Remi, bishop of Reims in 496. Originally, the site was home to Roman baths.
In 1027, King Henry I of France was the first king to be crowned in Reims. This established Reims Cathedral as the location where France's monarchs would be coronated. Thirty-one kings would ultimately be crowned in the cathedral; only seven were not.
Despite being a symbol of royalty, the cathedral survived much of the French Revolution.  Some statues were broken, the gates were torn down, and a royal scepter, the royal Hand of Justice, was burned. All in all, the damage was limited. The coronation of Charles VII in 1429 marked the turn of the Hundred Years' War, much due to the heroism of Joan of Arc. She is memorialized in two statues at the Cathedral– one on the grounds, a classic depiction of her on horseback, and one in the cathedral quietly standing.
Reims, the capital of Champagne
After a morning about town, a visit to Reims' world-famous Champagne cellars makes for a perfect afternoon.  Pommery, Veuve Clicqout, Taittinger, Martel, and Mumm are some of the Champagne houses located in Reims. The most impressive cellars are clustered together near the Abbaye St-Remi, on top of the chalky quarries dug out by the Romans. Over 155 miles of champagne cellars lie beneath Reims. They hold around 200 million bottles. All of the cellars charge entry fees and require reservations; most offer several tours in English daily.  Remember to bring a wrap as the cellars can be cold.
Champagne is enjoyed with biscuits Roses de Reims. These fine pink biscuits created for dunking into a glass of Champagne.  Now they're enjoyed with a cup of tea or used when creating the classic "Charlotte" cake. First made in the late 18th century, the original recipe of Fossier's Confectioners is still a closely guarded secret.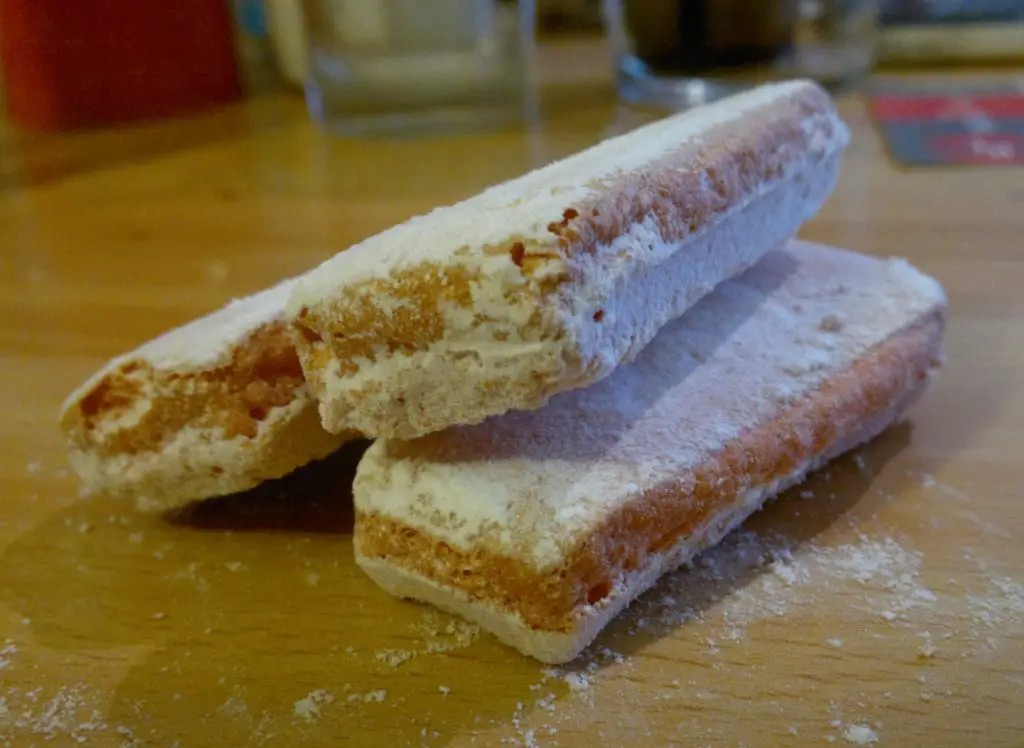 If you still can't get your fill of Champagne, try a chocolate bouchon de Champagne. These dark chocolates are filled with Marc de Champagne liqueur and shaped like champagne corks. They've been a specialty of the region since the 1950s and can be found in local boulangeries. They are made locally or supplied by their creator, the chocolate producer Chocogil.
1945: the war in Europe ends in Reims
Supreme Allied Commander Gen. Dwight Eisenhower and his staff were headquartered in Reims for the last two years of World War II. The little red schoolhouse where Eisenhower managed Allied operations made history. It was the setting where General Alfred Jodl, Chief of Staff of the German armies, signed the document of surrender to end the war in Europe on May 7, 1945. The news was announced the next day, turning May 8 into Victory in Europe (V-E) Day. The Museum of the Surrender (Musée de la Reddition) has an extensive collection of WWII artifacts that will thrill history buffs.
Allons-y! Take the next train out of Paris.
Amiens, Chartres, and Reims are just three destinations to explore in France, using Paris as a base. Consider the UNESCO-listed Loire Valley. Here you can experience Renaissance France with visits to the castles at Chenonceau, Chambord, and Cheverny. Or visit the Normandy coast, Omaha Beach. This is where the D-Day landings on June 6, 1944 laid the foundation for a decisive Allied victory and the end of the Second World War.
Or choose another city as your base. Consider the southern city of Marseilles. Here you can walk in the footsteps of Vincent van Gogh with a day trip to Arles. Or you can relish the soothing scent of lavender while touring Provence. Start in Bordeaux or Strasbourg, Lyons or Tours. With a bit of imagination and a sense of adventure—and a reliable internet connection—there are so many ways to enjoy traveling in France.
* * *
This article originally appeared on July 16, 2019. Its content was thoroughly reviewed and updated on August 19, 2022. 
You might also like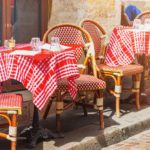 Hidden gardens, the perfect croissant, Edith Piaf: Books for exploring Paris by foot and all the senses
Dijon, Capital of Burgundy (and Mustard)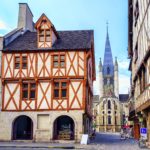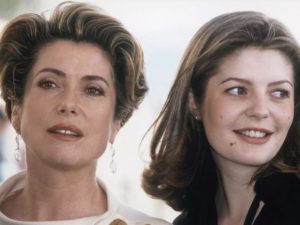 Ageless beauty: Secrets of French skin care
…and more on the BLUE HARE home page.