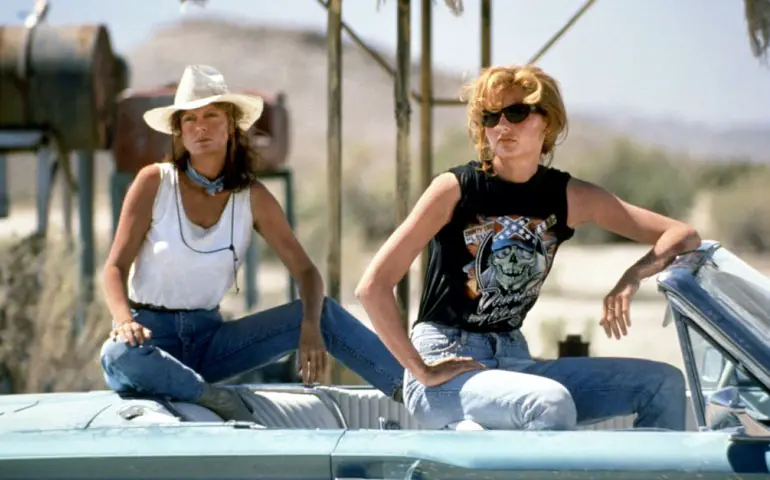 The days when summer slips into fall are some of the most pleasant times of the year to be outdoors. They offer a last chance of getting some natural vitamin D before bundling up for winter. It's time to bring back the road trip. Much as the autumn leaf tour is always a favorite, we wanted to find excursions that would take us to new places and offer new experiences. The three we selected are close to major metropolitan areas. This makes them perfect for a weekend outing. Explore some of the masterpieces of architect Frank Lloyd Wright. Get up close and personal with your Thanksgiving fruit at the Cranberry Harvest in the New Jersey Pine Barrens. Enjoy the festive Niagara Wine Festival near charming Niagara-on-the-Lake, Ontario.
Frank Lloyd Wright at 150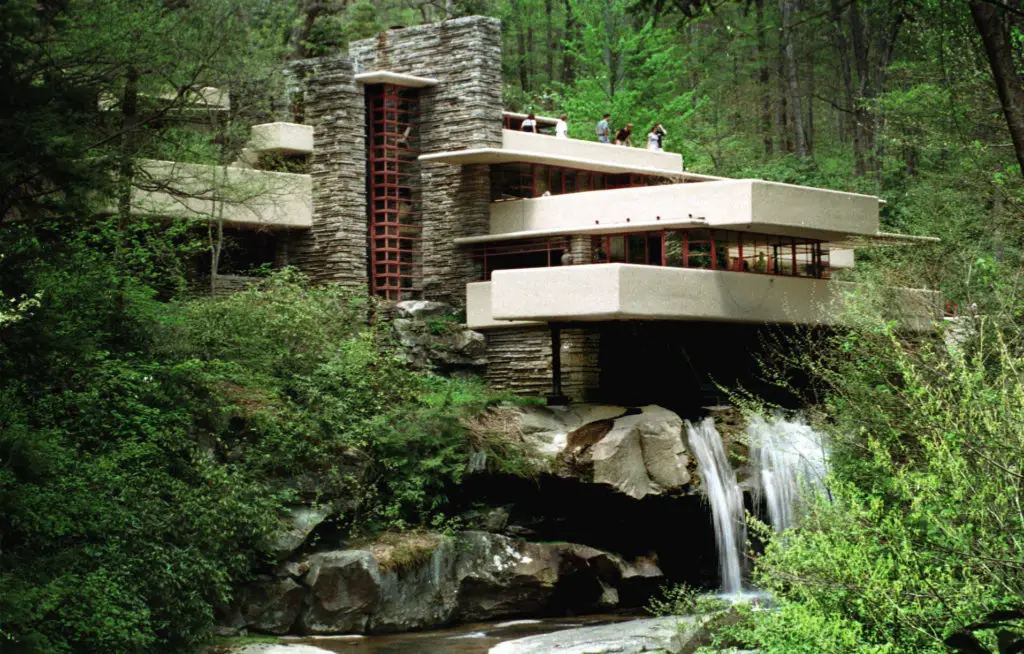 This year marks the 150th anniversary of the birthday of Frank Lloyd Wright, one of America's most notable architects. Inspired by the broad, flat landscape of the Midwest, Wright pioneered the Prairie style of architecture. He built on the Arts & Crafts and Mission styles and incorporated elements of Japanese design. The Antique Home website describes Prairie style houses as having a combination of these features:
One or two-story
One-story projections
Open floor plan
Low-pitched roof
Broad, overhanging eaves
Strong horizontal lines
Ribbons of windows, often casements emphasize horizontality of overall design
Prominent, central chimney
Stylized, built-in cabinetry
Wide use of natural materials especially stone and wood
Wright was a prolific architect, designing more than a thousand buildings in his lifetime. You can find his work in 36 states as well as in Canada and Japan. His portfolio includes office buildings, places of worship, hotels, and houses. Fifty-nine of them, scattered across 23 states, are open to the public.
Visiting one or more of the sites makes for a pleasant fall outing, and you can still enjoy some red and gold foliage along the way.
Museum of Modern Art.
Frank Lloyd Wright at 150: Unpacking the Archive.  Through October 1 (New York)
Frank Lloyd Wright at 150: Unpacking the Archive is a major exhibition of approximately 450 works from the 1890s through the 1950s. It includes architectural drawings, models, building fragments, films, television broadcasts, print media, furniture, tableware, textiles, paintings, photographs, and scrapbooks, as well as a number of works that have rarely or never been publicly exhibited. The exhibition seeks to open up Wright's work to critical inquiry and debate. It also strives to introduce experts and general audiences to new angles and interpretations of this extraordinary architect. More information.
Fallingwater (Pennsylvania)
Fallingwater, a private residence Wright designed in 1935, is one of his most widely acclaimed works. It exemplifies his philosophy of organic architecture: the harmonious union of art and nature. Wright designed Fallingwater with a series of cantilevered balconies and terraces that rise above the waterfall over which it is built. It is especially beautiful in the fall.
The house has been designated as a National Historic Landmark and was named the "best all-time work of American architecture" in a poll of members of the American Institute of Architects. Since its public debut 82 years ago, more than five million visitors have toured and experienced Fallingwater.
Fallingwater is the only major Wright work to come into the public domain with its setting, original furnishings, and artwork intact.  Several different tours are available—a one-hour guided tour; an in-depth tour; a brunch tour (limited spaces); and a sunset tour that ends with hors d'oeuvres on the terrace. Nice.  Advance ticket purchase is essential for all tours. Tickets may be purchased online or by calling 724-329-8501.   Open all year except Wednesdays and holidays. Fallingwater.org
Fallingwater is located in the mountains of southwestern Pennsylvania, also known as the Laurel Highlands, about 70 miles east of Pittsburgh.
Duncan House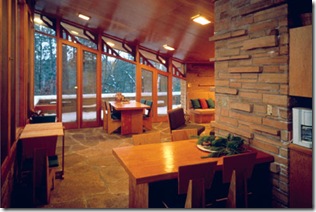 Built in 1957, this Wright-designed house was saved and dismantled from its original location in Lisle, Illinois, and reassembled in Pennsylvania near Fallingwater in 2007. Duncan House is an example of Wright's Usonian-style, a series of pre-fab homes characterized by native materials, flat roofs and large cantilevered overhangs for passive solar heating and natural cooling, natural lighting with clerestory windows, and radiant-floor heating.
You can stay overnight. Lunch and dinner tours of Duncan House are available, as well as a unique and memorable overnight lodging experience.  The house sleeps 6 guests. For information and rates: Franklloydwrightovernight.net.
Wisconsin's Frank Lloyd Wright Trail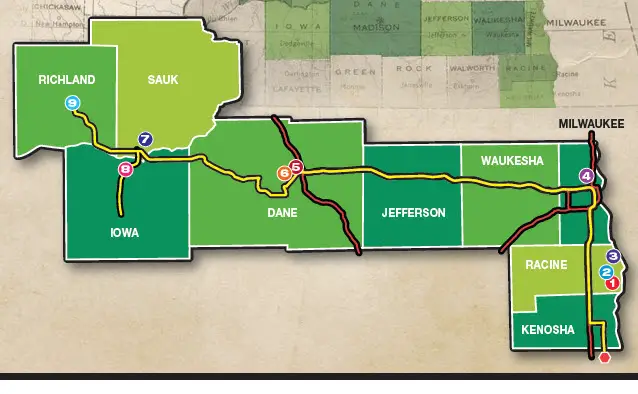 Wisconsin, Wright's home state, is home to a great number of his structures, many in close proximity. This summer, the new Frank Lloyd Wright Trail—a road route—was launched. It takes travelers on a self-guided tour of nine Wright structures, beginning with the SC Johnson Administration Building and Research Tower in Racine and continues to Madison.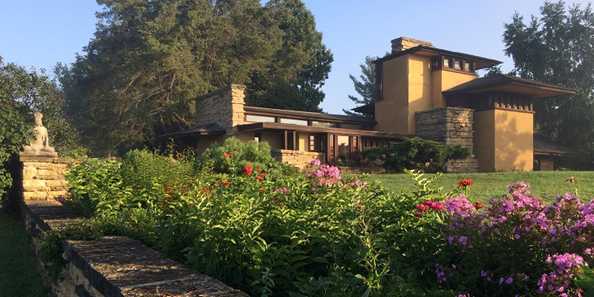 From there the trail heads to  Taliesin and Frank Lloyd Wright Visitor Center, his 800-acre estate overlooking the Wisconsin River in southwest Wisconsin.  Along the way you'll witness the dramatic bluffs and ravines that inspired Wright's natural, organic architecture and Prairie School style.
For more information visit the Frank Lloyd Wright page at Travelwisconsin.com
Chicago and Oak Park
Wright moved to Chicago In 1887 in search of work as there was a building boom following the catastrophic Great Chicago Fire of 1871.  As a result, the Chicago area has more Wright buildings than anywhere in the world. In 1889 he built a small house in Oak Park, a village just to the west of the Chicago city line. Over a period of several decades, from his earliest work to his "first mature period," Wright designed 25 structures in Oak Park, many located in the Frank Lloyd Wright Historic District, which the village has outlined on a map.
Most of the Frank Lloyd Wright homes in the Oak Park area are privately owned.  The annual Wright Plus Housewalk offers rare interior tours of private homes in mid-late May each year.  Next year's Wright Plus will be held on Saturday, May 19, 2018.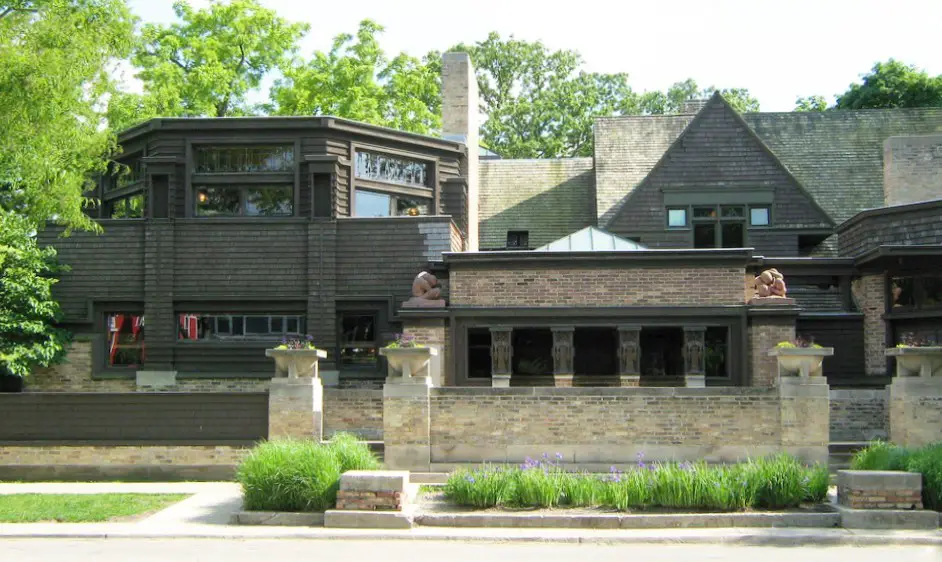 The Frank Lloyd Wright Home and Studio (1889/1898) served as Wright's private residence and workplace from 1889 to 1909—the first 20 years of his career. Wright used his home as an architectural laboratory, experimenting with design concepts that contain the seeds of his architectural Image philosophy.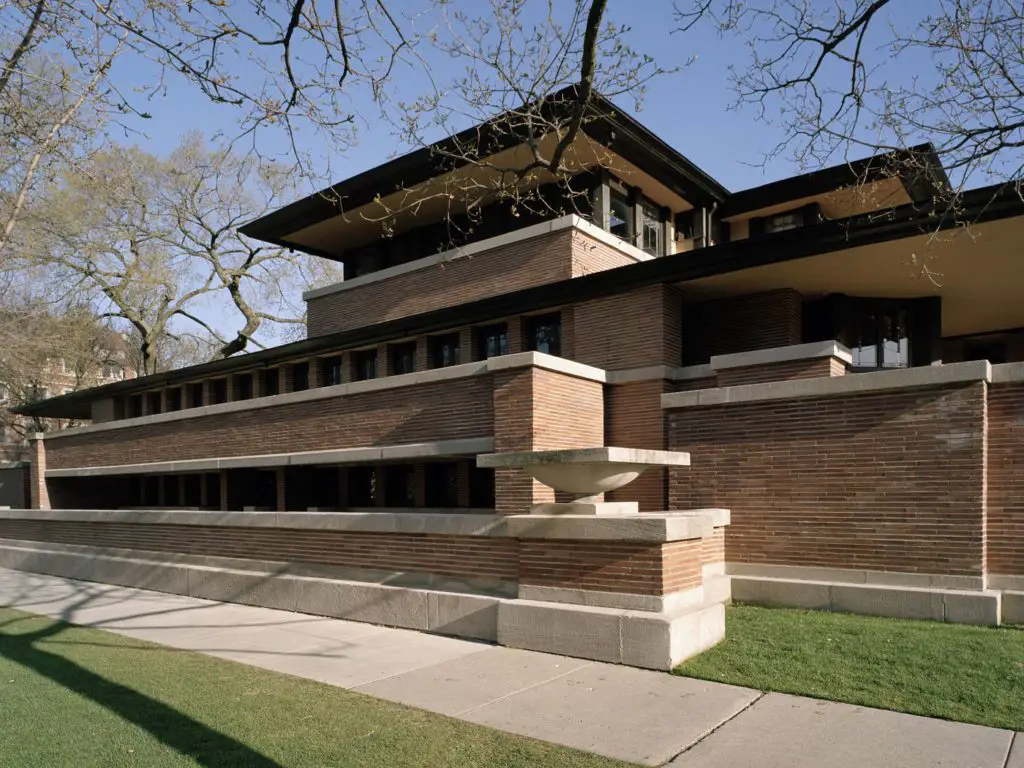 The Robie House on the University of Chicago campus is considered one of the most important buildings in the history of American architecture. Created by Frank Lloyd Wright for his client, businessman Frederick C. Robie, the Robie House is both a masterpiece of the Prairie style and renowned as a forerunner of modernism in architecture. Tours are conducted Thursday-Monday, 10:30 am–3:00 pm.

New Jersey Cranberry Harvest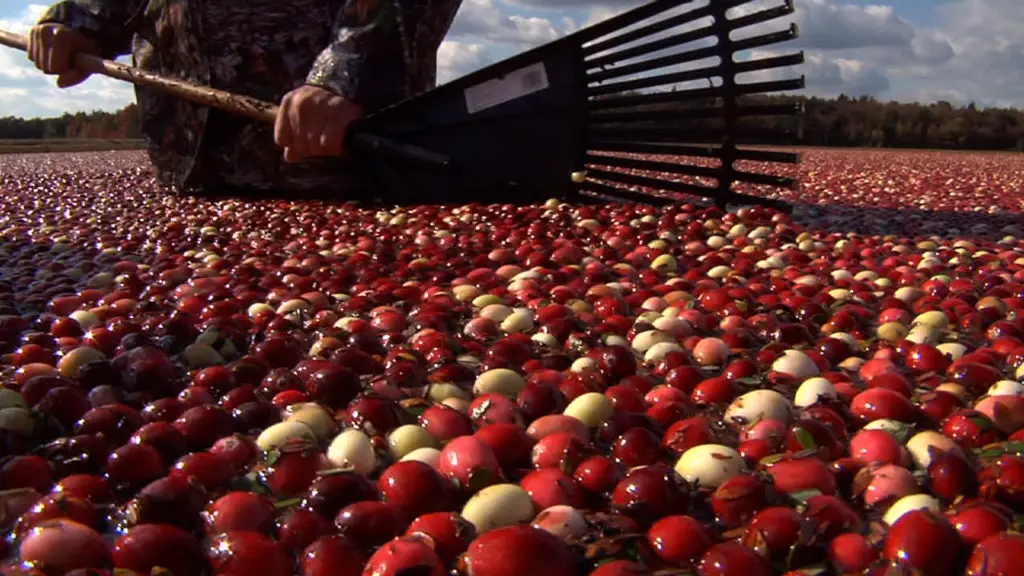 Forget apple picking. Captivate your audience at the Thanksgiving table with tales of cranberry bogs and how you were really there.
New Jersey produces the third-highest number of cranberries in the country, mostly cultivated in areas of the Pine Barrens, including Whitesbog, now located in Brendan Byrne State Forest. The Pine Barrens is a heavily forested area of coastal plain stretching across more than seven counties of New Jersey, and is home to the mythical Jersey Devil. There are numerous deserted villages, most of them simply abandoned for decades or even centuries; some believe the village of Ong's Hat to be a mysterious portal to another dimension. (Read more on weirdnj.com.)  The name "pine barrens" refers to the area's sandy, acidic, nutrient-poor soil.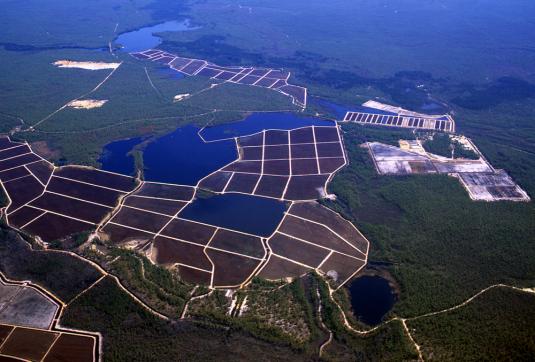 Whitesbog Village in Browns Mills, NJ was the largest NJ cranberry farm in the early 1900's. Whitesbog is listed on both the National and State Registers of Historic Sites. It includes the village and the surrounding 3,000 acres of cranberry bogs, blueberry fields, reservoirs, sugar sand roads and Pine Barren's forests. Map.  The bogs are about two hours from New York city and an hour from Philadelphia.
September 24: Cranberry Harvest Hike. Whitesbog, NJ.  Take a walk through active and non active cranberry bogs, through reservoirs and explore Whitesbog while learning about the history of this autumn berry.  Advance reservations requested, $10/participant. Children under 12 free. No pets. Updates are posted on the Whitesbog Preservation Trust Facebook page. For other questions and to make reservations, call 609-893-4646 or email [email protected].
September 30: Cranberry Harvest Tour with Ted Gordon. Whitesbog, NJ.  Hosted by Whitesbog Preservation Trust.  Tour the cranberry bogs during harvest season with seasoned Pine Barrens tour guide, historian and botanist Ted Gordon. Learn about the plants and fruit and see the cranberry bogs all around Whitesbog.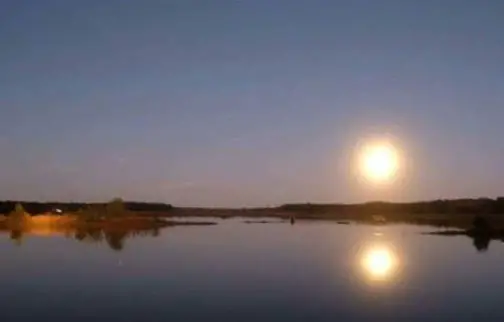 October 7: October Moonlight Walk. Walk through the village and bogs by moonlight, scheduled on or as close to the full moon as possible. An experienced guide will share insights about Whitesbog and surrounding the nature. Hosted by Whitesbog Preservation Trust.
October 7 – Nov 30: Tour cranberry bogs in a specially designed bus. For those who are not up for a long walk or hike, Pine Barrens Native Fruits will drive you through their working cranberry farm on buses specially designed to traverse the fragile bog landscape. Every seat has a window with panoramic views.  See the crews picking and gathering the fruit as they work in a sea of floating cranberries. The farm's owner—a lifelong "Piney", conducts the tours and explains how the crew water-harvests the cranberries. Like two guys from the commercials, only better. Program sponsored by Pine Barrens Native Fruits.
Niagara Wine Festival/Niagara-on-the-Lake 
The Niagara Escarpment in Ontario produces award-winning Riesling, Chardonnay, Pinot Noir, and Cabernet Franc wines, and spectacular ice wines, for which it is world famous. Today there are more than 150 VQA wineries in the Niagara region, with annual sales of $395 million as of 2014.
Visiting flower-filled Niagara-on-the-Lake, with its three theaters and (George Bernard) Shaw Festival, is a wonderful experience in itself—like a visit to an English country village. Many of the wineries are within walking distance of the main street.  Niagara wine country is just over 60 minutes by car from Toronto, and 30 minutes from Buffalo.
Niagara Wine Festival: From now through September 24th the wine region just across the border from Buffalo, New York, is holding its annual Niagara Wine Festival, where you can sample wines, cuisine (many Niagara wineries have top-rated restaurants), and entertainment in Montebello Park in St. Catherine's. A $40 Discovery Pass gets you into eight of 18 wineries for wine tastings and culinary pairings. Weekends through September 24th. More information at niagarawinefestival.com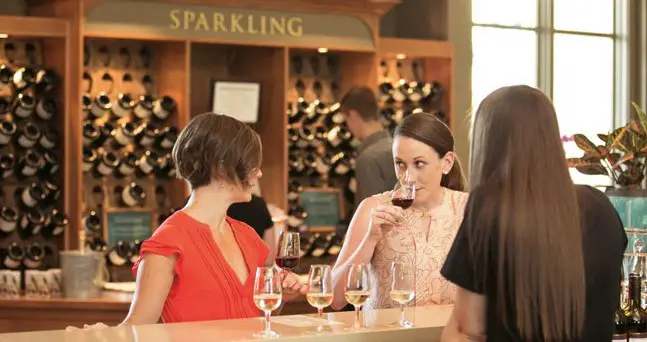 For a more exclusive tour there are private outfits who will squire you through the countryside in a luxury car/helicopter for private in-depth tours. Niagara Vintage Wine Tours offers several private tours conducted by sommeliers or wine professionals, where you meet with the owner and people behind some of the best and most honored award-winning wines. Gourmet lunch included, as well as a private Mercedes Benz or Executive SUV for transport. The tours cost around $700 for two.  niagaravintagewinetours.com. New World Wine Tours will pick you up at your door in Toronto for a tour of and tastings at three boutique vineyards and a "locally sourced" gourmet lunch, and return you at the end of the day. Bookings through the website; by phone (+1) 647-794-0101; or email  [email protected].
Pick and Stomp. September 20, 21, 27 & 28 from 11am-1pm. The Pick, Stomp and Taste event at the Niagara Wine Festival is a unique opportunity to hand pick grapes from Flat Rock Cellars' 80-acre vineyard, then stomp them in a barrel. Space is limited and reservations are required. Contact [email protected] or 905-562-8994.
Niagara Icewine Festival: January 12- 28, 2018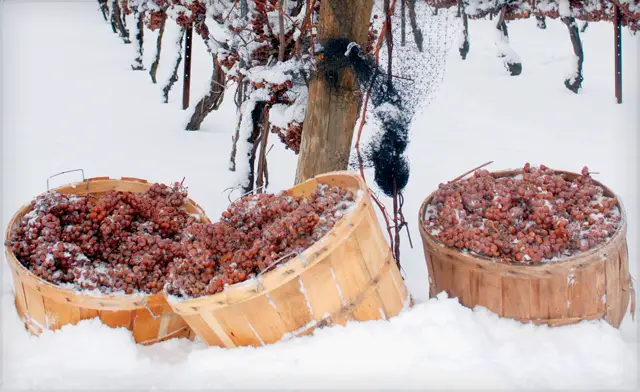 If you miss the harvest festival, the Niagara Icewine Festival celebrates one of Canada's most cherished products, Ontario Icewine. The festival will be held over three weekends in January when the Niagara region is transformed into a wintery wonderland. There will be a wide variety of wine and culinary pairings and outdoor activities along the famed Wine Route.
Top image: Susan Sarandon, left, and Geena Davis in "Thelma & Louise" (MGM); https://www.ncronline.org/blogs/ncr-today/thelma-and-louise-still-poses-challenge-male-entitlement; accessed on 9-14-2017.