We never tire of Paris, whether 'visiting' through our mind's eye from the comforts of home or groggily disembarking at Charles de Gaulle, travel guide in hand, raring to go.
With its magnificent architecture, history, art, culture, cuisine, and shopping, it's no surprise that Paris is such a beloved travel destination. When we plan a visit, we start by skimming some of the many excellent travel guides, like Rick Steves Paris 2018, Frommer's EasyGuide to Paris 2018, and Fodor's Travel Paris.  We use them to help shape our plans including where to stay, where to eat and what to do.
To make the trip truly special we create a focus or theme to help filter our explorations and direct our energies. We may decide to devote our time to searching out tasty and memorable foods, to feeling a sense of history by exploring the haunts of famous Parisians, or to experiencing lesser-known neighborhoods and emerging creative trends.  Lucky for us to have guides who have explored those nooks and crannies before us and recorded their findings in the books we list here, so we can discover them anew. Even if a trip to Paris is not in our immediate future, we can indulge in armchair travel through the eyes of the authors. Allons-y.
_________________________________________________________
_________________________________________________________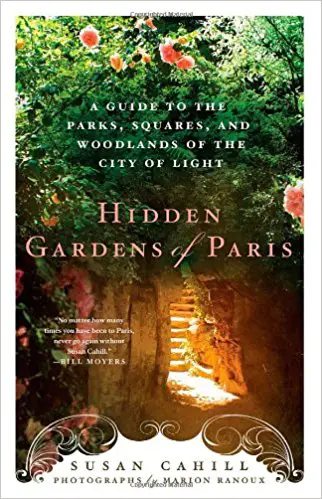 After a sensory-filled morning in the crowded streets of the Latin Quarter, with horns honking, pedestrians shouting, and the acrid smells of coffee and petrol assaulting our senses, the possibility of taking time out in a quiet green space in the city is very appealing. The gardens of Paris are just the ticket with their promise of flowers and majestic shade trees, fountains, ponds, and sculptures.
These places are often hidden away and easy to miss: The Jardin de l'Atlantique, on the roof of Gare Montparnasse. The Jardin de la Vallée Suisse, invisible from the street and accessible only if you know how to find the path. The Square Boucicaut, its children's carousel hidden inside a grove of oak and maples. Square Batignolles, the shade of the old chestnut trees an inspiration to the painter Édouard Manet and poet Paul Verlaine.
Hidden Gardens of Paris features 40 such treasures, arranged by geography―Île de la Cité, Left Bank, Right Bank, Western Paris, Eastern Paris. Author Susan Cahill has also written a second book on Paris, The Streets of Paris, in which she guides us through the neighborhoods and lives of famous Parisians. Ms. Cahill and her husband, author Thomas Cahill, divide their time between New York and Rome. Buy now on Amazon.com.
What better way to experience history than to retrace the footsteps of famous people who've made an impact on the world around them. Paris has been home to many larger than life characters—medieval lovers Héloïse and Abelard, scientist Madame Curie, chanteuse Edith Piaf, hero of the French Resistance Jean Moulin, composer Frédéric Chopin, beloved filmmaker François Truffaut, and novelist Colette.
In this beautifully illustrated book, Susan Cahill recounts the lives of 22 famous Parisians, taking us through the streets of Paris to the quartiers where they lived and worked: from Sainte-Chapelle on the Ile de la Cité to the cemetery Pere Lachaise to Montmartre and the Marais.
Each chapter opens with a beautiful four-color illustration by photographer Marion Ranoux, and every tour begins with a Metro stop and ends with a list of "nearbys"—points of interest, including cafes, gardens, squares, museums, bookstores, churches, and, of course, patisseries. Buy now on Amazon.com.
_________________________________________________________
_________________________________________________________
Patricia Wells, former International Herald Tribune restaurant critic, cookbook author, and cooking instructor, enjoys an enviable reputation as the leading American authority on food in Paris and Provence.  She and her husband, Walter, left New York City for Paris in 1980 and have never looked back. In 1984 her ground-breaking book, The Food Lover's Guide to Paris, was published.
Pastry chef and cookbook author David Lebovitz carried Wells's guide on his first trip to Paris, long before he moved there in 2002. "Many of us had trepidation about exploring French culture," he said in a Washington Post article about the Wells book, "even though we loved their cuisine, so her book made it accessible to Americans (and others) who needed a little more confidence, perhaps, about stepping into a cafe or ordering from a bistro menu."
In this new edition of The Food Lover's Guide to Paris: The Best Restaurants, Bistros, Cafés, Markets, Bakeries, and More, published in 2014, Wells shares an insider's knowledge on where to find the best croissants, the markets with the freshest and most spectacular produce, fish, meat, and cheese, the crustiest sourdough bread, and, of course, the most sublime French cheeses, as well as restaurants, cafés, wine bars, and bistros in Paris.  The book has 457 entries―345 new to this edition—plus 112 revisited and reviewed classics. The Food Lover's Guide to Paris  includes plenty of practical information: addresses, websites, email, hours, closest métro stop, specialties, and more. Buy now on Amazon.com.
It is also available as an app for the iPhone and iPad for $4.99.
Patricia Wells is the author of some 15 books on French food and lifestyle, her book Patricia Wells at Home in Provence (1996) won the James Beard Award for Best International Cookbook.
_________________________________________________________
_________________________________________________________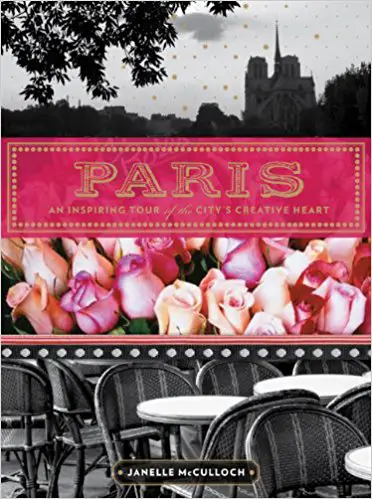 Author Janelle McCulloch invites us to enjoy her keen visual aesthetic in the more than 20 books she has authored, including 15 books on architecture, gardens, travel, style, and design.  She has an eye for detail, for the beauty found in daily living. In Paris: An Inspiring Tour of the City's Creative Heart, McCulloch takes us on a stroll through the real Paris.
Organized by arrondissement, this beautiful book takes us through the city's most charming streets, revealing lush scenes that surprise around every corner: pink and green macarons neatly displayed for sale, markets overflowing with fresh flowers, a row of cane chairs on the sidewalk, the sun setting over Notre Dame. Vibrant color photographs capture the spirit of Paris with history and context shared for each stop on the journey. Visually rich and inspiring, Paris is a book to be savored. Buy now on Amazon.com.
The New Paris

by Lindsey Tramuta, photography by Charissa Fay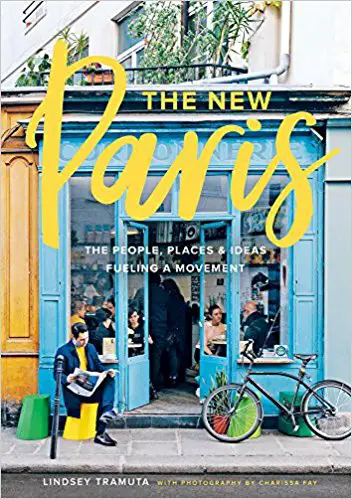 Paris has long been adored for its medieval beauty, rich history, and timeless brasseries and cafés. But the city is more than its storied past. Many key aspects of la vie française–food, wine, pastry, coffee, fashion and design–are being reinvigorated by an influx of new ideas and tastemakers who are building on the classics.
In The New Paris, Journalist Lindsey Tramuta spotlights the new trends and people—the rise of bistronomy and craft cocktail bars, environmental consciousness exemplified by the artisanal cheese-monger who makes deliveries by bicycle and wraps his wares in paper (to avoid plastic), and innovative foreign chefs who are merging with the locals to change the face of French cuisine.  These trends are making Paris a more creative, vibrant, and curious place to explore than its classical reputation might suggest. Hundreds of striking photographs capture this fresh spirit as Tramuta shares her selection of favorite places to eat, drink, stay, and shop. Buy now on Amazon.com.
A Philadelphia native, Lindsey Tramuta has called Paris home since 2006. She is a food and travel journalist, author, and social media & brand consultant – roles that combine three of her greatest passions: writing, storytelling and social media.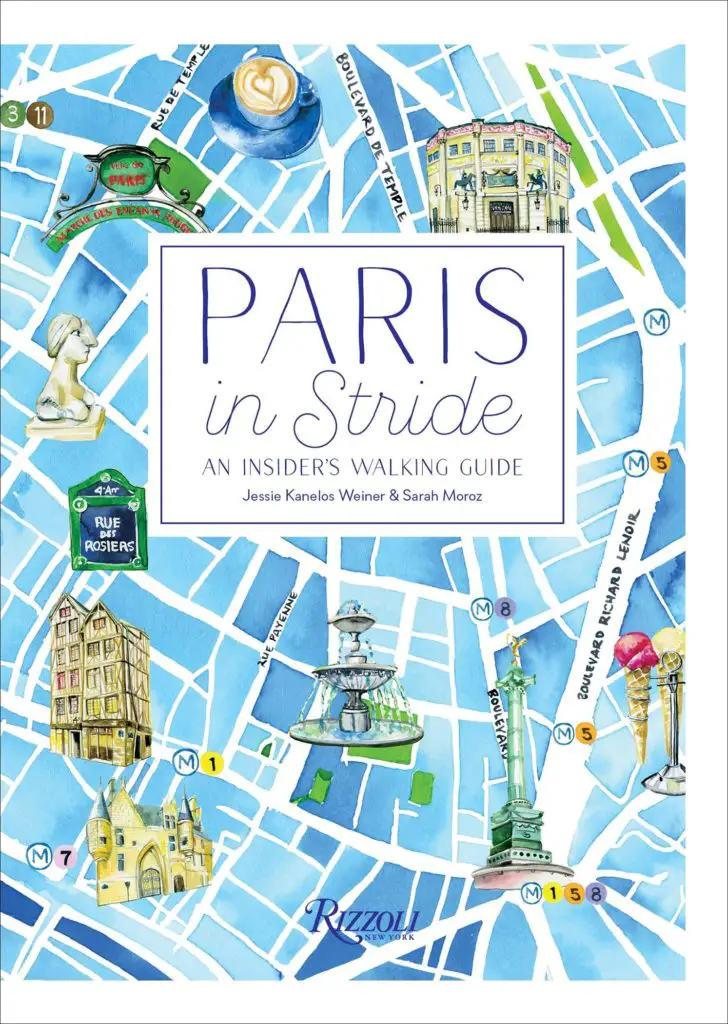 This beautifully illustrated guide offers a charming narrative of Paris featuring seven curated daylong walking trips. Vibrant watercolors illustrate architectural marvels, gardens, historical highlights, cultural hubs, markets, food and wine favorites, and other finds that make the city so special. Cultural musings, accessible histories, anecdotes, and informative details make this volume both practical and beautiful.
"Instead of visiting a city and doing a bunch of Google searches of places to go, with no logical way to connect the dots, we wanted to give readers a sense of how we walk around the city as locals," said author Jessie Kanelos Weiner, who moved to the city a decade or so ago from Chicago. "We might go to a certain place for lunch, maybe stroll by the Palais Royal afterwards, and then stop to admire a curious store window along the way." Buy Paris in Stride now on Amazon.com.
 *   *   *
Top photo: Square du Vert Galant behind the Pont Neuf, from Hidden Gardens of Paris: A Guide to the Parks, Squares, and Woodlands of the City of Light.