The 2020 spring flower and garden show season will soon burst into bloom—and not a minute too soon. While winter still stretches into the near future in much of the Northern Hemisphere, we'll soon see a tree bud here, a crocus there. But why wait? If you need a shot of greens and yellows and pinks and blues now, a stroll through a flower show may lift your spirits until your own garden is in bloom.
Orchids and more orchids
There are dozens of flower and garden shows to visit. This year orchids abound. Our list has something for everyone—the city dweller, the traveler, the adventurer. One is a childhood haunt of our editor. We looked primarily at the northern temperate zones, across continents, where hyacinths and narcissi and tulips fill fields with an abundance of color. The new life and beauty of spring brings us hope and renewal.
All dates are for 2020. Some dates were not set at the time of publication. We will update each event as dates and details become available.
Now – March 22, 2020, Kennett Square, Pennsylvania
In 1906, industrialist Pierre du Pont (1870-1954) purchased a small farm near Kennett Square, PA, to save a collection of historic trees from being sold for lumber. Today, Longwood Gardens is one of the world's great horticultural displays, encompassing 1,100 acres of dazzling gardens, woodlands, meadows, and fountains. As if this isn't enough, there's also a 10,010-pipe Aeolian organ and 4.5-acre conservatory.
This year's spring garden show is an Orchid Extravaganza, with nearly 5,000 blooming orchids filling the heated 4-acre conservatory. Longwood's talented horticulturists celebrate the beauty and variety of orchids with an artful display that includes spiraling Phalaenopsis, larger than life Ludsia baskets, and a tapestry of vibrant Vanda.Orchid blooms will drape from walls, spill from containers, and hang from the ceiling.
Orchid Extravaganza runs January 18–March 22. The Gardens are open daily from 9 am–5 pm. Admission is $25 for adults; $22 for seniors (age 62+); $13 for students (ages 5–18 or with valid student ID) and free ages 4 and under. Timed tickets are required and can be ordered on Longwood's website. For more details, visit longwoodgardens.org. 
February 29 – March 8. Pennsylvania Convention Center, Philadelphia, PA
Escape from northen climes and take a virtual trip to the sunny Mediterranean at this year's Phildaelphia Flower Show: Riviera Holiday.
The PHS Philadelphia Flower Show is the nation's largest and longest-running horticultural event.  Started in 1829 by the Pennsylvania Horticultural Society, the Show introduces the newest plant varieties, garden and design concepts, and organic and sustainable practices.
In addition to the major garden displays, the Flower Show features stunning displays by the world's premier floral and landscape designers.
Riviera Holiday: Citrus trees and lavender
Each year there is an official theme that serves as the inspiration for the exhibits. The 2020 theme is "Riviera Holiday," inspired by the world's exotic Mediterranean gardens.
Groves of citrus trees, fragrant waves of lavender, purple and white spiked salvia, scented geraniums, roses, rosemary and sage, and an esplanade of flowering arches create a stunning mosaic that is picturesque and charming.
The Show will include acres of lush garden landscapes with five new designers, including James and Helen Basson of Scape Design, and Laurélie de la Salle of Laurélie Paysages, both from Nice, France.
If all of that wandering makes you hungry you can get a taste of Saint Tropez at the Flower Show's Bloomin' Brunch, served in a beautiful garden setting.
Tickets are $42 for adults (advance purchase, available until February 28), $48 at the box office on show dates. The official website, theflowershow.com, has more information to help you plan your visit.
3. Royal Botanic Gardens, Kew: Orchid Festival
Richmond, London, UK. Now through summer
Kew Gardens, a botanical garden in the London Borough of Richmond upon Thames, houses one of the largest and most diverse botanical collections in the world–more than 50,000 different kinds of plants spread over 300 acres.  It is one of London's top tourist attractions and is a UNESCO World Heritage Site.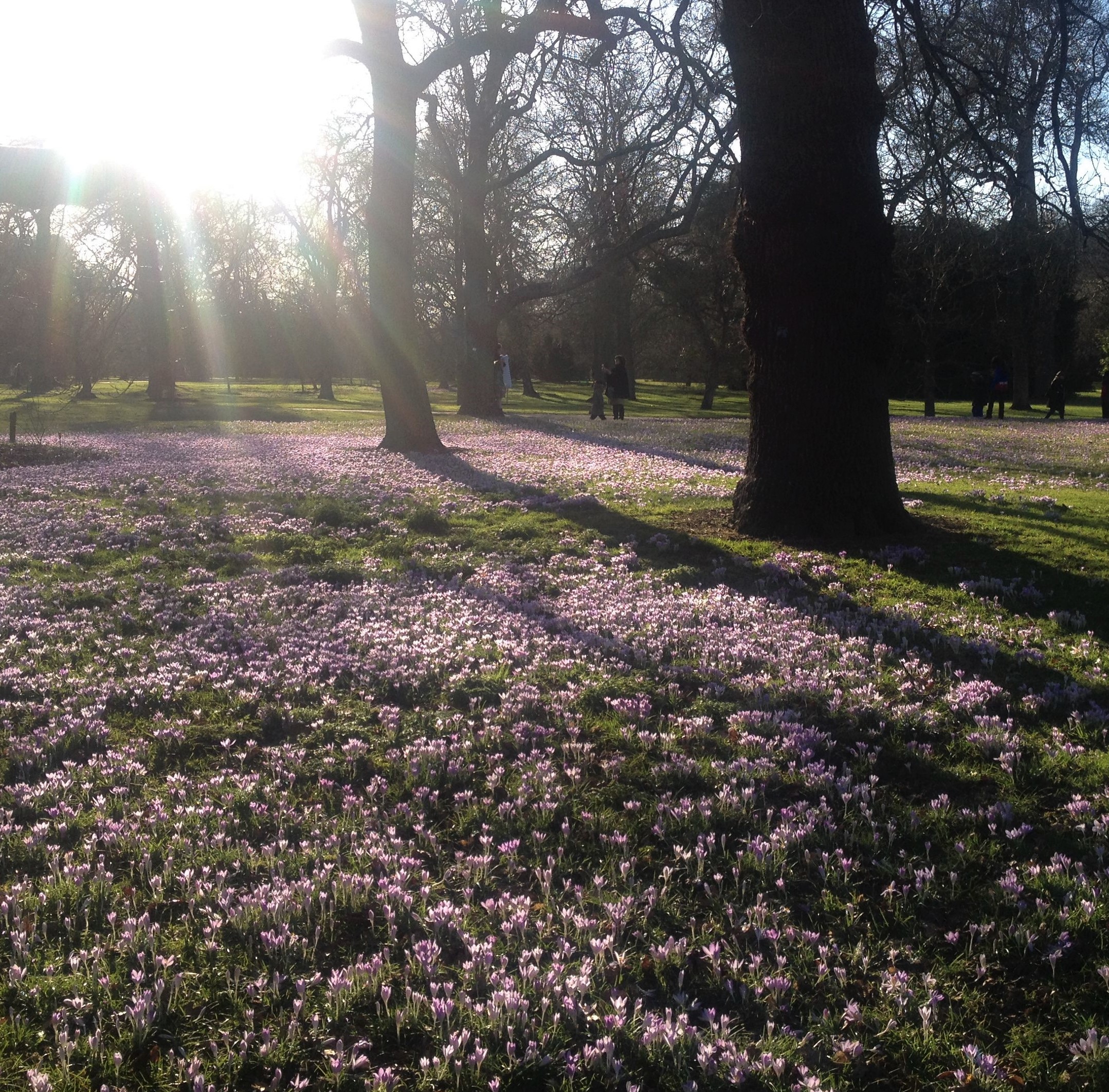 There are gorgeous glass greenhouses from the 19th, 20th, and 21st centuries, ornamental buildings, a royal palace, and formal and informal outdoor gardens and innovative plantings of all kinds. You can wander on your own or take part in the many organized tours and classes the Gardens offer.
Kew Orchid Festival 2020: Indonesia,  February 8 – March 8 2020 
In February, Kew Gardens' 25th annual orchid festival will celebrate the incredible wildlife and vibrant culture of Indonesia–an archipelago of more than 17,504 islands, including Java, Borneo, Sulawesi, Papua, and Bali. Indonesia's landscape is as diverse as the flora and fauna that inhabit it, from tropical rainforests to spectacular volcanos.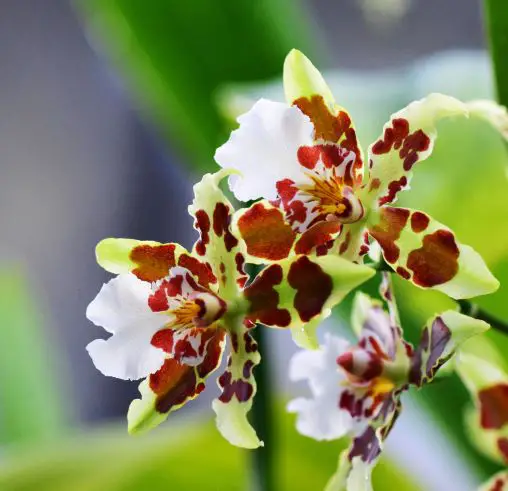 Visitors will find themselves transported to an entrancing paradise evoking some of the sights, smells, and sounds of Indonesia. The orchid festival journeys through the different zones of the glasshouse, where visitors will find spectacularly beautiful orchid displays, each representing an aspect of Indonesian wildlife and culture.
Royal Botanic Gardens, Kew is a global leader in plant and fungal science. This year's festival will showcase some of its ground-breaking work with collaborators in Indonesia to help identify, protect and promote the country's biodiversity.
General admission to the gardens for adults is £18.15/$23.77 (with voluntary donation) or £16.50/$21.61 without.  Entry to the orchid festival is included in the standard ticket to the gardens, but visitors must book a timed ticket slot online in advance: Kew Orchid Festival Tickets.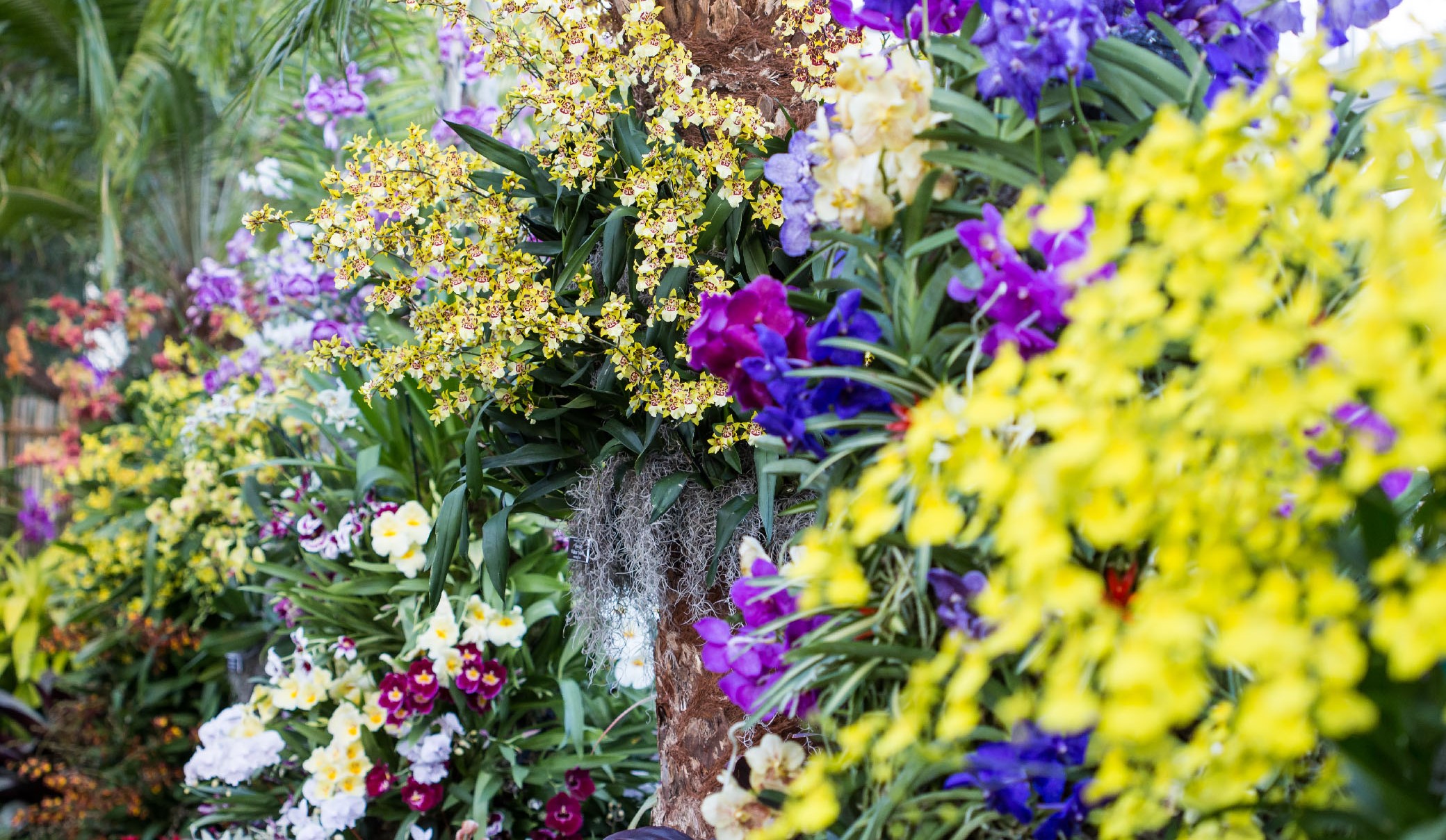 February 15 – April 19, Bronx, New York.
The New York Botanical Garden, located in New York City's Bronx borough, is an iconic living museum, a major educational institution, and a renowned plant research and conservation organization. Founded in 1891 it is one of the greatest botanical gardens in the world and the largest in any city in the United States.  The New York Botanical Gardens are a National Historic Landmark.
Now in its 18th year, The Orchid Show showcases thousands of dramatically displayed orchids in the landmark Victorian-style Enid A. Haupt Conservatory at the NYBG.
Jeff Leatham's dazzling floral creations and designs
The Orchid Show: Jeff Leatham's Kaleidoscope will feature the floral creations of Jeff Leatham, the artistic director of the Four Seasons Hotel George V, Paris and floral designer to the stars. His bold vision will unfold through captivating installations and designs transforming each gallery of the exhibition into a different color experience–like the turn of a kaleidoscope.
All visitors need either mobile or printed tickets for entry to the Garden. Reserve your tickets in advance online (you can sign up for an email alert when tickets go on sale) and either print them at home or have them ready on your mobile device for quicker entry. For general information visit the NYBG website.  A special section has more information about the Orchid Show.
March 21 – April 19, Pittsburgh, PA
Located in the middle of Pittsburgh's vibrant Oakland neighborhood (home of the University of Pittsburgh, Carnegie-Mellon, and the Carnegie museums), Phipps Conservatory and Botanical Gardens has created world-class garden experiences since 1893.
It was commissioned by steel and real-estate magnate Henry Phipps as a gift to the City of Pittsburgh. The conservatory encompasses 15 acres including a 14-room glasshouse and 23 distinct gardens. Elaborate gardens, stunning seasonal flower shows, exclusive commissioned exhibits, and a renowned orchid and bonsai collections attract nearly a half million visitors each year.
Spring Flower Show: Canopy of Color
This year's Spring Flower Show is themed Canopy of Color. The displays will be in beds below and baskets and designs above, creating a world of color waiting to be explored. With whimsical elements suspended in the air and tall blooming trees creating color overhead, guests are encouraged to look up and look forward to this season of renewal.
Phipps Conservatory is just a few miles from downtown Pittsburgh in Schenley Park.
Tickets can be purchased online in advance. General admission to the Conservatory is $19.95 for adults, $17.95 for seniors (62+). More information about the Spring Flower Show. Learn more about Phipps Conservatory and Botanical Gardens.
March 21 – May 10, Lisse, Netherlands. 
According to tulip lovers worldwide, Keukenhof is the most beautiful spring garden in the world. Located about 30 minutes from Amsterdam and The Hague, it is also the world's largest flower park.
More than seven million tulips, daffodils and hyacinths fill over 32 hectares with color and fragrance. The spring garden also offers thirty alternating flower and plant shows, seven inspirational gardens, 15 kilometers of footpaths and 32 hectares of gardens, where millions of bulbs are planted each year.
More than seven million flowers
Tulips, hyacinths, daffodils, and other spring bulbs of a variety of vibrant colors carpet the grounds. Seven million flowers are planted there every year.
In addition to tulips, visitors will find pavilions packed with flowering bulbs, cut flowers and potted plants. There are colorful floral displays that change every week; masses of orchids and, during the last 12 days of the season, it is home to the world's largest lily show, a true spectacle.
For some, a lifelong dream
But for gardeners and flower enthusiasts, a visit to see the tulips at Keukenhof is a lifelong dream. If you get it into your head to drive through the flower fields of northern Netherlands to see tulips au natural, be advised that these fields are farmed for the bulbs, so the flowers are beheaded early on to promote healthy bulb growth.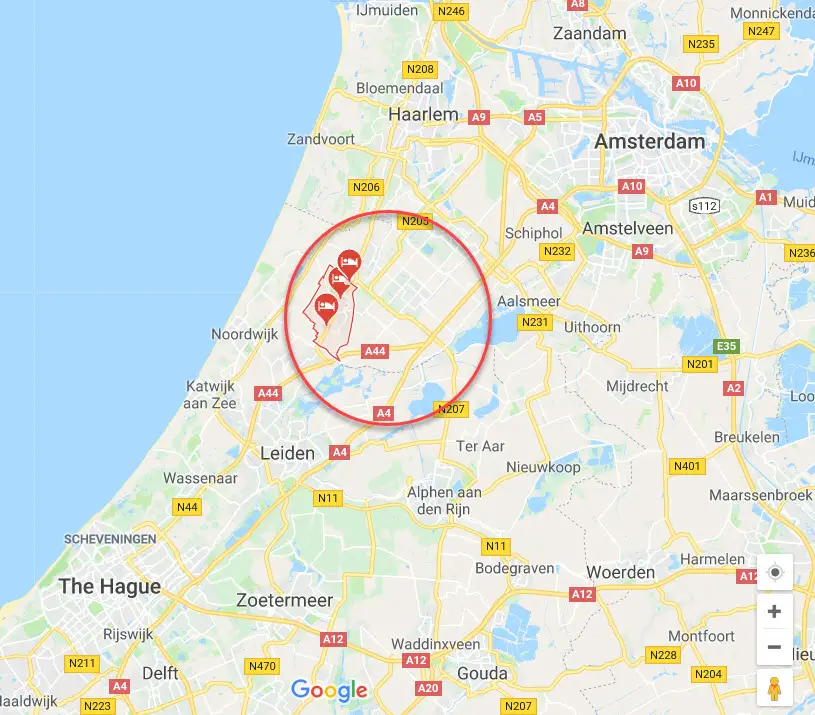 The roads surrounding the park can get quite busy during this spring period. A delightful alternative to driving from the capital is to stay in a nearby town, rent a bike and then cycle to the park. This is a great way to enjoy the unique Dutch landscape around Lisse.
For others, there are luxury coaches—called Keukenhof Express—that go to the garden directly from Schiphol Airport and Leiden Centraal station.
General admission has not yet been posted but is generally around $21 for an adult. Combination tickets that include transport from the airport, train station, and Dam Square in Amsterdam are available. For more information visit the Keukenhof website.
April – May, Cornwall, England
For an other-worldly experience head to The Eden Project, an educational charity and social enterprise located in Cornwall, England. Its visitor center is nestled in a huge crater. Massive Biomes house the largest rainforest in captivity, and stunning plants and exhibitions serve as a backdrop to its contemporary gardens, summer concerts and exciting year-round family events.
After glittering winter frosts, and torrential downpours of rain, spring finally arrives at the Eden Project with drifts of flowering spring bulbs carpeting the gardens.
Visitors will find a succession of fragrant narcissus, crocus, beautiful hellebores in a range of hues, erythronium (dog-tooth violets), delicate, three-petalled trillium, and deliciously scented hyacinths.
Adults can enjoy spotting the first signs of spring on the Plant Discovery Trail. Among the best plants to see in the spring are beautiful tulips, the rare jade vine, and gorgeous geraniums.
See full details and ticket prices on the Eden Project website.
New York, Chicago, San Francisco. March 22–April 5.
An abundance of buds and blossoms celebrate Macy's annual Flower Show in its marquee stores in New York, Chicago, and San Francisco. Every spring these three Macy's stores are filled with breathtaking floral scenes composed of blooms, fantasy flowers, and lush plants from around the world. Millions of guests file in during the two-week exhibition.
The 2020 Macy's Flower Show: Voyage to Oceanum
This year's Flower Show will provide a sea of inspiration as it celebrates the arrival of the spring season. Visitors to the Macy's flagship stores in NYC, Chicago and San Francisco will take a "Voyage to Oceanum to experience vibrant deep-sea florals and stunning marine life in specialty gardens,.
Special events are held throughout the show. Visitors can take part in flower demonstrations and workshops, cooking demonstrations , fashion presentations, and musical performances.
has not been announced yet. Macy's Flower Show typically takes place from late March through early April and is free to the public during store hours.
Spring flower shows will be held at Macy's stores Herald Square in New York City, State Street in Chicago and Union Square in San Francisco. For store hours, please visit macys.com. Learn more about Macy's Flower Show.
March 28–May 3, Kennett Square, PA. 
The greater Philadelphia area has been blessed with its easy access to Longwood Gardens since its creation by founder, Pierre S. du Pont. From the intricate fountain systems to the meticulous gardens to the architectural grandeur, awe-inspiring discoveries are enjoyed by more than a million guests each year. But there isn't a more beautiful season than spring to explore every inch of its 1,077 acres where you will find millions of crocus, winter-aconite, glory-of-the-snow, and daffodils blanketing the grounds.
Follow the gardens as they bloom
Stroll through more than 240,000 tulips in bloom in the Idea Garden and Flower Garden Walk, wander through Peirce's Woods where native azaleas and foam-flowers abound, and experience flowering trees and delicate herbaceous plants coloring the landscape. The Garden's website tracks what's in bloom, which will help you time your trip.
Longwood Gardens is 30 miles west of Philadelphia. To find directions using an online search, use the following address for Longwood Gardens: 1001 Longwood Road, Kennett Square, PA 19348
Fees: Adult tickets are $23 – $30 (peak times). Timed admission tickets are required and a limited number of tickets are available. The Spring Blooms show is free with general admission.  More information at LongwoodGardens.org.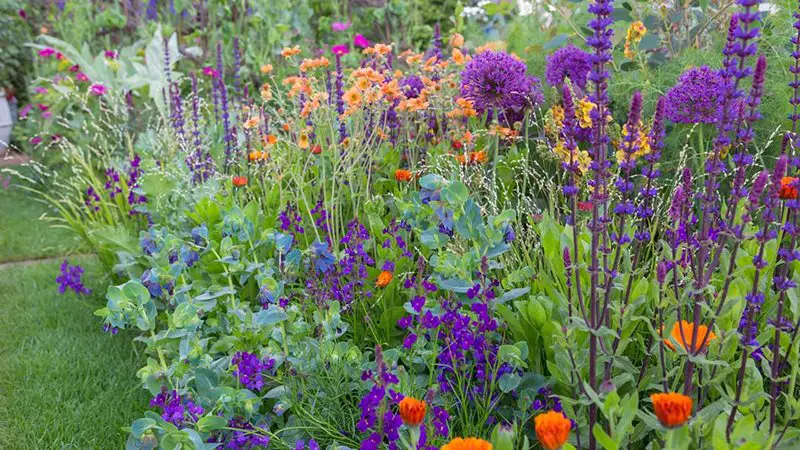 May 19 – 23, Royal Hospital Chelsea, London. 
The Royal Horticultural Society (RHS) Chelsea Flower Show shines a spotlight on the world of gardens, plants and flowers for five glorious days every May. Held at the Royal Hospital Chelsea in London, it is the most famous flower and landscape gardens show in the United Kingdom, and possibly the world, attracting more than 150,000 visitors each year over five days.
Climate change is front and center
Gardens highlighting ways to combat climate change will take center stage at the RHS Chelsea Flower Show 2020.
As the climate crisis continues to escalate, a number of garden designers will use the world's most famous flower show to encourage a future where we live in harmony with nature through urban design and sustainable practices.
Designers across all categories also have taken steps to be more sustainable in their garden designs. An increased number are sourcing their plants and materials from within the UK, incorporating planting schemes which benefit wildlife and the environment.
Garden for Friendship
Loneliness is a key issue in the UK today, as it is elsewhere. The Royal Horticultural Society and Britain's national health system will join forces through the RHS "Garden for Friendship"  to promote gardens and gardening for good mental health. The Garden for Friendship will reflect an urban street and promote greening up front gardens, balconies, window boxes, and community spaces.
RHS Chelsea influences more than just gardeners–London's streets are filled with blossoms and blooms around the time of the show.
Ticket prices range from £39.75/$52 to £69.75/$91.   Plan your visit here. Discover more about this prestigious event on the RHS website.
July 18-26, Floral Windows to the World
The Singapore Garden Festival is a biennial garden and flower show held in Singapore. It is the first and only international garden show in the tropics to showcase creations from the world's top award-winning garden and floral designers under one roof. In 2020 the festival will sponsor two events–an orchid festival (March 1 – 8) and the Floral Windows to the World (July 18 – 26).
Floral Windows to the World showcases colourful and creatively cut flower displays, complemented by stunning set design and lighting. Visitors to the Show have a chance to admire the enchanting display of beautiful flowers, creatively and delicately designed by celebrated local and international floral designers.
Floral Windows to the World Championship
SGF 2020 Floral Windows to the World will see a refreshed format featuring an intense three-day championship competition with several "live" competition rounds.
Singapore is hot and humid all year-round, with temperatures usually reaching over 30°C (86°F). Yet a record of more than 600,000 local and international visitorsattended the Show in 2018.
Check the Singapore Garden Festival website i March for tickets and other information. 
Srinagar, Jammu and Kashmir, India. Last week of March to first week of April
 * For the intrepid venturer: see travel advisory below.
The Kashmir Tulip Festival celebrates the blooming season of magnificent tulips in the Indira Gandhi Memorial Tulip Garden in Srinagar. Located in predominantly Muslim Kashmir in far north India, Srinagar is a place of splendid natural beauty; some refer to it as the "Land of Lakes and Gardens" or the "Switzerland of India".
Bright tulips viewed against snow-capped mountains
Nestled on the foothills of Zabarwan Range in the lower Himalayas, the largest tulip garden in Asia presents a stunning view of snow-capped mountains and the Dal Lake.
The gardens have a distinctly Mughal influence, as many of them were cultivated by Mughal emperors. The Garden displays 60 varieties of tulips that spread across the seven terraced gardens. Around two million tulip bulbs bloom there in the spring.
Is it safe? Should you travel to Kashmir?
Civil unrest in Kashmir has been on the rise over the past year or so, more so after India revoked Kashmir's status as an autonomous region in August 2019. There have been ongoing spates of violence between terrorists and security forces, mob rioting, and stone-pelting. Violent crimes like sexual assault and rape are among the fastest growing crimes in India.
The U.S. State Department issued this warning:
Do not travel to the state of Jammu and Kashmir (except the eastern Ladakh region and its capital, Leh) due to terrorism and civil unrest.
You can read the full advisory here.
For a non-governmental source read TripSavvy for information about how safe is Kashmir now for tourists?). If you decide to go, TripSavvy has a good travel guide to help you plan your trip.
The official website for the tulip festival and the garden provide only the most basic information. We suggest googling "Kashmir tulip festival" or "Srinagar tulip festival" for greater insight.
Some of these shows require travel…
…but others may be just a road trip away.  If the cold, gray days of winter have wearied you and you need a few days immersed in the beauty and resilience of nature, a flower show may be just what your soul is craving.
"Flowers always make people better, happier, and more helpful; they are sunshine, food and medicine for the soul."   – Luther Burbank, American environmentalist, 1849-1926
* * *
You might also like
Find more jaw-dropping, awe-inspiring articles on the BLUE HARE homepage.