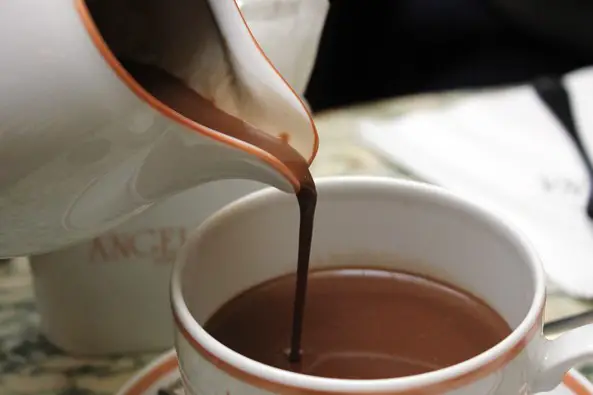 Hot chocolate is the drink that comforts and calms.  And "hot chocolate" is among the most evocative terms in the English language, conjuring images of cold winter nights, roaring fires, knit sweaters, steaming mugs, whipped cream, happy faces…the list goes on.
Being hot chocolate fan(atic)s, we wanted to know where to find the best hot chocolate in the world. Discovering that the world is a really big place, we settled on a few cities that may be on our travel itineraries soon.
Are hot chocolate and hot cocoa the same thing? 
The terms cocoa and hot chocolate are used interchangeably but there is a difference.
Traditionally, hot cocoa is a thin, sweetened beverage, made from cocoa powder, sugar, and milk. It may or may not contain other flavorings, such as vanilla, liqueur, or spices, and is often less rich and sweeter than hot chocolate.
Hot chocolate (also called drinking chocolate or sipping chocolate), is made with actual chocolate (often shaved or ground into fine pieces so it melts quickly). Because of the high fat content of chocolate, hot chocolate is richer than hot cocoa. Hot chocolate may be made with water (traditional in some parts of Europe) or with milk. It is usually less sweet than hot cocoa, and many makers of hot chocolate pride themselves on having a product that is a thick, bittersweet beverage.
Where to get the best hot chocolate around the world

New York City: Jacques Torres
Jacques Torres There are many places to get fabulous hot chocolate in New York City.  Some of these shops may upset the purists, however, because they add flavors such as chili, bourbon, or maple syrup to the chocolate or make it vegan as a non-dairy option.  Our choice is based on a classic hot chocolate with ingredients of the highest quality.
Jacques Torres, affectionately known as Mr. Chocolate, is a world-renowned pastry chef from the south of France. After perfecting his craft and excelling as a pastry chef in some of the finest restaurants in France and the United States, he took on the challenge of establishing his own chocolate-making operation in Brooklyn, NYC. The rest is history.
Jacques Torres. DUMBO Brooklyn, Upper West Side, Grand Central Terminal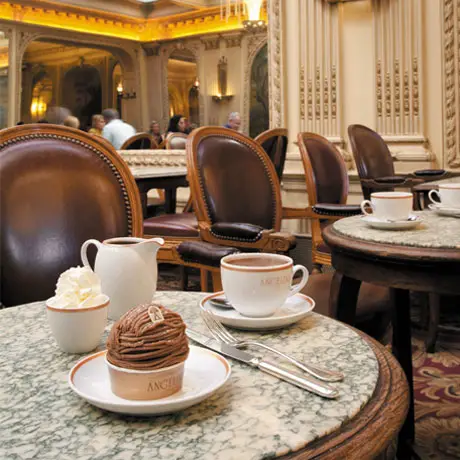 Noted pastry chef David Lebovitz, formerly of Chez Panisse and Zuni Café in San Francisco, decamped to Paris in 1999 to write books—there are eight now, including The Great Book of Chocolate. He claims the hot chocolate at Angelina's is the best in Paris.
Our editor visited Angelina's years ago. "I had the hot chocolate and it's life changing. Like drinking a liquid chocolate bar. It set me on a lifelong search for the best hot chocolate." The hot chocolate at Angelina's has been called "the world's most famous hot chocolate." Chocolate chaud can be found in many cafés in Paris. But Angelina takes first prize. Angelina, 226, rue de Rivoli; Métro: Tuilleries

Athens is enjoying a renaissance in chocolate and here's a true gem, The Dark Side of Chocolate. A tiny café in Kolonaki, Athens, it has a chocolatey interior and retro vibe.  Chocolatier/owner, Aristotelis Panagiotaros, lived and studied his trade in Paris and is a member of the exclusive Valrhona Circle of Chefs.
His creamy hot chocolate drinks (each named after a classic rock tune) and exquisitely rendered chocolates are made from a mixture of Valrhona chocolates. "I like to flavor my pralines with Greek tastes: rosemary, jasmine, basil, honey and cardamom, olive oil – from my own trees – and citrus from my own lemons and tangerines," says Panagiotaros.
_________________________________________________________
_________________________________________________________

Madrid: Chocolatería San Ginés
The Chocolatería San Gines, a favorite spot for hot chocolate and churros, is one of the most famous chocolatiers in Madrid. The hot chocolate is served Spanish style – thick, dark and strong. The churros, arrive through a kitchen portal as long spirals of extruded and quick-fried dough. The waitstaff cuts the dough to length using scissors before serving. Rich hot chocolate. Crispy hot churros. A sublime pairing. 
Chocolatería San Ginés, Pasadizo de San Gines 5, 28013 Madrid Spain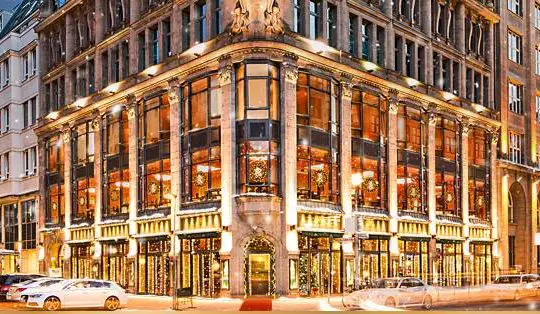 Rausch chocolate house in Berlin touts the largest collection of chocolate in the world–it is spread over more than 1,500 square meters and three floors. Founded in 1918, Rausch Schokoladenhaus is run by the fifth generation of the Rausch family. They use the original recipes–closely guarded secrets–to craft their delicious chocolates.
The Rausch chocolate cafe is the perfect spot to take a break and enjoy a rich hot chocolate and the breathtaking view over the Gendarmenmarkt. Begin with a choice of chocolate bases: 43% Venezuela, 60% Peru, 70% Ecuador.  Then come the flavors. You can choose peppermint or amaretto liqueurs, chili, whipped cream, and whisky, to name a few. Without a doubt, the best hot chocolate in town.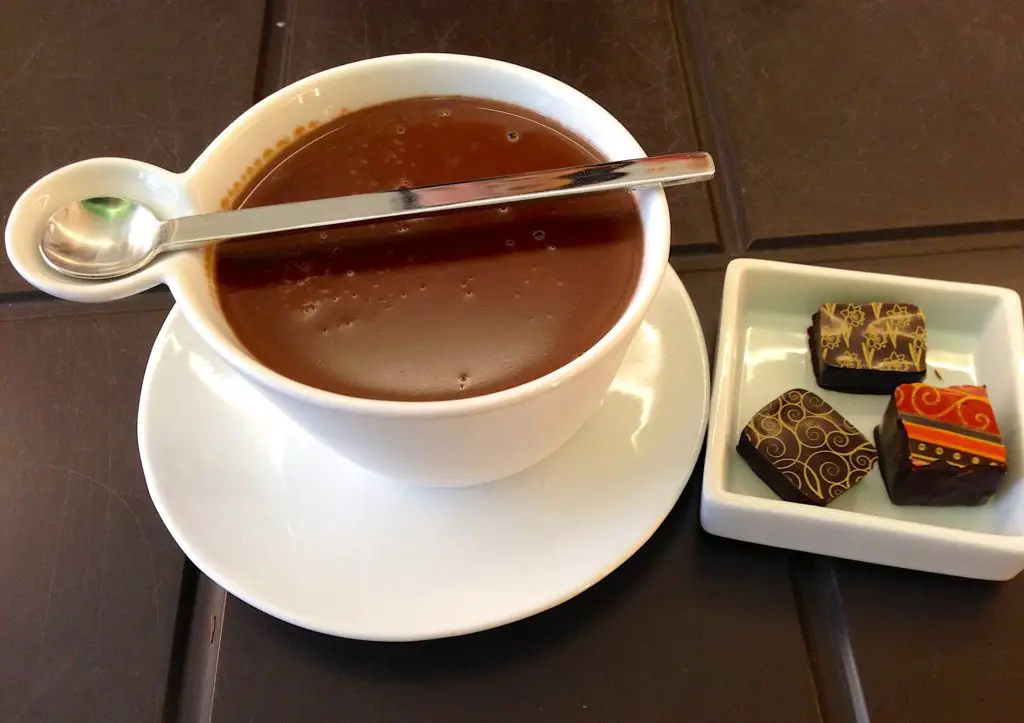 The name says it all–superb chocolate taken seriously. So seriously they produce their own chocolate from ground beans, rather than buying in couverture (high quality processed chocolate) from a larger concern. The standard range is excellent—made with 70 percent Colombian chocolate cooked up with milk and cream. It's smooth, rich and has a hint of malted milk.  Say no more. Artisan du Chocolat. Branches in Nottinghill, Chelsea, Borough Market, and a concession inside Selfridges department store.

Since Switzerland is the country that consumes more chocolate (and drinks more hot chocolate) than any other in the world, we look to the country's largest city to find decadent hot chocolate.  There are beautiful chocolate shops everywhere in Zurich but the most colorful one of all is Teuscher. At the Felix Café, Teuscher chocolate is used for their hot chocolate.  In the Swiss tradition, the hot chocolate is creamy, smooth, and perfection. Felix Café. Bellevuepl. 5, 8001 Zürich, Switzerland; +41 44 251 80 60

There are so many places to find a steaming hot chocolate in Montreal–so welcome in the cold Canadian winter.  A favorite is Festin de Babette, one of the best brunch spots in Montreal.  The café was inspired by the film Babette's Feast, which won an Academy Award for Best Foreign Language Film.
Festin has a menu dedicated just to hot chocolates. They use Valrhona chocolate as their base and then transform it to your taste by making it lighter or darker. Au Festin de Babette, 4085 Rue Saint-Denis Montréal, QC, Canada; (514) 849-0214

David Lebovitz, the aforementioned pastry chef and culinary author, used to work at Wittamer; he calls their chocolate "the classic Belgian chocolate", no small accolade in a town full of chocolate.  Wittamer is the place for everything chocolate.  Its cakes and chocolates are presented like works of art.  It's that classic, Belgian chocolate taste that permeates their hot chocolate.  What better comfort drink for a rainy night in Brussels? Wittamer's, Place du Grand Sablon, 12-13, Brussels 1000, Belgium; +32 2 512 37 42
_________________________________________________________
_________________________________________________________
* * *
Top photo from brittanypowell.com/away-from-home. Other images from Pixabay–thank you.
This article was originally published on February 28, 2018. 
* * *
You might also like

Go to the BLUE HARE home page for more articles for fabulous women.