Delicious. Maybe not be the first word that comes to mind when you think about murder mysteries.  But that is precisely how one would describe the series written by Martin Walker, Jean-Luc Bannelec, and J.L. Longworth. Each series takes place in a defined region of France—the Dordogne Valley, Brittany, and Provence respectively. They were lovely diversions during Covid when we had endless hours to read, totaling 34 books in all.
Not only is there an intriguing mystery, but the books also provide a virtual tour of the area and a history lesson to boot. But what sets these series apart from others in the genre is that our heroes (the detectives) really like to eat. Good food. And wine. It is France, after all.
Pour yourself a glass of whatever they're drinking and prepare to travel virtually to some of France's most beautiful and intriguing regions. Murder aside.
16 book series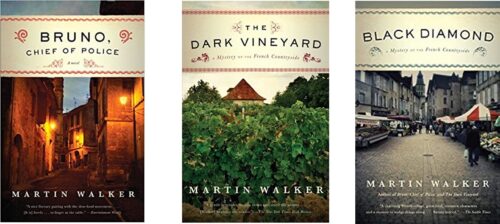 Bruno Courrèges is a gentle-natured policeman in a small village in the Dordogne Valley in Southwest France. A former soldier who served in Bosnia, he has embraced the pleasures and slow rhythms of country life. While his day job largely involves making sure school children safely cross the street, he knows how to use a gun.
As murders appear on his doorstep, Bruno is called on to lead investigations that may have their roots in the Algerian War, the French Resistance, the caves of the region's pre-historic ancestors, and more. The stories take you into caves, vineyards, duck farms, spring-fed streams, But here's what we love about Bruno: he hosts luscious dinners for his friends and colleagues even as the perpetrators are still at large. Salad plucked from his vegetable patch, truffles, foie gras, and glasses of vin de noix wine begin many a feast. And then it's back onto the trail of the crime.
Author Martin Walker is a former foreign correspondent for the Guardian (UK), novelist, and author of histories of the Cold War. Now he writes mysteries set in the Perigord, and especially the Vezere Valley.
You can buy the Bruno books on Amazon
8 book series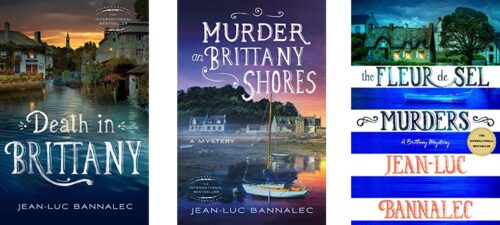 Brittany, the "end of the world" at the far northwestern edge of France, is notable for its rugged coastline, oysters, and as the hideout of 15th to 18th century pirates. Breizh, the Breton word for Brittany, has held onto its Celtic roots and is recognized as one of the six Celtic nations.
It is to this wild region that Commissaire Georges Dupin, a cantankerous, Parisian-born caffeine junkie, has been relocated from the glamour of Paris. He tries to navigate this strange land, understand his local colleagues, and outmaneuver his officious superiors as he is called to investigate one curious murder after another.
Author Jean-Luc Bannalec sets the mysteries in some of the most enchanting areas of the Breton peninsula: the Gironde salt marshes, the Belon oyster fields, the crystal-clear waters of the Glénan Islands. The mysteries are intriguing and the travelogue will have you booking your next flight to France. Did we mention penguins?
Jean-Luc Bannalac (real name Jörg Bong) is a German literary scholar, editor, publisher, editor, author, publicist, and photographer. He divides his time between Germany and the south coast of Brittany. Death in Brittany, the first case for Commissaire Dupin, was published in German in March 2012 and sold 600,000 copies, spending many months on the bestseller list. It has been sold into 14 countries. He is an honorary member of the Literary Academy of Bretagne and the Pays de Loire.
The Inspector Dupin mysteries are now a television series, although the dialogue is in German. Subtitles are available. Inspector Dupin television series on Amazon and MHz.
You can find Death in Brittany and other books in the series on Amazon.
10 book series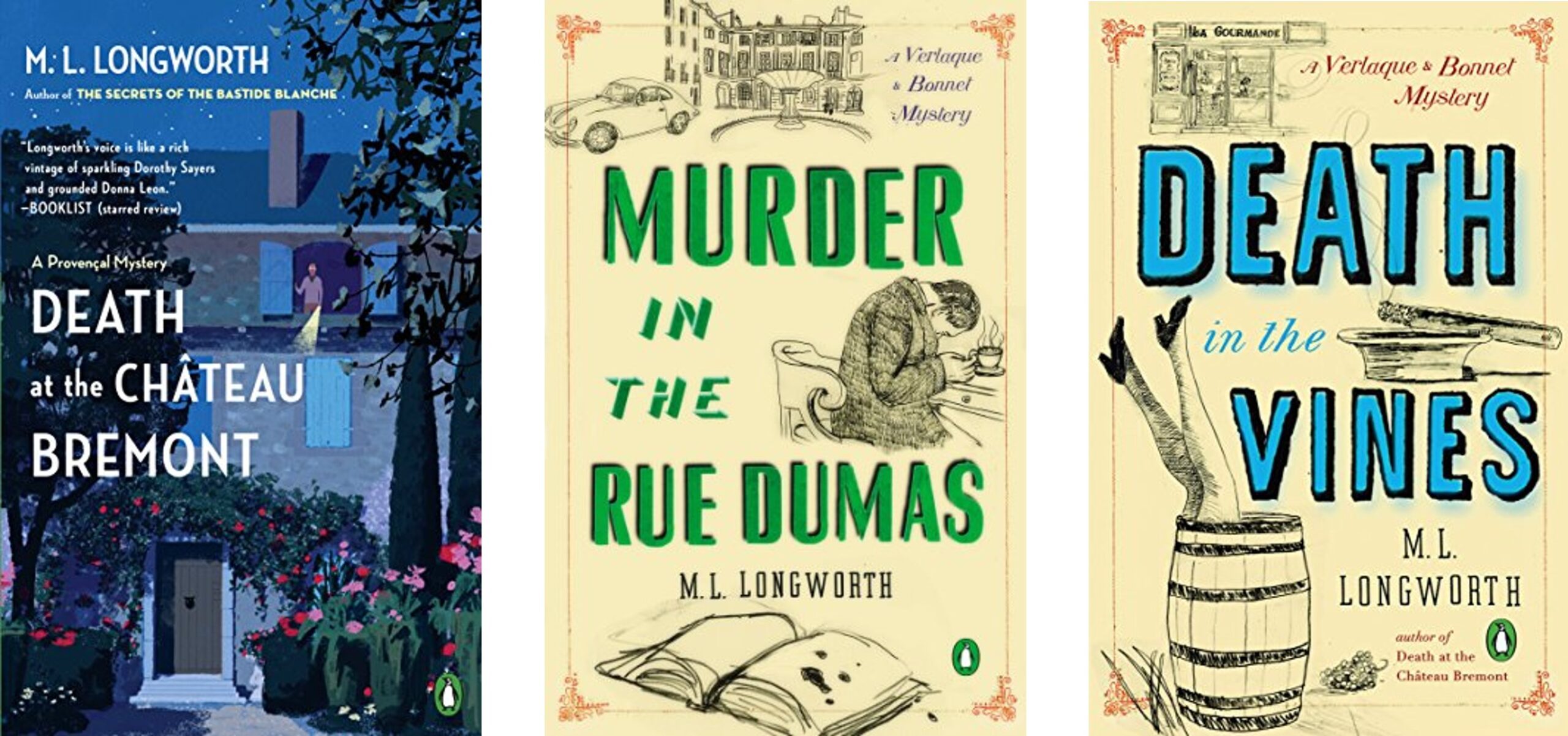 Aix-en-Provence has been a law town since the Middle Ages, which makes it the ideal place to situate a mystery. Antoine Verlaque, the chief magistrate of Aix, and his on-again off-again girlfriend, law professor Marine Bonnet, use their skills to solve a series of murders that take the reader across Provençal vineyards and into the criminal underbelly of nearby Marseilles. An elderly woman is found dead among the vines. An unknown Cézanne painting is found, then disappears. Verlaque and Bonnet can't even take a vacation without a body turning up.
In addition to virtually experiencing this wine-soaked, sun-kissed corner of the world, you also get a tutorial in the French legal system. Don't let that hold you back, though, because there is plenty of crisp Chateau Revelette rosé to pull you through.
M.L. Longworth has written for The Washington Post, The Times (London), The Independent, and Bon Appétit magazine. She has lived full-time in France for over 21 years and divides her time between Aix-en-Provence, where she writes, and Paris, where she teaches writing at New York University's Paris campus.
Murder in Provence, a 2022 Britbox production, brings the first books of this series to the small screen. In English.
Buy the Provençal mysteries on Amazon
As an Amazon affiliate Blue Hare makes a commission on purchases made through qualifying links on this website.
 *     *     *
You might also like
There are more articles for women over 60 on this site. The Blue Hare home page is a good place to start.