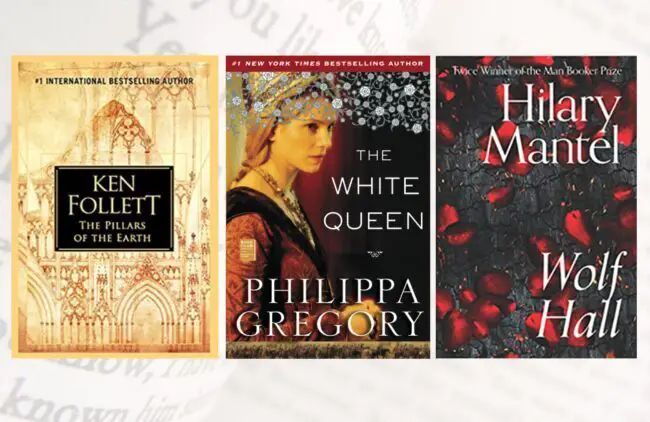 If you're tired of binge watching Netflix, Hulu, and any other streaming channel what else is there to do? Try binge reading instead.
You'll find here a short list of authors known for their gripping, multi-layered narratives. Whether they are writing historical fiction, spy novels, or time travel they unfurl their stories, themes, and characters over the course of many books and many pages. We are talking about books in a series.
It's a luxury to be able to finish one book and pick up the next, all the while continuing with the same author. Once we get into the rhythm of a writing style, develop a relationship with the characters, and don't want the book to end, we know that another book awaits us.
We provide links to the authors' pages on Amazon. From there you can find the individual books to begin your own reading marathon.
England in the 1520s is a heartbeat from disaster. If the king dies without a male heir, the country could be destroyed by civil war. Henry VIII wants to annul his marriage of twenty years and marry Anne Boleyn. The pope and most of Europe oppose him. Into this impasse steps Thomas Cromwell: a wholly original man, a charmer and a bully, both idealist and opportunist, astute in reading people, and a man with relentless ambition. But beware as Henry is a volatile character. Cromwell helps him break the opposition, but what will he pay for the price of his victory?
With The Mirror & the Light, Hilary Mantel brings to a triumphant close the trilogy she began with her extraordinary Booker Prize-winning novels, Wolf Hall and Bring Up the Bodies. She traces the final years of Thomas Cromwell, the boy from nowhere who scales the heights of power, offering a defining portrait of predator and prey, of a ferocious contest between present and past, between royal will and a common man's vision–of a modern nation making itself through conflict, passion, and courage.
Cromwell has only his wits to rely on; he has no great family to back him, no private army. Despite rebellion at home, traitors plotting abroad and the threat of invasion testing Henry's regime to the breaking point, Cromwell's robust imagination sees a new country in the mirror of the future. But can a nation, or a person, shed the past so easily? What will you do, the Spanish ambassador asks Cromwell, when the king turns on you, as sooner or later he turns on everyone close to him?
"Breathtaking…The plot is shaped as meticulously as any thriller…With this trilogy, Mantel has redefined what the historical novel is capable of…Taken together, her Cromwell novels are, for my money, the greatest English novels of this century. Someone give the Booker Prize judges the rest of the year off." ―Stephanie Merritt, The Guardian
Philippa Gregory, The Plantagenet and Tudor Novels
Beginning during England's Wars of the Roses, the 15 novels that comprise Philippa Gregory's Plantagenet and Tudor series span more than 150 years of English history, from the 1400s through the reign of Elizabeth I in the 16th century.
What makes these books worth reading is that Gregory recounts this history through the lives of the women of the times. Elizabeth Woodville, a commoner who became wife and queen to Edward IV (House of York, white rose). After the battle of Bosworth Field, we have Henry VII (Lancaster, red rose) His wife is Princess Elizabeth, the daughter of Edward IV. We meet Henry's domineering but powerful mother, Margaret Beaufort. Anne Neville. Margaret Pole. And cousins. Cousins everywhere. (It was quite a mess.)
Tudor historians are drawn almost magnetically to Henry VIII. We know about Anne Boleyn, if only anecdotally. But what about Catherine of Aragon, who was his wife first and for the next 24 years? She is a fascinating figure, a keystone of history, of whom we know little.
When Henry VIII dies Lady Jane Grey is tragically proclaimed queen by her grasping relatives. Nine days later she is deposed and several months later, executed. In this second half of the book series we meet Mary Tudor, Mary Queen of Scots and, of course, Elizabeth I.
Gregory is careful to point out that her books are historical fiction. She is a noted historian and works with facts where they can be found. For the rest she imagines what life must have been like for these women to weave compelling stories.
Philippa Gregory is one of the world's foremost historical novelists. She wrote her first ever novel, Wideacre, when she was completing her PhD in eighteenth-century literature and it sold worldwide, heralding a new era for historical fiction. Now a recognized authority on women's history, Philippa graduated from the University of Sussex and received a PhD from the University of Edinburgh.
Ken Follett, Knightsbridge Trilogy
Pillars of the Earth is Welsh author Ken Follett's most beloved novel. The first of three books in his Knightsbridge series, it tells the magnificent tale of a twelfth-century monk driven to do the seemingly impossible: build the greatest Gothic cathedral the world has ever known.
Follett has re-created the crude, flamboyant England of the Middle Ages in every detail: its vast forests, walled towns, castles, and monasteries. Voted into the top 100 of Britain's best-loved books in the BBC's the Big Read, it is a spellbinding epic tale of ambition, anarchy, and absolute power.
It is 1911. The Coronation Day of King George V. The Williams, a Welsh coal-mining family is linked by romance and hatred to the Fitzherberts, aristocratic owners of coal mines. Lady Maud Fitzherbert falls in love with Walter von Ulrich, a spy at the German Embassy in London. Their destiny becomes entwined with an ambitious young aide to President Woodrow Wilson and to two orphaned Russian brothers, whose plans to emigrate to America are threatened by war, conscription, and revolution.
In a plot of unfolding drama and intriguing complexity, Fall of Giants moves effortlessly from Washington to St Petersburg, from the coal mines to a palace, from the corridors of power to the bedrooms of the powerful. Over three books, the Century Trilogy follows the lives of five families from five countries—Wales, England, the U.S., Russia, and Germany. Their fates shaped by the extraordinary events of the Twentieth Century—World War I, political struggles, and the rise of the Nazi movement; feminism and the end of the Cold War.
"Fall of Giants is a big book that tells a big story, but it is one you will not want to end." —The Huffington Post
A weary Ross Poldark returns to England from the American War of Independence. He is looking forward to a joyful homecoming with his beloved Elizabeth. Instead, he discovers his father has died and his home is overrun by livestock and drunken servants. Elizabeth—believing Ross to be dead—is now engaged to his cousin. He has no choice but to start anew.
Thus begins the 12-volume Poldark series, a gripping saga set in the windswept landscape of Cornwall. Witness the social class struggles of the 18th century, Britain's grim postwar recession, the looming threats of the rising French Revolution, and an insider's view of Cornwall's copper mining industry. These all come to life through Graham's diverse cast of characters.
In Outlander, the first of eight volumes, strong-willed Claire Randall leads a double life with a husband in one century, and a lover in another. Torn between fidelity and desire, she struggles to understand where she belongs. This first novel lavishly evokes the land and lore of Scotland with realistic characters and a spirited, engaging heroine.
It is 1945 and World War II is finally over. Claire Randall and husband Frank reunite and take a second honeymoon in the Scottish Highlands. When Claire walks through a stone in an ancient henge, she's mystically transported back to 1743. She encounters Frank's evil ancestor, British captain Jonathan "Black Jack" Randall, and is adopted by another clan. Claire nurses young soldier James Fraser, a gallant redhead, and the two begin a romance, seeing each other through many perilous adventures.
One of the ten best-loved novels in America, as seen on PBS's The Great American Read.
"Marvelous and fantastic adventures, romance, sex . . . perfect escape reading." —San Francisco Chronicle
History, no matter how engaginglhy presented, is not for everyone. So now pivot to multiple series spy novels and mysteries.
Gabriel Allon was a key operative in secret Israeli intelligence missions.  When his wife and daughter fell victim to the dangers of his vocation, Gabriel quit and devoted himself to the work of art restoration—previously a cover for his secret missions.
In The Kill Artist, Gabriel's experience is called back to thwart a Palestinian plot to destroy the peace negotiations in the Middle East.  The architect of this plot, a Palestinian zealot named Tariq, is a deadly player in Gabriel's past. As the two begin an intercontinental game of hide-and-seek, with life and death as the prizes, the motives are as personal as they are political. Thus, begins the adventures of Gabriel Allon in this 19—soon to be 20—volume series.
Daniel Silva, a former CNN correspondent who covered the volatile worlds of Washington, D.C. and the Middle East, brings his considerable expertise to bear in his spy thrillers.
"A tense, thrilling adventure…. With Silva's novels you find yourself being educated as well as being entertained…. Silva is that rarity of rarities, a writer whose stories just keep getting better."―Huffington Post
Dr. Kay Scarpetta is best known as the beautiful Chief Medical Examiner for the Commonwealth of Virginia at Richmond. She is also known as one of the top forensic pathologists in the country. With FBI profiler Benton Wesley, her genius niece Lucy Farinelli, and homicide detective, Pete Marino, Scarpetta solves crimes using her wits, forensic knowledge, and cutting-edge technology.
Patricia Cornwell has created characters with real emotions and life experiences, and she provides them with more than enough danger to make things interesting. Cornwell's first novel in the 24 book series, Postmortem, won the Edgar, Creasey, Anthony, and Macavity awards as well as the French Prix du Roman d'Aventure prize – the first book ever to claim all these distinctions in a single year.
According to one reviewer, "If you like murder mysteries coupled with forensic science, police and Medical Examiner's investigations, and some intense situations, you will enjoy this series and enjoy watching the relationships change and grow through the years."
P.D. James, Adam Dalgliesh series
In A Mind to Murder, book two in P.D. James' series featuring the brooding, poetic detective superintendent Adam Dalgliesh of Scotland Yard, the administrative head of Steen Psychiatric Clinic is found dead with a chisel in her heart. Dalgliesh is called in to investigate. The distinguished facade of that most reputable London institution begins to crumble as the truth emerges.
Dalgliesh quickly finds himself caught in a whirlwind of psychiatry, drugs, and deceit. Now he must analyze the deep-seated anxieties and thwarted desires of patients and staff alike to determine which of their unresolved conflicts has resulted in murder and stop a cunning killer before the next blow.
James, who earned the sobriquet "Queen of Crime," penned 14 Dalgliesh novels, with the last, The Private Patient, appearing in 2008.  "After I had progressed in my craft I came to believe that it is possible to write within the conventions of a classical detective story and still be regarded as a serious novelist and say something true about men and women and the society in which they live," she wrote.
"James… manages to invest even a simple mystery novel with a depth and intelligence that few in her trade can match."―The Times
Note to readers: Through affiliate relationships with Amazon and other retailers we earn a commission on purchases made through qualifying links on this page.
***
You may also like
Go to the BLUE HARE home page for more articles for fabulous women like yiou