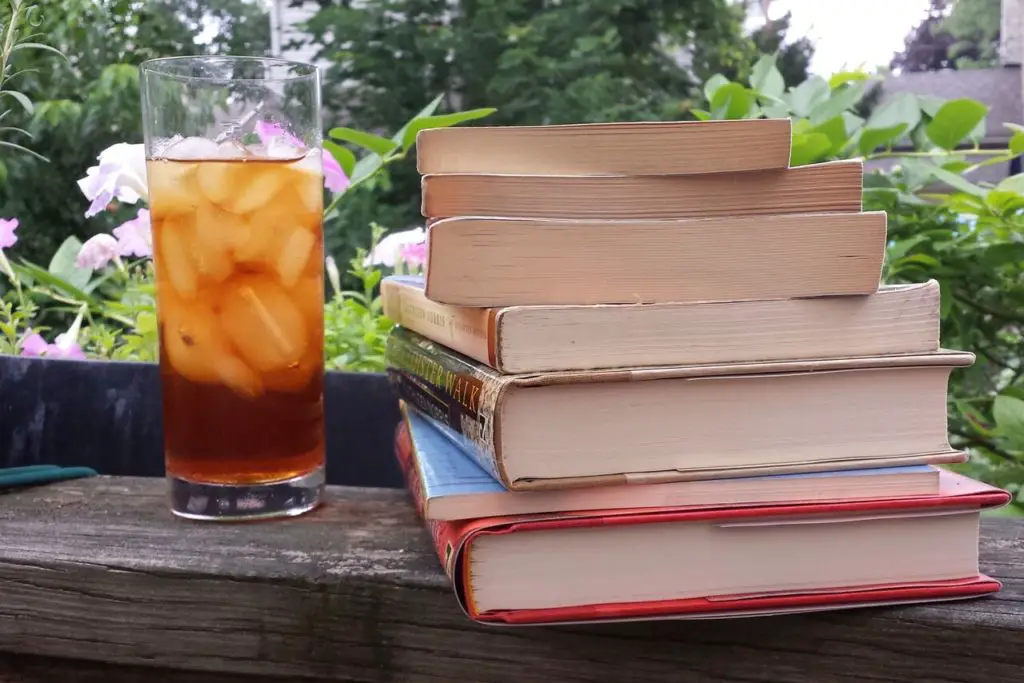 "Summertime, and the livin' is easy…." — or so it once was. Incorporating every sense, I well remember the touches and tastes, the smells and sights and sounds of summer.
Summers were indeed easy when I was a child – no school, big blue skies, roaming around the world of my oh-so-safe neighborhood, abounding in family, friends, fun and long-remembered stories. That sense of the season carried on for me for many years.
Summers now seem to fly by so much faster than the long days I recall from decades ago. Reading helps me bring back those lively, leisurely full-of-life days. I like reading and re-reading books that either remind me of those times and experiences or introduce me to altogether new stories, beyond any I might well have been a character in.
Here are a few titles that might get you started on a summer-focused miscellany.
Dandelion Wine
by Ray Bradbury
4.4 out of 5 stars. 553 customer reviews
I used to read this book every summer. It was and probably remains the most quintessentially summer book I know.  It takes place in the summer of 1928, and for Douglas Spaulding, a 12-year-old, it is a magical, vintage season. The book's setting, Green Town, Illinois, is really Any Town, U.S.A., and this specific summer is reminiscent of some summer we (of any age) may have known.
Because this is a book to be read and recommended rather than reviewed, it is enough to say that it is full of "Rites and Ceremonies" and "Discoveries and Revelations" – to borrow Douglas's own labels. His summer is a ritual filled with wild strawberries, lemonade and iced tea, pints of ice cream, front-porch swings, early evening games of kick-the-can and statues, Mason jars of fireflies, and still, airless nights.
This is a memorable book of memories, a loving portrait of people who, if I tried to describe them, would lose the luster they have on the pages of the book. Reading Dandelion Wine always slows me down and helps me not hurry on to autumn. Bradbury chronicles a whole season of "June dawns, July noons, August evenings." He writes: "Dandelion Wine. The words were summer on the tongue. The wine was summer caught and stoppered." For the reader, this book is summer captured forever in just-right words.
The Greengage Summer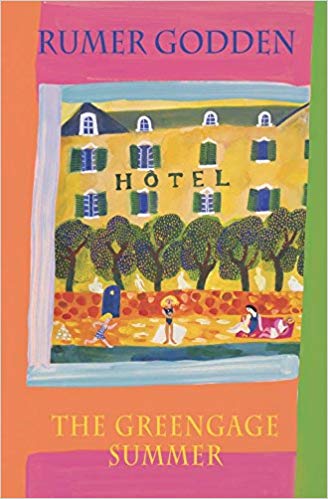 by Rumer Godden
4.4 out of 5 stars 25 customer reviews
Cecil Gray, a charming, impressionable, vulnerable girl, narrates this book from the vantage point of being "almost grownup" and tells us of the summer of her 13th year – the greengage summer, a time of indulging in and being sickened by the sweet, yellow-green plums and of taking pleasure in and feeling the pain of maturing, physically and emotionally.
This is a dream-like story of the five Grey children – Cecil; Joss (Joanna), who at 16 is artistic, romantic, and has a flair for the dramatic; Hester, aged 10, but with instincts beyond her years; and the Littles, Wilmouse and Vicky, aged 7 and 4. It's the story of what happens to these thoroughly English middle-class children when their mother (who Cecil believes is either very wise or very silly) decides to teach them unselfishness by taking them to visit WWI battlefields in France. Mother, however, on the day before the trip, develops a strange infection that completely incapacitates her by the time they arrive at the hotel Les Oeillets at Vieux-Moutiers on the Marne. She is hospitalized and the children are left alone to deal with the foreign French and, at times, the even more foreign adults.
Like the slow, hot summer, the book heats up.  The children are caught up in an adult world of relationships, intrigue, and finally murder. They quickly learn that things are not always as they seem.
The Greengage Summer is beautiful, witty, and unique. Its beauty lies in part in the words that are full of the flavor of France. It is unique in that we see things through the perceptions of the children. We see a summer pass and leave children wiser, even though, as Cecil admits, "The odd thing was, when that time was over, we… were still… the ages we had been when we arrived on that stifling hot evening at the beginning of August."
It sometimes seems to me that English authors often write English better or at least more beautifully than do some American adulterators. This is another in a long list of books that supports this opinion.
A Midsummer Night's Dream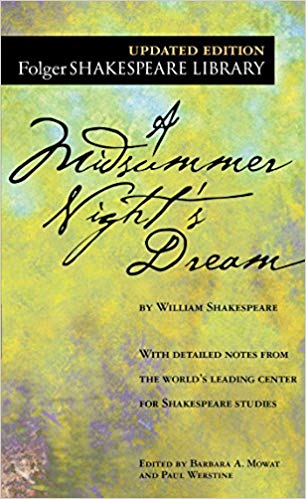 by William Shakespeare
4.4 out of 5 stars 3,596 customer reviews
One of Shakespeare's lightest and happiest comedies, this play lilts along with a lovely cast of characters (or dramatis personae, as they say in the theater), including Athenian lovers, Oberon and Titania (the king and queen of the fairies), and such lesser fairies as Cobweb, Moth, and Mustardseed. The plot is simple: lots of people in love make fools of themselves. What better time than summer to have fun with the fairies. Read it and see if it's all a dream, or read it and see if it changes your dreams.
 Haunted Summer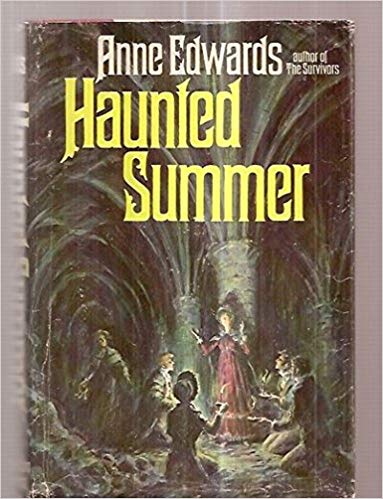 by Anne Edwards
4.2 out of 5 stars 7 customer reviews
An old book from the early 1970s, this Gothic novel comes with a twist. The twist is that this story is based on actual fact and real people. In the summer of 1816, five free spirits leave England. Percy Bysshe Shelley and his mistress, Mary, (who later becomes his wife and the soon-to-be author of Frankenstein), go to Switzerland with Mary's stepsister Clare, who is pregnant with the child of Lord Byron. This trio meets Byron and his physician-companion, Dr. Polidari, and the five well-known radicals go to the legendary Castle of Chillon on the shores of Lake Leman. Edwards then proceeds to fill in the blanks of what might have happened over the next several weeks as these fiery five experience a strange, frightening, wonder-filled, haunted summer.  For those who take their literary history sugar-coated rather than straight, this Gothic novel may be just the way to gain some insight into a few of the great Romantics.
As one who often used to go to the ballpark more for the steamed hotdogs, cold beer, and general hoopla of the crowd than for experiencing the thrill of victory and agony of defeat of the home team, I may certainly not be the most appropriate person to mention these three summer books. Not everyone is a baseball enthusiast, but these books can easily be taken up by non-sports-loving fans. Each is focused in certain ways on the culture of one of summer's most-beloved American pastimes, whether watching or playing.
Wait Till Next Year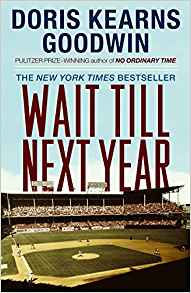 by Doris Kearns Goodwin
4.5 out of 5 stars 513 customer reviews
Goodwin's lovely memoir of growing up in the suburbs of New York in the 1950s tells the story of how she was affected by the 1957 move of the Brooklyn Dodgers to Los Angeles, and her mother's early death soon after that – both events adding up to the end of her childhood.
The Summer Game by Roger Angell
4.6 out of 5 stars 44 customer reviews
The Boys of Summer by Roger Kahn
4.5 out of 5 stars 169 customer reviews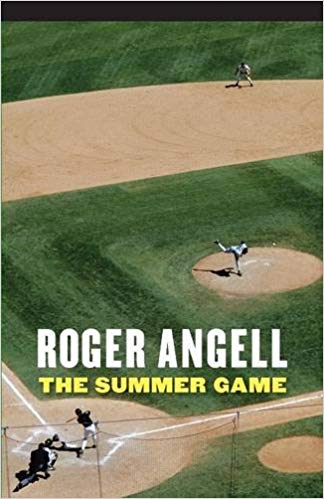 The Angell and Kahn books are both among the best of the baseball books, at least according to the men in my family. The first is a collection of Angell's writings on baseball from the New Yorker over a period of ten years. The Kahn book is livelier and more fun but has a narrower focus – the Brooklyn Dodgers of the 1950s.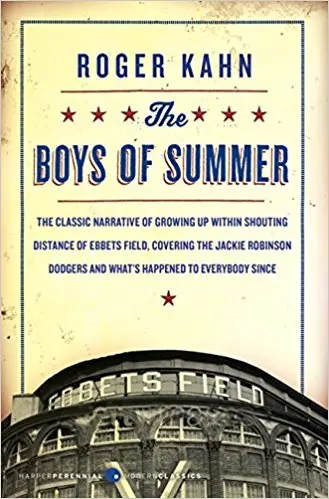 One reviewer, P.S. Prescott, said of this book: "I fear that people who are bored by baseball will not read it, which would be as bright a decision as for those bored by military history to overlook War and Peace."
So, consider slowing down this summer by picking up a book and finding a porch swing or falling into an outdoor easy chair under an umbrella, with some iced tea or lemonade in hand. Mark your place in the book and get up occasionally to crank the handle of an old wooden bucket and end up with some homemade ice cream to keep you cool as you head back to your book. Reading is a good way to celebrate summer.
—
Ev Small is currently an editor, researcher, and independent archivist, but she has a checkered career, including teaching political science at a few universities, three years at the White House with President Jimmy Carter, 25 years at The Washington Post (working with The Post Company's chairman, Katharine Graham, and later as a contributing editor to Book World), and several years at the Library of Congress.
 *     *     *
From last year: Our picks: books for summer reading 2017
Read more BLUE HARE on our home page.