Want to understand all those British monarchs–who they were, what they did, why they matter? Don't want to spend the next three years reading dusty tomes by noted historians?  We have good news for you.  With Prime, Netflix and other streaming channels you can get several hundred years of British history under your belt over the course of a few binge-watching weekends, which is what we did.
Award-winning actors, first class productions
We can't recommend these progams highly enough, Premium mini-series with high production value—crazy-talented actors, brilliant costumes, and shot on location at some of England's most glorious stately homes and palaces. It wasn't all diamonds and ermine in thosse times, though. The court politics of this bunch make U.S. politics look like child's play. Below is our list of the best shows of the past few years, now streaming on Amazon, Netflix, PBS and others.
To get the bests understanding of English history, we advise watching them in the chronological order of their reigns. Make some popcorn, pour a glass of ale—or a cup of tea—and put your feet up.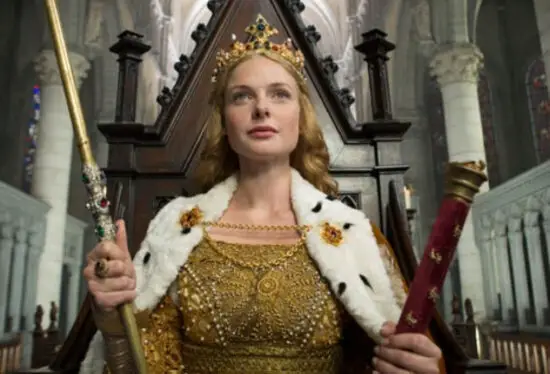 If you spent your history classes trying to stay awake, these are for you. The White Queen and The White Princess are TV miniseries developed by the STARZ network from eight of Philippa Gregory's Plantagenet and Tudor novels. They bring to life some of the dullest chapters in your textooks. Think of them as Game of Thrones for women; and rooted in real evevnts. Steamy scenes, bloody battles, and men who need a shave make them very binge-worthy.
The Whte Queen portrays of one of the most dramatic and turbulent times in English history–the Wars of the Roses, also known as the Cousins War. The epic begins in 1464, soon after Edward IV (House of York, white rose) defeated the forces of Henry VI (House of Lancaster, red rose) The story is told through the perspective of three different yet equally relentless women- Elizabeth Woodville, Margaret Beaufort and Anne Neville.
In their quest for power, they scheme, manipulate, and seduce their way onto the English throne. What is most revealing in this series is the pressure on these women to produce an heir. Ergo, there is a lot of sex, as women, even queens, bear children year after year in hopes of an heir and a spare.  The White Queen takes you through the last years of the Plantagenets, which end with Richard III at Bosworth Field, and the beginning of the Tudor era.
The White Princess picks up the story with Henry Tudor's (Henry VII) accession to the English crown. Henry has promised to end the feuding between the Lancastrians and the Yorks by marrying Kind Edward's daughter, Elizabeth of York.
Again the events are recounted from the womens' point of view–Elizabeth of York, her mother Elizabeth Woodville, the queen's mother; Cecily Neville, the queen's grandmother; Margaret Beaufort, the king's mother, and Maargaret Pole, unlucky cousin of the queen. The necessity of producing an heir as a theme continues from The White Queen, as does war to mainain the throne.
If you like history but find academic history books tedious, these series will inform and entertain you. There is also a lot of bosoms and butts and gouging and beheadings. This is the period of history that preceeds Henry VII and helps illustrate why he went through so many wives in his quest for a male heir. And you may find that you like the much maligned Richard III.
Watch The White Queen on Amazon Prime  One season, 10 episodes; IMBD Rating: 7.7/10I
Watch The White Princess on Amazn Prime  One season, 8 episodes; IMBD Rating: 7.5/10
The Hollow Crown:
Shakepeare as it should be done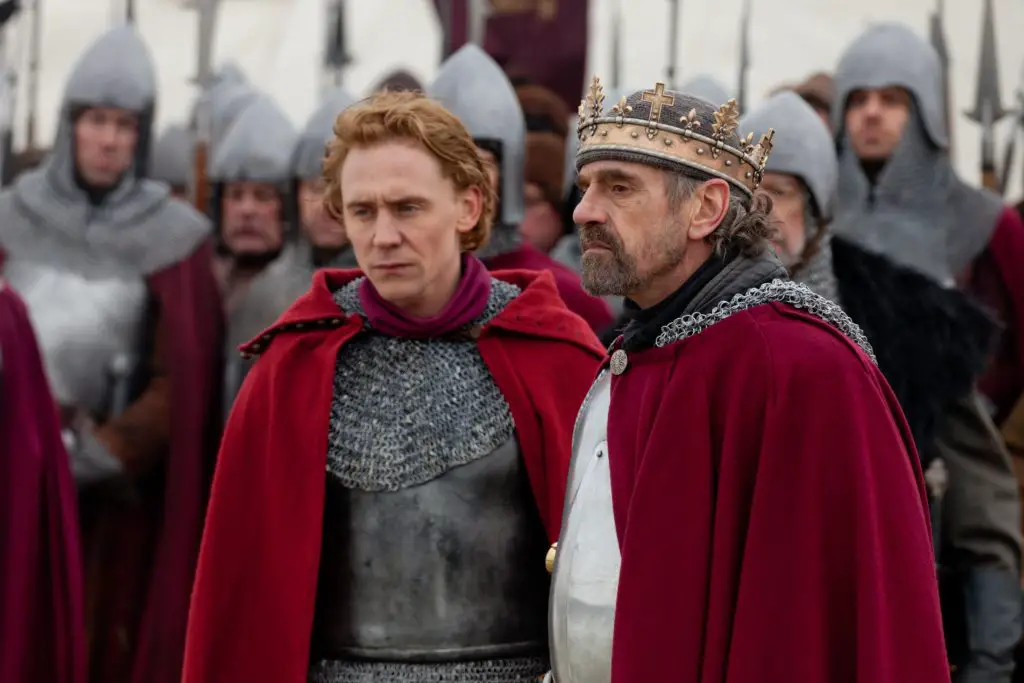 Once again into the Middle Ages. BBC2's production covering Shakespeare's 10-play cycle of English monarchy plays cover the 30-year period of the "Wars of the Roses." If you always intended to read the complete works of the bard but never got beyond Romeo and Juliet, this is for you.
A fresh encounter with Shakespeare
Presented as two seasons and shot on locations, Tthe Hollow Crown immerses viewers in the ambitions, plotting, betrayal, murders and wars of kings and their courts. From Richard II through Henry IV Parts One and Two, and Henry V and the beatific Henry VI (and his warrior-wife Margaret of Anjou) in two parts, it ends with bloodthirsty, murderous Richard III and the end of the Plantagenet dynasty.  The Hollow Crown shows what court life was like from 1377 to 1485, according to Shakespeare.
A dream cast of the best of British actors
Aside from the starring role that the authentic, historic locations occupy, the cast is outstanding. As a 2012 review in The Guardian noted, "Another benefit of television is the available cast: because it isn't asking for a three-month run or global tour to make the budget back, The Hollow Crown simultaneously retains a group of actors that even the most famous theatres could only accumulate over several seasons." 
The company includes Ben Whishaw, Jeremy Irons, Tom Hiddleston, Simon Russell Beale, Julie Walters, Lindsay Duncan, David Suchet, David Morrissey, Michele Dockery, Benedict Cumberbatch, Tom Sturridge, Sophie Okonedo, Keeley Hawes, Hugh Bonneville, Anton Lesser, Adrian Dunbar, Ben Miles, Judi Dench and Michael Gambon, and even more talent.
The Hollow Crown is available to purchase on Amazon.com, to stream on Amazon Prime. Two seasons; IMBD score 8.5/10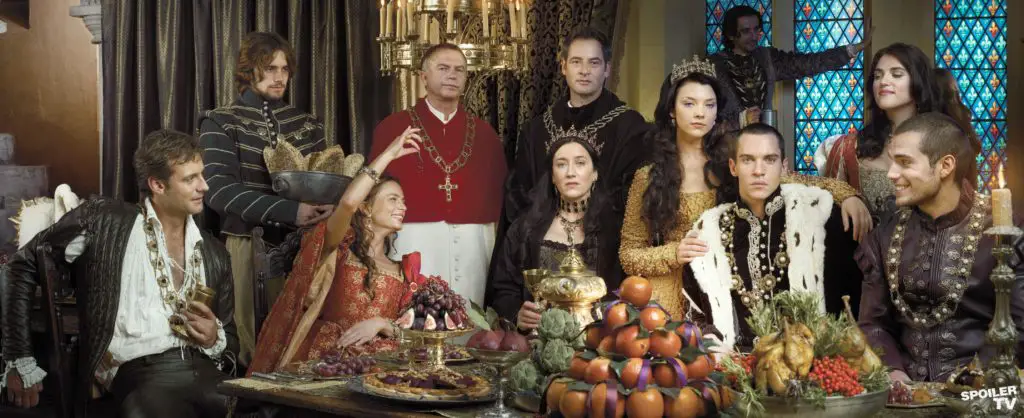 A Showtime original series, this history-based drama follows the life and reign of Henry VIII.  Henry, who took the throne at 18, will surprise those whose image of the king is fat, bearded, and misogynistic. In his youth, he was physically agile and forward thinking.
The series is set in sixteenth-century England (Henry reigned from 1509 to1547), but was filmed on location in Ireland. Henry's obsession with producing a male heir is understandable if you watched The Hollow Crown, as England was in the midst of squabbling among the aristocracy and wars of religions during the Reformation. Too bad they didn't know about x and y chromosomes back then. Would have saved a lot of heads.
Engaging and thrilling
The San Francisco Chronicle reviewed the series, concluding, "What makes "The Tudors" so engaging and thrilling is this sense that, in those early days, Henry was a young man with only a partial lock on the importance of being king. He wants to play — with his friends and with the many women he eyed in his court. But just when you think this series is one fun romp, [creator and executive producer Michael] Hirsh cleverly steers it back to history and lends it enough import to keep you from thinking it's all too light."
The cast includes Jonathan Rhys Meyers, Sam Neill, Henry Cavill, Henry Czerny, Natalie Dormer, Maria Doyle Kennedy, Nick Dunning, Jeremy Northam, James Frain, Peter O'Toole, and Max von Sydow.
38 episodes over 4 seasons; IMBD score 8.1/10. The Tudors is available for streaming by Showtime subscribers; streaming or DVD on Amazon; and pay-per-episode on YouTube.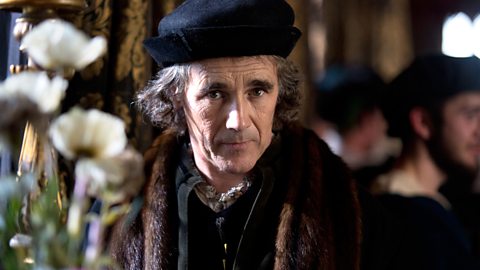 This BBC2 film adaptation of Hillary Mantel's novel of the same name charts Thomas Cromwell's rise to power in the Tudor court of Henry VIII. To use words like "brilliant" or "stunning" is to do this production an injustice. The Guardian describes Wolf Hall as "event television, sumptuous, intelligent and serious, meticulous in the detail, but not humourless…"  But the real reason to watch Wolf Hall is Mark Rylance, who, as Cromwell, is "hypnotic, understated but totally screen-owning."
Mark Rylance is one of Britain's finest actors
The Independent agreed: "For those not blessed enough to have caught Mark Rylance on stage – he's been absent from British theatre since 2013 – this was a rare(ish) chance to catch one of Britain's finest actors on the screen."
And the BBC : "Mark Rylance's eyes glistening with sadness and acuity produce a Bafta-winning performance by themselves… behind the steel the sadness in his eyes is almost unbearable to watch".
Jonathan Pryce, Claire Foy, Damien Lewis (of Homeland fame), and a hundred others round out the cast.  Most of the filming took place on location at some of the finest British medieval and Tudor houses and buildings from Gloucestershire to Kent. Watch this after churning through The Tudors to get a fresh, and darker, perspective on Henry VIII.
One season; 6 episodes; IMBD score 8.2/10. Binge Watch Wolf Hall on Amazon Prime or YouTube, and others.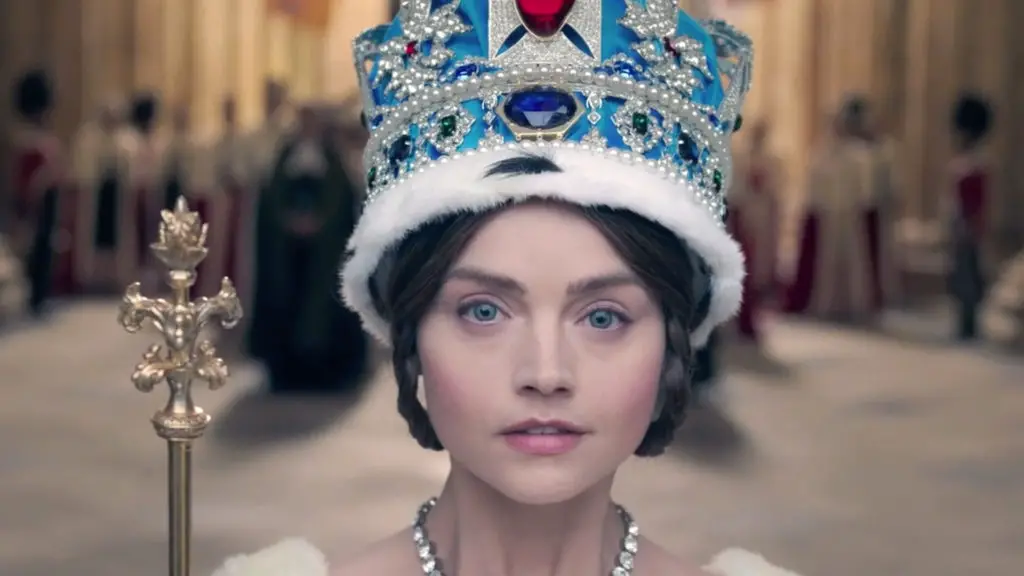 British network ITV's production Victoria first aired in the United States in early 2017.  Victoria is a lovely, charming biopic with the young Queen Victoria as the central character around which the story unfolds. It is worth watching precisely because of that focus on the young queen: an 18-year old girl thrust into the job of a politically astute and experienced man. And she handles it splendidly, most of the time.
The program brings AP History to life: we "know" that the British monarchy has German blood; Victoria shows us just how deep those roots go. Easy to watch, it provides insight into the rise of one of only a handful of English queens regnant. The series stars Jenna Coleman as Victoria, Rufus Sewell as Lord Melbourne, and Tom Hughes as Prince Albert.
Three seasons, 35 episodes; IMBD score 8.2/10.  Watch Victoria on Amazon Prime.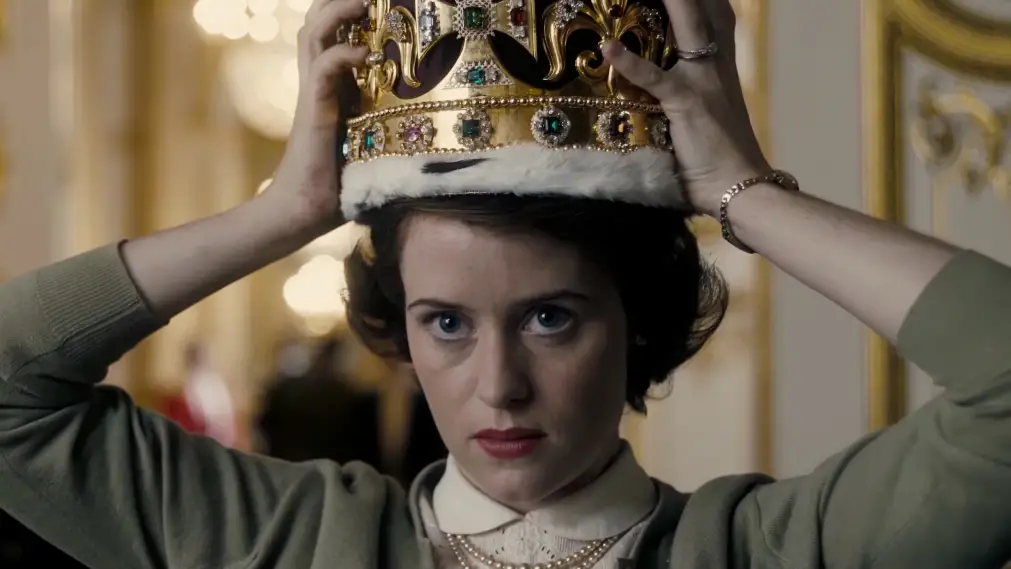 The Crown is another biopic about another queen of England, this time Queen Elizabeth II.  This Netflix-original drama begins with an inside look at the early reign of the queen, who ascended to the throne at age 25 after the death of her father, King George VI.  It was the most expensive television drama produced to date, at a cost of around $130 million.
"…an orgy of sumptuous scenes and rich performances" is how The New York Times described it when the show premiered in November, 2016.  An unexpected benefit of binge watching The Crown in tandem with Victoria is seeing the parallels between the two young women as they ascend to the world's most significant monarchy, and the awkward position in which Prince Albert and Prince Philip find themselves and their struggle to define their manliness in the shadow of their singular spouses.
Claire Foy (who also played Anne Boleyn in Wolf Hall) is Queen Elizabeth. John Lithgow gives a stunning performance as Winston Churchill. Both won SAG awards for their performances; The Crown won the Golden Globe for best picture.
Watch The Crown on Netflix.  5 seasons, 50 episodes, 2016-2022; IMBD score 8.6/10
As affilates with various vendors we may make a commission on purchases made through qualifying links on this page.
Top photo: St. Edward's crown, which is used at the moment of coronation;
*   *   *
You may also like
Visit the Blue Hare home page for more articles for fabulous women like you.