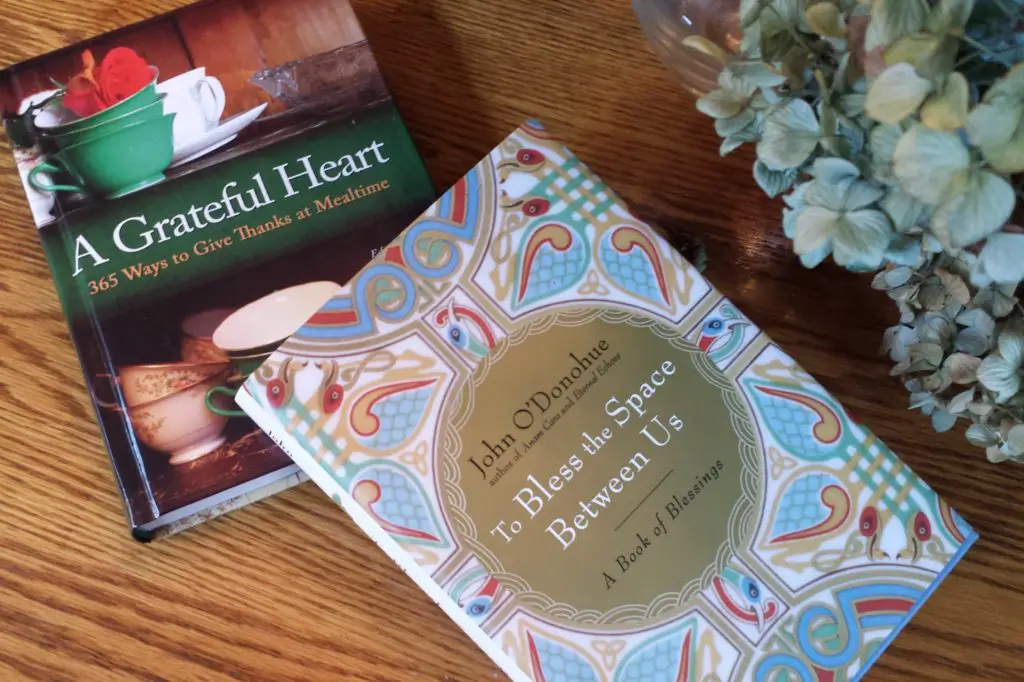 November is the calm before the storm. That's a terrible way to look at the upcoming Hanukkah/Christmas/Kwanza season, but unless we are entirely unconnected, which would rule you out, reader, the manic cheer forced on us between now and Christmas Eve (only 50 days left) is exhausting and spiritually draining. The next few weeks, then, are the gift of time—the time to feed our hearts and souls before the turkey (or tofurkey) is on the table.
The two books we recommend this month are not great works of fiction or brilliantly narrated history. They are books of prayer and poetry: A Grateful Heart and To Bless the Space Between Us.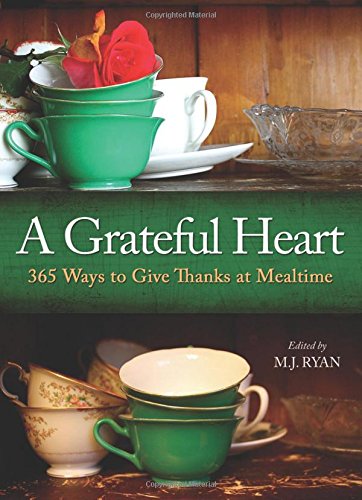 In A Grateful Heart: 365 Ways to Give Thanks at Mealtime, by M.J. Ryan, the author presents a collection of prayers, meditations, and Scripture from around the world to remind us of our eternal connection to the earth and its seasons of life, death, and new beginnings. The selections vary from traditional invocations to mystic visions. As the title suggests, there are plenty of choices that can suit any gathering.
A Chinese blessing
Round the table
Peace and joy prevail
this season's delight
enjoy countless more.
A short verse by Edna Jaques, Canada's Poet Laureate of the Home, from her 1932 poem, Thankful for What?
Not for the mighty world. O Lord, tonight,
Nations and kingdoms in their fearful might —
Let me be glad the kettle gently sings,
Let me be grateful for little things.
(Read the rest of the poem here.)
And a selection from the poem, Gratefulness, by Welsh-born Anglican priest George Herbert.
Thou that hast giv'n so much to me,
Give one thing more, a grateful heart.
Not thankful, when it pleaseth me;
As if thy blessings had spare days:
But such a heart, whose pulse may be
Thy praise.
(This short version of Gratefulness likely will be welcome by guests waiting to dive into their overladen plates. The whole poem can be read here.)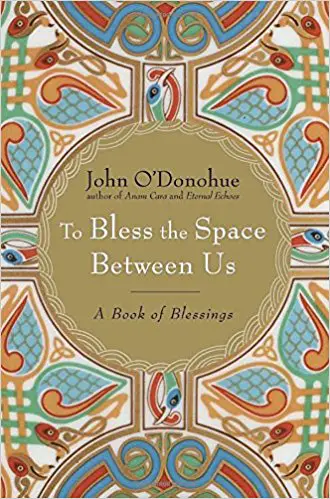 In his book, To Bless the Space Between Us: A Book of Blessings, Irish author and poet John O'Donohue draws on Celtic spiritual traditions to create words of inspiration for today.  For O'Donohue, "blessing" is less an external appeal as it is a way of life. It is a book of blessings for all of life's occasions, from beginnings to endings, from thresholds to homecomings. O'Donohue's words read like a salve for our overwrought hearts and souls.
From "In Praise of the Earth"
Let us bless
The imagination of the Earth
That knew early the patience
To harness the mind of time,
Waited for the seas to warm,
Ready to welcome the emergence
Of things dreaming of voyaging
Among the stillness of land…
From "Grace Before Meals"
As we begin this meal with grace,
Let us become aware of the memory
Carried inside the food before us:
The quiver of the seed
Awakening in the earth,
Unfolding in a trust of roots
And slender stems of growth
On its voyage toward harvest…
From "For the Traveler"
When you travel,
A new silence
Goes with you,
And if you listen,
You will hear
What your heart would
Love to say.
 
A journey can become a sacred thing:
Make sure, before you go,
To take the time
To bless your going forth,
To free your heart of ballast
So that the compass of your soul
Might direct you toward
The territories of spirit
Where you will discover
More of your hidden life…
May you travel safely, arrive refreshed,
And live your time away to its fullest;
Return home more enriched, and free
To balance the gift of days which call you.
When it seems there is so little time to reflect, when the urge to escape is alluring, a verse or poem carefully, thoughtfully crafted, can slow time and lead us back to ourselves.