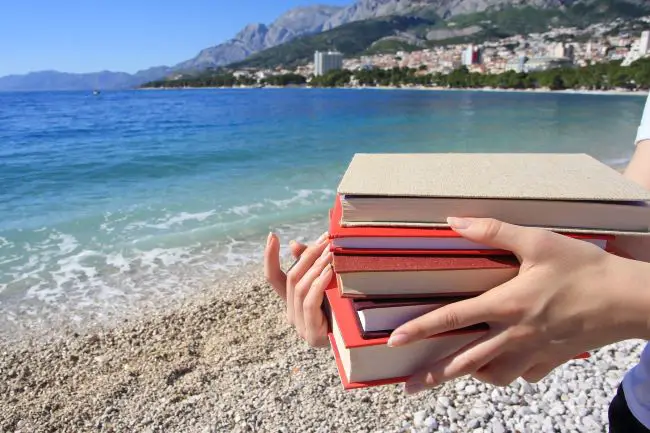 The books we want to read this summer are not your usual book club fare. Well, some are, like Where the Crawdads Sing, since we are not among the 1.3 million readers who gave it a collective 4.46 rating on Goodreads. We don't claim to be ahead of the curve all the time.
But others cover everything from expanding your consciousness to a flotilla of rubber ducks traversing the Pacific to reading Le Petit Prince to a fox every afternoon. Light-hearted, serious, meditative, ridiculous. Something for every day and every mood. That's our list. A right sort for a pandemic intermission.
We thought this was great advice and a good place to start. The best selling book by Karen Kilgariff and Georgia Hardstark, of the hit true crime comedy (yes, you read that right) podcast My Favorite Murder. The authors share never-before-heard stories ranging from their struggles with depression, eating disorders, and addiction, and irreverently recount their biggest mistakes and deepest fears.
"A well written, funny, poignant book filled with the hard won wisdom of what must be tens of thousands of dollars of therapy."
"Wait," you're thinking. "Shouldn't this have been on the reading list for the summer of 1857?" Yes, probably, but it will have been written in French.
Gustave Flaubert's Madame Bovary is considered his masterpiece, but it has suffered, as has other works, from less than optimal translations. Stolid English and fluid French do not make good bedfellows, so when someone nails the translation it is cause for celebration. The rapturously reviewed translation by award-winning writer and translator Lydia Davis honors the nuances and particulars of Flaubert's legendary prose style, giving new life in English to the book that redefined the novel as an art form.
Read Lydia Davis's essay on translations in the Paris Review. And if you are intrigued…

Another book to read when it's raining at the beach is Dream of the Red Chamber, recognized in China as one of its Four Great Classical Novels. Described by many as China's Romeo-and-Juliet story, and by others as the Chinese version of Dynasty,  Composed by Cao Xueqin, it was written some time in the middle of the 18th century during the Qing dynasty.
This translation of the abridged version by Chi-chen Wang is skillful, accurate, and fascinating. It is not an easy read, though. Dream of the Red Chamber contains an extraordinarily large number of characters–nearly 40 are considered major characters with over 400 minor ones–so a fair amount of mental name juggling for Western readers. Think War and Peace on steroids.
The novel provides a detailed record of life in the two branches of the wealthy, aristocratic Rongguo House and the Ningguo House who reside in large, adjacent family compounds in the capital. As the novel begins the two houses are among the most illustrious families in the city. And their fates go downhill from there. But not all hope is lost. Baoyu (one of the 40 main characters) realizes the predestined attachments of the human heart are mere illusions, which are obstacles blocking the spiritual path to joy.
"…a moving love story between two young cousins, and the fortune of the family as a whole follows an epic trajectory worthy of a classical Greek tragedy."
"If you don't read another Chinese novel, this one will complete your experience. It is the quintessential story of family life in China."
How to describe this book? Let's start with a comment on Amazon, "Her writing here is stunning and like poetry."
Sue Monk Kidd imagines the story of Ana, a young, independent woman who marries Jesus when he is a carpenter living in Sepphoris, the capital of Galilee at the time. While this notion might offend some, the focus of the book is on the life of women at the time. Ana struggles to realize her full potential while living through events considered among the most impactful in human history. Oh yeah, her brother is Judas.
Although sure to send bishops into a frenzy, The Book of Longing has received 75,420 ratings (for a combined score of 4.24) and 10,148 reviews on Goodreads. Our interest is piqued.
BUY on Amazon (You can try a free sample on Kindle if you're skittish.)
This book is a perfect example of why novels matter–day in, day out news coverage of war can turn human tragedy into background noise. One of those conflicts is the multi-sided civil war in Syria that lasted for six years. We won't forget the images of starving children amid bombed out buildings in Aleppo, or the boats of refugees sinking off the coasts of Sicily and Greece and Turkey. What we didn't see or hear is the stories of how the families were able to escape the horrors of that country.
In The Beekeeper of Aleppo, Christy Lefteri tells the story of one such family, Nuri and his wife, Afra Ibrahim, beekeepers and residents of Aleppo as they flee their home with hope of reaching Europe. They experience the loss of their home, their livelihoods, their family, their child, and encounter dangers that would overwhelm the bravest of souls.
An intelligent, thoughtful, compelling tale that speaks to so many issues in the world today.
"…breath taking. It is as though I was along for the duration of their journey trying to reach Mustafa, Nuri's cousin and family in England."
The word charming is insufficient to describe this book. Yet it is charming, and eloquent, and full of heart and love for the natural world.
The author, Catherine Raven, worked as a ranger in National Parks, put herself through school, and  eventually earned a Ph.D. in biology. While she taught at various universities and led field classes in the National Parks, she built a house on a remote plot of land in Montana and, except when teaching, spoke to no one. One day, she realized that the fox who had been appearing at her house was coming by every day at 4:15. He became a regular visitor, who eventually sat near her as she read to him from The Little Prince…
"…the tale of a human mind trained to be logical meeting and being touched by Nature and coming to realise a greater truth."
The full title of this book is Ninth Street Women: Lee Krasner, Elaine de Kooning, Grace Hartigan, Joan Mitchell, and Helen Frankenthaler: Five Painters and the Movement That Changed Modern Art, an impassioned, wild, sometimes tragic, always exhilarating chronicle of five women who dared to enter the male-dominated world of twentieth-century abstract painting — not as muses but as artists.
From their cold-water lofts, where they worked, drank, fought, and loved, these pioneers stepped out from the shadows of their more famous male contemporaries, including Jackson Pollock, Willem de Kooning and Mark Rothko. They broke down the door to the art world for themselves and countless others to come. Ninth Street Women tells the remarkable and inspiring story of five extraordinary women, of the power of art and artists in shaping postwar America and the future.
"Mary Gabriel has produced a work that is remarkably well-documented and insightful, but also hugely fun to read; a perfect blend of historical context, artistic understanding and personal anecdotes."
My Time Will Come: A Memoir of Crime, Punishment, Hope, and Redemption is the story of activist and poet Ian Manuel, who at the age of fourteen was sentenced to life in prison. He survived eighteen years in solitary confinement. Manuel began writing poetry, which he credits for keeping him sane and giving him hope. Through his own determination and dedication to art he was freed as part of a crusade by the Equal Justice Initiative.
Manuel walks us through his early life–growing up homeless in in Central Park Village in Tampa, Florida, a neighborhood riddled with poverty, gang violence, and drug abuse—and of his efforts to rise above his circumstances, only to find himself, partly through his own actions, imprisoned for two-thirds of his life. Here is the story of how he endured the savagery of the United States prison system, and how his victim, an extraordinary woman, forgave him and bravely advocated for his freedom. His poetry reflecting on events in his life populates pages like a Greek chorus.
"Compelling. Unforgettable. Heartbreaking."
A Wall Street Journal Best Book of Summer 2021 and a #1 best-seller in France and in Italy, where it was dubbed Italy's favorite "lockdown novel," Fresh Water for Flowers is an intimately told story about a woman who defiantly believes in happiness, despite it all.
Violette Toussaint is the caretaker at a cemetery in a small town in Bourgogne. Her life is lived to the rhythms of the often funny, always moving confidences that casual mourners, regular visitors, and sundry colleagues share with her. Violette's routine is disrupted one day by the arrival of Julien Sole, who has come to scatter the ashes of his recently deceased mother on the gravesite of a complete stranger…
The story is told as a series of vignettes of Violette's days, remembrances of her past, and portraits of the cemetery visitors. These little windows into the lives and histories of the visitors, despite being connected by death and often profound tragedy, are vibrant and full of love.
"I read a lot. Literary fiction. I'm old and picky. This is one of the BEST BOOKS EVER WRITTEN!"
Eerie. Surreal. Claustrophobic. That is how one Amazon reviewer summed up this book.
After missing the last bus home following a day trip to the seashore, an amateur entomologist is offered lodging for the night at the bottom of a vast sand pit. But when he attempts to leave the next morning, the locals hold him captive. He is tasked with the Sisyphean task of shoveling back the ever-advancing sand dunes that threaten to destroy the village, his. only companion an odd young woman.
"The heat and the feeling of being trapped, the toil of endless labor, and the sand will all get into your mind. Especially the sand."
And here we thought it was a beach book.
"What do you want to be when you grow up?" asked the mole.
"Kind," said the boy.
Artist Charlie Mackesy's illustrated book offers inspiration and hope in uncertain times. A curious boy, a greedy mole, a wary fox, and a wise horse share their greatest fears and biggest discoveries about vulnerability, kindness, hope, friendship, and love. 4.8 out of 5 stars on Amazon and more than 80,000 reviews.
"More than a book, a message, a companion to help me through all it is to be a living being in this life."
You know you're in trouble when a book begins with a quote from Sylvia Plath. And at first it does seem that 35-year old Nora Seed, a woman with many gifts and few accomplishments, is headed in same head-in-the-oven direction. Instead she finds herself at the Midnight Library, which occupies a magical space between life and death.  Each book tells the story of a life Nora could have had. Except one: The Book of Regrets.
Charming, funny, inventive, in the genre of Groundhog Day and It's a Wonderful Life, this novel is about regret, the choices we make, and taking the bitter with the sweet.
"It's taught me to open my eyes, appreciate what I have not what I want. Life is life. Life is beautiful. I loved it all."
Winner of the Goodreads Choice Award for Fiction and New York Times best seller.
Would you bother to go back in time if you couldn't change its future?
In a small back alley in Tokyo, there is a café that has been serving carefully brewed coffee for more than one hundred years. But this coffee shop offers its customers a unique experience: the chance to travel back in time.
But it isn't your run-on-the mill time-travelling. You can only meet people who have visited the café in the past. You cannot change the present. You have to sit in a particular seat and you must never move from it while in the past. You must say what you have to say before the coffee gets cold. Or else you will become a ghost in the corner.
"...a story about feelings, about people like you and me, about love and regret and the sadness caused not by the lack of change but by missing the opportunity to unburden your soul." – Amalia Gkavea on Goodreads
Silly questions. Informed, detailed answers that will have you laughing out loud. A rebirth of the theater of the absurd.
Randall Munroe is the creator of the wildly popular webcomic xkcd and accompany blog, What If?. A CNU graduate with a degree in physics, he worked on robots at NASA before starting xkcd.
People present him with questions that range from merely odd to downright diabolical:
What if I took a swim in a spent-nuclear-fuel pool?
Could you build a jetpack using downward-firing machine guns?
What if a Richter 15 earthquake hit New York City?
Are fire tornadoes possible?
His responses are masterpieces of clarity and wit–and stick figures. The book features new and never-before-answered questions, along with the most popular answers from the xkcd website. What If? is an informative feast for anyone who loves to ponder the hypothetical.
"This book is not a guide to physics. It is an entertaining book that gets me energized about learning science, and any book that does that is remarkable."
BUY on Amazon (N.B. reviewers recommend the hard copy over the Kindle edition, which was missing pages.)
The full title of this book presents the premise of this book: Moby-Duck: The True Story of 28,800 Bath Toys Lost at Sea & of the Beachcombers, Oceanographers, Environmentalists & Fools Including the Author Who Went in Search of Them.
In January, 1992, the Evergreen Ever Laurel, a colossal vessel weighing more than 28,904 deadweight tons, pitched and rolled in hurricane-force winds and 36-foot waves. At some unfortunate point it rolled just a little too far. Two columns of containers broke loose and crashed into the Pacific Ocean south of the Aleutians, near the International Date line. And there, 28,000 bath toys were set free. The plastic flotilla headed north to cross the Arctic.
Donovan Hohn set out to write a  account of rubber duckies lost at sea based on a few interviews and by reading up on ocean currents. But his odyssey pulls him into the secretive arena of shipping conglomerates, the daring work of Arctic researchers, the lunatic risks of maverick sailors, and the shadowy world of Chinese toy factories.
The Discovery of France: A Historical Geography from the Revolution to the First World War is a narrative of exploration―full of strange landscapes and even stranger inhabitants―that explains the enduring fascination of France. While Gustave Eiffel was changing the skyline of Paris, large parts of France were still terra incognita. Even in the age of railways and newspapers, France was a land of ancient tribal divisions, prehistoric communication networks, and pre-Christian beliefs.
"…possibly the best piece of social history I've ever read."
"I went from knowing absolutely nothing about the French countryside and history to feeling like I had taken a trip on foot through time in French small towns!"

Has the perfect beach read finally been written? Let's see what a few of the 14,878 readers who rated it on Amazon say.
"…so many of the elements I'd expect of a light summer read, but there's a glimpse of darkness within…"
"…perfect escapism when life is easy and you're on a beach with someone you like, and is necessary escapism when you're running away from the dark …"
"Just a little disappointed in this book. Considering the ratings."
Synopsis: A romance writer who no longer believes in love and a literary writer stuck in a rut engage in a summer-long challenge that may just upend everything they believe about happily ever afters.
As some of the 29,760 reviewers on Goodreads note, it is not a beach book since the two characters rarely go to the beach. But it is a romance that gets high marks and may be the best bet in the genre this year.
When Mallory Blessing's son, Link, receives deathbed instructions from his mother to call a number on a slip of paper, he's not sure what to expect. But he certainly does not expect Jake McCloud to answer.  This is the story of two people who meet one summer, form an attachment, and agree to meet the same time, same place, next year.
If the plot of 28 Summers sounds familiar, it is based on the 1978 movie Same Time Next Year. We have not heard from anyone who has read the book and watched the film, but both have a large fan base.
"...an epic love story set mainly in Nantucket that just tugs on your heartstrings."
Be one of the first 1,341,337 people to read and rate this book!
In Where the Crawdads Sing, Owens juxtaposes an exquisite ode to the natural world against a profound coming of age story and haunting mystery. Thought-provoking, wise, and deeply moving, Owens's debut novel reminds us that we are forever shaped by the child within us, while also subject to the beautiful and violent secrets that nature keeps.
The story asks how isolation influences the behavior of a young woman, who like all of us, has the genetic propensity to belong to a group. The clues to the mystery are brushed into the lush habitat and natural histories of its wild creatures.
1,341,336 ratings and 111,380 reviews on Goodreads. #1 New York Times bestseller. More than 10 million copies sold worldwide.
As an Amazon Associate we earn from qualifying purchases.
 *     *     *
You may also like
Go to the BLUE HARE home page for more inspiration for fabulous women