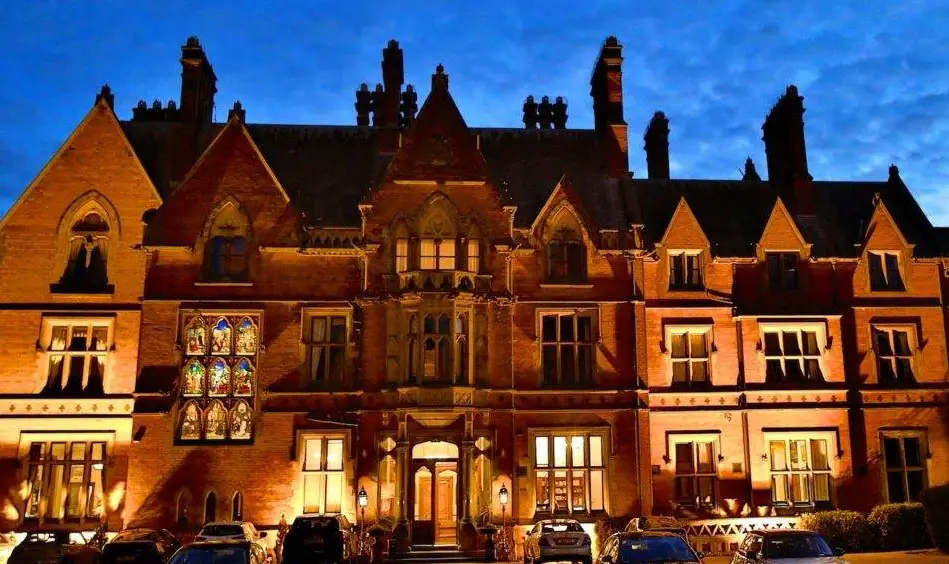 A dance hostess in a sparkly evening gown lies on the floor of a country estate. She has been murdered. Or has she? An aristocratic family gathers for Christmas at their ancestral home. The next morning a cousin is found in the study, shot in the head. Is a family quarrel to blame?
A murder at the house party is a British mystery literary device, perfected, one might say, during the interbellum years. The Golden Age of Detective Fiction was an era of classic murder mystery novels of similar patterns and styles, predominantly in the 1920s and 1930s, that are still being written today—though much less frequently.
The genius of their mysteries
They're usually fun, not too dark, and easy to read over a weekend. While most crime books rarely rise to the heights of great literature, these authors are different. You read them not for the plot (someone is found dead in conservatory, etc.), but for the genius of the mysteries they construct, and for superb writing.
The masters of this art were primarily British. The genre arguably began, and was at its peak, with writers like Agatha Christie, Dorothy Sayers, and G.K. Chesterton. The genre was revived and polished by more recent writers such as P.D. James and Catherine Aird.
The eight books here are an introduction to these and other authors. They don't necessarily represent the best work of each writer—they were selected because each story features a country house. Writers use the country house and its inhabitants to symbolize the state of the nation or to reflect societal changes. From the Jazz Age to post World War II, we observe the decline of the aristocracy and their vast country manors, landed gentry taking in paying guests to pay the bills.
English country houses and their histories…and ghosts
The author of the website crimereads.com observes, "The power and possibility of the English country house is all that it conceals, its history and secrets, its locked doors and hidden rooms, its ghosts and memories, only a grand old house in the country can hold these things with ease and make us believe…"
These "whodunit" stories may have fallen out of favor, replaced by more hard-edged, American-style crime mysteries. But in sheer number of sales—particularly those of Agatha Christie—modern detective fiction has never approached the popularity of Golden Age writing.
Country house mysteries can make you lean in as you read, as crimereads.com continues, "pushing further into each house, hurrying around the next corridor or up a rickety staircase or down into a cellar." Slip into something comfortable, settle by a crackling fire, and let these writers take you into the lives of those gentle folk who live in those beautiful manors, and whose lives are upended by murder.
Blue Hare is an Amazon affiliate so we may make a few cents on purchases made through the links on this page. 
Dame Agatha Christie (1890 – 1976) was an English writer known for her detective novels and short story collections featuring fictional detectives Hercule Poirot and Miss Marple. She is considered the "Queen of Crime," a master of suspense, plotting, and characterization. Many critics regard her as the principal author of the Golden Age of Mystery.
Guinness World Records lists Dame Agatha as the world's best-selling fiction writer; her 78 crime novels have sold an estimated 2 billion copies in 44 languages. In 1971, she was appointed a Dame Commander of the Order of the British Empire (DBE) for her contribution to literature.
The Mysterious Affair at Styles was Agatha Christie's debut novel and the first to feature Hercule Poirot, her famously eccentric Belgian detective. A refugee of the Great War, Poirot is settling in England near Styles Court, the country estate of his wealthy benefactress, the elderly Emily Inglethorp. When Emily is poisoned and the authorities are baffled, Poirot puts his prodigious sleuthing skills to work.
Suspects are plentiful, including the victim's much younger husband, her resentful stepsons, her longtime hired companion, a nurse, and a London specialist on poisons, all of whom have secrets they are desperate to keep.  Available in various formats on Amazon.
1926: Clouds of Witness (Lord Peter Wimsey) by Dorothy L. Sayers
Dorothy Leigh Sayers (1893 – 1957) was an English crime writer and poet. She was also a student of classical and modern languages. She is best known for her mysteries, a series of novels and short stories which remain popular to this day.  They are set between the First and Second World Wars and feature English aristocrat and amateur sleuth, Lord Peter Wimsey,.
Clouds of Witness is a 1926 mystery, the second in her series featuring Lord Peter Wimsey. Lord Peter's brother, the Duke of Denver, has taken a shooting lodge at Riddlesdale in Yorkshire. (A hunting lodge in England is a country property specifically used for organizing hunting parties, and can be small or quite magnificent, like Chatelherault Country Park.)
Early one morning, Captain Denis Cathcart, the fiancé of Wimsey's sister, Lady Mary, is found shot dead outside the conservatory. The Duke stands trial for the murder. Lord Peter, his manservant/sidekick Bunter, and his police officer friend, Detective Inspector Charles Parker, are determined to find the real culprit.
"The story has a very good puzzle and mysteries, no clues are hidden and all are discovered by the reader at the same time that Peter, or his detective friend, Inspector Parker, find them. There are a few twists to revealing who the murderer is, but it is very satisfying." (Amazon review by Ryan Hoffman)  Available in various formats on Amazon.
Margery Allingham (1904 – 1966) was an English novelist from the Golden Age of Detective Fiction, best remembered for her hero, the gentleman sleuth, Albert Campion.
Initially believed to be a parody of Dorothy L. Sayers' detective Lord Peter Wimsey, Campion matured into a strongly individual character, part detective, part adventurer, who formed the basis for 18 novels and many short stories.
The Crime at Black Dudley, first published in 1929, is the first novel to introduce Campion. The story begins as George Abbershaw and other guests assemble for dinner on the first night of a house party at Black Dudley manor. Black Dudley is a remote, ancient, and sprawling manor house with a long and complex history and plenty of hidden rooms and secret passages. There is a murder, a criminal gang, and a killer on the loose.
Among the guests is Albert Campion—a garrulous and affable party-crasher with a great knack for solving mysteries and interrogating suspects.
"Allingham understands the Suffolk landscape and all its nooks and crannies but most importantly, she writes a fine entertaining puzzle, in clear, lucid but comic prose with the key character, Campion, being the perfect chameleon – a hero with a touch of Raffles, a touch of Rupert of Hentzau, a suspicion of royal blood on the wrong side of the blanket and all the insouciance of the 1920s with a whiff of Hollywood to boot." (from Amazon reviewer Annie Marshall)  Available from Amazon in various formats.
Gilbert Keith Chesterton, KC*SG (1874 – 1936), was an English writer, philosopher, lay theologian, and literary and art critic. He is best known for his short stories featuring the fictional priest-detective Father Brown, a fictional Roman Catholic priest and amateur detective. Father Brown features in 53 short stories published between 1910 and 1936.
His methods tend to be intuitive rather than deductive. He explains his method in The Secret of Father Brown: "You see, I had murdered them all myself…I had planned out each of the crimes very carefully. I had thought out exactly how a thing like that could be done, and in what style or state of mind a man could really do it. And when I was quite sure that I felt exactly like the murderer myself, of course, I knew who he was."
"Father Brown mysteries are as much character studies as they are mystery puzzles, and he relies on his innate understanding of human nature no less than a keen eye and logical thinking in the search for clues and motivation. Father Brown is a man of God, but the religious content of these tales, while it provides a moral compass, is not obtrusive; these stories are meant to entertain, not proselytize, and no non-Catholic need fear reading them." (Amazon reviewer "Librarian," a Top 100 Reviewer)  Available on Amazon in Kindle format.
Michael Innes, (John Innes Mackintosh Stewart, 1906 – 1994) was a Scottish novelist, academic and later "Golden Age" writer of crime stories that feature the fictional Inspector Appleby. Innes's detective novels are rich in allusions to English literature and to Renaissance art. The Times Literary Supplement described him as "A master – he constructs a plot that twists and turns like an electric eel: it gives you shock upon shock and you cannot let go."
There Came Both Mist and Snow, published in 1940, takes place at Belrive Priory–a mansion, park, and medieval ruins—in the North of England. Arthur Ferryman returns to his ancestral home for a family Christmas but is shocked when one of his cousins is found shot dead in the study. Inspector Appleby arrives on the scene to unravel a mystery built on a secret family quarrel.
"The mystery itself is very complex, and the solution rather contrived. Read "There Came both Mist and Snow" for its highly literate prose—Appleby solves the mystery only after he recalls a verse from "The Rime of the Ancient Mariner" (hence the book's title)—and for its in-depth characterizations." (Amazon reviewer "ealovitt") Available on Amazon in various formats.
In The Body in the Library, the maid finds a dead body in the library of Gossington Hall early one morning. It is a young woman with platinum blonde hair, dressed in an evening gown, and completely unknown to the estate's owners, retired Colonel Arthur Bantry and his wife Dolly. The Colonel calls the police, and Mrs. Bantry calls her old friend, Miss Marple.
"… What divine fun! An actual (fictional) Body in The Library! Cliché central, send up a cheap one. Then Dame Agatha does her magic, the sort that turns things inside out, and it's the library that's the red herring, the body that's the clue, and the mystery itself isn't about ANY of those things." (Goodreads reviewer Richard Derus)
In the book's Author's Foreword, Christie describes "the body in the library" as a cliché of detective fiction, and that in writing The Body in the Library she wanted to write her own variation on this theme. Available on Amazon in various formats.
1962: Cover Her Face (Adam Dalgliesh) by P.D. James.
Phyllis Dorothy James, Baroness James of Holland Park, OBE, FRSA, FRSL (1920 – 2014), known professionally as P. D. James, was an English crime writer.
Cover Her Face is the first of 14 mystery novels featuring Scotland Yard police commander (and poet) Adam Dalgliesh. Dalgliesh is a gentleman detective, intensely cerebral and very private. He writes poetry, a fact about which his colleagues are fond of reminding him.
The story opens with a dinner party at Martingale, a medieval manor house in the (fictional) Essex village of Chadfleet, home of terminally ill Simon Maxie and his wife, Eleanor. Eleanor Maxie, her son, Stephen, and her daughter, Deborah Riscoe are at the dinner. Serving at the party is Sally Jupp, an unmarried mother (oh, the scandal!) employed by Mrs. Maxie as house parlor maid. The next morning, Sally Jupp lies across her bed with dark bruises from a strangler's fingers around her lily-white throat. Someone has decided that the wages of sin should be death and it is up to Chief Inspector Adam Dalgliesh to find who that someone is.
"James' book is about—and centered on—normal life. The normalcy is upended by a crime and the book deals with how each character adjusts to that disruption." (Goodreads reviewer Prakash Murthy)  Available on Amazon in Kindle and other formats.
Catherine Aird (1930 – ) is the author of more than twenty volumes of detective mysteries and three collections of short stories. Her witty, literate, and deftly plotted novels straddle the "cozy" and "police procedural" genres. Most of her fiction features Detective Inspector C. D. Sloan and Detective Constable W. E. Crosby. Aird is the pseudonym of English novelist Kinn Hamilton McIntosh, MBE.
The Stately Home Murder is set in the early 1970s. Times are tough in the upper echelon of British society. To survive the changing times, the Earl of Ornum has done the previously unthinkable and opened Ornum House to the public—for a price. One day, a family is roaming around the house's dungeon when their little boy sees a suit of armor and lifts the visor…to see a face staring out at him.
As Detective Inspector C. D. Sloan soon finds, the man in the suit of armor is dead—and there's a slew of suspects waiting to be interviewed. It's up to Sloan and his wisecracking sidekick, Detective Constable Crosby, to find out before the murderer strikes again. With 'Burke's Peerage' tucked under one arm and a dictionary under the other, Detective Inspector C.D. Sloan tiptoes through the halls of the aristocracy. His impeccable powers of observation might reveal who murdered the family archivist, but the family ghost walks through these same corridors.
"If you are looking for a thriller or a fast paced story with violence, you will be disappointed.  But if you enjoy a well written story with tongue-in-cheek British humor, I highly recommend you give C. D. Sloan and Ms. Aird a try."(Amazon reviewer Jonesy) Available on Amazon in Kindle and other formats.
*     *     *
As an Amazon affiliate Blue Hare makes a small commission on purchases made through some of the links on this page. It helps us keep the lights on. Thank you for supporting Blue Hare.
You may also like
Go to the Blue Hare homepage for more articles for fabulous women.