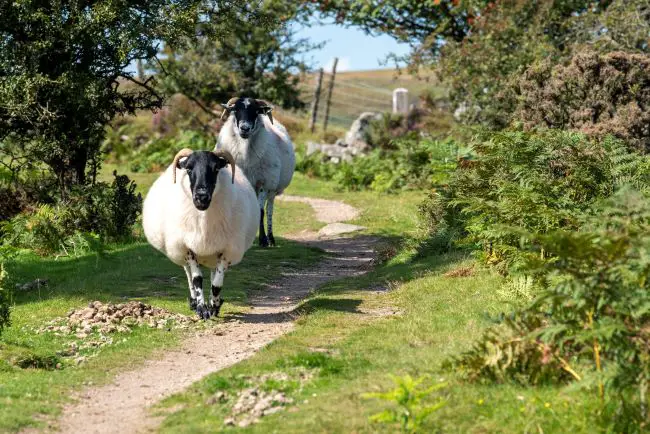 Walking is as English as shepherd's pie. Read Jane Austin or Thackeray. Being invited for a walk was akin to throwing open the doors to one's boudoir.  According to Ramblers.org, an organization for walkers in the UK, walking is the most popular activity on a day out (tied with eating), accounting for some 648,000 trips each year.  It's also the most popular activity to do in the countryside (36 percent) and along the coast (33 percent).
If you find yourself in London with an urge to get out of town, we found seven delightfully accessible walks to enjoy as day trips out of the city. Many boast ancient monuments and royal British history, while others showcase rural England and its breathtaking nature. Each of these walks can be easily completed in a day.  Walking is a perfect way to immerse yourself in the English countryside, fit in some exercise, and experience village life. (And earn some health benefits at the same time.)

Durrington Walls and Woodhenge, Wiltshire    
Location: 96 miles SW of London
Distance: Four miles
Time: Two hours
Level: Easy
If rings of magical stones and echoes of Celts and Druids dancing in the moonlight stir your soul, this is the walk for you. A walk around Durrington Walls, located within the Stonehenge World Heritage Site, will take you back to a prehistoric complex that included a village and various sacred monuments and grounds.
Durrington Walls is the largest complete henge in Britain, a full 1,640 feet in diameter. "Henges" are Neolithic earthworks. Think of a sunken pie dish. They often contain circles of stone or wood pillars, with Stonehenge being the most famous. They were probably used for rituals or for marking astronomical events like the solstices and equinoxes.
The area outside the henge was once a settlement, and may have contained hundreds of houses, making Durrington Walls the largest village in northwest Europe at the time. People travelled for miles to feast and participate in rituals. Woodhenge, another Neolithic henge on the Stonehenge World Heritage Site, is an impressive timber circle.
The path meanders past ancient monuments–Round Barrows and the Cuckoo Stone–and offers magnificent views across the Stonehenge landscape.  Over several millennia, the Cuckoo Stone played a role in Bronze Age urn burials, served as a boundary line during the Iron Age, and was incorporated into a small Roman village. In fact, at the end of the Roman era, someone buried two hordes of coins there, discovered and now on display in the Salisbury Museum nearby.
Stonehenge Avenue is a two-mile ceremonial way that links Stonehenge with the River Avon and crosses King Barrow Ridge. You will enjoy a fine view of Stonehenge from here. Durrington Walls is also connected to the river, leading experts to believe the Avon symbolically linked the two monuments to form part of a ritual journey, perhaps leading to the afterlife.
Getting there
Take the train from London Waterloo to Salisbury Station. Take Average time between London Waterloo and Salisbury station is 1 hour 26 minutes. From Salisbury station, take the X5 bus for 9 miles—about 23 minutes—to Woodhenge car park where the hike begins.
Plan your visit: Find information for planning your trip at the National Trust website.
Dunstable Downs and Whipsnade Estate, Bedfordshire 
Location: 41 NNW of London
Distance: 6.5 miles
Duration: Three hours, 30 minutes
Level: Easy/moderate
Dunstable Downs in Bedfordshire is home to another ancient site: Five Knolls, the largest round barrow cemetery in Bedfordshire, lies on the edge of the Downs. The burial mounds were excavated in the 1850s and 1920s and appear as bumps against the skyline.
They originated in the late Neolithic and Bronze Age and were re-used for burials in the Roman period. When you're there, be sure to explore Drovers Way, a network of tracks and paths in and around Dunstable that were traditionally used by drovers to take livestock to market and are now popular with walkers and equestrians.
Kate Sheard, warden at Dunstable Downs, describes the scene:
"The view across the Vale of Aylesbury is what makes this walk so special. On a clear day from Dunstable Downs you can see 35 miles into Oxfordshire.  The sunken trackways, where history and nature come together, are my favorite part of the walk. Here it is possible to spot a wide range of wild orchids in June, such as the common spotted orchid, the pyramidal orchid and the fragrant orchid, along with rare butterflies such as the Duke of Burgundy and the chalk hill blue in the summer months."
Getting there 
By train, the average time between London St. Pancras and Luton station is 36 minutes. From the station, take the bus approximately seven miles to Whipsnade Road.
Plan your visit: Find all the information you'll need on the National Trust website.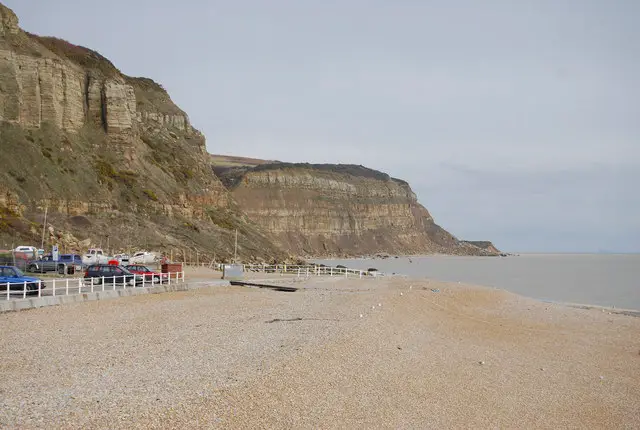 Hastings Circular, East Sussex 
Location: 43 miles south of London
Distance: 5.9 miles
Duration: Two hours, 40 minutes
Level: Moderate
This nearly 6-mile coastal walk is not only visually engaging, it also serves up intriguing bits of history—royal plots, smugglers lairs, and a castle in ruins. The walk starts at Hastings Station and continues through Hastings Old Town and along the seafront at Rock-A-Nore.
The Stade (a Saxon term for 'landing place') is well-known for its tall and narrow black net shops. Fishermen needed to store their nets when they returned from the sea and the net shops offered a clever space-saving solution, storage built high on a compact eight-foot square base.
The walk continues along a steep coastal path, through Hastings Country Park by the East Hill funicular railway (the steepest funicular railway in Britain), and to Fairlight Glen. Continue walking towards the sign 'Fairlight picnic site 1 mile, North's Seat 1.25 miles' and turn left.
After passing some woodland on a single path, you will pass the house of Titus Oates ('Titus the Liar' invented the 1678 "Popish Plot. He claimed to have discovered a plot to kill Charles II and replace him with his Catholic brother James, igniting anti-Catholic hysteria in England and Scotland. Eighty people were arrested and several were executed before Oates admitted that he had invented the plot.).
Continue on to the entrance to Clements Caves (acres of caverns that have protected smugglers, bootleggers and warring gangs over the years) and the ruins of Hastings Castle. The terrain is varied with a few steep sections.
For the true enthusiast, there's an ambitious historical walk that is easily spread out over several days–the 31-mile 1066 Country Walk.  You'll see where the Normans landed in 1066 and the Battle of Hastings was fought. In 1066, William, Duke of Normandy brought his army to Pevensey, Sussex, and went on to defeat King Harold in the Battle of Hastings.
This walk follows in the steps of William the Conqueror, taking in historical sites on a generally easy walk through ancient towns and villages, such as Winchelsea and Rye, over hillsides and through woodland, and passing oast houses (houses with kilns to dry hops for brewing) and windmills. In addition to the Normans' landing point at Pevensey and the battle site, the walk includes the castles at Pevensey and Herstmonceux.
Getting there
Two trains per hour (one on Sundays) run to Hastings from Charing Cross (travel time: one hour 31-42 minutes).
Plan your visit: Check out the 1066 Country's official website for tourism and travel information.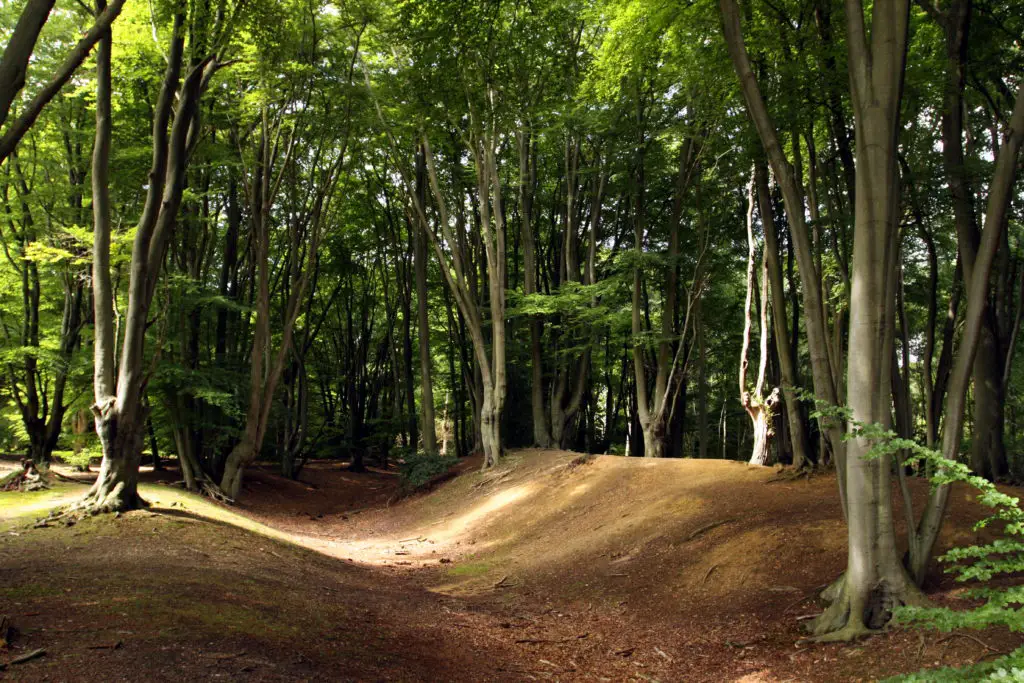 E

pping Forest, The Oak Trail, Greater London
Location: 30.5 miles NNE of London
Distance: 6.6 miles
Duration: Two hours, 30 minutes
Level: Easy
Epping Forest is an awe-inspiring woodland near London. You can take more than 40 different walks through the Forest depending on whether you are in the mood for short walks or a longer one. The Oak Trail walk starts at Theydon Bois tube station and quickly moves onto Great Gregories, one of the City of London's buffer land areas where you'll see conservation cattle grazing.  Much of the trail follows defined paths, fields, and forest with directional posts to guide you.
The route combines outstanding nature and history with modern attempts to protect wildlife. There are wonderful views of historic beech pollards, woodland pasture, Ambresbury Banks, the remains of an Iron Age hill fort (According to legend, it's the site of Boudica's last stand against the Romans in AD 61), and a deer sanctuary. The fort covers approximately 11 acres and was once surrounded by a 6ft single bank and a ditch. The deer sanctuary is home to black fallow deer and covers approximately 140 acres.
Getting There
Take the London Underground from Liverpool Street to Theydon Bois station. Travel time is about 35 minutes. Alternatively, you can take the underground from Marble Arch (about 48 minutes).
Plan your visit: You'll find information on the Oak Trail walk and over 40 other trails in the Epping Forest at walksandwalking.com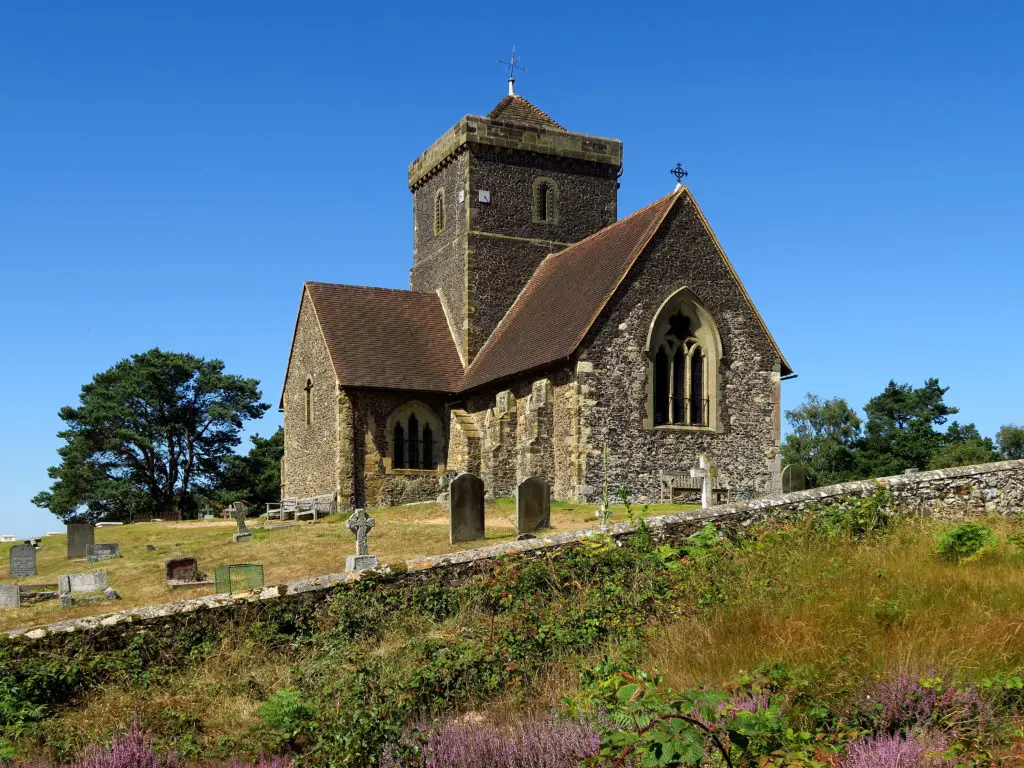 Guildford to Chilworth, Surrey 
Location: 31 miles SW of London
Distance: 4 miles
Duration: Two hours
Level: Easy
TimeOut calls this route "best for lazybones," but also divulges that it is one of the most unspoiled stretches of the North Downs. Running east from Guildford, this walk takes a diverse course, through hidden valleys, ancient woodlands, and quaint farmlands just below the Downs. Start by visiting Guildford Castle to admire the fine views of the town and Wey river valley.
The walk starts with a short, steep climb out of Guildford to the dramatic view of Pewley Down. You'll see a concrete plinth commemorating the 1920 purchase of Pewley Down to honor fallen WWI soldiers. Here you will enjoy more breath-taking views over the valley.
Afterwards, you continue through meadows and woods along a long path between hedges that slants downwards into the valley until you meet the North Downs Way. Follow this to the church of St Martha-on-the-Hill, formerly a stop on the Pilgrim's Way to Canterbury, restored in the nineteenth century.
From here the route passes through rolling farmland as you follow the ancient Pilgrim's Way. Then turn south towards Chilworth where you can catch the train back to London.
Getting there
Trains run several times an hour between London Waterloo and Guildford (about 38 minutes). If driving, park at Guildford Station and make your way back from Chilworth by bus or train.
Plan your visit: check out the National Trails website. 
Pluckley Circular, Kent
Location: 38 miles SE of London
Distance: 6.8 miles
Duration: Three hours, 30 minutes
Level: Easy
Pluckley Circular is a short, gentle, and quintessentially English walk in rural Kent, known as "The Garden of England." The path meanders past small farms, timber-framed houses, rich pastures, apple orchards and ancient oaks.
You will enjoy a magnificent view across the plains of the Low Weald. But beware! The village of Pluckley has a reputation for being the most haunted village in Britain, claiming at least 12 ghosts.  The first two weeks in May are particularly lush when the apple trees are in bloom. In summer, there are wild flowers and gardens, and in early autumn the orchards are heavy with fruit.
Getting there
Rail: Two trains per hour (one per hour on Sundays) from Charing Cross to Pluckley. Travel time is one hour 12-26 minutes. Trains return to London from Pluckley once every hour, every half hour from Ashford to London.
Road: There is a car park at Pluckley Station that costs £2 per day on weekdays but is free on the weekends.
Plan your visit: Check out the website of walkingclub.org.uk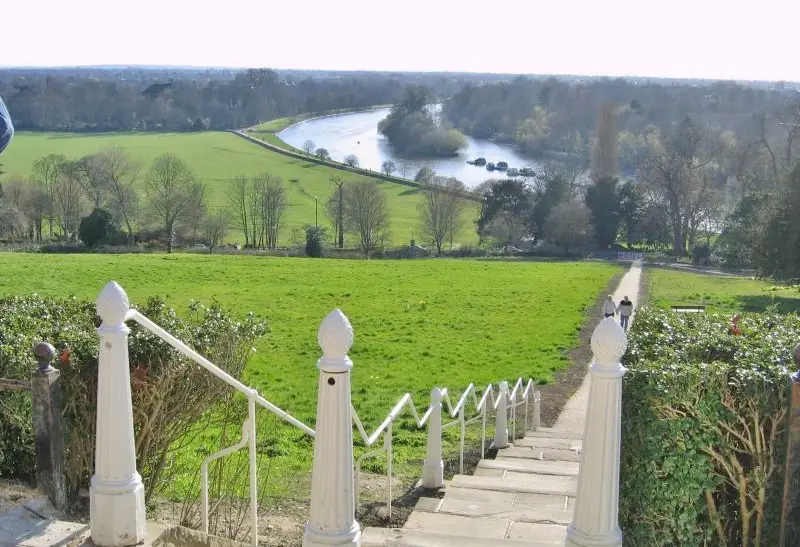 Richmond and Ham House, London
Location: 11 miles west of London
Distance: 4.5 miles
Duration: One hour, 30 minutes to two hours
Level: Moderate
This circular walk begins at Richmond Station in London and follows a rural riverside walk along the Thames Path through the country to Ham House and Garden. Along the way you will cross Richmond Hill, famous for offering the only view in England that's been protected by an Act of Parliament. This famous view of the River Thames has been captured by many artists including Sir Joshua Reynolds and J. M. W. Turner, and indeed there are times you will feel as if you are walking through those paintings.
Towards the Richmond Gate entrance to Richmond Park, you'll pass the historic Royal Star and Garter, established after WWI as a home for retired, elderly, and disabled ex-service men and women.  You may also encounter red and fallow deer in historic Richmond Park, the largest of the eight royal parks in London, where King Charles I introduced deer so that he could hunt.  You will also want to see King Henry's Mound, one of the highest places in London, where St. Paul's Cathedral—some 10 miles away— can be seen on a clear day.
Built in 1610, Ham House is 'the most complete survival of 17th-century fashion and power,' according to the National Trust. Enlarged in the 1670s, it is one of a series of palaces and grand houses along the banks of the Thames and was occupied by the same family until 1948. Surviving outbuildings include an orangery, ice house, still house and dairy with cast iron 'cows legs' supporting marble slabs. It also claims to be one of the most haunted houses in Britain.
Getting there: Take the Underground from London Victoria Station to Richmond Station, 30 minutes.
Plan your visit: Check out the National Trust website.
*   *   *   *
Meet new people through hosted group walks
If you don't have a walking companion, several walking organizations in the UK regularly  host group walks and can help you find like-minded partners.
Ramblers organizes hundreds of group walks throughout the UK each week. Their site has a robust search engine for finding the best walk near you. Just enter various parameters including your location (postal code), desired difficulty of the walk, distance, and theme (history, wildlife, gardens, adventure, to name a few.). For a minimal annual fee, you can become a member and earn badges for completing various walks.
Go4AWalk lives the Taoist belief that 'The journey is the reward.' This group hosts a website resource for anyone who likes to walk. There are walks throughout the UK, as well as listings to meet walk partners and groups. Its members range in age from 18 to 80+. To learn more, subscribe to their free online informational newsletter.
This article was published originally in May, 2017. It was reviewed and updated on August 19, 2022.
*   *   *   *   *    
Not heading to England any time soon? 
Take an armchair tour with Bill Bryson instead.
Iowa native Bill Bryson has twice explored the green and pleasant English countryside, resulting in two hilarious books. In 1995, he took a trip around Britain traveling only on public transportation and hiking whenever possible. The laugh-out-loud book that resulted, Notes from a Small Island, is one of the most acute portrayals of the United Kingdom ever written.
The Road to Little Dribbling comes twenty years later.  Bryson—now a British citizen—describes getting older, and describes Great Britain via a trip he took across the 700-mile-long island. "Such a pleasure to once again travel the lanes and walking paths of Britain in the company of Bill Bryson! . . . It's a rare book that will make me laugh out loud. This one did, over and over." —Erik Larson, author of The Devil in the White City.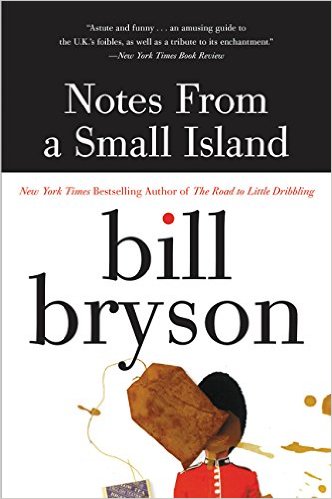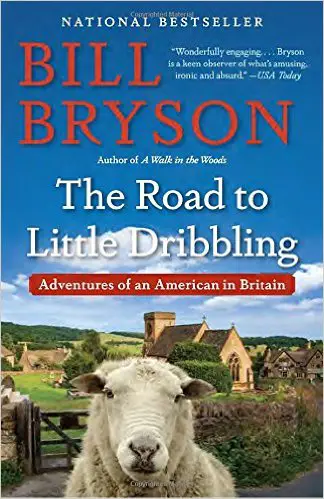 Header photo credit:  DailyMail.co.uk  
 *     *     * 
You may also like
Go to the Blue Hare home page for more on travel, style, beauty and more