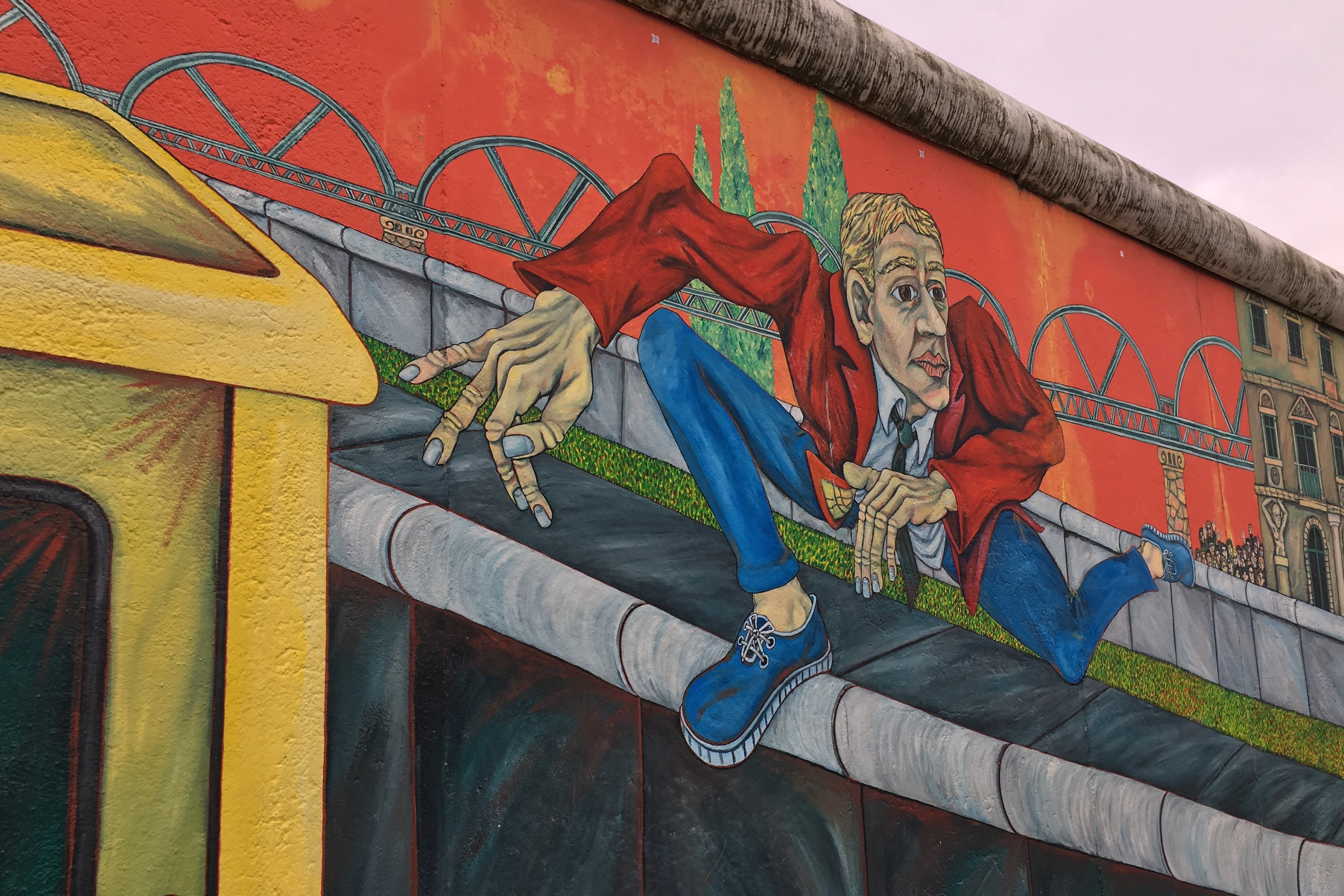 The best way to prepare for a trip to Berlin is by watching the movie "Atomic Blonde." Charlize Theron plays a British spy (or is she?) navigating East and West Berlin in 1989, just before the Wall collapsed. At first, the scenes of a divided city seem like ancient history, but The Clash and George Michael soundtrack make you realize you probably still have some  fabulous 80s clothes in your attic.
As the German capital gets ready to celebrate the 30th anniversary of the Fall of the Berlin Wall next year, there's never been a better time to visit. And unlike Charlize Theron's character, the biggest danger you'll probably face is from bicycles. While Berlin's flat, broad streets and cheap bike-shares make it a cycling nirvana, many sidewalks also have bike lanes, so pedestrians need to watch where they step.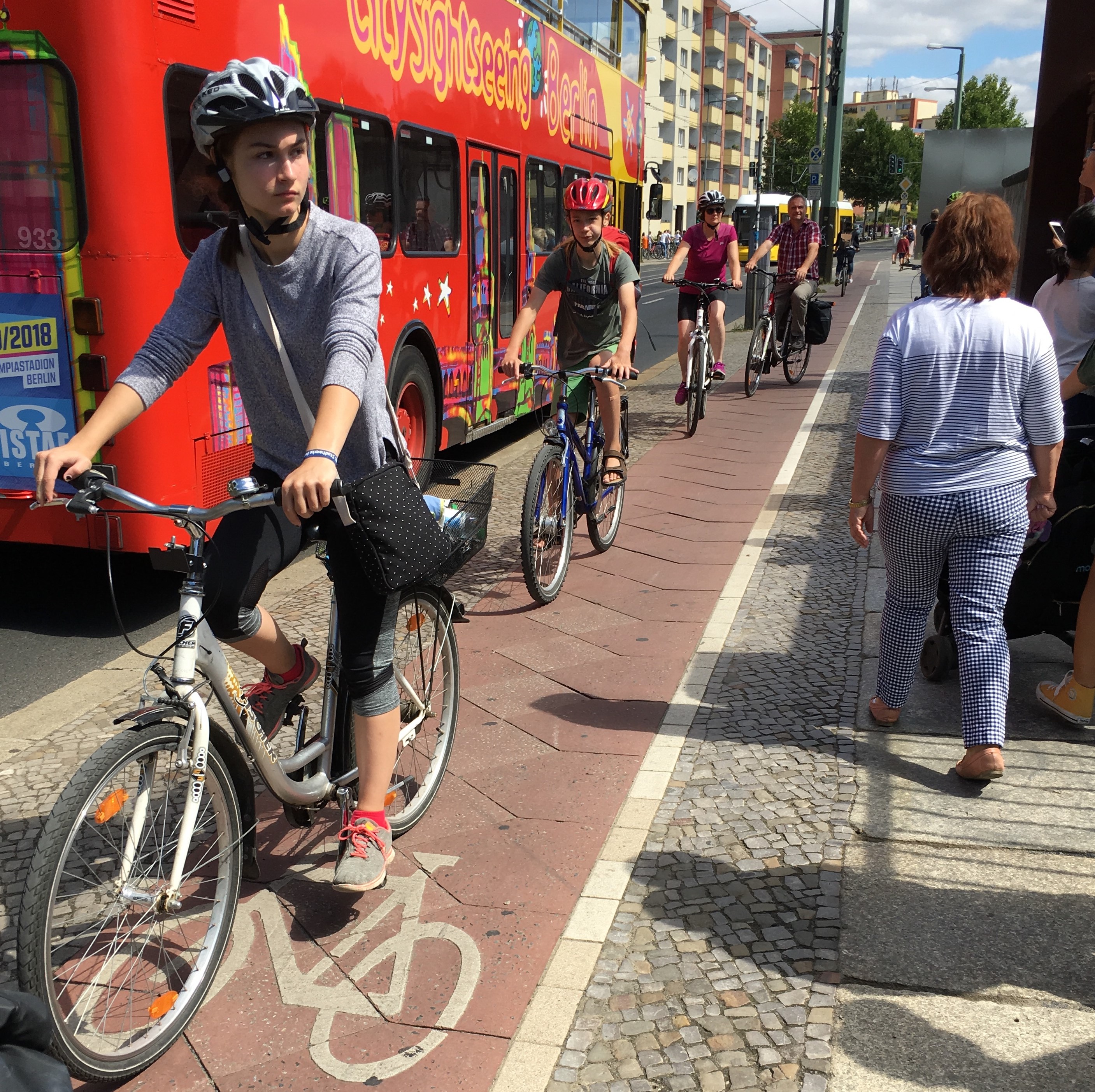 I was afraid to go behind the Iron Curtain when I backpacked through Europe in the 70s, so my first glimpse of Berlin was a decade ago. I stayed at one of the fancy new hotels at Potsdamer Platz, formerly the widest point in the "death strip" dividing East and West Berlin. Potsdamer became the center of Berlin's building boom, which is now starting to slow down.
I returned to Berlin this summer, just a few months after the city celebrated a landmark date—Berlin has now been unified longer than the Wall stood. The streets are even busier and its people more diverse. In fact, many believe Berlin is growing too quickly. For me, the biggest change over the last decade is the explosion of bikes, with about a quarter of commuters now cycling.
History on every corner
Berlin isn't shy about its history, even the most shameful parts. On countless streets, you'll find exhibits explaining the sordid pasts of seemingly innocuous buildings, like the monstrous former headquarters of the Nazi air force that is now the German Finance Ministry. Here, an East German official said a wall would never divide Berlin. While this might be Berlin's ugliest building, the north façade has a gorgeous mural of idyllic East German scenes created from hand-painted Meissen porcelain tiles.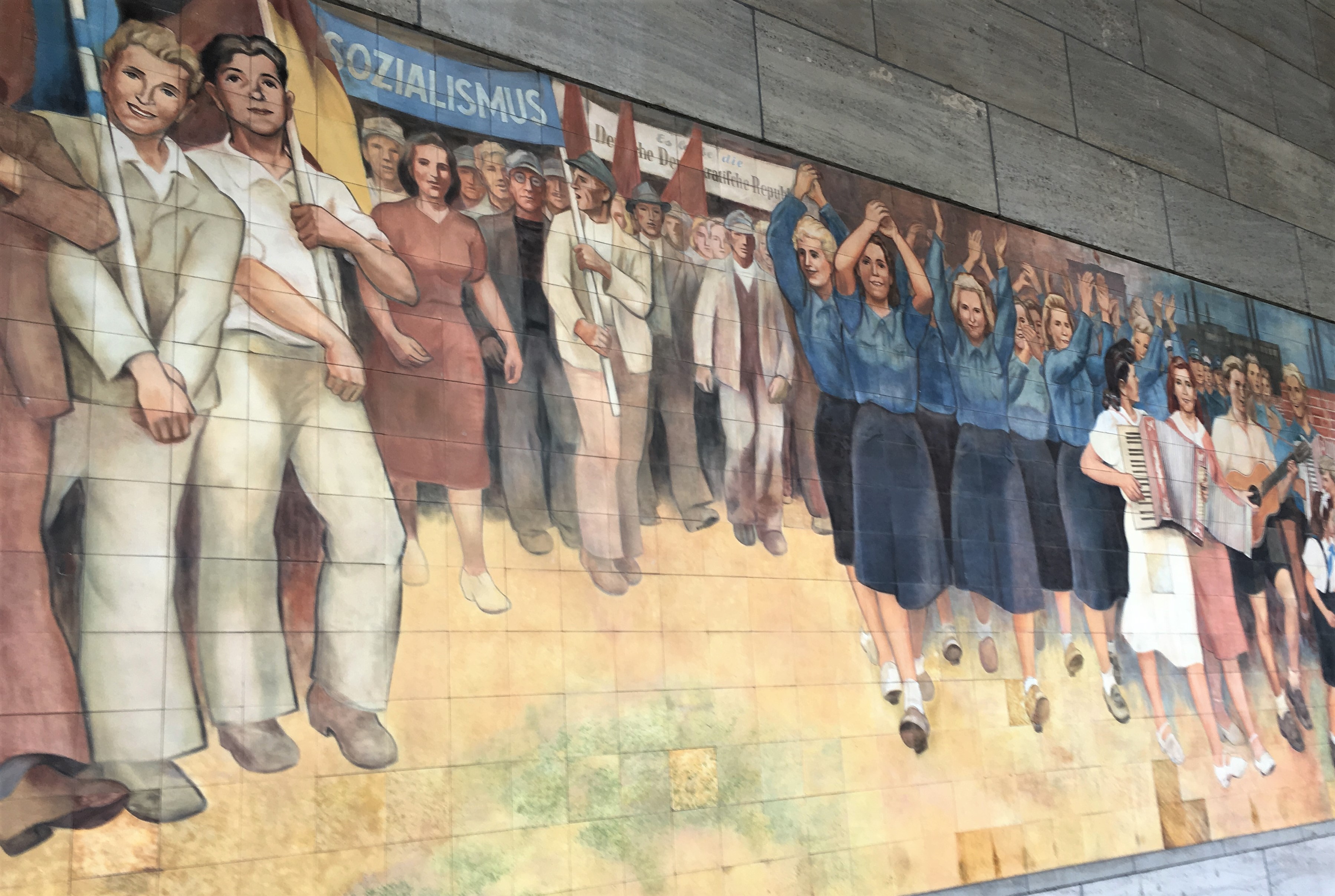 I stumbled onto the mural on my way back from the Topography of Terror, which documents the Nazi regime. Outside, a section of the Berlin Wall provides the backdrop to a chilling exhibit about how Hitler took control in 1933. Indoor exhibits explore the brutality of the Gestapo and the SS. The Berlin Wall Memorial provides a sobering look at how the city was divided and remembers the East Germans who were killed trying to flee.
You'll feel better after a visit to the splendid Brandenburg Gate, where Westerners used to climb an observation platform to peer into East Berlin.
Afterwards, consider renting a bicycle (Mobike doesn't even ask for a credit card until after you ride) to explore the adjoining Tiergarten Park.  Biking is the best way to see the huge park's many sculptures and monuments, such as the golden Victory Column.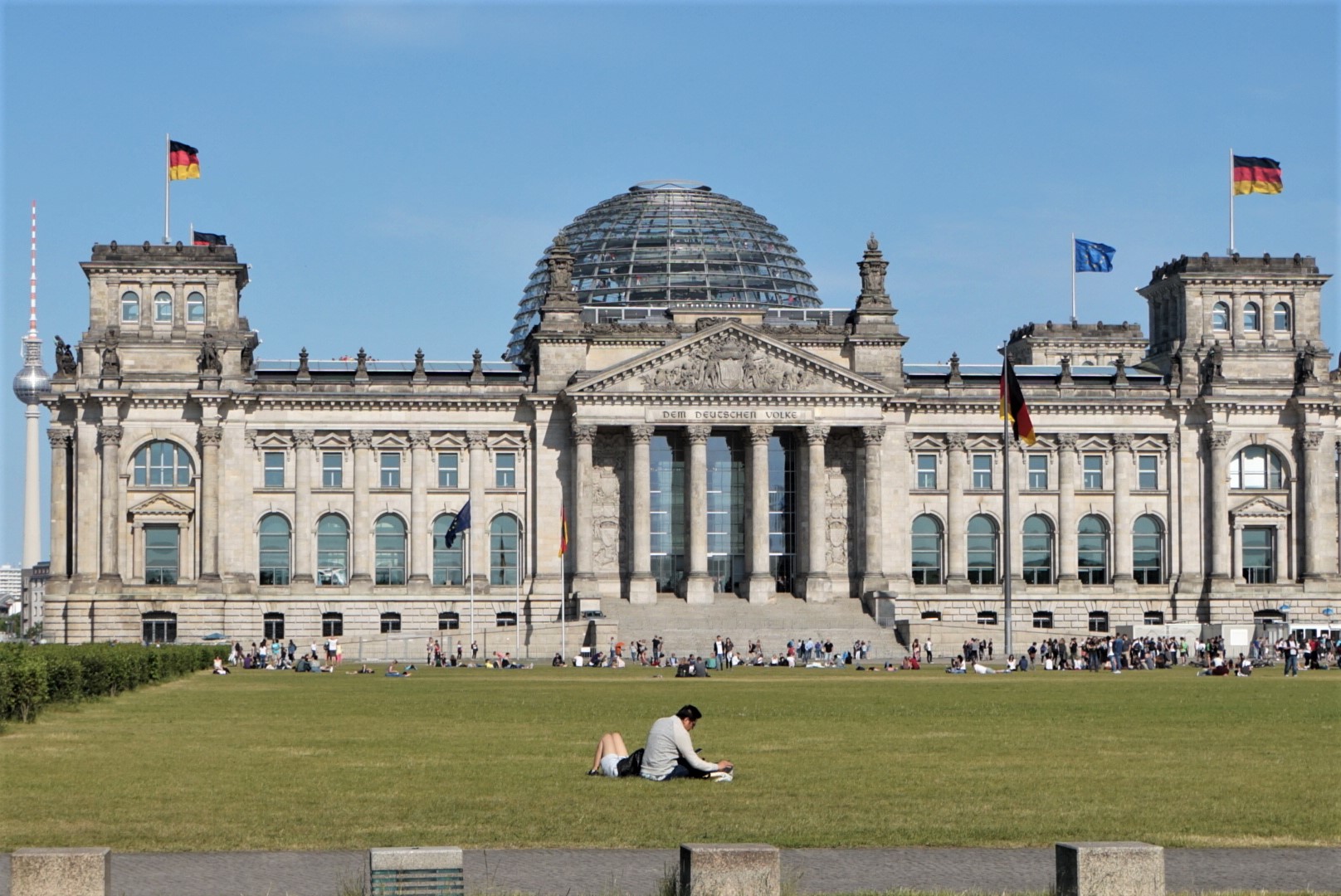 Finish your bike ride at the Reichstag, where the German parliament meets. After nearly being destroyed in World War Two, it was rebuilt with a dome on top–a symbol of transparency for the unified German government. You can visit the dome by requesting free tickets online. Once there, an audio tour in the language of your choice accompanies you to the top.
The best way to get a sense of what it was like to live behind the Iron Curtain (or dash in for some spying) is by visiting the East Side Gallery. This is the largest remnant of the Wall, stretching nearly a mile, making it easy to imagine what it was like for East Germans living next to this forbidding barrier. But here, the Wall wasn't torn down, it was transformed. More than 100 artists have painted colorful images of Communist oppression and their hopes for the future. It's the longest open-air gallery in the world, so give yourself plenty of time to stroll.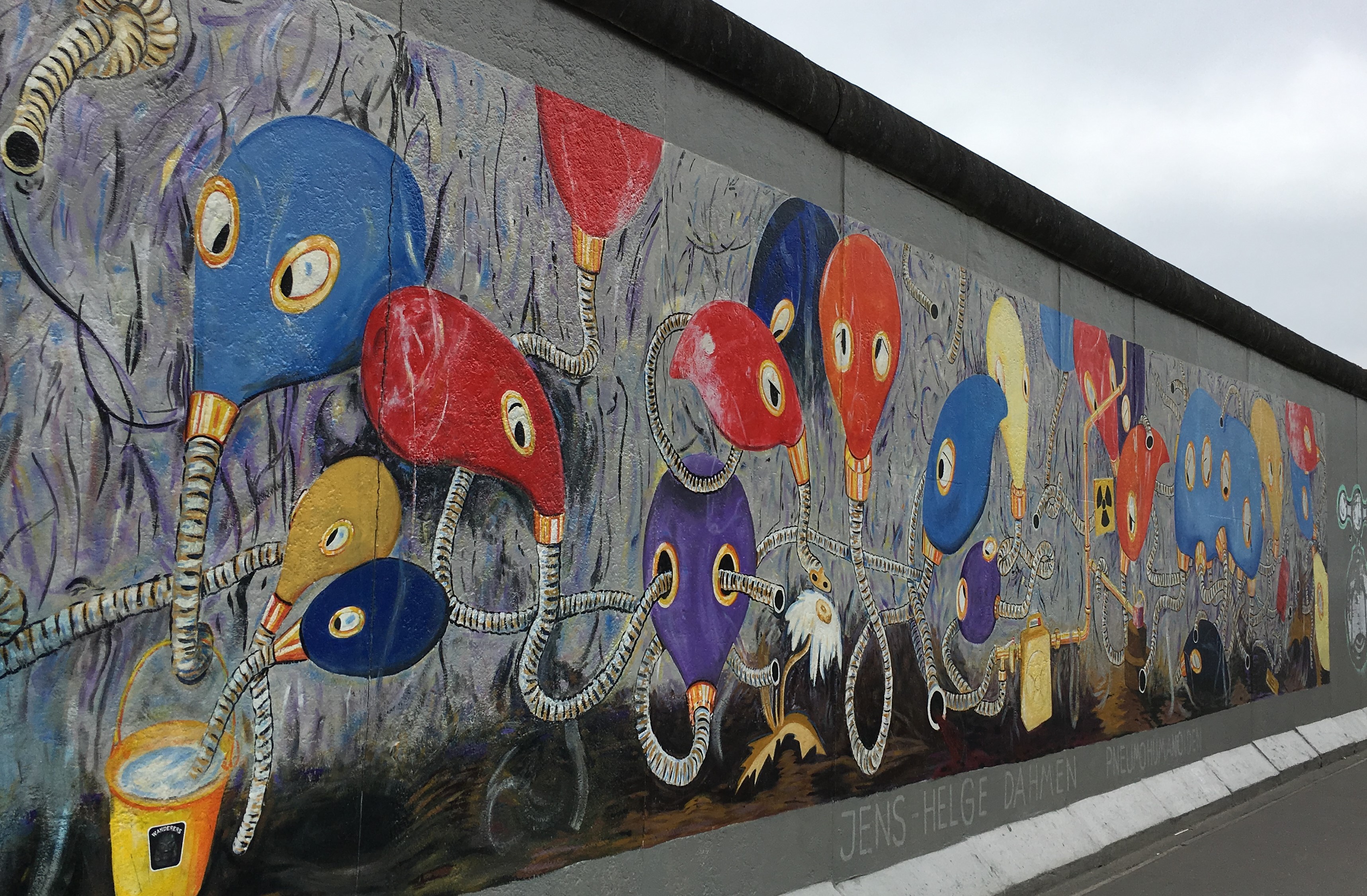 All these sights are free.
One night, I had dinner with two German friends, who have lived in Berlin most of their lives. I asked what it was like to live in a city where they are constantly reminded of the worst parts of their country's history.
"It's terrible," said one.  "Hitler and the Nazis are in your face, every day. We don't think it should be covered up, but it is painful to see all the time. Germany was a great country for centuries—we aren't just the home of Hitler."
Binging on museums
Yes, it is possible to visit Berlin without going inside a museum, but since there are 170, it could be difficult. If you are an art or history buff like me, buy the Berlin Museum Pass.
For 29 euros, you can see 30 of the city's best museums on three consecutive days. I managed to hit 16 museums even though one of my days was a Monday, when most museums are closed. This is a fantastic deal, considering that admission to just one museum can cost 10 euros. Purchase the pass online or pick it up at the first museum you go to. Five of Berlin's most important museums are clustered on Museum Island, a UNESCO World Heritage site along the river Spree.
Every museum has its highlights, but here are some can't-miss suggestions, all included in the museum pass.
I really wanted to love the German Spy Museum – maybe I could learn how Charlize Theron was able to beat up five guys at a time. But while there are some interesting items like deadly umbrellas, the museum seems designed more for children. And it was the most crowded of any place I went to, so I couldn't take advantage of the interactive exhibits.
Eating out
Eat outside if the weather is good (most restaurants don't have air conditioning). The many beer gardens offer simple German food and drink at a good price.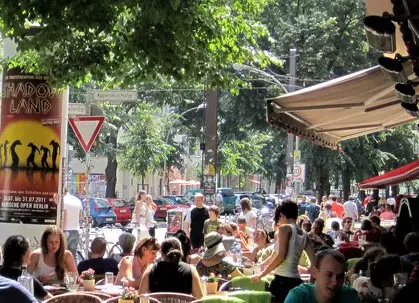 Typically, you'll share a table, which is a great way to meet locals. Many restaurants along the river Spree offer nice views of the water.  Also try the covered pedestrian alleys crowded with restaurants—the area around the Sony Center at Potsdamer Platz has a great selection.
If you're not crazy about German food or plan to get your fill in other cities, Berlin offers a diverse array of cuisines. I had several excellent Vietnamese meals at good prices and a fabulous French lunch for just 10 euros. Even the Mall of Berlin puts U.S. food courts to shame.
Getting around
While you could bike your way through Berlin, the public transport system is so efficient and easy to navigate that a transit pass is your best bet. Riding the U-Bahn also made me feel like I too could say "Ich Bin ein Berliner."
The public transit icon on Google Maps shows directions and times for taking the U-Bahn (underground trains), S-Bahn (above-ground trains), buses and trams.
Also consider the Berlin Welcome Card, which is 39 euros for three days of transit in the city center, plus discounts at many attractions (typically 25 percent.) For a few more euros, the ABC zone pass will take you to the airport and Potsdam. Forget about Uber—it's been banned in Berlin, and taxis are fairly expensive. (While your Uber app may appear to work, it just hails regular taxes.)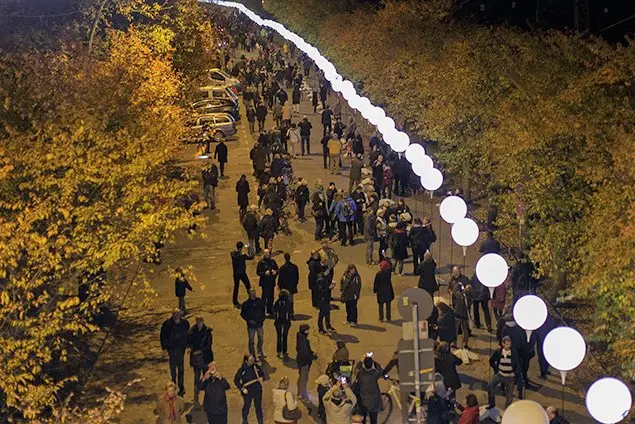 In Berlin, it's easy to feel like you are discovering something unexpected at every turn. You won't have to evade any spies, secret police or Nazis, but just watch out for those bikes!
—
Karen Frankola's career has spanned the corporate world and academia. She was Associate Professor at the University of Missouri's School of Journalism, produced at CNN and MSNBC, was global internal communications director at Deloitte, and most recently served as a change management consultant.
 *     *     *
Also by Karen Frankola: 
More articles for the perennial woman on the BLUE HARE home page