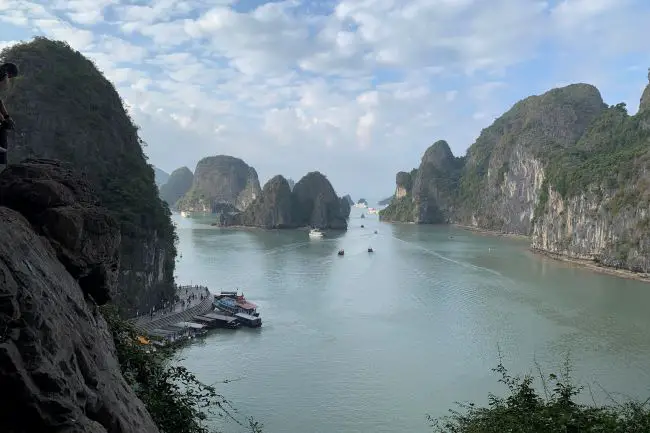 As an American who grew up during the Vietnam War, the cities of Hanoi, Danang and Saigon evoke images of combat troops, Vietcong tunnels, and Henry Kissinger trying to broker a peace agreement. For women over sixty, visiting Vietnam today is also a journey into our past, but from an entirely new perspective—a country where Vietcong leader Ho Chi Minh and "Hanoi Jane" Fonda are heroes. Vietnam recently reopened to international travel, with a few COVID restrictions.
Planning my trip
I travelled in January 2020, just as reports of a new virus in China were emerging. January is a pleasant time in the north, with highs in the 80s, and dry weather in the warmer south. I picked Realistic Asia as my tour agency because it focuses on getting visitors off the beaten path. Also, I was travelling on my own and liked the idea of being part of a small tour group (usually eight of us). We typically stayed in the same hotels and took full-day tours together, although most stops featured a leisure day, where we could head out on our own.
I opted for the three-star hotel package, which was more than adequate. All my hotels had free breakfast buffets with Vietnamese and western offerings, a minibar, two free bottles of water per day, free WIFI, good air conditioning, a pool, and a comfortable bed and bathroom. A few were more luxurious, with fluffy bathrobes, spacious rooms, and private balconies.
Overall, Vietnam offers great value for travelers, with spectacular scenery and friendly people. That's true for most other Asian countries, but Vietnam offers a unique experience for any American who lived through the turbulence of the war years.
---
---
Hanoi: 7 million people, 5 million scooters
Americans need a visa to enter Vietnam—your travel agency can provide you with an approval letter but you still need a passport photo and $25 in U.S. currency. I waited about half an hour in the Hanoi airport for processing, so you might want to get your visa online instead.
My first impression of Hanoi was every single person seemed to be riding a scooter. Traffic moved along fairly well, with bikes honking as they weaved in and out of lanes. Actually, the entire concept of lanes seemed fluid. Motorcyclists balanced everything from orange trees to what seemed to be the contents of a studio apartment. While all the moped drivers wore helmets, their passengers didn't. I often saw a family of four squeezed onto a scooter, with the children helmet-free.
When I tried to take my first walk near my hotel, I had a problem I had never encountered in my previous travels—I could not cross the street. I stood at the clearly marked crosswalk and waited for traffic to stop. But cars, buses, and scooters just kept coming. After a few minutes, I decided I had to take a leap of faith and just started walking alongside a local.
The next day, when I asked our guide how to cross the street, his advice was to pretend you're a zombie.
"Just start walking and don't pay any attention to what's going on around you," he said. "Keep up a steady pace and whatever you do, don't panic and run."
The motorcyclists gauge your speed and either pass in front of or behind you. Still, it's extremely disconcerting and it took me a good week to start feeling even somewhat comfortable about walking in cities.
Going to prison for stealing two fish
Our first excursion began at a tea planation near the scenic Ba Vi mountains, about 90 minutes outside Hanoi. The Duoc's, a couple in their 60s, greeted us with their own green tea and honey. Mr. Duoc showed us his medals and photographs from the Vietnam War. I asked him how he felt about Americans after fighting them for so long.
"We knew most Americans were against the war," he replied. "So, we don't blame them. It was the government."
Afterwards, we picked tea leaves—tearing off the young leaves and tossing them in a basket—a technique that really hadn't changed since the war. As Mrs. Duoc lent me a conical hat, she grabbed me around the waist and grinned. She probably weighed less than ninety pounds, so I really couldn't take offense at her amusement over my rounded belly.
Afterwards, on the bus, our young guide told us that shortly after the war ended, his grandfather tried to bring home two fish for his family to eat, instead of giving them to his collective. The fish wriggled in his pocket and he was sentenced to a year in prison. And that arrest is still impacting their family–the guide can never join the ruling party and work in government. His sister lost her fiancée because his family didn't want their son marrying into a "dirty" family.
But Vietnam's shift to a market economy a decade after the war's end transformed one of the poorest countries in the world—with the poverty rate falling from 70 percent to less than six percent since 1986. I never saw any beggars and everyone we met talked about juggling at least two jobs.  Even though the country is a one-party socialist state led by the Communist Party of Vietnam, it feels much more open than China, with unrestricted internet access.
---
---
Vietnamese cooking – lolot leaves, yellow papaya, and lemongrass
After picking tea, we cooked part of our lunch at a beautiful country home, rolling beef and pork into lolot leaves (heart-shaped, with a mild peppery taste), which were pan fried until crispy. I also enjoyed the salad we assembled, which included yellow papaya, banana leaves, and lemongrass. Lemongrass is everywhere in Vietnamese cooking—it's even used to make eco-friendly straws.
I never had a bad meal in Vietnam—enjoying fresh prawn (shrimp) and local fish, rice, and noodles. Even in fancy restaurants, the only dessert was fresh fruit, but who can complain about gorgeous mango, papaya, passionfruit, and pineapple? Pumpkin was also ubiquitous – both as a side and in soup. Meals were quite cheap—even a giant prawn dinner at an upscale restaurant in Ho Chi Minh City cost less than $15.
Street food is everywhere in Vietnam and I never once ate inside, even at an upscale restaurant. Of course, you'll want to try pho, the popular noodle soup, and a banh mi sandwich, which combines a French baguette with Vietnamese flavors.
Cruising Halong Bay's 1,600 islands
From Hanoi, a three-hour bus ride took us to Ha Long Bay, where we boarded a small ship for a 24-hour cruise of northern Vietnam's top tourist attraction. The bay, which is part of the infamous Gulf of Tonkin, was declared a UNESCO World Heritage site for its spectacular beauty. My cabin wasn't much bigger than the bed, but I quickly found the ship's top deck, where I could admire the towering peaks of tiny limestone islands.
We anchored off Bo Hòn Island and explored what's popularly called the "Surprise Cave," because its chambers are much larger than one would first expect. Then it was off to Titop Island, named for a Russian cosmonaut whose statue greets visitors. While most of the 25 passengers on board my ship hiked to the island's peak, I opted for a swim when some British tourists told me how much they were enjoying the chilly emerald waters.
Besides the amazing scenery, the cruise featured lavish meals. Dinner included perfectly grilled sea bass, a beef noodle dish, sculpted raw vegetables, and flowers.
---
---
Hội An: Ancient City of Light
After the cruise, we flew from Hanoi to Danang, in central Vietnam, where the first U.S. combat troops landed. Now, those beaches are filled with luxury hotels. We drove about 45 minutes along the coast to Hội An, known for its Ancient Town, which wasn't destroyed during the war.
Also a UNESCO Heritage site, Hội An is like America's colonial Williamsburg—you can walk the streets for free, but if you want to go inside any of the historic buildings, you need a ticket. The $5 fee is well worth it to appreciate architecture ranging from French colonial buildings to Chinese temples. The most popular structure, the Japanese Covered Bridge, has a tiny Buddhist temple inside. Your ticket also covers an entertaining theater show with traditional dancing and singing.
Hội An is known for its colorful silk lanterns and our tour included a chance to make our own. Or you can buy one at the busy night market, amid stalls selling fresh grilled lobster and prawn, roasted corn, and banana pancakes. Visitors looking to make a wish for health and happiness can buy a small paper lantern with a candle inside and launch it on the Thu Bon River.
Much of the old town is car and scooter-free during parts of the day, but you still should watch out for the many cyclos (bicycle taxis). The old part of Hội An is so small you can easily walk it—just don't leave before nightfall when the lanterns make the city truly magical.
Cycling amid rice paddies
Walking the relatively peaceful streets of Hội An was a relief after Hanoi, but my favorite outing was biking through the rice paddies that border the old town. I borrowed a free one-speed from my hotel and rode along the narrow lanes crisscrossing the bright green paddies. Even there, occasionally a scooter honked behind me and twice, taxi cars suddenly appeared. Sometimes children on bikes (usually two sharing a seat) waved at me as we crossed paths. I saw placid water buffaloes and discovered later there are tours that let you ride one.
Workers in traditional conical hats and loose clothing looked like they could be from the 1960s or perhaps even the 1860s. Women balanced two heavy baskets on a pole while walking or cycling. Yes, it was always a woman—men apparently only want to carry things on scooters.
In addition to my solo biking, Realistic Asia arranged three cycling outings for us throughout Vietnam. Fortunately, none were in the large cities, where it would have been impossible to outmaneuver the swarms of motorized bikes.
Is it Saigon or Ho Chi Minh City?
Some of my most indelible images of the Vietnam War come from the fall of Saigon in 1975, when thousands of Americans and Vietnamese allies were evacuated by helicopter from the U.S. embassy. The Vietcong takeover of Saigon ended the war and the city was renamed Ho Chi Minh City in honor of the Vietcong leader, but the airport code is SGN and most locals still refer to the city as Saigon.
South Vietnam was about ten degrees hotter than the north but not oppressively humid, since January is the dry season. Ho Chi Minh City is much more modern than Hanoi with new skyscrapers, broader streets and even crossing lights for pedestrians. But there are even more scooters than in Hanoi (nearly one each for the city's nine million residents) and they think nothing of turning right while pedestrians are crossing streets. Scooters even take over the broad sidewalks when traffic is bad, which is most of the time.
I walked into one of the many tourist shops to buy a full-day guided bus tour of the city's major attractions for $12 (admissions included), which included a stop at the War Remnants Museum. Any American planning a visit should probably be aware that the original name when the museum opened in 1975 was the Exhibition House for U.S. and Puppet Crimes. It is quite hard to look at exhibits detailing civilian massacres, the devastation of Agent Orange, and how the America military bragged about bombing Vietnam back to the Stone Age. Anti-war activists like Jane Fonda are celebrated while John Lennon's "Imagine" plays. Yes, the museum is one-sided, ignoring Vietcong atrocities, but it is a side Americans seldom see.
I had a much better time at the Reunification Palace, built for the president of South Vietnam in the early 60s. It's a stunning piece of architecture with décor that serves as time capsule from the 60s and 70s. The pristine furniture and decorations have been in place since a North Vietnamese tank bulldozed through the main gate in 1975, effectively ending the Vietnam War. You can see the room where Nixon advisor Henry Kissinger held secret meetings trying to negotiate a peace agreement. The palace is still used today for some government meetings.
Other Ho Chi Minh City highlights include the two most beautiful reminders of Vietnam's French colonial era—the dazzling Central Post Office and adjacent Notre Dame Cathedral, a smaller version of the one in Paris. The cathedral is closed for renovations until 2024, but the exterior is worth a visit. Go inside the post office for a look at the old-fashioned phone booths and lovely marble floors. It's still a working post office as well as a place to buy souvenirs.
Some members of our group enjoyed touring the Cu Chi tunnels, several hours outside Ho Chi Minh City. The tunnels served as an underground city for the Vietcong and some have been enlarged so tourists can explore them.
---
---
Mekong Delta: sampans and elephant-eared fish
The Mekong Delta was home to some of the worst fighting of the Vietnam War, but now tourists cruise the wide river and its tributaries. On a day trip from Ho Chi Minh City, you can get a small glimpse of the delta, which serves as Vietnam's rice basket. After taking a large boat across the river, we transferred to sampans, small wooden rowboats used in the narrow canals.
Our tour focused on agriculture—we sampled a variety of Vietnam's excellent fruit, although durian, the foul-smelling favorite banned in hotels, wasn't in season. We watched workers make coconut candies and you can even hold part of a hive with hundreds of docile bees.
The highlight of our outdoor lunch was the Mekong specialty, deep-fried elephant-eared fish. It's served whole and upright, and each diner simply pulls off their portion. It was so good I was happy our table shared two fish.
Shopping and salons
Street markets in Hanoi and Ho Chi Minh City are fun, offering clothes and other items at very low prices, but I never got a straight answer on whether the Nike shoes and Ray Ban sunglasses were fakes. Instead, I bought silk scarves and bamboo underwear for less than $10. Coffee, tea, and dried fruit also make good local gifts.
My favorite way to relax in the evening was with a massage—you'll pay about $20 for a 90-minute full-body massage. Spas offer Thai massage, which use towels rather than oils, or try a traditional Vietnamese massage which is like a Swedish massage but incorporates the masseur's knees and elbows. I always tipped at least twenty percent in cash at the end of the massage, but once in Ho Chi Minh City, I was asked for a tip of nearly fifty percent after I took off my clothes and lay down. I shook my head and started to get up from the table, but my masseur pushed me back down and I ended up paying a normal tip. So, in Ho Chi Minh City, look for places that advertise "tip included."
---
---
Picking a tour
I spent nine and a half days in Vietnam before going on to Cambodia and Thailand. In hindsight, I wish I had stayed a few extra days in Vietnam because a lot of our time was spent in airports. Getting around Vietnam means flying—it's a 31-hour drive from Hanoi to Ho Chi Minh City. I flew both VietJet and Jetstar discount airlines, where small baggage limits are rigorously enforced.
Some package tours send you off with a different group every day, but I wanted to travel with the same group of people since I was on my own. We met a different guide in each city, with our agency using What's App to tell us about pickup times and respond to problems. If you don't plan to use your phone, find out how you'll communicate with your tour manager. Our group had its own van and driver to and from airports, but we always arrived too early—once almost four hours before our flight. It's a waste of time because typically you can't check in until two hours beforehand.
Also, some tours include flights, but keep in mind your agent may book them without asking about preferences. On my way home, I was booked on a five-hour flight from Bangkok to Seoul that left at midnight, with a seven-hour layover in Seoul, adding up to a couple of sleepless nights.
Our tour package offered optional excursions for leisure days. Two members of our group booked them ahead of time and were pleased with their adventures, but I was glad I scheduled nothing on those days. Booking day tours in Vietnam is easy and cheap and there may be days you just want to relax.
Travel basics
If you're visiting the whole country, the best time to go is between December and April, the dry season for the south, before it gets unbearably hot and humid.
You will use Vietnamese dong everywhere except paying for your visa, although no one turns down a tip in U.S. dollars. Many restaurants and shops do not take credit cards. 10,000 dong is only about fifty U.S. cents, so coins aren't used and the various dominations can be a bit hard to tell apart. A member of our group believes she was scammed by a taxi driver who claimed she gave him 20,000 rather than 200,000 dong.
ATMs are everywhere and tipping is welcomed but not always customary. In nicer restaurants and spas, sometimes a service charge is included.
Uber doesn't operate in Vietnam. Instead most locals use Grab, but it offers more scooters than cars. You can also hail a regular cab, but negotiate the price before you get in.
Most people 30 and under in the tourist areas speak English—it's now the primary second language taught in schools.
Vietnam has clean, western-style public toilets, but often you'll need to pay.
* * *
You might also like
Go to the BLUE HARE home page for more articles for fabulous women