Rome.  The city is vibrant and inviting.  Archeological sites, breathtaking art,  pasta perfection, gelatos and coffee bars. Audrey Hepburn and Gregory Peck. Pilgrimage sites. In Rome, you satisfy the eye, the palette and the soul—all in one day.
If you are lucky enough to visit Rome, though, plan and extra day to explore the surrounding countryside.  An ancient port, winery tours and tastings, thermal spas, glorious gardens, charming towns.  Of the many options out there, we narrowed them down to these these: three day trips from Rome that appeal especially to us women over 60.
Tivoli: luxurious ancient villas and healing thermal waters
The historic hill town of Tivoli, a mere 30 km away, is an easy day trip from Rome. Once in Tivoli, indulge in a trip back to grander times with visits to the Renaissance Villa d'Este and to Hadrian's 2nd century country escape, Villa Adriana or Hadrian's Villa.
If spending a relaxing day is more to your liking, you can sink into the soothing waters of Acque Albule Terme di Roma. Or, if you are feeling truly ambitious, you can combine a morning trip to the villas with an afternoon trip to the spa.
Villa d'Este: Plan to be amazed by its impressive waterworks
Villa d'Este features an enormous garden with abundant fountains, grottoes and sculptures. It is a UNESCO World Heritage Site. Villa d'Este was built in the mid-16th century for Cardinal Ippolito d'Este, son of Lucrezia Borgia and grandson of Pope Alexander VI. The cardinal's dream was a villa and garden worthy of  "one of the wealthiest ecclesiastics of the sixteenth century".
The garden is designed for meandering. It's easy to spend hours here. Expect to be impressed by the clever plumbing in the waterworks and some 500 fountains. In particular, you'll want to see the immense Fountain of the Dragons, the Hundred Fountains, and the Water Organ Fountain.  A visit to Villa d'Este is very popular, especially on hot summer days when visitors cool off with the spray from the Villa's fountains.
_________________________
_________________________
Getting There
To get to Villa d'Este from Rome, you will need to embark from Tiburtina Station towards Tivoli Station. This short train ride costs less than €10. From Tivoli Station, Villa d'Este is about a 15-minute walk – just follow the well-placed signs. Many visitors combine a day trip with Hadrian's Villa, which is not far away.
If you would rather not go it alone, many tour groups offer trips to Villa d'Este and Hadrian's Villa. Two possibilities worth exploring are Get Your Guide and Trip Advisor.
Hadrian's Villa: How the 'other half' lived
In the second century CE, the Roman Emperor Hadrian wanted an escape from his hectic political life in Rome. He chose Tivoli as the place where he would build his country retreat. Preferring his life there to Rome, Hadrian ultimately made Tivoli his official residence, where he would rule the empire in his final years.
Hadrian's Villa was much more than just a grand residence—it was a small city. Today, you'll find the remains of libraries, temples, barracks, and palaces. But, because it was ultimately a place to find peace and calm, there are many gardens and pools where the emperor would relax.  Plan to spend a couple of hours visiting this World Heritage Site. While much of it is in ruins, you can get a sense of how grand it must have been in Hadrian's day.
Getting There
The easiest way to get to Tivoli is by train. Direct trains leave regularly from either Roma Termini or Roma Tiburtina and take around an hour and a half. The current cost is less than four euros. For those who prefer an organized day trip, check out Trip Advisor and Get Your Guide.
_________________________
_________________________
Acque Albule Terme di Roma
: ancient, yet state-of-the-art, thermal spa
The carbon-sulphur waters of Acque Albule have an enduring and illustrious reputation for promoting health and wellness. Pliny the Elder reported that "the soldiers wounded in combat were led to Acque Albule as the best place for a cure, from which they returned cured." Virgil referred to waters in his epic poem Aeneid. Nero had their flow redirected to the Domus Aurea, his "Golden House," while Emperor Hadrian drew upon them to feed the pools of his lavish Villa Adriana.
Caesar Augustus, who suffered from gout, was greatly helped by the sulphurous baths. In the late Imperial period, the Thermal Baths of Agrippa enjoyed the height of popularity, before being forgotten, looted, and left to ruin.
Only in the Renaissance were they once again discovered and appreciated. Thanks to the healing properties of the Acque Albule waters, Cardinal Ippolito d'Este, who hailed from a powerful family, obtained governance of the city of Tivoli where he built the famous Villa d'Este.
Today there are many healthy options at the Acque Albule. There are four sulphurous water pools outdoors with a constant temperature of 23° C/73°F. You can swim or relax by the little waterfalls for a natural hydro massage. Sulphur also benefits the skin in many ways.
Particularly interesting to women over 60, sulphur is an anti-aging mineral that is essential to healthy skin. Replenishing it helps guard against wrinkles and age spots. The thermal pools are a relaxing way to restore and rebalance the system.  If you prefer a more leisurely option, consider booking a visit at the Day Spa. There are numerous packages and treatments to choose from, with several including massages and facials.
Take a bus from Rome's Tiburtina Bus station. Including the short walk to the spa, you'll be there in less than one hour.
_________________________
_________________________
Rome's wine country: Frascati and Castelli Romani
Frascati, also known as the 'City of Wine',  is an ideal day trip when you want to escape Rome's summer heat.  The heart of the Castelli Romani, Frascati is renowned for its elegant noble villas and its wonderful food and wines.
The famous white Frascati wine can be traced back to ancient times. In fact, archaeological research shows that grapes were cultivated in Frascati as early as 5,000 BCE.  Frascati wine is a pale yellow. It is produced both as a dry still wine or a sweeter sparkling wine (Spumante). It will come as no surprise that it has been a favorite of the Popes for centuries.
Getting there
A wonderful way to visit Frascati is to sign up for a leisurely tour of a vineyard and winery, have a relaxing meal and, of course, indulge in the local wines. There are many possibilities. Two are the Minardi Frascati Winery and the Principe Pallavicini Winery.  The town of Frascati is a short 20-minute train ride from Rome's Termini train station. Book your tickets from Roma to Frascati on the Trenitalia website. The current price is just over €2.
Rome's ancient port city: Ostia Antica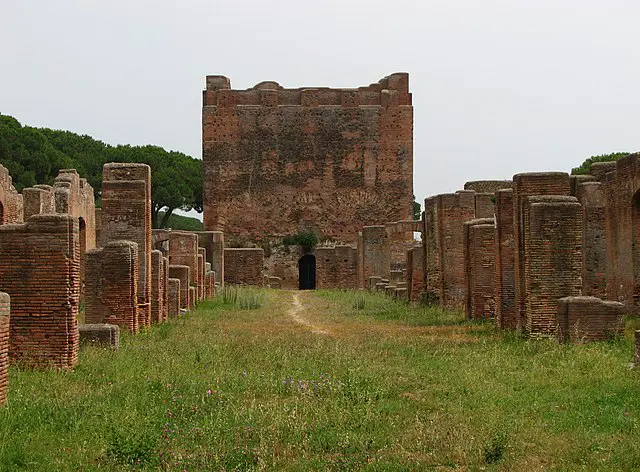 Many consider a visit to Ostia Antica, an ancient settlement 30 km from Rome, to be one of the best day trips from the Eternal City. But don't expect to be on the sea as the ancient port is now landlocked five km from the Tyrrhenian Sea.
Ostia Antica is Italy's largest excavation after Pompeii. In its glory days, Ostia Antica was a thriving port town with 100,000 inhabitants. It served as the main port of Rome and had major commercial and military importance.  But as its military and commercial significance waned, Ostia Antica was slowly abandoned. By the Ninth century CE, it was deserted and became a ruin. With time, it was slowly submerged in silt from the River Tiber.
Excavation Sites
There are five excavation sites to visit at Ostia Antica. They will give you a sense of how ancient Romans lived their daily lives. The ruins of Ostia Antica are positioned along the main street, the one km long Decumanus Maximus. Along this street you will see the ruins of several important temples, including the Capitolium, the largest temple of the city.
Other sights include the public baths known as Termi Nettuno with beautiful mosaics and the taverns. Many consider the main highlight of a visit to Ostia Antica to be the amphitheater. Also known as Agrippa's Theater, it once was host to 4,000 spectators who came to enjoy theatrical performances.
---
---
Getting there
Ostia Antica is easily accessible from Rome by public transport. You simply take the Roma-Lido train from Roma Porta San Paolo station towards Cristoforo Colombo and get off at Ostia Antica, a 40-minute train ride. Walk five minutes using the pedestrian blue overpass and you will be there.
Current cost of a ticket is €1,5. Alternatively, you can leave from Termini Station. Take the B line to Porta San Paolo (Piramide), then take the Roma-Lido railway and follow the directions above. Again, your ticket will cost €1,5.
For those who prefer to leave the organizing to a tour guide, there are many available options. Not only will transportation be included but you will also benefit from seeing the ruins with a knowledgeable guide. To learn more, check out Visit Ostia Antica, Get Your Guide, and Trip Advisor.