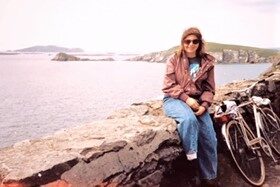 Many sixty-plus women don't travel by themselves because they're worried about safety, costs, or feeling lonely.  I've been a solo traveler ever since my college backpacking companion wanted to leave the Louvre after just an hour. Over the last four decades, I've visited dozens of countries and much of the United States on my own, even while I was married.
Solo travel not only means you get to do exactly what you want; it allows you to be more present in your surroundings and makes you more approachable. In Ho Chi Minh City, I began chatting with a German woman while we waited to check in for our flight. When she was told she couldn't pay her departure fee in Euros, I quickly handed her five twenties in exchange for her bills. We spent the next few evenings in Siam Reap enjoying lovely Cambodian food and frozen margaritas.
When I took a local bus back to my Cancun hotel after visiting the Isla Mujeres, I spent nearly an hour talking to the driver's young son – the longest conversation I've ever managed with my abysmal Spanish. It was easily the highlight of my trip – one I doubt would have happened if I was with a companion.
Yes, I've run into a few problems, but solo travel has gotten immeasurably easier thanks to smartphones and a growing array of options. Here's my advice for saving money, staying safe and meeting people.
---
---
Try a group tour with no or low single supplements
I divide solo travel into two categories – trips that you take completely by yourself and joining a group tour without a companion. If you're a newbie to solo travel, a tour can be a good place to start.
Road Scholar caters to boomers that want to do more than sit on a beach. Many of their trips don't charge single supplements, even when you get your own room. Activities are never mandatory, so you can always take time off from the group.
Sierra Club outings offer a wide range of outdoor activities for every fitness level. You don't have to pay a single supplement if you're willing to share a room. On a kayaking trip in Florida, I bunked in a park lodge with a quiet scientist who didn't mind me watching downloaded shows on my tablet with a headset. The kayaking was spectacular, but after three days, I decided to take a day off to hike. When I told a group member what I was planning, she asked to join me. It was hard to say no, but I told her I needed some alone time.
If your destination is fairly inexpensive, a guided tour can be a good choice, even with a single supplement. Many operators let you avoid the supplement if you're willing to have a roommate. I find travelling in Asia challenging due to language and difficulties with public transportation. So, I chose a small tour that arranged transportation through Vietnam, Cambodia and Thailand. In most locations, we had a guided tour one day, while the other was free. It was the best of both worlds. I had the security of travelling with a group, but I could also bike through rice paddies on my own.
Cruises can also be a good option – many lines offer single staterooms and most have special activities for singles.  On a Panama Canal trip, a British woman invited me to join her for breakfast on our first day at sea. We ended up going on excursions together and she even met a British bachelor whom she dated when she returned home.
---
---
Staying safe
Many women tell me they would never travel on their own due to safety concerns. But I think a single traveler may actually be safer because she's not as likely to be labeled a tourist. I am constantly asked for directions when I travel in Europe because people assume a woman walking on her own is a local. And one benefit to aging is less harassment. It's been quite a while since anyone squeezed my butt on a crowded train.
Also, keep in mind that many countries are actually much safer than the United States. Don't be afraid to go out at night at low-risk destinations. But no matter where you visit, there's a lot you can do to lower your risks:
Research your destinations carefully. Check travel advisories from the U.S. State Department and enroll in the Smart Travelers Enrollment Program (STEP), which helps U.S. embassies and your family contact you in case of emergencies. And even in low-risk destinations, find out which neighborhoods are considered sketchy.
Make sure you have access to a data plan where you're travelling so you can use apps and easily contact people. I use the T-Mobile 55+ plan which offers free international data and texting. With other plans, be sure to request coverage before you travel so you're not surprised by unexpected fees.
Download app content to your phone before you travel to avoid connection issues and also to familiarize yourself. In Google Maps, click on your profile photo, select offline maps, and select the area you plan to visit. Another invaluable app is Google Translate. Go to Settings, offline translation, and then select any language. Downloaded data can cause storage issues for your phone, so delete it as you move on to new places. There are countless other good apps like Citymapper, which offers not just maps, but information on public transit. Many cities have their own free guide apps.
Stay in regular contact with someone back home. Since texting and phone calls rely on cellular connections, which may be spotty, use What'sApp for texting and calls via the internet. Ask your contacts to test it with you before you leave home. You could have a daily welfare check via text and/or check in at the beginning and end of an outing like a hike.
Put the emergency numbers for your destination in your phone before you leave home. It's 112 throughout Europe and the State Department supplies a list for every country.
Scan all important documents into your phone. I always lock my passport in a hotel safe even though some countries require you to carry it around with you.
Pickpockets often thrive in tourist venues. Carry your valuables securely. I usually travel with a small crossbody purse in which I fit my phone, a credit card and a little cash. I leave my other credit cards and cash back in my room. Never put your phone in your back pocket. If someone bumps into you, check for your valuables and don't be afraid to cause a scene.
Check your health insurance – if you're not covered out of the country, most travel policies are fairly cheap. Squaremouth allows you to compare providers easily.
Perhaps most important, be aware of your surroundings. Don't bury yourself in your phone on a crowded tram. If you need to look up directions on a street, duck into a shop. Often, when I've asked for directions, the person wants to walk me to my destination, so I stick to approaching women.
---
---
How to avoid being lonely
When you travel solo, it can be easy to fall into a routine of busy days sightseeing and lonely nights. But one of the best parts of travelling solo is meeting new people – fellow tourists and even better, locals. You don't have to spend evenings holed up in your hotel room if you follow the safety tips above. There are many ways you can enjoy yourself or your own or connect with other travelers and locals.
Join Meetup and look for English-speaking groups at your destinations. For example, the English Speakers in Prague! group attracts both visitors and Czechs looking to improve their English. If you attend one of its pub meetups soon after you arrive, you'll get great advice for your stay and maybe even an invite for an outing.
Hostels aren't just for young people. Many offer private rooms and relaxing spaces to gather with others. Hostels can be a great alternative to pricey hotels, especially in Europe.
Eat at bar counters where it's easy to strike up a conversation with the person next to you. I also like beer gardens, where it's common to share large tables. And eating outside on a sidewalk is the best way to people-watch.
Attend events where language doesn't matter. It cost me just a dollar to see the famed dancing fountains of Lima. In many countries, concerts feature English speakers and some theaters project English subtitles for plays. If you decide to catch an American movie, make sure it's subtitled and not dubbed into the native language. Sporting events are also an option but choose carefully. I passed on football (soccer) in Buenos Aires because matches can turn violent and went to a polo match instead.
Guided tours and lectures at museums and landmarks can be a good way to break up solo sightseeing. When I visited the small German town of Bamberg, I ran into the same Australian couple I had met on an earlier tour, and we had lunch afterwards. Many museums offer evening hours at least one day a week, often at a reduced fee.
Finally, even if you now have a husband or a companion that you always travel with, try a short trip on your own. Many women stop traveling all together after they lose their partner. But if you start now, you can build confidence for years of adventures that don't rely on anyone else.
 *     *     *
You might also like
Go to the BLUE HARE home page for more articles for fabulous women