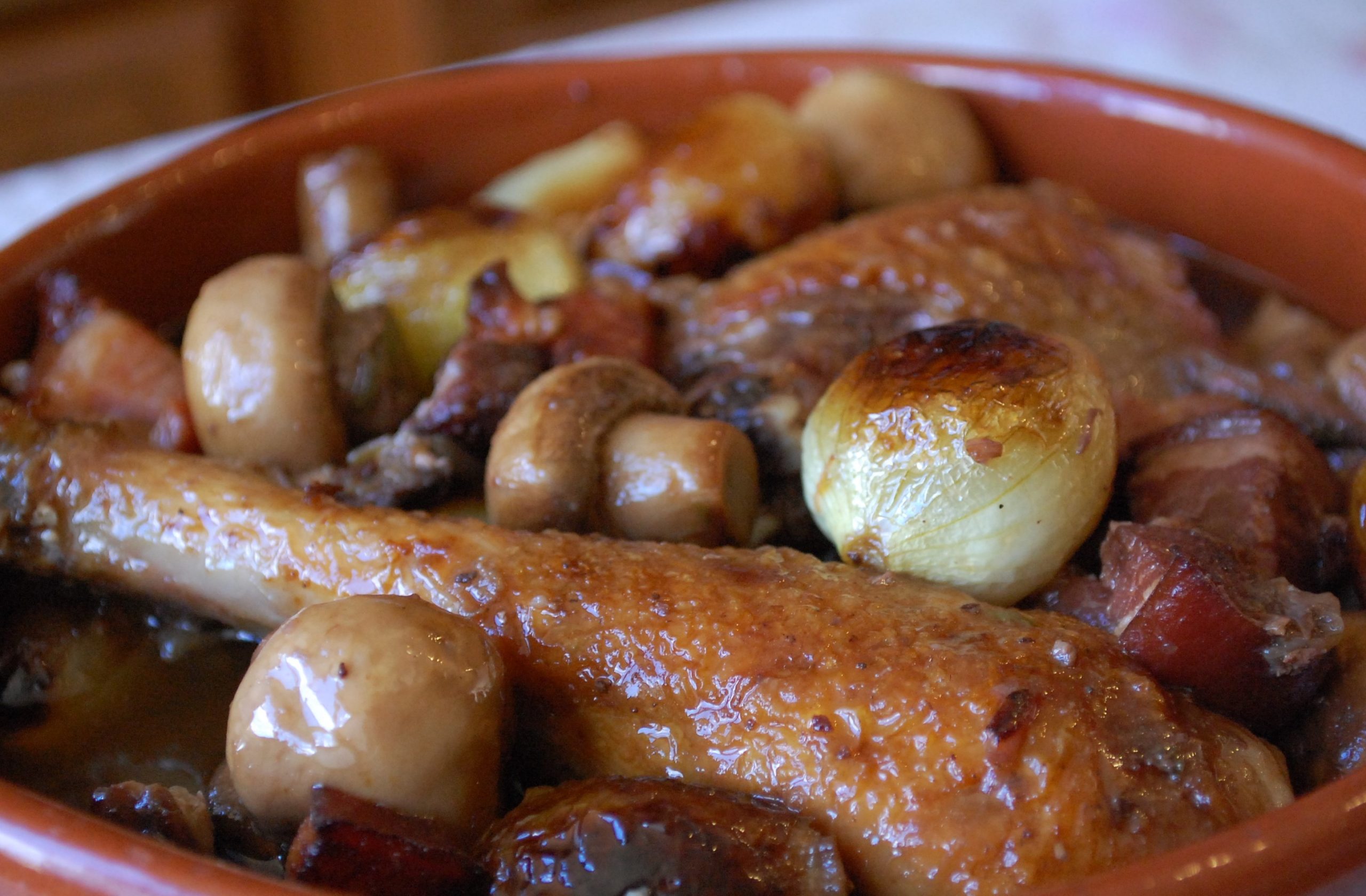 Coq au vin is one of the more popular dishes Mary Pochez teaches at her cookery program, La Vie du Château Culinary Holidays, and is one that should be in everyone's culinary repertoire. Coq au vin means "rooster braised with wine"—red wine—but in the French way of being exact the recipe calls for lardons (salt-cured pork cut into matchsticks), onions, mushrooms, some optional garlic, and cognac. Period. No carrots, people.
Since the dish originated in the country's Burgundy region a red Burgundy (Pinot Noir) wine is typically used, but any medium-bodied red wine will work. (Don't use the Chambertin until you've mastered the recipe!) Variations on coq au vin can be found throughout France, made with white wine, Riesling, and even Champagne.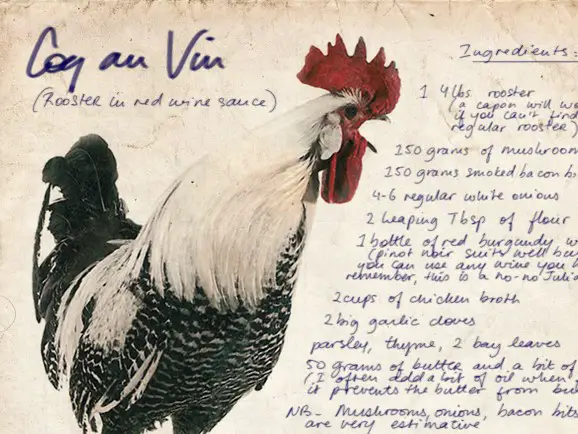 A word about the rooster. This dish is meant to be braised for several hours, which is why a tough bird like a rooster works best. However, it may not be the easiest thing for you to find.
In that case Mary suggests using a capon. An older stewing chicken would also work, just not a tender bird or—sacré bleu—boneless chicken breasts. Go dark with this one. Serve with a couple of baguettes or country bread to sop up the delicious sauce.
Coq au Vin from Mary Pochez 
Ingredients 
1 4-pound rooster (a capon will work if you can't find a regular rooster)
150 grams (1/2 lb.) of mushrooms
150 grams (1/2 lb.) of smoked bacon bits
4-6 regular white onions, depending on size
2 heaping T. flour
1 bottle of red Burgundy wine (or a pinot noir or other medium-bodied red wine)
2 C. of chicken broth
2 large garlic cloves
Several sprigs of parsley and thyme
2 bay leaves
50 grams (2 oz.) butter and a bit of whatever cooking oil (I often add a bit of oil to butter when frying as the oil prevents the butter from burning)
Instructions
Cut rooster into parts: legs, wings, breast, back, neck and the giblets, leaving skin on and keep the carcass.
Cut lardons into small strips, onions in 6-8 parts, and mushrooms into quarters.
In a big pot, fry onions in butter and a bit of oil, and when slightly golden, add lardons and keep frying until browned. Then take out of pot and put aside. Fry mushrooms in same pot until slightly browned and add to onions and lardons on the side.
In the same pot, brown all the rooster parts (add more butter if needed) on each side, add carcass then powder with flour, mixing gently and let brown a little more.
After about 5 minutes, add crushed garlic, mix, let cook another minute, then add the wine.
Bring to a boil while gently turning. Add parsley, thyme, bay leaves, onions, lardons, and mushrooms, then cover with the broth until everything is just barely covered. Add water if needed. (Note: It's important not to add too much liquid, otherwise you will end up with a too watery consistency. Better to not quite cover with liquid and add more later as needed.)
Let simmer for 3-4 hours until the liquid has considerably reduced to a more "sauce-like" consistency.
Salt if needed and serve with mashed potatoes, rice, pasta, or couscous.
*     *     *
You might also like
And more on the BLUE HARE home page.