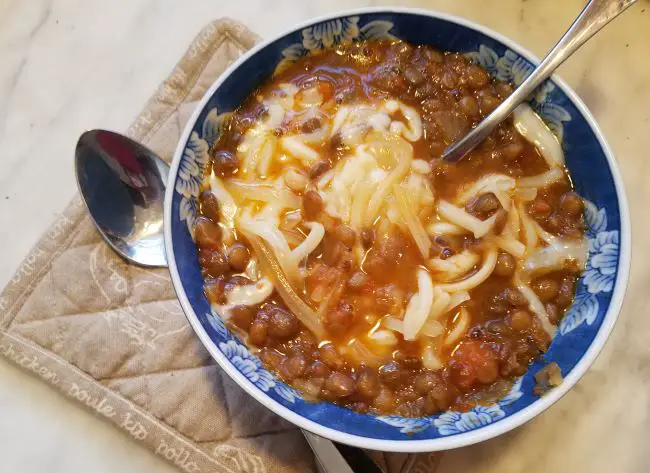 Lentils are not related to Lent, although March's bristling, stormy days certainly are perfect for a stolid lentil soup. Although we have no confirmation for this whatsoever, it is possible that Frances Moore Lappe caught a chill as she was writing recipes for her seminal book, Diet for a Small Planet, hence creating Lentils Monastery Style.
Published in 1971, Lappe's book was the warrior cry environmentalists and nascent vegetarians had dreamed of for years.  Her introduction to complementary proteins was eye-opening, and has informed my meal-planning since then. The 50th anniversary edition of Diet for a Small Planet was issued last year.
My post-college roommate and I lived off the book in the 1970s. A good handful of recipes are still in regular rotation, including this one.
While most lentil soup recipes are robust, Lentils Monastery Style exists on a whole other plane. It's simple to make–you probably have the ingredients in your pantry right now–which belies the rich, satisfying concoction that results. Lentils, of course, onions, carrots, stock, canned tomatoes, and a few herbs spend about 45 minutes together in a soup pot and emerge transfigured.
Lappe went even further. A few tablespoons of grated cheese are placed in the bottom of each soup bowl before being topped with ladles of steaming soup. Plunge in your spoon and lift out savory lentils and ribbons of melted cheese.
For a final touch, and oddly-placed hint of elegance, a bit of sherry is drizzled over the top before serving.
I make this several times between October and April, filling a few leftover containers to store in the freezer for a last minute meal. I would make this for a casual dinner party, it's that good. A rustic cornbread and green or wintry citrus salad complete the meal.
Continue reading below
________________
________________
Lentils Monastery Style, from Diet for a Small Planet
Ingredients
1/4 cup olive oil
2 large onions, chopped
1 carrot, chopped
1/2 teaspoon dried thyme
1/2 teaspoon dried marjoram
3 cups vegetable or chicken stock
1 cup lentils, rinsed
1 pinch salt, to taste1/4 cup chopped fresh parsley
1 16 ounce can tomatoes
2/3 cup grated Gruyere or Swiss cheese (omit for a vegan dish)
1/4 cup dry sherry (optional, but recommended)
Directions
Heat oil in a large pot and sauté the onions and carrot for 3 to 5 minutes, until softened and the onion is translucent.
Add dried herbs and sauté 1 minute.
Add stock, lentils, salt, parsley, and tomatoes and cook, covered, until lentils are tender, about 45 minutes.
To serve, put 2 tablespoons cheese in each bowl and fill with soup. Omit if you want to keep it vegan.
Alternately, put the grated cheese on top and put it under the broiler for a few minutes to melt the cheese. Use a flame-proof bowl.
You can add a splash of sherry. It's optional but gives the soup an interesting twist.
Serves 4 to 6
 *     *     *
You might also like
Find more articles for fabulous women on Blue Hare's home page.