The pumpkin, often relegated to your Halloween décor or the dessert sidebar, deserves a place on your dinner table. As James Beard award-winning cookbook author Dorrie Greenspan discovers, it is a perfect candidate to stuff with any manner of delicious ingredients, then baked until the room fills with appetizing aromas.
A stuffed pumpkin can also serve as an elegant main dish for the vegetarians and vegans at your Thanksgiving table. It all depends on the stuffing you choose. And it's stunning—something about which everyone around the table can agree.
Pumpkins only show up at markets for a brief window in September and October. By November 1st they are nowhere to be seen. So grab one now and make this recipe later.
For the pumpkin pictured here we used an apple and stuffing sausage from Cook's Country. However, any recipe can be used—your family's traditional bread-and-sage or cornbread stuffing, wild rice, apple, and dried cranberries, or this bacon, bread, and cheese stuffing from Dorrie Greenspan's wonderful cookbook, "Around My French Table: More than 300 Recipes from My Home to Yours.' It's full of other recipes you will want to explore.
A note of advice: recipes for skillet stuffings may call for several cups of liquid—stock, cider, etc.  Reduce the liquid to an amount needed only to moisten the ingredients. The pumpkin flesh will release juices as it cooks and this will saturate the stuffing.
Choosing your pumpkin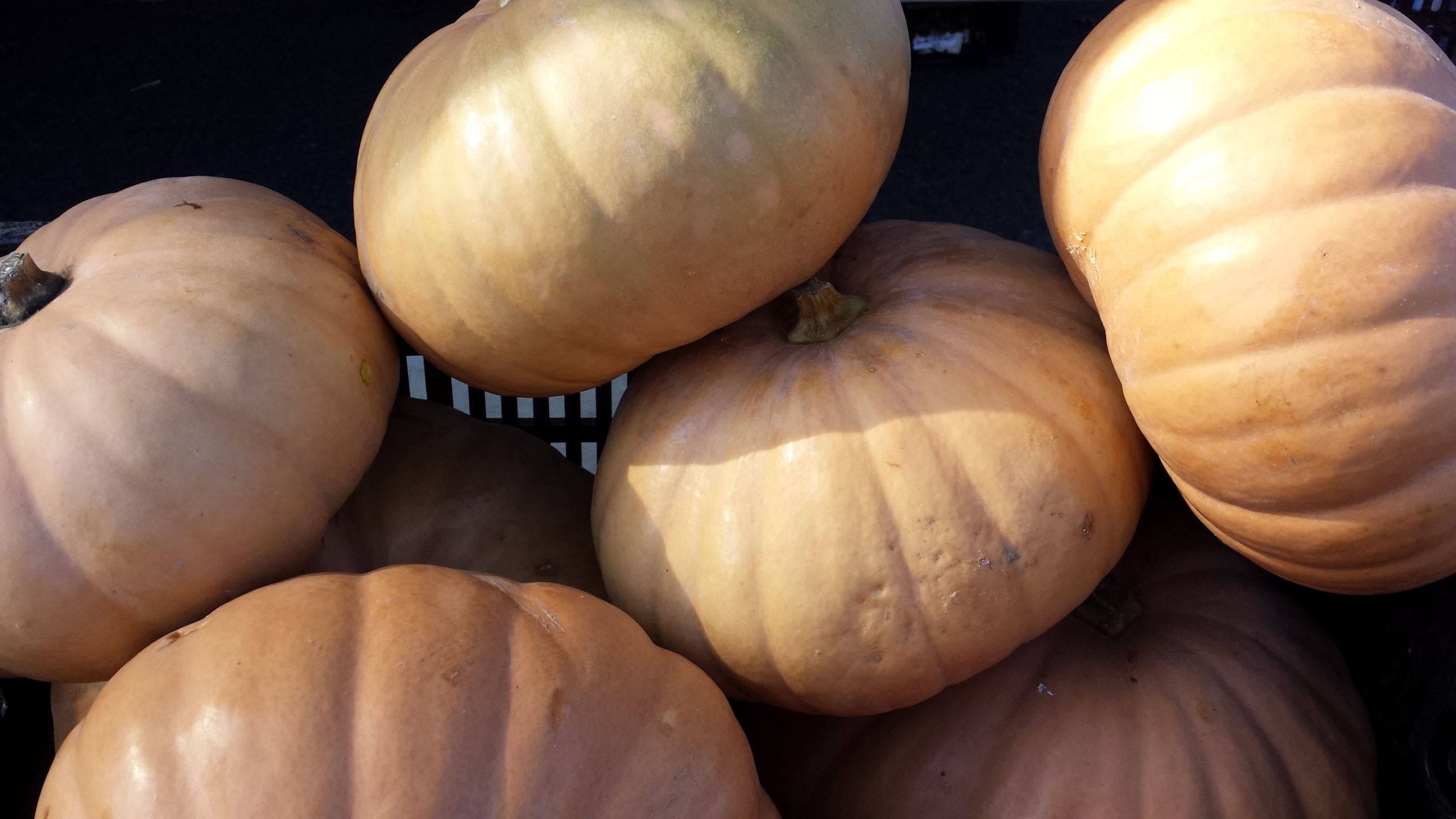 In choosing your ideal pumpkin for the dinner table, pass over the Jack o' Lantern pumpkin, whose thin skin and shallow flesh make them ideal for carving, but turn stringy and watery when cooked. Choose instead a firm one like the Long Island Cheese Pumpkin, one of the oldest varieties cultivated in America. It is ideal for stuffing and baking or making pie.  Its qualities are described on the Slow Food USA website:
The shape and color of this fruit resembles that of a small sized dairy cheese, its flesh is very firm, fine grained and brittle, is of a rich color and very sweet. They will keep all winter in a cool dry cellar if picked and stored before Jack Frost touches them.
The Long Island Cheese Pumpkin has light burnt sienna-colored rind, a distinctive stem, and flesh that is raw sienna-colored, dense, sweet, earthy, and savory.
There are over 30 varieties of pumpkin. Others that are good for stuffing and baking include the Cinderella, New England Pie Pumpkin, Ghost Rider, and Lumina.
The advantage of a sturdy pumpkin becomes apparent after it's roasted—it will hold up well when sliced, continuing the Ooohs and Aaaahs when you present it at table. When we sit at our bountiful and beautifully laden tables we can give thanks, with deep gratitude, for the many blessings we Americans receive. On that we can all agree.
How to stuff and roast a pumpkin
Ingredients
1 sweet-fleshed pumpkin, such as Pie Pumpkin or Long Island Cheese Pumpkin
Salt and freshly ground pepper
Stuffing of your choice
Preparation
Preheat the oven to 350 degrees F.
Carve the pumpkin: Cut a good-sized cap out of the top of the pumpkin (see photo for guidance). Clear out the seeds and strings from the cap and set aside. Scrape seeds and strings from inside the pumpkin and season with salt and pepper. Place the hollow pumpkin on a lined baking sheet or in a lightly-oiled Dutch oven or braiser, like the one pictured at the top, from Le Creuset.  If the pumpkin is baked in a casserole, it will keep its shape, but you might need to serve it from the pot. For a more dramatic presentation use a sturdy baking sheet.  Remember, the pumpkin will be heavy and somewhat wobbly when it comes out of the oven.
Make the stuffing of your choice, cutting the amount of liquid called for in half. The amount of stuffing needed will depend on the size of your pumpkin. It's safer to have too much than not enough.
Pack the stuffing into the pumpkin.
Replace the cap and bake the pumpkin for about 2 hours—check after 90 minutes—or until everything inside the pumpkin is bubbling and the flesh of the pumpkin is tender enough to be pierced easily with the tip of a knife. Because the pumpkin will have exuded liquid, remove the cap during the last 20 minutes or so, so that the liquid can bake away and the top of the stuffing can brown a little.
When the pumpkin is ready, carefully, very carefully—it's heavy, hot, and wobbly—bring it to the table or transfer it to a platter that you'll bring to the table.
Serving options
There are several serving options.
First, and easiest, is to dip a big spoon into the cavity and ladle out a portion of stuffing and some of the pumpkin flesh, a very homey presentation.
The other is to slice wedges, which can be done at table, much like carving a turkey. This way the wedge can be served as a side or as a standalone course.
Serves 6 to 8
 *     *     *
You may also be interested in
Go to the BLUE HARE home page for more articles for fabulous women.