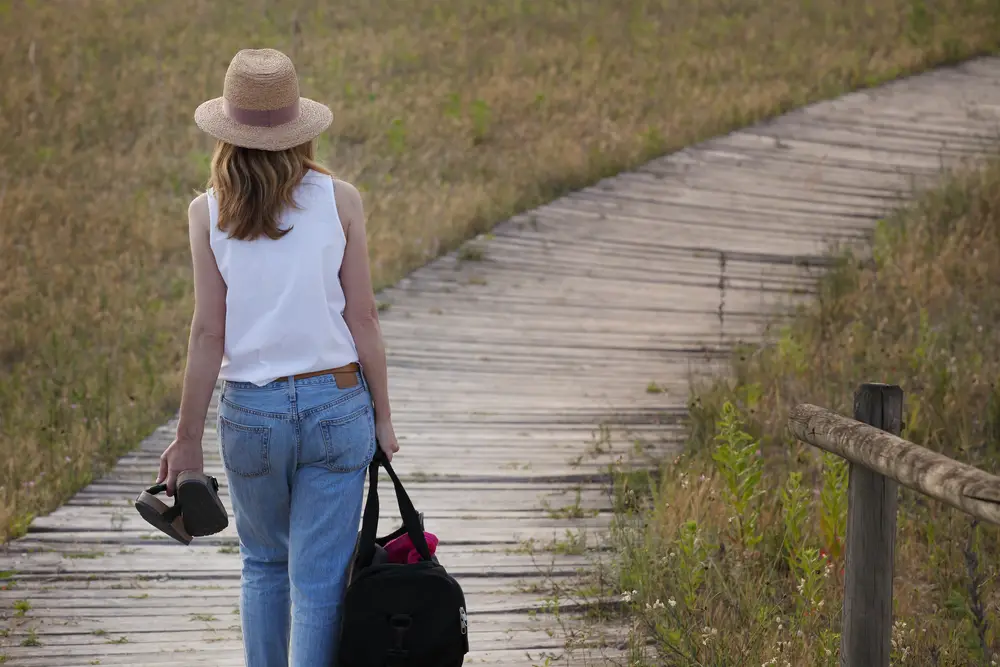 After a long, hot summer your skin probably needs a little extra care. Even if you conscientiously applied sunscreen, swimming and perspiration strip your skin of its natural moisture defenses. Fortunately, you can help your skin recover with two powerful (and inexpensive) tools: a good barrier cream and regular exfoliation.
A quick biology lesson
Skin is the largest organ of our bodies.
Water is the key ingredient of young-looking skin.
Hydrated skin looks plump and healthy.
Water is the only true moisturizer.  The names cosmetic companies use to label their moisturizers–WaterDrench, Hydro Boost Water Gel, Tidal Brightening Enzyme Water Cream, Moisture Surge, Aquasource, Overnight Water Pack, to name a few—reflect this. Just about any moisturizer on the market (and there are thousands) will give the appearance of being effective simply because it smooths the agitated cells of the stratus corneum—the cells that comprise the very top layer of your skin.  However, to have any long-term effect a moisturizer should prevent water from evaporating from your skin.  You need to use an effective barrier cream.
Skin cells renew themselves every two to three weeks, moving up from the lower level called the dermis.  During this progression through the skin layers, lipids are released into the spaces between cells.  Your skin has its own natural moisturizing factor (NMF). These lipids form a barrier to water loss and help retain the skin's NMF.
You can speed up this skin cell renewal by exfoliating.  When you exfoliate the top layer of skin cells, you remove the older, grayer-looking cells to reveal the newer, brighter skin underneath.  Obviously, Mother Nature does skin renewal best but you can help her along with some excellent products for face and body that we suggest here.
How to whip your facial skin into shape before winter
The main difference between the skin on your face and the skin on the rest of your body is that your face more exposed to the elements.  It's also the area on your body that is most visible so we tend to pay more attention to it.  Cosmetic companies bombard us with advertising for facial creams but barrier creams and exfoliating products are all you really need.
1. Find the right barrier cream
Barrier creams contain occlusive ingredients that increase moisture levels in skin by providing a physical barrier to discourage water loss. The classic cosmetic occlusive agent is petrolatum, or petroleum jelly (like Vaseline). It is a by-product of petroleum products and was first used as a cosmetic ingredient in the late 1800s. It is the most effective occlusive agent, capable of blocking 98% of water loss from the skin.  Occlusive ingredients are ideal for dry and very dry skin types.
The most common occlusive ingredients (to prevent water loss) found in barrier creams are:
Petroleum jelly
Propylene glycol
Silicone derivatives, such as dimethicone and cyclomethicone
Cocoa butter, mango and shea
Mineral oil, lanolin, paraffin
Beeswax
Some of these occlusive ingredients can clog your pores.  One of the advantages of being over 60, however, is that we can use these rich night creams and not worry about breakouts.  For the few of us who still get "zits", the last ingredients on the list are the most comedogenic, that is, the most likely to cause break outs.
You can find all kinds of products at all price points but these two tried and true facial barrier creams for night time use will deliver superior results.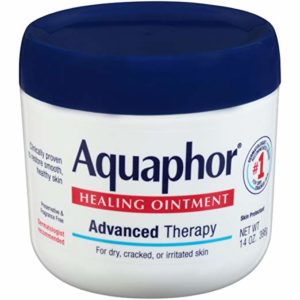 Aquaphor Healing Ointment, 14 ounces, about $13.00 at amazon.com
Aquaphor is the queen of barrier creams.  It received 4.5 out of 5 stars on Amazon from more than 1,500 reviews.  It is an Amazon best seller and an "Amazon's Choice."  On makeupalley.com, a website that features reviews of millions of beauty products, Aquaphor Healing Ointment is rated 4.7 out of 5 and, of 1,312 who reviewed it, 93% would purchase it again.  Unless you have extremely dry skin that absorbs moisture as fast as you can apply it, this cream is too heavy to use as a day cream.
Kiehl's Ultra Facial Deep Moisture Balm, about $30.00 at Sephora.com
The morning after you've spread this decadent cream on your face, you'll notice your skin still feels clammy, a sure sign that you haven't lost any moisture while sleeping.  If you think $30 is expensive for this moisturizer, don't worry.  This tub is so generous it will take years to finish it.  On makeupalley.com Kiehl's Ultra Facial Deep Moisture Balm is rated 4.9 out of 5.  It's available in most major department stores and at Sephora where it's ranked 4.5 stars out of five of 35 reviews.
The two barrier creams featured above are night creams, heavy on occlusive ingredients.  Your daytime moisture won't need to be a barrier cream, which would be too rich to wear under makeup, but it should have an SPF of at least 15 or higher, even if you wear a foundation.  To learn more on sunscreens, check out "Nine of the best anti-aging sunscreens for women" and "The right sunscreen can save your life. Here's why…"
2. Exfoliate nightly two to three times a week
For facial skin you can exfoliate with either a scrub or a Retin-A cream (which does the same thing as a scrub by removing the top layer of skin cells).  Even though it may seem that exfoliating dry skin is counter-productive, it's not.  A gentle scrub or Retin-A cream three times a week actually stimulates oil glands.  Just as important, they will help to slough off the outer layer of skin, revealing newer skin cells underneath.  Just remember to use your barrier cream before going to bed and a moisturizer with SPF during the day.
These two inexpensive scrub products are ideal for facial exfoliating.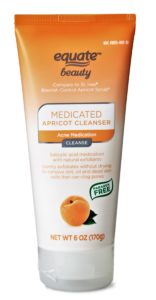 Equate Blemish Control Apricot Scrub about $2.00 at Walmart.com.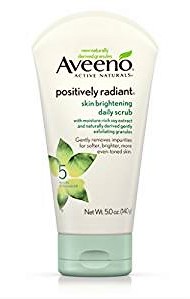 Our beauty editor loves this Equate scrub, which she has used for years.  It rivals much more expensive department store brands in quality and efficacy.  And for $2.00, how can you go wrong?
Aveeno Positively Radiant Skin Brightening Scrub about $6.00 at amazon.com
This is a gentle, fresh smelling scrub that is ideal for regular exfoliation of dry skin.  And could there be any better name for a scrub?
3. Alternate your thrice-weekly exfoliation with a Retin A cream
Retin-A achieves the same results by sloughing off the dead cells.  Unlike a scrub, it has also been purported to eradicate surface lines on the skin.  A 2006 New York Times article called The Thing About Retin-A: It Works by Sally Wadyka says that "within the walls of products and tiers of claims, one ingredient still stands out: Retin-A." Remember that prescription Retin-A will be the most potent and OTC Retin-A creams will be less effective because they contain less of the product.   However, if you haven't used a Retin-A cream before, it is better to start with a milder drugstore version.

NeoStrata Retinol & NAG Complex, at Amazon.com, about $45.00
This cream is a personal favorite of ours.  It has a cushiony, smooth texture and, after it just a few times, you'll see dead skin cells on the surface of your skin. It is formulated with 0.5% pure Retinol.  According to NeoStrata, this complex gently exfoliates to help reduce the appearance of uneven pigment and age spots.
Skinceuticals Retinol 1 Maximum Strength Refining Night Cream, about $75.00 from amazon.com
For those who want to try a slightly higher level of retinol for faster results, try this highly rated cream from the well-regarded Skinceuticals.
How to whip your body skin into shape before winter
The skin on your body will need a barrier cream as well because your legs and arms have been exposed to the elements all summer long.  However, you don't want to put your clothes on over a thick cream.  And you probably won't want to exfoliate with Retin-A cream since it's too expensive to use all over your body.  But if your facial skin is dry, most likely the skin on your body is as well.  To combat overall dry skin, do this routine before you go to bed: scrub then apply a rich body cream.  We've chosen a really effective scrub and companion body cream that smell so good you won't mind the fragrance.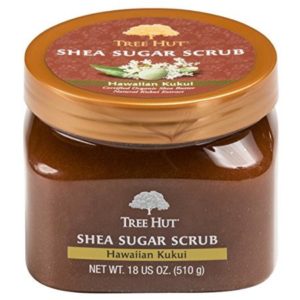 Tree Hut Shea Sugar Body Scrub, about $7.00 at walmart.com
This scrub smells so good you will want to lick your lips.  Use it especially on elbow and heels and backs of arms.  The bathroom will smell as if you have burned a luxuriously scented candles.
Tree Hut Hawaiian Kukui Shea Body Butter, about $11.00 at walmart.com
The finishing touch is this matching body cream.  We bet you will want to open up the jar just to smell this product even when you don't plan to use it.
And finally, don't forget the water…
Earlier in this article, we talked about water being the only true moisturizer and how barrier creams prevent it from evaporating from your skin.  But you need to be well hydrated first.  If you don't like drinking flat water, we've come up with a whole host of inventive and enticing ways to get your daily requirement.
* * *
You may also like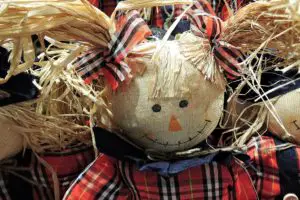 Hair feel like straw? We found safe keratin treatments to restore your silken tresses.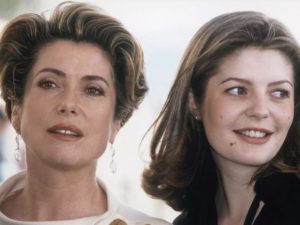 Ageless beauty: secrets of French skin care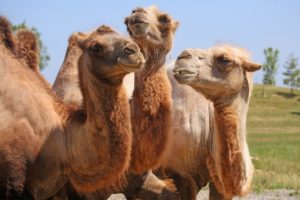 Thirsty? Easy ways to stay hydrated if you don't like water
And more on the BLUE HARE home page