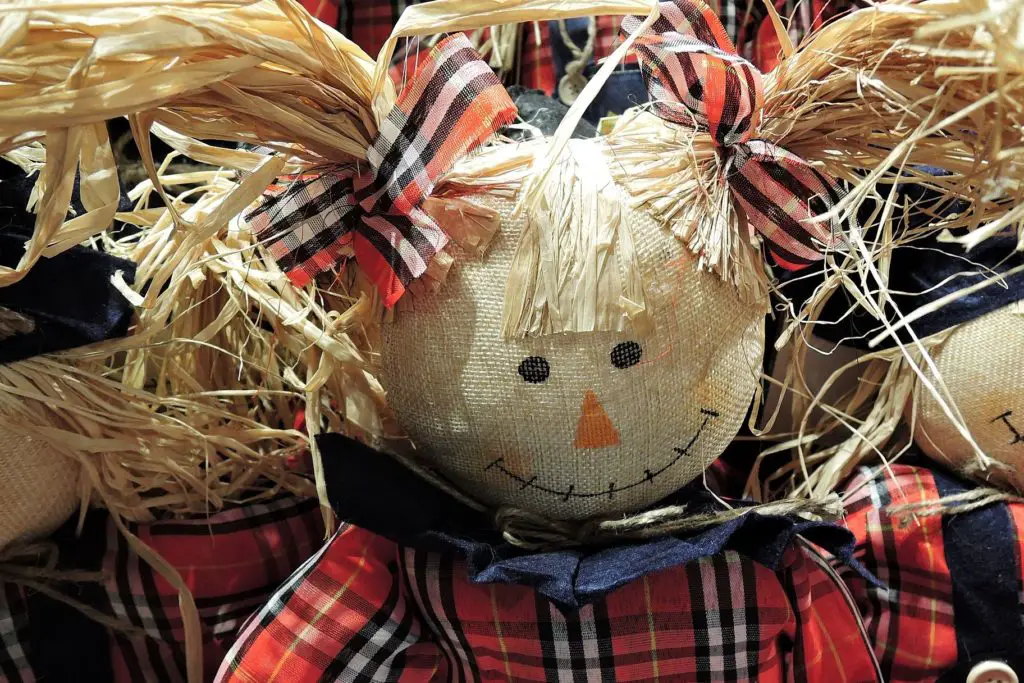 After a few months of summer sun, hair that used to be smooth and silky is now dry and frizzy. Fortunately there are treatments to bring back a healthy appearance back to your hair.  We're not talking hair products that last only until the next wash. Nor are we talking about serious hair smoothing treatments that take hours in a salon and typically use formaldehyde. We are talking keratin treatments. These treatments produce results that can last for weeks or even months, and don't pose a danger to you or your hair.
Who benefits most? Women with straight, frizzy hair. The treatments eliminate frizz and make it easier and faster to do your hair at home.
Not all keratin is equal, though. Read on…
Why is our hair so dry?
First, let's talk about dry hair.  "Our oil glands shrink over time and they don't produce oil efficiently," says Dr. Heather Woolery-Lloyd, a dermatologist in Miami Beach, Florida. When you're younger, "oil travels down the hair follicle and naturally coats the hair. If you're old, you're not producing as much oil," leaving your hair much drier than before.  The obvious solution would seem to be adding oil to the hair. This will work—temporarily. But as soon as we wash our hair, we wash out the oil.  And adding oil to your hair may make it look greasy. More importantly, dry hair is not just about a lack of oil.
Let's talk cuticles
Just like nails, your hair has a cuticle as well.  The cuticle is the outer layer of the hair strand. The hair cuticle is made up of protein scales that overlay each other to keep moisture within the hair shaft.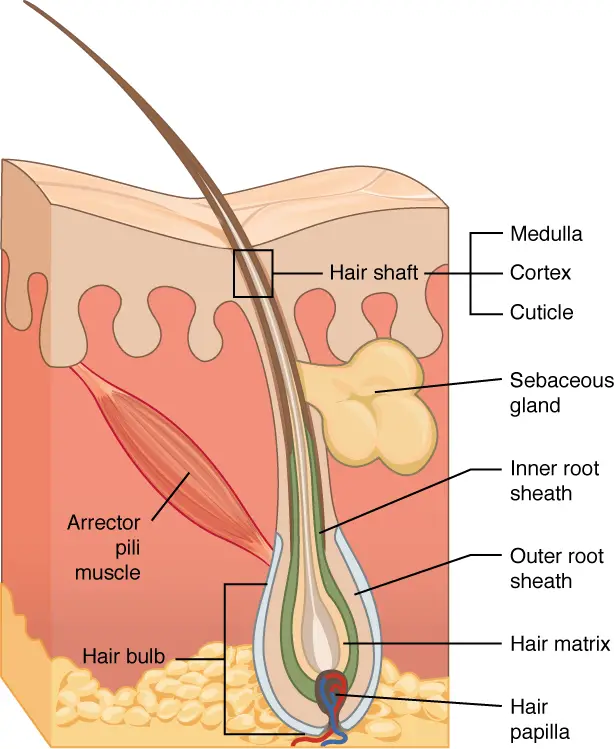 When you look at hair cuticles under a microscope, they are overlaid—similar to shingles on a roof or scales on a fish.  The primary purpose of the cuticle is to protect the innermost layers of the hair shaft, especially the cortex.
Like the cerebral cortex in the brain, the cortex is the central nervous system of the hair shaft. It determines the hair strand's color, curl pattern, thickness and texture.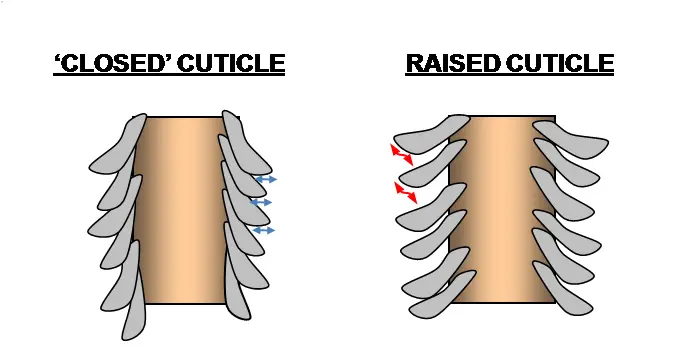 Certain chemicals and ingredients can raise the hair cuticle so that the product reaches the cortex. Hair color has chemicals that are designed to raise the cuticle layer and deposit color into the cortex.  Hair relaxers have chemicals that also raise the cuticles and break certain bonds in the cortex that straighten the pattern of naturally curly hair.
How hair gets damaged
Virgin hair typically has cuticles that have not undergone hair treatments.  We've all seen young woman with long, gleaming hair; that's the result of healthy cuticles reflecting light to give it that shimmering appearance. The more you color and treat your hair, the more you damage the cuticles.
When the cuticles on your hair are damaged—sticking up—your hair doesn't reflect the light.  With healthy cuticles, your hair looks smooth and moisturized.
The good news is the cuticle layer can be manipulated with treatments that will not further damage your hair or your health.
_________________________________________________________
_________________________________________________________
Understanding the keratin treatment
First, it's important to understand what keratin treatments are.  Keratin is a colorless protein that gives hair its texture and strength.  It is also the major component in nails and the outer layers of skin. It acts as both an external protective protein in the cuticle and as an internal structural protein in the cortex. Hair that is damaged physically, chemically, or from environmental factors like the sun will lose keratin. This keratin loss exposes the hair's cortex, making it susceptible to additional damage, and causes porous spots to develop. Replenishing lost keratin helps to correct porosity and smooth the hair's surface. It restores strength and elasticity, to give hair a more youthful, healthy appearance.
It would appear, then, that keratin treatments are safe for your hair.  But that may not be the case.  Many processes that straighten hair and reduce frizz are called keratin treatments but contain toxic chemicals.  "Keratin" has effectively become a marketing buzzword.  The well-known Brazilian blowout, often referred to as a keratin treatment, is a process in which the hair is saturated with sometimes dangerous levels of formaldehyde before it is dried and flat-ironed.
Fortunately, there are safe alternatives.
You want a salon keratin treatment that will gently de-frizz your hair and restore it to its former glory with no danger to your health and as little fussing and inconvenience as possible.  The result should be a smooth, healthy cuticle that reflects light and makes your hair look smooth and moisturized.  To be sure that it's safe, ask your hairdresser to explain the treatment.
Does the treatment contain formaldehyde or any of its derivatives under different names?
Will the treatment produce formaldehyde when it is mixed with water (remember that formaldehyde is a gas)?
Be prepared to spend several hours at the salon, depending on the length and thickness of your hair. The process commonly proceeds like this: shampoo (twice), blow dry, treatment applied, (sit), blow dry, flat iron, rinse, apply sealing serum, shampoo (again), blow dry, finish: sleek, straight hair.
_________________________________________________________
_________________________________________________________
Salon hair smoothing treatments that are safe
We searched scientific papers, magazine and newspaper articles, beauty blogs, and user reviews to find  the best hair smoothing salon treatments. We focused on salons because if you are having a keratin treatment for the first time, it's best to enlist a trained technician.  The four companies profiled make home keratin products as well although these are best left until you are comfortable with the process and know exactly what you are doing.  If you bungle your keratin treatment, it's pretty hard to hide.
Goldwell's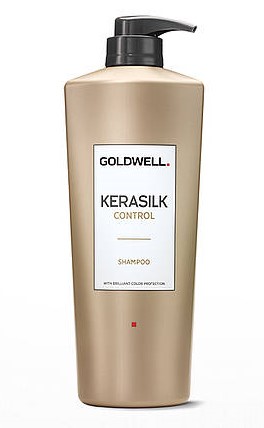 Kerasilk Keratin Treatment is formaldehyde-free and safe for sensitive scalps. It uses glyoxylic acid and smoothing ingredients such as keratin and silk proteins to create new keratin bonds. It helps to soften waves and smooth the overall hair structure, reducing daily styling time significantly. The product rated 5/5 stars from 14 reviews on beautyheaven.com.
Lindsay Colameo described her experience with Goldwell Kerasilk Keratin Treatment in Allure magazine:
Before the keratin treatment, washing my hair was a preplanned process, one I would schedule into my weekly agenda in order to carve out enough time to get all the drying and straightening done. And I was guaranteed a frizzy mess when I broke out the blow-dryer, regardless of my arsenal of frizz-fighting products. But that's all changed. My blow-dryer is now my best friend—at least until these smooth, silky results wear off.
Prices start at $250 depending on your hair type and length.  Goldwell also has at-home products for after your keratin treatment such as shampoos, conditioners, and masks, but the actual Kerasilk keratin treatments are always done in a salon.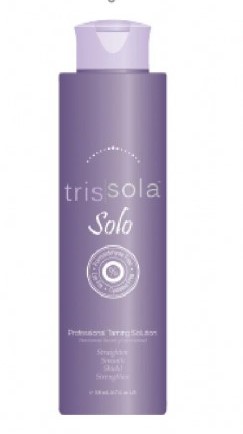 It's "all about putting moisture into the hair," says Craig Casperson, a Vancouver hair stylist who is experienced with Trissola Solo keratin treatments. Trissola Solo has no formaldehyde derivatives, cysteine, or lye. Instead it uses buriti oil, acai berry, and panthenol–pro vitamin B5, which work to improve hydration, coat the hair, and seal the cuticle, and BoNT-L peptid, a synthetic peptide that nourishes and strengthens the hair from the inside out.  The Sherman Oaks-based author of Romy Raves, a beauty and fashion blog, describes the results of her test of Trissola Solo in the post, Rejuvenate Your Hair This Summer with Trissola Solo Anti-Aging Treatment,: "The service involves a generous application of the Solo Treatment, it sits on your hair for about 30-45 minutes, it's rinsed out and then you are blown dry, that's it."
The Trissola treatment in a salon costs between $200 and $400.  Amazon.com sells an at-home version of this product. The company sells after-care products such as shampoo and conditioner.  Again, if you're a first-timer, forgo the do-it-yourself experiment and put your head in practiced hands.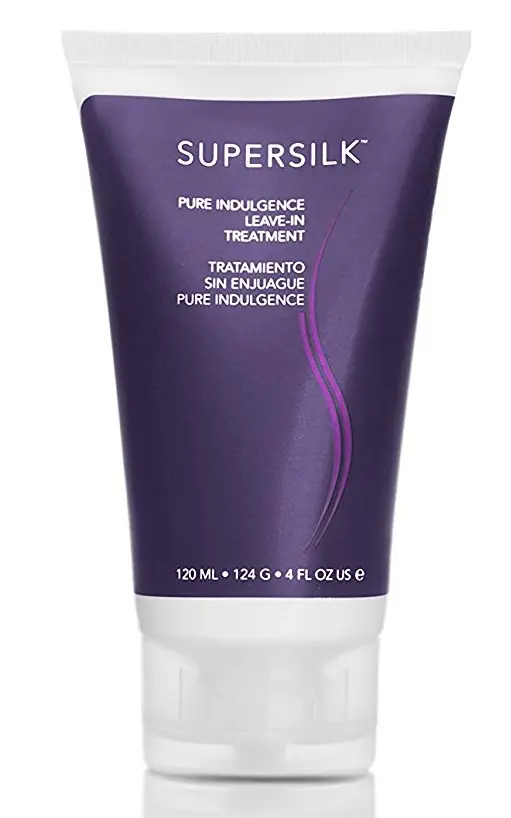 The Supersilk Silk Infusion Smoothing System is based on a proprietary Nano Silk Complex, a rich amino acid formula that is 100% formaldehyde-free and, they claim, stronger and more durable than keratin. "No other smoothing system infuses silk Nano particles into the hair to achieve both strength and resilience on the inside, as well as smooth, silky tresses on the outside."
Amanda Raye, author of the blog Broke & Chic, suffered formaldehyde poisoning after a Brazilian Blowout, according to her doctor. Her search for an alternative led her to Sam Brocato's salon in New York City's Soho neighborhood, where she had the Supersilk Plus treatment (around $450). "The whole process went as easily as a standard highlight treatment," she writes in her blog. "My eyes didn't water, my scalp didn't burn, and I breathed easily." Apparently she was pleased since she titled her post, Sam Brocato's Supersilk Treatment has Changed my Life.
Brocato Supersilk offers at-home products for after-treatment care including shampoos, conditioners and masks but the treatments are always done in a salon.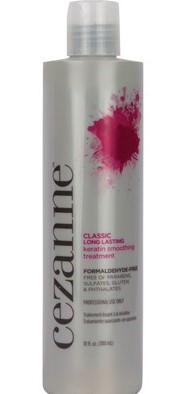 The Cezanne Classic Keratin Smoothing Treatment's is 100% formaldehyde-free, has no other kinds of aldehydes and harmful toxins, is hypoallergenic and dermatologist tested, won't irritate the scalp and won't release any noxious gases.
Cezanne's treatment strengthens the hair by using a low pH technology that restores bonds that are broken or damaged by heat and other hair treatments. If you have curly hair, this treatment will soften and loosen your curls, but it won't change your curl pattern or make your hair pin-straight.
Amber Katz, a contributor to Glamour.com who is prone to frizz, tried many different treatments: "I've had super-intense ones, which leave me looking like the girl from "The Ring," (not cute for me), while some treatments did very little to my frizz and washed out within days." She found a real difference with this treatment.  "Since I discovered the Cezanne Perfect Finish Keratin Smoothing Treatment a couple of years ago, I haven't looked back and have continued booking appointments as soon as the mercury rises."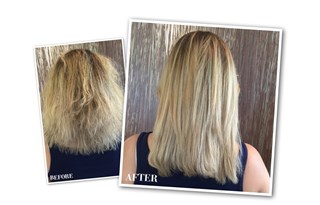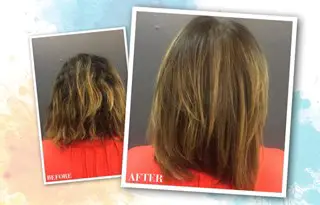 Before and after pictures of the Cezanne Classic Treatment.  See more pictures here.
The cost of the Cezanne Classic Treatment is between $200 and $400 depending on the type and length of your hair.  Cezanne sells a line of after-care products to support the smoothing treatment but the treatments are always done in a salon.
_________________________________________________________
_________________________________________________________
The pros and the cons of keratin
Pros
With a keratin treatment, your hair will be frizz-free and less dry
The keratin treatments discussed here claim to cut blow drying time in half
Your hair will feel silky and healthy
Some bloggers maintain that their keratin treatments lasted four to six months. Your results will depend, of course, on the length of your hair is and how fast it grows
You may be able to try new hair styles because the texture of your hair will be different
Cons
Keratin treatments are expensive—most start at $250
You will spend at least three hours in the salon
There are keratin horror stories out there so use this article in conjunction with your own research to do your due diligence. This is not the time to use an inexperienced stylist or try to get a discount.  If there is a mistake, you will be stuck with it for a long time.
* * *
You may also like
Go to the Blue Hare homepage for more articles for fabulous women