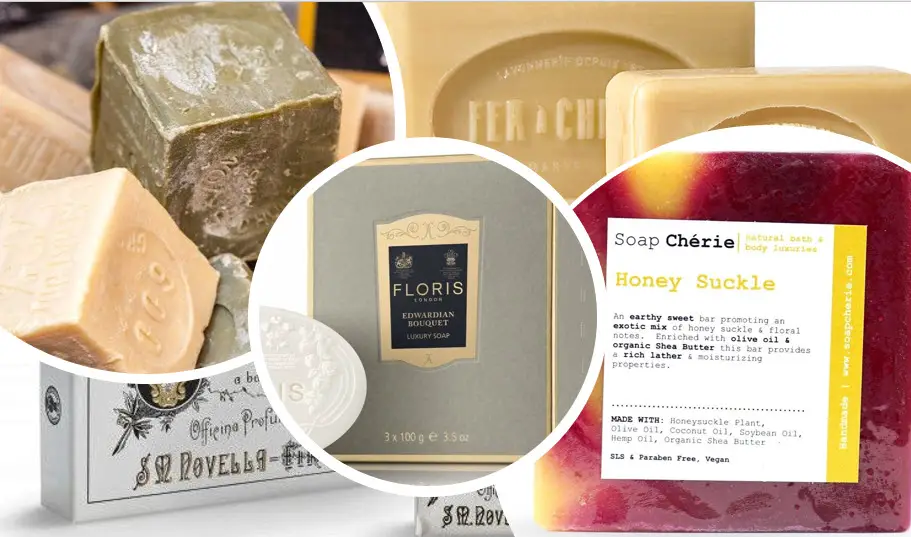 Soap has been a constant in our lives.  Our mothers used it for laundry. They bathed us in it from head to toe. They even threatened to wash our mouths out with it.  But soap has never been more vital or more significant in our lives than now. Soap quite literally decimates the Covid-19 virus on skin.  And for that reason, we are washing our hands more than ever.
Much as we love soap for that reason, our hands are becoming dry and chapped.  And hand washing is not going to be a temporary thing.  We will be washing our hands for many more weeks or months.  It is safe to say that many of us will continue to wash our hands more than we ever have before.
Our hands deserve to be pampered
We don't have to surrender to having dry, chapped hands.  Our hands deserve to be pampered with a soap that moisturizes as well as cleans. Like most things—excellent food, effective skincare—it all comes down to the ingredients.
Luxurious soaps cost more than the average supermarket soap because they are carefully made with top-of-the-line ingredients that moisturize and hydrate.  Those ingredients are pure, made in nature, and not as easy to come by as synthetic alternatives.
The seven soaps that follow will make your hands happy. They are sourced from all over the world. The oldest originated in the 13th century. The newest ones are from artisan soap makers in Toronto and Brooklyn.
1. Savon de Marseille

Savon de Marseille is the mark of authenticity reserved for only a handful of traditional hard soaps made from vegetable oils and produced around Marseille, France, for about 600 years.
Traditionally, the soap is made by mixing water from the Mediterranean, olive oil, and alkaline ash from sea plants together in an eight-ton cauldron. This mixture is then heated for several days and stirred by hand without ceasing. The mixture is left to sit until ready, then poured into a mold and allowed to set slightly. While still soft it is cut into bars, stamped, and left to harden. The whole process can take up to a month.
 [Read: How soap demolishes coronavirus; washing your hands; gloves]
To earn the classification of savon de Marseille it must be made in Marseille, in a cauldron, contain 72% extra pure olive oils, be in a cube or bar shape, either brownish-green or white, bear a stamp on all six sides, and contain no more than six natural ingredients. The high oil content leaves skin feeling soft and moisturized, as well as clean.
Only four soap factories are still producing authentic Marseille soap as it has been made for centuries: Fer à Cheval, founded in 1856; Savonnerie du Midi, founded in 1894;  Marius Fabre, founded in 1900; and La Savonnerie Le Sérai, which began in 1949.
Fer a Cheval 100g bar sells for $10.95 on Amazon.  Marius Fabre soaps start at $12.22 on Amazon.  A box of four Savonnerie du Midi soaps, under their brand La Corvette, is $23.52 on Amazon.
2. Floris London Edwardian Bouquet Luxury Soap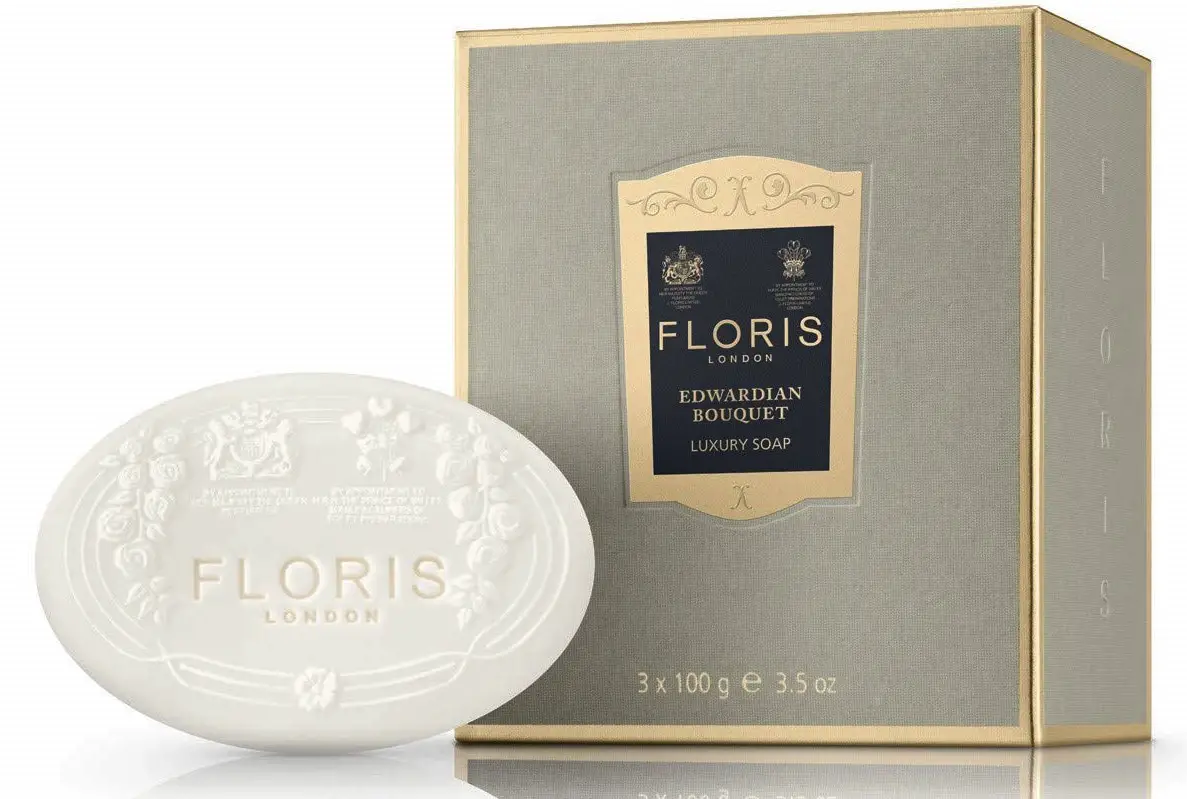 Standing in the heart of St James's for nearly 300 years, Floris is a standard bearer of perfumery expertise in London. Floris holds the warrants Perfumers to Her Majesty The Queen, Elizabeth II, granted in 1971, and Manufacturers of Toilet Preparations to His Royal Highness The Prince of Wales, granted in 1984.  The ninth generation of the Floris family is still at the helm. Floris products entered the U.S. market after WWII. Marilyn Monroe ordered the Rose Geranium fragrance in 1959 while she stayed at the Beverly Hills Hotel in California.
Floris makes luxury soaps in seven different fragrances that can be ordered on its website. . Which is why we were thrilled to find the Edwardian Bouquet Luxury Soap, with its floral, bergamot, and mandarin top notes and mossy, musky base notes, available on the Floris US website.
Floris finely fragranced signature soaps are hand wrapped and triple milled with a vegetable base that produces a rich creamy lather; shea butter helps moisturize skin. To ensure your soap has a long life, the company recommends using the soap regularly. If soap is left unused for too long it will dry out.
These traditional soaps are embossed with a floral design dating back to the 1800s. Made in Britain. Box of three 3.4 oz. bars available from Floris US for $45.00.
3. Cow Beauty Soap

The Cow Brand Soap company was established in 1909 to manufacture and sell superior quality beauty soaps. Cow's bar soap is manufactured by the "soap-kettle saponification method," which produces a soap base with natural moisturizing ingredients.
Cow Beauty Bars, hand-made soaps, are one of the most beloved Japanese soaps. The primary ingredient is milk, which nourishes and brightens skin. Unlike many bar soaps, it doesn't dry out or tighten skin and creates a mild soap that lathers into clouds of dense, springy foam.
Cow Beauty Bar Red is the moisturizing bar, made with natural, plant-derived oils and fats. It also contains milk butter and squalane–all of which work to hydrate and reinforce your skin's natural barrier. The Red Box first appeared on the market in 1928 and still enjoys widespread popularity. Box of three 3.5 oz. bars, $11.24 on Amazon.
Cow Beauty Bar Blue was launched in 1949. It is a refreshing bar, produces a thick, plush lather, and has a fresh jasmine scent. 85g bar, $9.99 on Amazon.
4. Binu Binu Botanical Soap House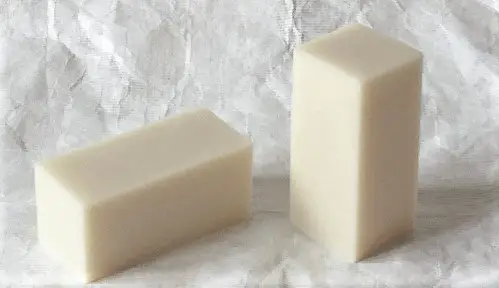 Binu Binu Ae Gi Super Mild SoapBinu Binu is a brand of modern soaps inspired by the ritual of the Korean public bath. Binu Binu uses 100% natural plant botanical ingredients and essential oils in all its soaps, including a base of "boricha," the Korean roasted barley tea which has a place in the household as important as water.
Made by hand in small batches using the cold process method, which retains the properties of natural oils, the soap cures for four to six weeks, then is cut by hand. Binu Binu was founded in Toronto by Karen Kim, whose memories of being scrubbed by her Korean grandmother inspired her to recreate traditional Korean soaps in her Canadian home.
Binu Binu soaps come in a variety of formulas, such as Black Rice Milk, Celadon Tea Ceremony, and Moon Jar Clay. Prices begin at $18.00 per bar, available on the Binu Binu website and select shops in the US and Canada.
5. Soap Cherie Honey Suckle Soap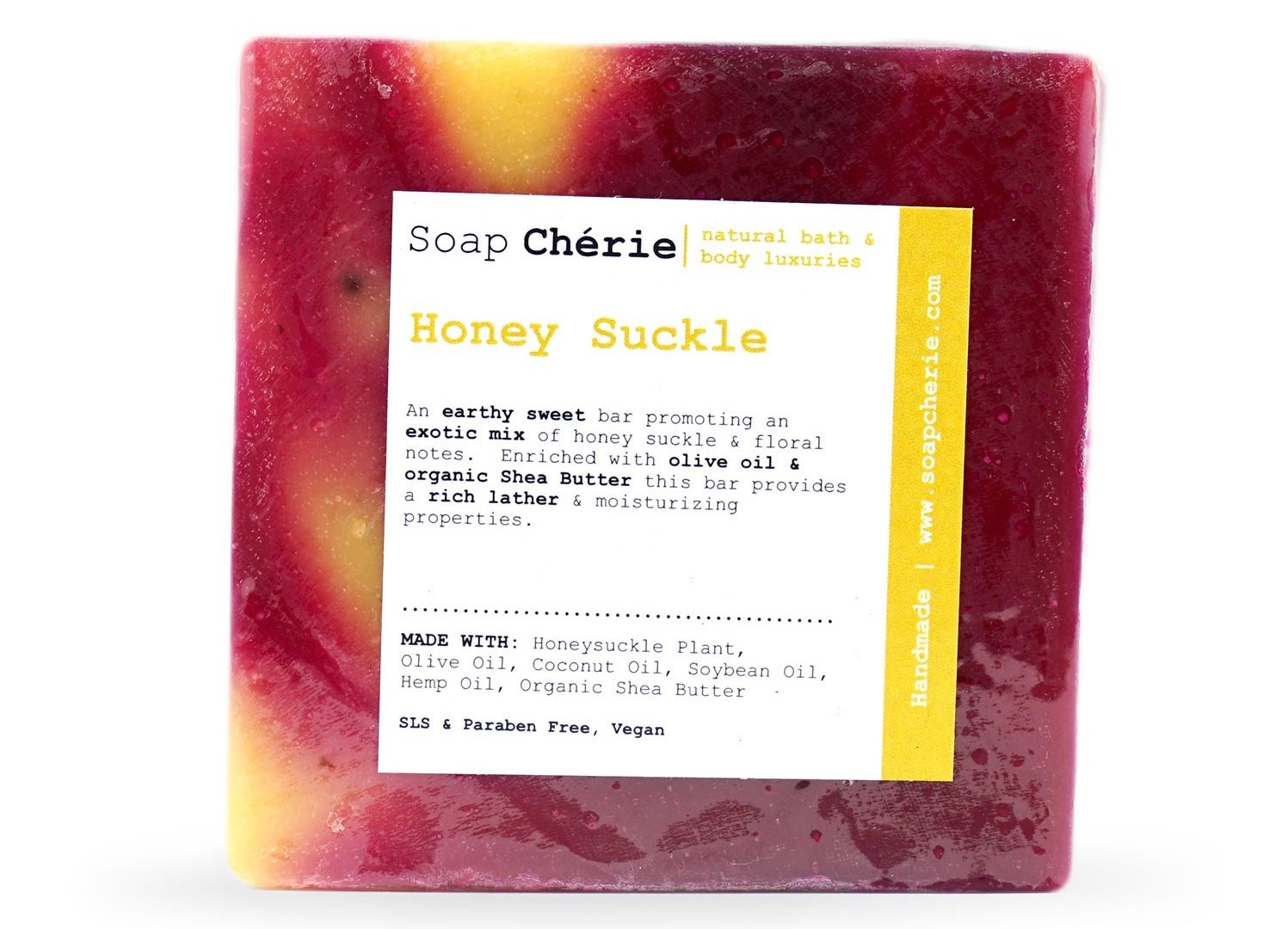 Soap Cherie is a female-founded, all natural bath and body brand from Brooklyn, New York. Its soap bars are packed with nourishing ingredients including botanical oils, clays, and herbs that work together to produce a luxurious lather that cleanses and conditions the skin without stripping it of natural oils.
Made using the cold-process method, the soaps are free of any parabens, sulfates, harsh chemicals, and fillers. They are suitable and ideal for all skin types, and perfect for sensitive skin.
Soap Cherie's bar soaps come in 19 different formulas and fragrances, like Lavender Patchouli, Mango Salsa, and Hydrangea Rose Milk. The multi-colored Honey Suckle bar is made with a blend of botanical oils to cleanse and nourish the skin. Enriched with honey suckle herbs for gentle skin.
Soap Cherie soaps are $8.00 for a 5 0z. bar and can be purchased on the company's website, soapcherie.com.
We independently select the products featured in our articles. BLUE HARE has an affiliate relationship with Amazon and others, so if you buy one of those products through our links, we receive a commission.
*     *     *
You may also like
Go to the BLUE HARE home page for more articles for fabulous women