Thanksgiving has enough built-in stress without the additional worry of creating a beautiful table. You may also have downsized your table, as our editor did recently, so those beautiful tablecloths and runners and elaborate floral arrangements don't work anymore. The solution to giving your table a welcoming look lies no further than your local produce market.
Celebrate the harvest on your table
Celebrate the harvest (even if you live in a high-rise) with simple arrangements of seasonal fruits and vegetables. Raid your closets for some mix and match plates and you'll have a table worthy of that turkey and stuffing.
We did just that.
The photos below show how different arrangements—from a wild tumble to mathematical precision—can create the moment you're looking for, in only a few minutes. They are not perfect (we make these ourselves), but they are a perfect prelude to dinner. And you can eat your centerpiece later.  This article was originally posted in November 2017.
The Cornucopia
Dating from antiquity, the cornucopia—or horn of plenty—was a symbol of abundance and nourishment. A large horn-shaped container, it was filled to overflowing with produce, flowers or nuts.
In more recent traditions a cornucopia is a hollow, horn-shaped wicker basket filled with various kinds of festive fruit and vegetables–a symbol of the harvest and Thanksgiving. Fill one of these or any basket with different colors and sizes of apples and pears, mini pumpkins, and grapes.
You can also scatter a few nuts in their shells around the table. Clip some garden greens to complete the scene.
Cornucopia basket from the author's collection. Earthenware dishes from Portugal. Round woven placemats in red from Williams Sonoma.
Is your dinnerware white? Use the same cornucopia but add bowls or salad plates in colors that reflect the harvest. Wicker chargers bring warmth and tie in with the centerpiece.
White dinner and salad plates from Williams-Sonoma. Wicker chargers can be found on Amazon.com at a range of price points. Bowls from author's collection.
Single fruit arrangement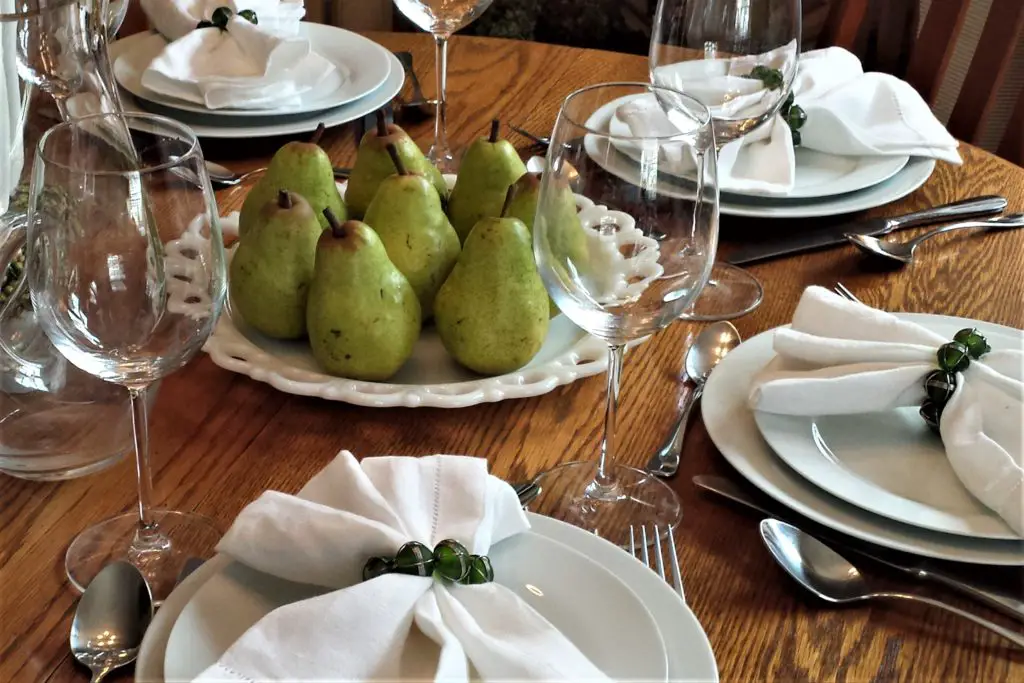 Buy eight or 10 hard green pears and place them upright on a white platter. Bring the look together with napkin rings in a different shade of green.
The same scheme will work with circles of apples, red or green, a stack of lady apples, or a pyramid of Seckel pears or mini pumpkins.  Milk glass platter belonged to the author's mother.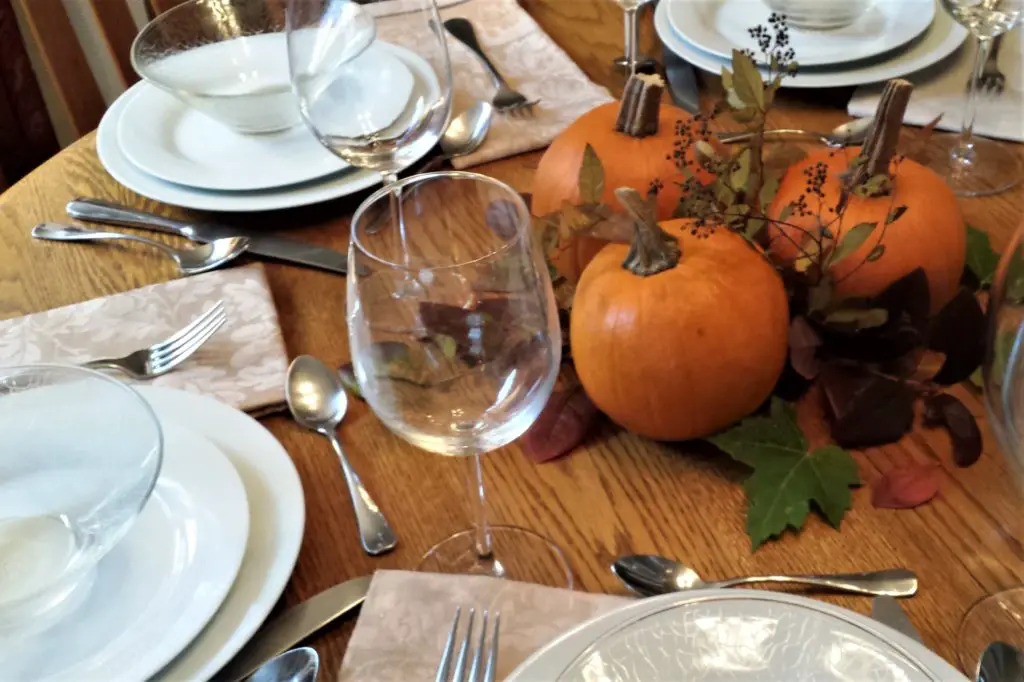 A single cheese pumpkin or a group of small ones, placed on a bed of leaves or branches, makes a simple centerpiece for white dinnerware and clear glass bowls.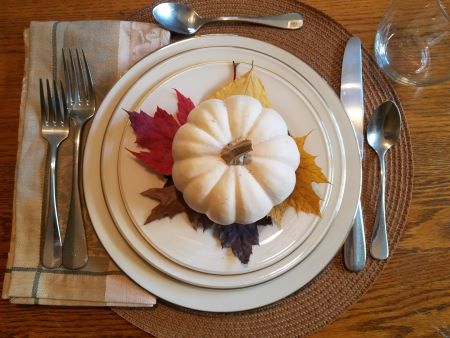 Different fruits, same color
A bowl of pears, apples, grapes, and quince in a range of green hues create a warm, serene setting with white plates. This is a good opportunity to use that beautiful white or clear glass bowl that's been languishing in the buffet.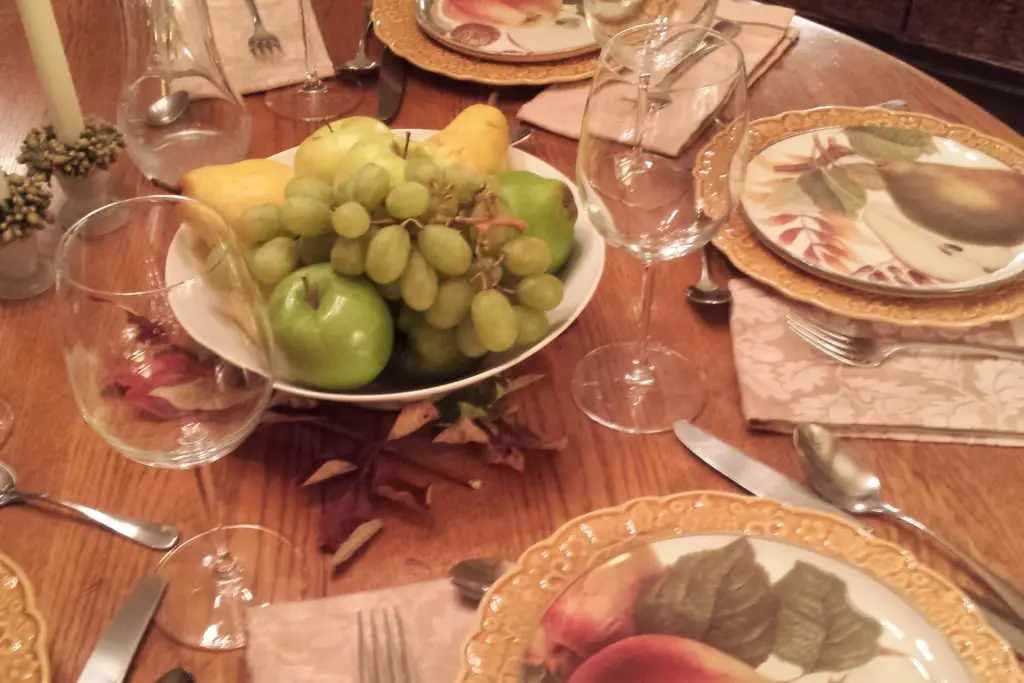 The same centerpiece with different dinnerware looks like it's waiting for a party. We can already hear the laughter.  Seasonal salad plates can easily change the look of a table and can be found in kitchen and home stores, flea markets, and that box in your basement.
    *     *     *
You may also like
Check out Blue Hare's home page for more articles for fabulous women