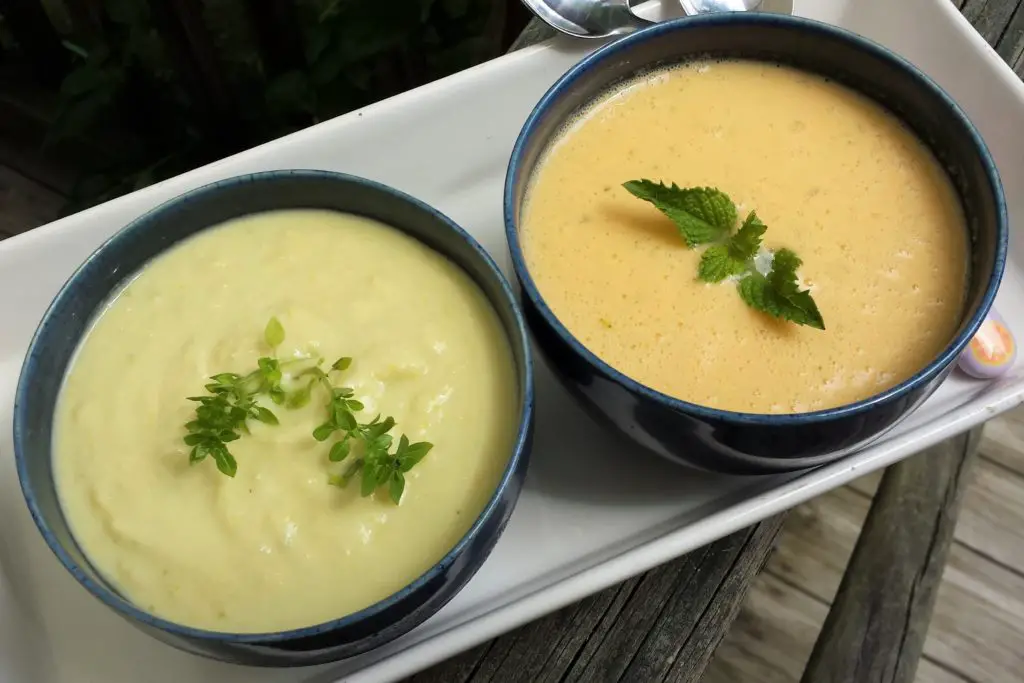 There is no easier meal than a bowl of soup, in winter and in summer. Cold soups are a marvelous way to use end of summer bounty, and not only tomatoes. Corn and melons will be stacked high until after the autumn equinox and are easily transformed into flavorful soups that can help you beat that late summer heat.
Chilled Corn Soup
One hot day a few weeks ago I was hankering for corn on the cob, but as it was a scalding hot day I was also hankering for something cold. That's when cold corn soup came to mind. I found a recipe on The New York Times website that looked close to, but not exactly, what I wanted. The original recipe called for basil, but I wanted the pure, sweet taste of corn to come through. For the same reason I left out the garlic, too. In the comments section several readers noted the soup was a bit thin. My answer was to blend in half of an avocado, which added body but did not interfere with the corn flavor.
The recipe will be perfect with fresh-off-the-stalk corn. My farmers' market cache had been sitting around for a few days so I cooked the corn, on the cob, using this ingenious microwave method before cutting off the kernels. My final departure from the original recipe was to skip straining it at the end. I welcomed some chewiness and was not averse to skipping a step. It was hot. I was lazy.
In the end the soup was exactly what I'd been craving. Cold and sweet and creamy, with a slight buttery undertone, even though there was no butter. It reminded me of carnivals and roller coasters and summer.
Chilled Corn Soup  (pictured on left in top photo)
Adapted from "Chilled Corn Soup With Basil" by Melissa Clark , cooking.nytimes.com
Ingredients
3 ears corn, shucked
1 ½ C. buttermilk
½ medium avocado
3 scallions, roughly chopped
1 T. fresh lime juice, more to taste
¾ t. fine sea salt
Extra-virgin olive oil, for garnish
Slivered basil leaves, for garnish
Preparation
Slice kernels off corn cobs (you should have 3 to 3 1/2 cups kernels). Discard cobs and place kernels in a blender.
Add buttermilk, avocado, scallions, lime juice, garlic, and salt to the blender and purée until very smooth. If it's too thick, add a few ice cubes and blend again.
If you want a refined creamy soup, strain the mixture through a sieve, pressing down hard on the solids. Otherwise skip this step. Serve soup garnished with basil leaves (if desired) and a drizzle of olive oil, or nothing at all.
Makes four bowls or eight appetizer portions
Chilled Melon Soup
I have been making this soup since it first appeared in The New York Times magazine in 1996. It seemed like such an unusual way to eat melon and was quite radical in its day. The number and variety of fruit soups has exploded over the past decade, but this remains my favorite. And since good, sweet melons don't appear until the end of summer it seems like a little gift from summer before it says goodbye.
Of course, I don't follow The Times recipe exactly. Instead of honeydew melon I usually use cantaloupe because it is more widely available (and really cheap) in August. I have gringo tastes so I cut way back on the jalapeños. Ditto on the salt, which I reduce to about 1 t. then add to taste after it has chilled for a while.
I have been known to blend the mint right in with the other ingredients; it dances with the melon creating a little party in your mouth.  If the melon isn't sweet enough, I'll add some honey. I rarely use the almonds when making it for myself but it's a nice garnish if you're serving the soup to guests.
If your melon is watery the soup can be a bit thin. There are a few ways to thicken it: use a thick Greek yogurt instead of the creamier European style; add a bit of avocado; or throw in a handful of fresh bread, torn, without crusts, and blend thoroughly.
A perfect match of sweet and salt and sour, chilled melon soup makes a light first course or appetizer served in small cups. Or it can be the centerpiece of a meal, accompanied by some charcuterie, bread, cheese, and olives. Because who wants to stand over a stove on a hot, sultry day?
Chilled Melon Soup (pictured on right in top photo)
Adapted from Chilled Melon Soup with Toasted Almonds by Molly O'Neill, cooking.nytimes.com
Ingredients
1 medium ripe cantaloupe or small honeydew melon, peeled, seeded, and cut into medium chunks (about 7 cups)
½ C. fresh lime juice
1 to 4 t. seeded and minced jalapeños (depending on your palate)
¼ C. chopped fresh mint, plus a few leaves for garnish
½ C. plain, nonfat yogurt
1 t. salt
Freshly ground pepper to taste
½ ripe avocado or fresh bread cubes to provide body (optional)
½ C. sliced almonds  (optional)
2 t. water
Preparation
Place the melon, lime juice, jalapeños, mint, yogurt, salt and fresh ground pepper in a blender; process until smooth. If the soup seems thin add up to a half cup of ripe avocado or a handful of fresh bread cubes and blend until incorporated. Refrigerate until cold.
For the garnish: Preheat the oven to 325 degrees. Place the almonds in a bowl and toss with the water and then with salt to taste. Place on a baking sheet and bake until toasted, about 15 minutes. Let cool.
To serve: Check for seasoning and add more salt if needed. Divide the soup among four bowls. Top with the almonds and reserved mint leaves and serve immediately.
Makes four bowls or eight appetizer portions
 *     *     *
You might also like
Summer Pudding. Make dessert. Save the planet.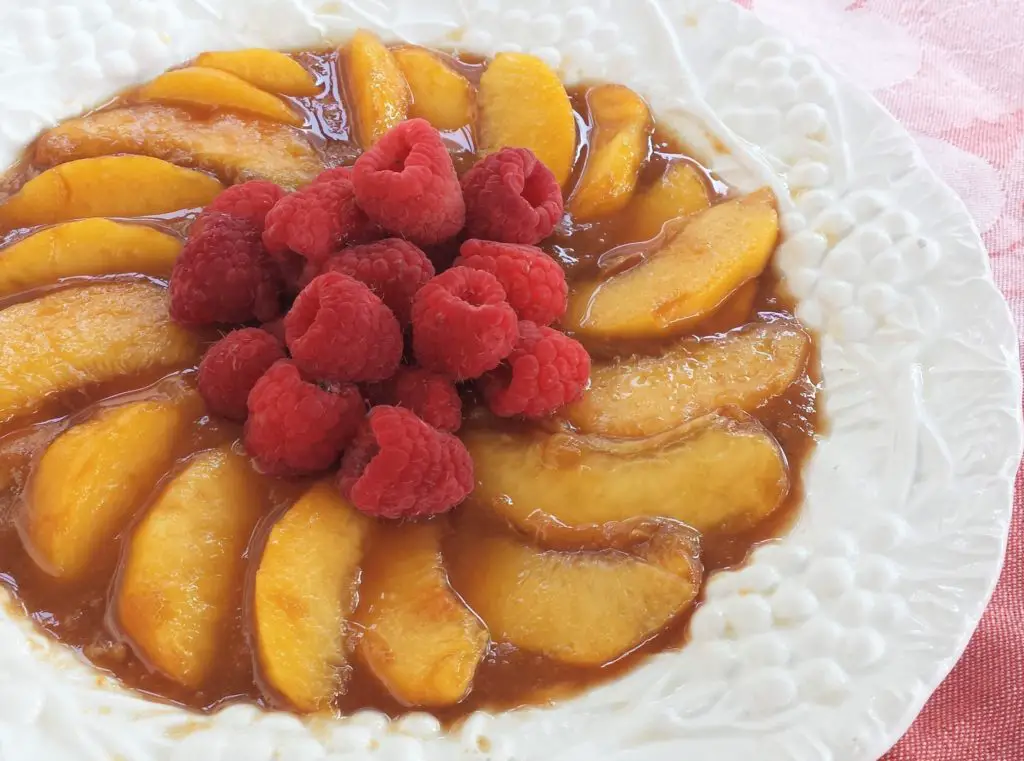 Cool summer desserts. No cooking required. 
And more on the BLUE HARE home page