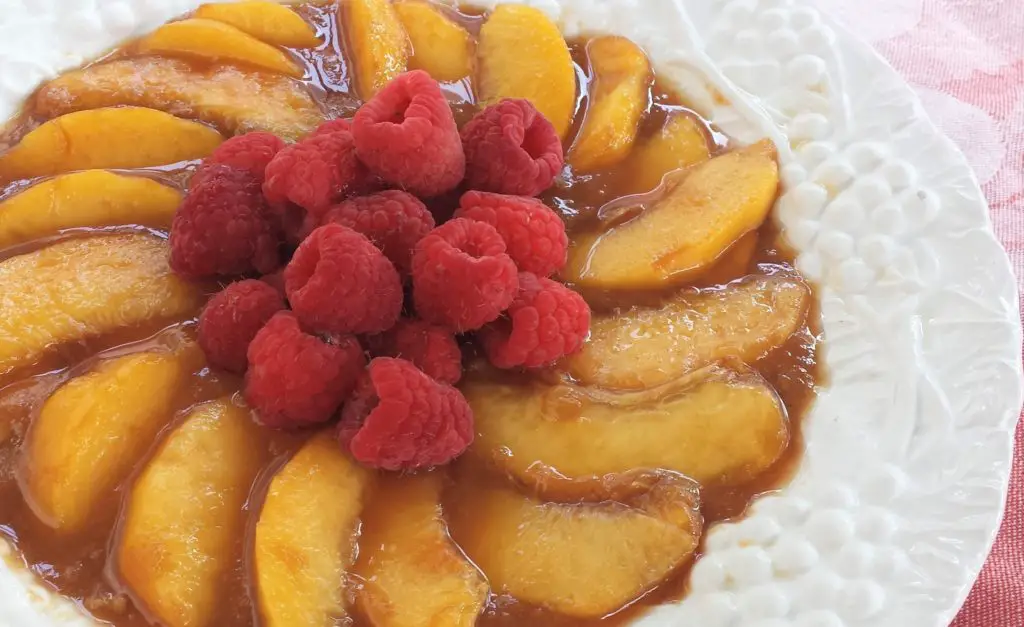 The last place anyone wants to be during the heat-blasting days of summer is in the kitchen. We can't get you out of the kitchen completely—that's where the ice cream is, after all—but we do have a handful of desserts that offer a refreshing end to an al fresco lunch or dinner. All are relatively easy to make and require only some peeling or stemming fruit, and that's for the most complicated of the bunch. And they make a nice change from that pint of Häagen-Dazs or Talenti hidden in the back of the freezer. We know. Your secret is safe with us.
Note: All of the recipes call for some sugar. We reduced the amount when we made them but are giving you the original recipes so you can adjust to your own taste. In some cases, honey or stevia might be acceptable substitutes if you want to reduce your intake of refined sugar.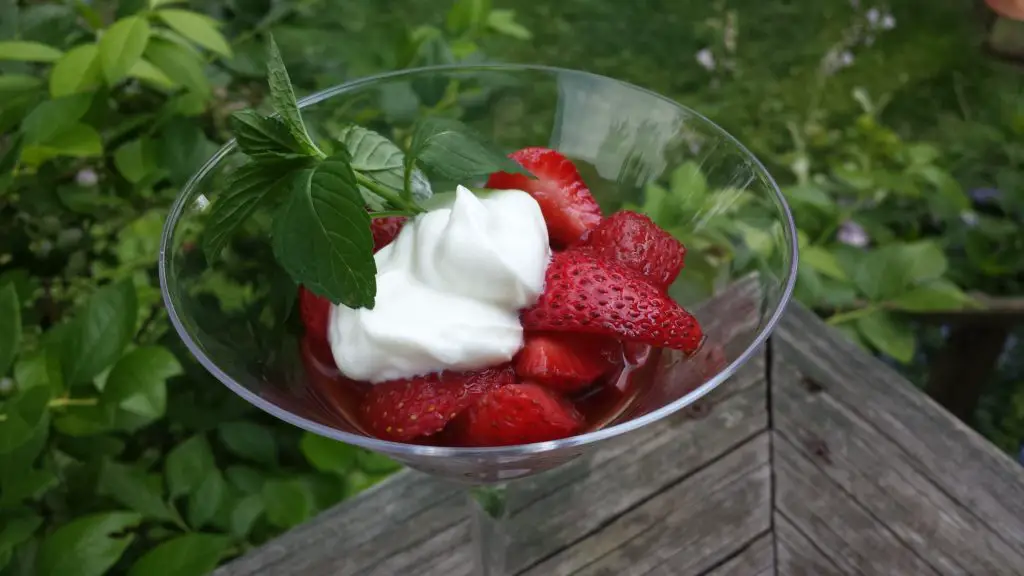 STRAWBERRIES WITH YOGURT CREAM
This simple preparation comes from The Provence Cookbook by Patricia Wells. The vinegar and sugar combination brings out the color and flavor of the berries, while the yogurt + sour cream combo provides a piquant balance.
We used a good balsamic vinegar, but not the expensive aged kind. The original recipe calls for crème fraîche but the local supermarket didn't have any, so we substituted sour cream and really like the extra tang.  Serve in a clear glass cup or glass (we used martini glasses) to show off the colors.
Ingredients
6 clear glass bowls or cups
1 pound strawberries, rinsed, stemmed, quartered lengthwise (cut jumbo fruit into sixths)
1 tablespoon best quality fruity vinegar (sherry wine or balsamic vinegar)
6 tablespoons sugar
1 1/2 cup best quality Greek-style yogurt, well drained
3 tablespoons sour cream
6 sprigs fresh mint, for garnish
Preparation
Place the bowls/glasses in the refrigerator.
In a large bowl, combine the strawberries, vinegar, and 4 tablespoons of sugar. Stir gently. Cover securely with plastic wrap and refrigerate for 30 minutes to 1 hour.
Just before serving combine the yogurt and sour cream in a bowl and whisk gently to combine, adding the remaining 2 tablespoons of sugar to taste; the mixture should remain quite firm.
Spoon the strawberries into the glass serving bowls and top with the yogurt cream. Garnish with a sprig of fresh mint.
Serves 6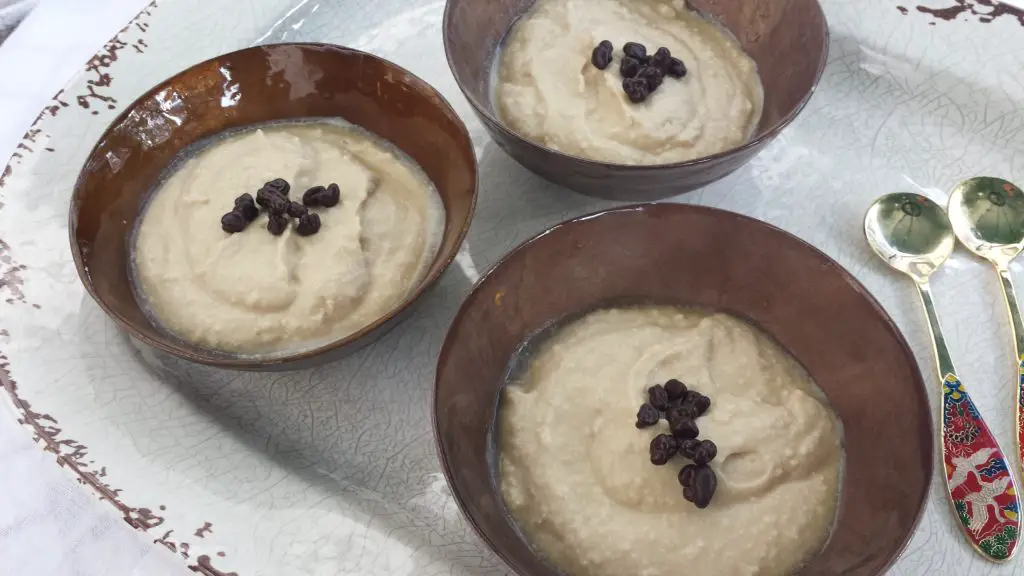 RICOTTA AND COFFEE CREAM
You will wow your guests when you present them with this Spuma Di Ricotta Al Caffè (which sounds much more elegant than Ricotta and Coffee Cream). We've lightly adapted the recipe from Marcella Hazan's Essentials of Classic Italian Cooking, an indispensable cookbook for anyone who likes to cook.
This recipe is so simple. If you can find really fresh ricotta, say at a farmers market, use it here.  Fine powdered espresso can be used instead of liquid coffee.  Ms. Hazan's recipe calls for using a food processor to produce a creamy consistency. We used a whisk, which makes a more rustic, but equally delicious, concoction. Plus we didn't have to clean the processor bowl and blades… you see where we're going with this.
Ingredients
1 1/2 pounds fresh ricotta
2/3 cup sugar
5 tablespoons dark rum
1/2 cup plus 2 tablespoons very strong espresso coffee
Espresso coffee beans, shaved chocolate, or cacao nibs for optional garnish
Preparation
Put all ingredients except garnishes in the food processor and process to a creamy consistency. Pour the mixture into six individual dessert dishes and store in the refrigerator overnight. Just before serving garnish each with coffee beans, shaved chocolate, or cacao nibs. Serve cold.
Serves 6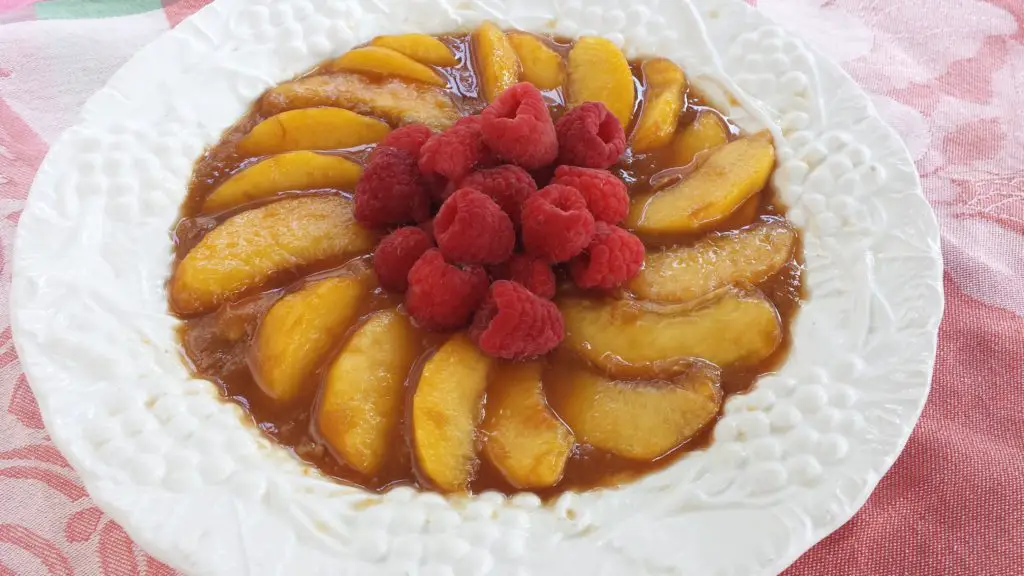 SUMMER PEACHES AND RASPBERRIES
Patricia Wells went to Italy where she had this refreshing and simple dessert one evening, recounted in her book, Trattoria: Healthy, Simple, Robust Fare Inspired by the Small Family Restaurants of Italy.
Peaches and raspberries are in season almost at the same time so grab that window to make this. Otherwise blueberries can substitute for the raspberries.
Ingredients
5 ripe peaches
¼ cup vanilla sugar (or ¼ cup sugar + ¼ teaspoon good quality vanilla extract)
1 teaspoon fresh lemon juice
2 cups fresh raspberries
Preparation
Peel the peaches. (Try any of these methods from Epicurious.com.) Discard the skins.
Coarsely chop 3 of the peeled peaches and place in the bowl of a food processor. Add 2 tablespoons of the sugar (and the vanilla if using) and puré Spoon purée into a 10 ½ inch round porcelain baking dish (or any dish with sides) and, using a spatula, evenly spread the purée over the bottom of the dish.
Cut remaining 2 peeled peaches into 16 even slices. Place in a bowl and toss with 1 tablespoon of sugar and the lemon juice. Arrange the peach slices, overlapping slightly, on top of the peach purée, forming a ring of peaches around the edge of the dish. A circle of purée should remain uncovered in the middle. Cover tightly with plastic wrap and refrigerate for up to 4 hours.
At serving time, toss the raspberries with the remaining sugar. Carefully spoon the berries on top of the peach purée, filling the center of the dish. Serve immediately.
Serves 4 to 6
BOOZY ORANGE CREAM GRANITA
This frozen treat reminds us of the Creamsicles we used to get from the ice cream truck that we chased down the street as children. This adult version is the laziest of lazy desserts. Mix all of the ingredients together, put them in a Ziploc freezer bag, massage from time to time, and a few hours later scoop and enjoy. The addition of a liqueur helps keep the mixture malleable, so it won't freeze into a solid block of ice.
Ingredients
3 cups orange juice
1 can sweetened condensed milk (like Eagle Brand)
1 tablespoon fresh lemon juice
3 tablespoons liqueur, such as Cointreau or Grand Marnier
2-gallon Ziploc bag
Preparation
Combine orange juice, sweetened condensed milk, lemon juice, and liqueur in a large bowl; mix well.
Pour into a 2-gallon Ziploc bag. Press out as much air as possible and seal. Place in the freezer. After about 1 1/2 hours remove the bag from the freezer and massage to break up any lumps. Return to freezer. Keep massaging every hour or so until granita is firm, about 4 hours total.
To serve: while it's still in the bag, push the granita around until it forms a mass deep enough for an ice cream scoop.
Scoop into chilled bowls. Garnish with a spring or mint or lemon verbena and serve.
Serves up to 6
* * *
You may also like
Chilled corn and melon soups to savor the end of summer
A French picnic fit for a vineyard. Or your backyard.
Summer Pudding. Make dessert. Save the planet.
Go to the Blue Hare homepage for more articles for fabulous women