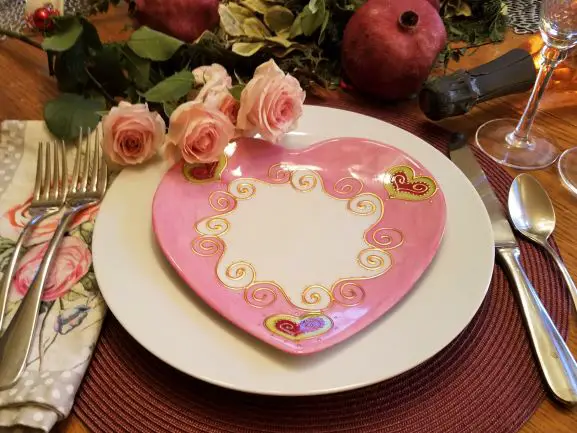 Want to surprise your significant other with a delicious, romantic Valentine (or any time) dinner but don't want to fuss for hours?  The beauty of these dinners is that they are sublimely tasty, quick and easy to prepare, incredibly cost-effective–about what you would pay for two appetizers when dining out. You can get everything in just one stop—at the iconic, venerable Trader Joe's grocery store.
We've chosen first course, main dish, and dessert for three mouth-watering meals that will leave you happy and satisfied and with lots of time left—without looming major kitchen clean up—to gaze at your significant other.  To make your prep time even shorter, we've provided a shopping list and prep tips for each meal.  And rest assured, we're not making blind recommendations; one of our editors has personally selected and prepared each and every meal for this article.
So choose your meal, take the shopping list and head to the Trader.
________________________________________________
________________________________________________
Romantic Dinner #1: Under the Tuscan Sun
This meal manages to be healthy and incredibly delicious.  How does Trader Joe make something from a package taste like it's just been plucked from a Florentine grill?  The chicken is perfectly seasoned and finds its ideal home on a bed of succulent mushroom risotto.  The dessert for this romantic dinner is Valentine's Day classic—warm, saucy chocolate cake swimming in pureed raspberries.
Menu
Green salad with blue cheese and pears
Balsamic grilled chicken served over mushroom risotto
Haricots verts
Chocolate lava cake with raspberry coulis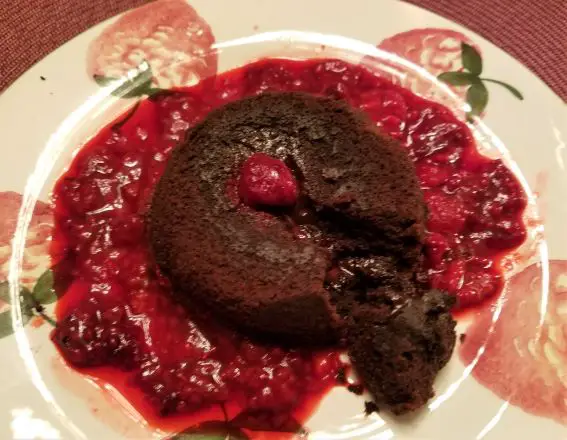 Shopping list
Trader Joe's Spring Mix (fresh produce section)
Trader Joe's Crumbled Blue Cheese (cheese section)
One firm pear (fresh produce)
Trader Joe's Walnut Halves and Pieces (nuts section)
Trader Joe's Grilled Balsamic Vinegar and Rosemary Chicken (refrigerated food aisle)
Trader Joe's Haricots Verts (fresh produce section)
Trader Joe's Chocolate Lava Cakes (frozen foods aisle)
Trader Joe's Organic Raspberries (frozen foods aisle)
Romantic Dinner #2: Winter in Madrid
This Mediterranean themed meal is rich with flavor.  Trader Joe's seafood paella is bursting with seafood—one of those rare instances when the photo on the box really does reflect its contents.  The orange and olive salad continues the theme—Trader Joe's is known for their delicious bottled olives.  Pistachio ice cream and frozen mini cake bites are perfect for cooling things off in the event that you and your significant other launched into a flamenco inspired by the appetizer and entrée.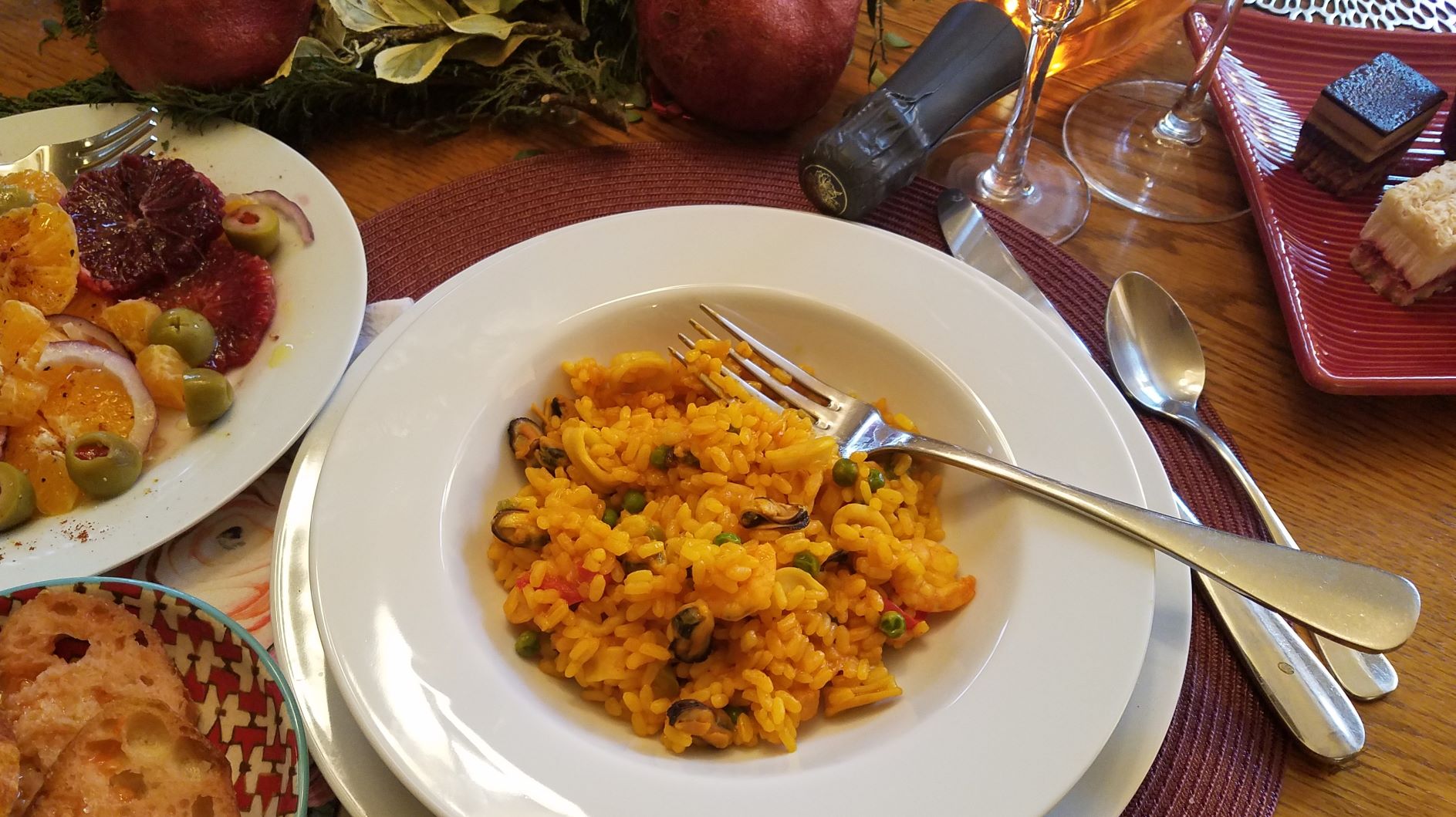 Menu 
Orange and olive salad
Pan con tomate
Seafood paella
Pistachio ice cream
Mini cake bites
Shopping list
Selection of oranges and mandarins (fresh produce)
Red onion (fresh produce)
Trade Joe's Spanish Manzanilla Olives with Pimentos or other assorted green olives, pitted (canned food aisle)
Trader Joe's Artisan Baked Demi Baguette (baked goods)
Garlic clove
One ripe tomato (fresh produce)
2 packages Trader Joe's Seafood Paella (frozen foods)
Trader Joe's A Dozen Sweet Bites (frozen bites)
Pistachio or ice cream of choice
______________________________________________
______________________________________________
Romantic Dinner #3: By a Cozy Fire
Some meals just beg to be eaten by a cozy fire, preferably in a French chateau. This is one of them. These mini but flavorful scallops nestle in a piquant Emmental cheese sauce punctuated by perfectly textured—not mushy—peas.  The taste is smooth and satisfying, perked up by the radicchio and apples (from Normandy?) in the salad.  And the finale is Trader Jacques's (get it?) real French macarons with chocolate ice cream and strawberries. So French, so perfect for amour.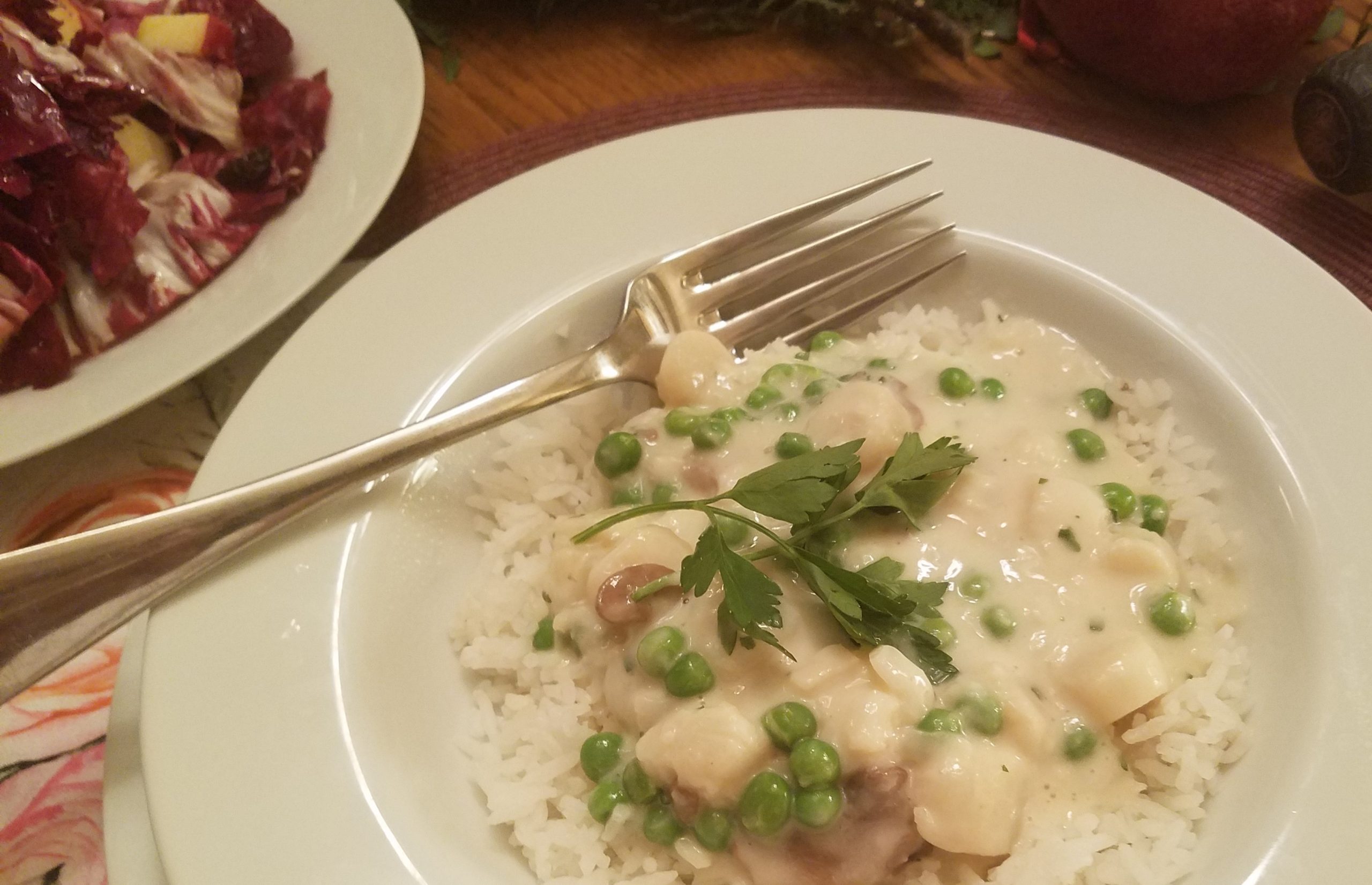 Menu 
Radicchio, apple, and cranberry salad
Scallops in a creamy cheese sauce, served over rice
Strawberries and macarons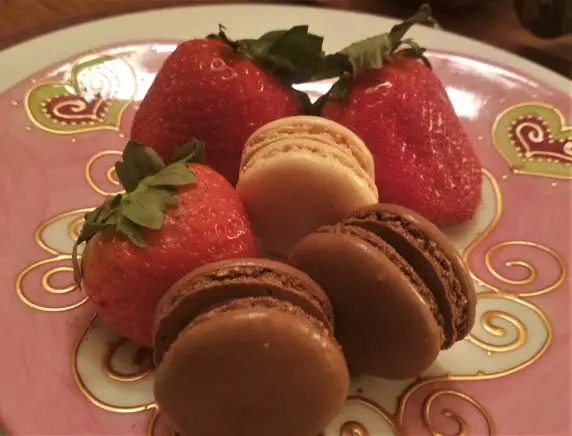 Shopping list
Radicchio (from supermarket), or Trader Joe's Butter Lettuce and Radiccho, or TJ's Baby Spinach (produce aisle)
One apple (fresh produce)
Trader Joe's Dried Cranberries (in the nuts and dried fruits section)
Trader Joe's Saucy Scallops with Mushrooms (frozen foods)
Trader Joe's Basmati Rice or Organic Riced Cauliflower (frozen foods)
Trader Jacque's French Macarons (frozen foods)
Strawberries (fresh produce)
And for singletons
Feeling alone on Valentine's Day? Snuggling with Fluffy or Fido and a pint of ice cream not doing it? Celebrate your own fabulous self with any of these dinners—and enjoy the leftovers later in the week. Then curl up and watch a good movie on the tube—may we suggests The Nun's Story? Ha ha! Just kidding. Go for Amélie (available on Amazon Prime, Vudu, and Hulu) and let the joy fill your soul.
*     *     *
You might also like
Find more articles for fabulous women on Blue Hare's home page.