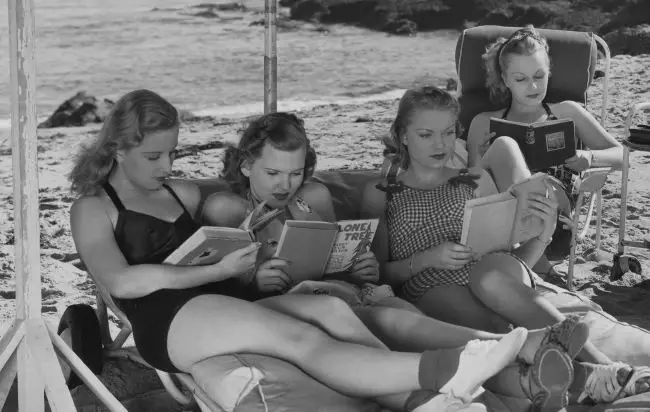 We live in an age where it seems there are no boundaries of decency or propriety, where anything goes (think of the wild success of 50 Shades of Gray). But for those of us who are baby boomers that was not always the case. There was a time when, in our teens, we would hear whispers of books that caused a scandal (Peyton Place), were banned (Lady Chatterley's Lover) or censored (Tropic of Cancer), and—if they managed to be published at all—were definitely forbidden for us to read.
Published in France, banned in Boston
Several of these erstwhile steamy books were written under pseudonyms. Some were first published in France before making their way to the United States and the UK. Each story pushed the social boundaries of the day. They are stories of women who were sexually free beyond the confines of marriage, women who were exploring different avenues to sensuality and eroticism.
Where are those books now?
Surprisingly, a number of them have entered the literary canons and, now in our adulthood, are worth revisiting or reading for the first time.
As you read, keep in mind the environment in which these authors were published: many faced personal scorn and condemnation or worse. Their books, called offensive to public morals, launched obscenity trials.
Publishers were faced with lawsuits. Books were slapped with publicity bans. Even the Supreme Court of the United States weighed in on one of them, resulting in a change to America's censorship standards.
In the end, these forbidden books were harbingers of a post-war cultural revolution that would erupt a decade later. Now liberated, there's no need for us to hide under the blankets with a flashlight to read them. Just pour a glass of wine, find a quiet corner, and enjoy the ride.
As an Amazon affiliate we make a small commission on purchases made through some of the links on this page. Thank you for supporting Blue Hare.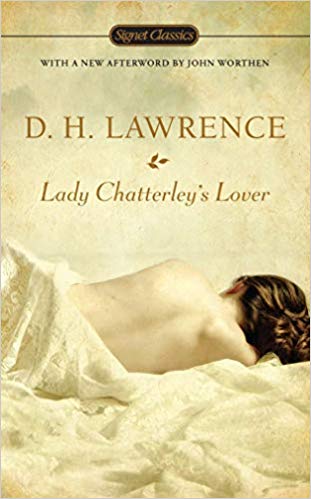 Lady Chatterley's Lover is one of the most beautiful and notorious love stories of all time. Lawrence's last novel became infamous for its story of the physical and emotional relationship between a working-class man and an upper-class woman, its explicit descriptions of sex, and its generous use of censored four-letter words.
Writes one reviewer, "Lady Chatterley's Lover is a brilliant novel that manages also to be risqué. It is lyrical and rather poetic with copious metaphors that don't get any better. It is not just about sex, as some may have expected it to be. Intelligent discussions about the effects of industrialization on man, love and sex between men and women and the wariness with which the social classes view each other are woven into the storyline of the illicit affair between Lady Chatterley and her lover."
The book was first published privately in Italy in 1928, and in France in 1929. In 1928 it was banned in the United States and in England for indecency.
It was not until 1960 that a full uncensored edition was published openly in the UK, as the centerpiece of a landmark obscenity trial against publisher Penguin Books. Penguin won the case, and quickly sold three-million copies. Lady Chatterley's Lover was banned in the United States until 1959, as well as in Canada, Australia, India, and Japan.
Buy Lady Chatterley's Lover on Amazon.com.

When first published in the US in 1961—27 years after its release in Paris in 1934—Tropic of Cancer sparked more than 60 obscenity trials. It took a historic ruling by the US Supreme Court to change America's censorship standards and ultimately recognize it as an important work of 20th century literature.
Set primarily in Paris during the late 1920s and early 1930s, Tropic of Cancer centers on Miller's life as a struggling writer. It combines autobiography and fiction. Some chapters follow a loose narrative and refer to actual friends, colleagues, and workplaces; others are written as stream-of-consciousness.
Written in Miller's voice, the narrative moves frequently between past and present.  "At last an unprintable book that is fit to read." (Ezra Pound)
Buy Tropic of Cancer on Amazon.com.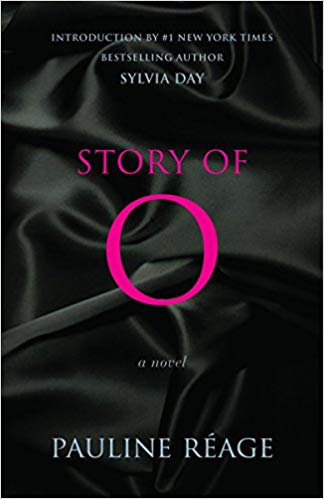 Long before there was 50 Shades of Grey, there was the Story of O. Beyond an exploration of BDSM themes, the two works have nothing in common. This novel is worth reading.
How far will a woman go to show her love? In this novel, the answer emerges through a daring exploration of the bonds of sensual domination. "O" is a beautiful Parisian fashion photographer, determined to prove her love to her lover, René, through complete submission to his every wish. Be warned: the Story of O is not a novel for the faint-hearted.
According to one reader, "So dark. So weird. So delicious. So, so French. This is erotica, not erotic romance. It's sinister and strange and shocking, exactly what I want erotica to be."
Written by French journalist and novelist, Anne Cécile Desclos, under the pseudonym Pauline Réage, it won the French literature prize Prix des Deux Magots in February 1955. This didn't stop the French authorities from bringing obscenity charges against the publisher. While the charges were rejected by the courts, a publicity ban was imposed for a number of years.
The first English edition was published in 1965 and was hailed a "significant event" by The New York Times. "A rare thing, a pornographic book well written and without a trace of obscenity." (Graham Greene)
Buy The Story of O on Amazon.com.
Peyton Place (1956) by Grace Metalious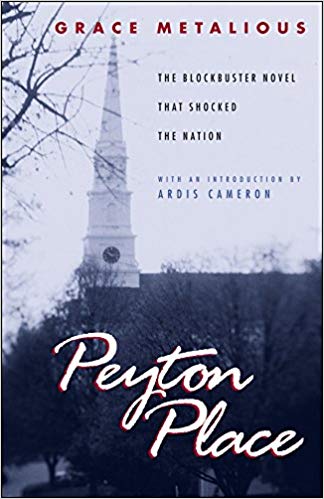 When Grace Metalious's debut novel about the dark side of a small, respectable New England town was published in 1956, it quickly topped the bestseller lists.
Peyton Place is populated by vivid characters, earthy prose, and shocking incidents. Through an uninhibited narrative, Metalious skillfully shines a light on the complex social anatomy of a small community—its passions and vices, ambitions and defeats, passivity or violence, secret hopes and kindnesses, cohesiveness and rigidity, struggles, and often courage.
A landmark in twentieth-century American popular culture, Peyton Place spawned a successful feature film and a long-running television series. It sold 60,000 copies within the first ten days of its release and remained on The New York Times best seller list for 59 weeks.
Buy Peyton Place on Amazon.com.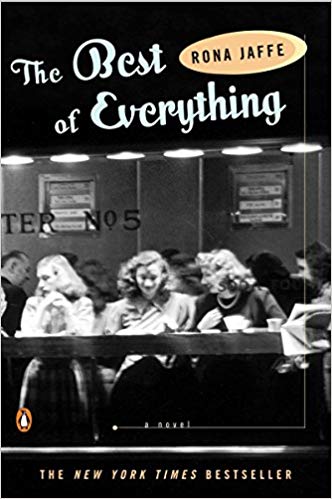 Before Valley of the Dolls and Sex and the City, there was The Best of Everything—an iconic novel about ambitious career girls in New York City. Published in 1958, it changed contemporary fiction forever.
Some readers were shocked, but millions more were captivated when they recognized themselves in this story of five young women working in New York publishing. Almost sixty years later, The Best of Everything remains touchingly—and sometimes hilariously—true to the personal and professional struggles women face today.
According to one reviewer, "Great literature? No, but character-driven, engrossing, emotionally involving and very, very juicy."
Buy the Best of Everything on Amazon.com.
Emmanuelle (1959) by Emmanuelle Arsan

The story begins with nineteen-year-old Emmanuelle's flight from London to join her diplomat husband in Bangkok. During the flight, she is seduced by another passenger. By the time the plane lands, Emmanuelle has embarked upon a journey of hedonistic sensual self-discovery. The novel explores various themes such as East and West, love and lust, and bisexuality.
Although the publication date is usually given as 1967, the novel was first published and distributed secretly in France, without an author's name, in 1959. Later editions were attributed to Emmanuelle Arsan, the nom-de-plume of Marayat Rollet-Andriane.
Rumored to be semi-autobiographical, it was later revealed that the work was penned by Marayat's husband Louis-Jacques Rollet-Andriane, although both spouses may have contributed.
"A young woman discovers the boundless potential of her sexuality in this 'lyrical and graphic' international bestselling classic novel of joyful eroticism." (NPR).
Buy Emmanuelle on Amazon.com.
The Group (1963) by Mary McCarthy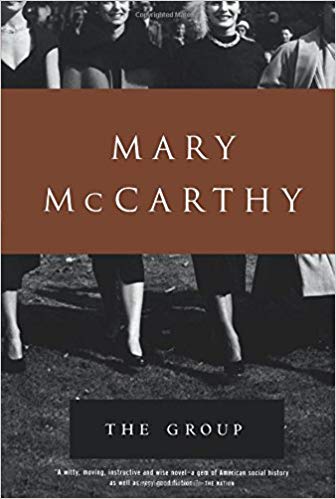 Mary McCarthy's The Group is an engaging satire of upper-class New England society in America in the years between the two world wars. The story line follows the post-college lives of eight Vassar graduates, class of '33 (McCarthy's own Vassar class).
First published in 1963, it found acclaim, controversy, and a place on The New York Times bestseller list for nearly two years for its frank and controversial exploration of women's issues, social concerns, and sexuality. McCarthy skewers Ivy League society, socialism, 1930s child-rearing practices, sexual double-standards, psychoanalysis, and men.
The Group is as relevant, powerful, and entertaining today, some fifty years after its original publication. Australia, Italy, and Ireland banned it for being offensive to public morals. Also forbidden to certain teens by overprotective moms.
Buy The Group on Amazon.com.
* * *
You may also like
Go to the Blue Hare homepage for more articles for fabulous women like you.