There are countless reasons we need to protect our skin from the sun, especially as we age. That's why we were pleased to find a line of sun protective clothing with style, perfect for the active woman over 60.
We may love the sun but it doesn't love us back
We naturally think of how we look, the changes to our skin we see as we age are due mainly to sun damage. Ultraviolet (UV) rays from the sun penetrate into the skin, damaging the elastic fibers that keep skin firm, and allowing wrinkles and age spots to develop.
For many women, there are other, more serious consequences to sun exposure, including skin cancer, sun allergies, psoriasis, rosacea, and other diseases caused by abnormal photosensitivity.  As a consequence, a stroll on a nice summer day can actually be harmful to your health.
Sunscreen helps—and we should wear it religiously—but there is no better way to protect your skin than to cover it. A long sleeve shirt and pants are a good first step, but everyday fabrics can be hot in the summer sun.  That's why modern sun protective clothing is such a great invention. It's specifically designed for sun protection and is produced from a fabric rated for its level of ultraviolet (UV) protection.
Look for the UPF rating
In the way SPF ratings are used to measure how long it takes for a person's skin to redden, UPF (Ultraviolet Protection Factor) standards are used to measure a fabric's ability to block UV radiation.
Standard summer fabrics have UPF ~6, while sun protective clothing made with a fabric rated UPF 30. This means that, if 30 units of UV fall on the fabric, only 1 unit will pass through to the skin. A UPF 30 fabric that blocks 29 out of 30 units of UV is effectively blocking 96.7% of the sun's radiation.
Clothing that is sun protective is also designed to cover as much skin as possible while helping you keep cool and comfortable.
Sun protective clothing has been around since the 1990s, and there are a number of companies that offer a variety of products. But most we looked at were designed either for outdoor activities or for swimming and beachwear. If that's what you're looking for try L.L.Bean, REI, and Land's End.  And many styles were too youthful—dresses and skirts too short, body-hugging tops; limited sizes (on the upper end).
We need protection and style
As we age, we are likely to spend fewer days at the beach or on the side of a cliff and more in town, traveling, sightseeing, shopping.  Whatever we choose to do, we still need to keep the sun off our skin. For those needs we like Coolibar, a brand that has expanded its clothing line into dresses, tops and pants. Their clothing is rated UPF 50+ and are stylish enough to wear during a visit to Paris, or Rome, or Barcelona.
Like other sun protective clothing lines, Coolibar is mission driven: "to keep the world safe from sun damage, to protect those who suffer from a sun-related medical condition and prevent everyone else from developing one."
The company designs, produces, and offers comfortable, contemporary, and elegant styles that we find attractive and appropriate for city-centered activities. And—no small thing—its clothes come in a range of sizes that accommodate the post-pubescent body we sport at our age.
Coolibar's proprietary fabrics are UV 50+, developed to block 98% of UVA/UVB rays. Coolibar was the first clothing company to receive The Skin Cancer Foundation's Seal of Recommendation.
We feel trés chic in these
We can imagine wearing any of the designs that follow while lingering over a café au lait in Paris or tossing a coin in the Trevi Fountain in Rome. All you need is a baguette, a bottle of wine, and good friends. All are available in sizes XS to 3X and a variety of colors and patterns.
Paris mon amour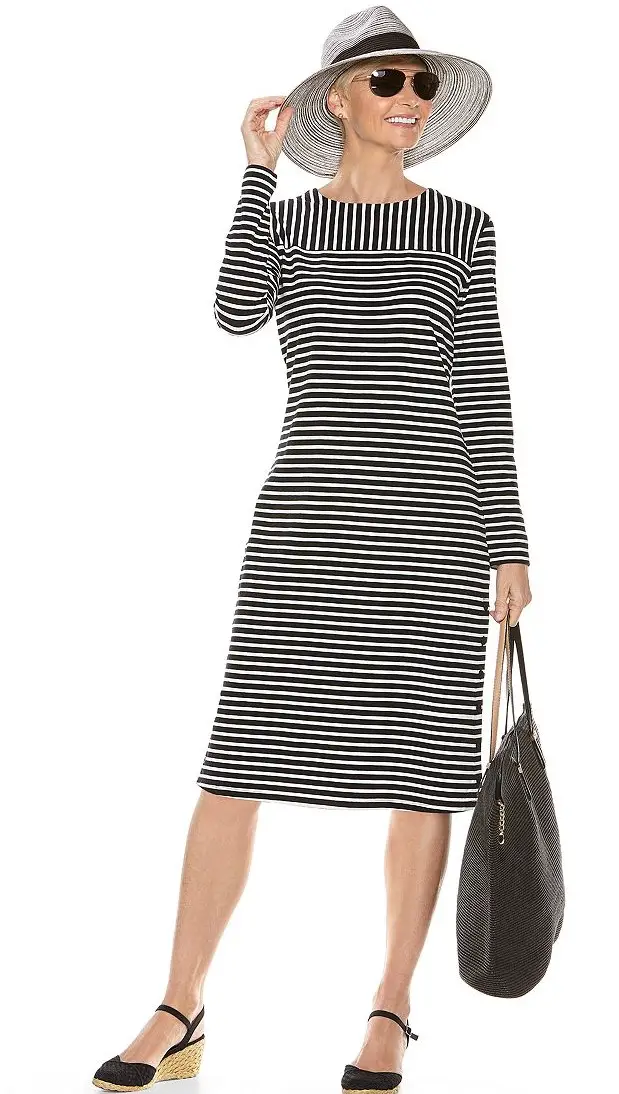 You won't get any withering glances from chic Parisians when you walk along Ave. Victor Hugo in this stylish outfit. From tea at Ladurée to an afternoon in the Bagatelle gardens you'll fit in like a local.
Women's Panorama Dress UPF 50+.  A classic look in black and white or navy and white stripe with rounded neckline, full length sleeves, and below-the-knee. Length.  Lightweight, cool and comfortable.
Women's Sophia Fedora UPF 50+/Brim is UPF 30+.  This hat sports a wide brim for extended face coverage. Approx. circumference 22 1/2″, brim: 4″. Spot clean.
Roman holiday
After a morning shopping along the Via Condotti, relax for a few minutes at the nearby Spanish Steps before meeting friends for lunch at the Piazza Navona.
Women's Heyday Side Split Shirt UPF 50+.  This relaxed fit sun-protective top comes in rich striped colors, perfect for wearing in a sunbaked city. Hits at the hip.
Women's Beach Pants UPF 50+.  Made for more than the beach, these pants offer full-length leg protection in ultra-light, breathable fabric. Wide-cut straight leg; fitted through hip and thigh, sits slightly below the waist.
You Me Barcelona
One can absorb only so many of Gaudi's creations, so take a break and ramble down Las Ramblas to the waterfront at the far end. Along the way spy the opera house and wander through La Boqueria, picking up a snack or two for later.
Women's Hepburn Shirt UPF 50+.  This classic button down shirt has a relaxed fit and curved hemline. It wicks away moisture and is lightweight and breathable.
Women's Navona City Pants UPF 50+.  These comfortable, ultra-lightweight, fitted, straight leg pants are made with a sun-smart woven fabric that has built in stretch so you can move easily.
Meet me at Café de Flore
We're feeling positively Bohemian walking down the Quai Voltaire on a sunny day in this tunic and leggings ensemble. Rifle through books at Shakespeare & Co., stop for dejeuner at one of the little bistros in the Latin Quarter, and enjoy views of the Seine before you leisurely walk to the Musée d'Orsay.
Women's Horizon Striped Tunic Top UPF 50+.  An elegant, soft tunic topic in a timeless design makes this a wardrobe staple. It's one of the most comfortable UPF 50+ summer tunic tops for relaxing under the sun.
Women's Summer Leggings UPF 50+.  Leggings are ideal for traveling. Under this tunic or a dress go straight from the plane to the Place Vendome. Zinc oxide embedded in the cotton blend fabric provides lasting sun protection.
Women's MacLaine Sun Hat UPF 50+, $69.50.  The hat makes this outfit. Coolibar's MacLaine Sun Hat has the look of a beautiful, classic hand-woven sun hat with a two-tone paper braid weave on the brim and a twisted crown band.
 *     *     *
You might also like
Go to the BLUE HARE home page for more articles for fabulous women