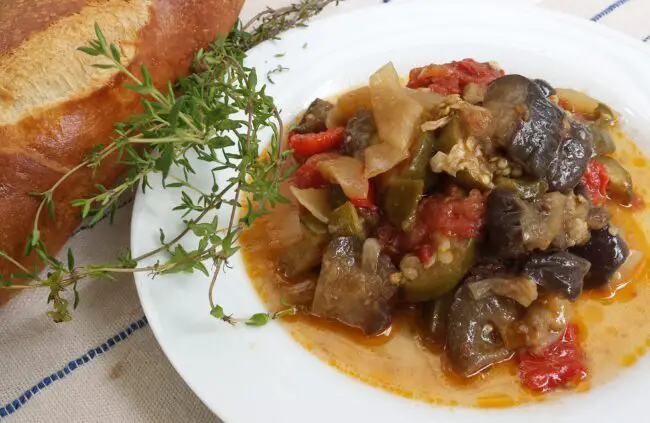 In August, when even the wind is warm, our thoughts drift to Provence and its tomato and garlic-happy Mediterranean cuisine. Ratatouille is undoubtedly the best known dish from the South of France, but it is enjoyed all over the country when eggplants and peppers and tomatoes fill the markets.
Mary Pochez, former model and Paris hostess, who loves to cook at the family's château in the Pays de la Loire, shared her ratatouille recipe with us. She, in turn, learned from her husband's Uncle Charlie (Le Comte Charles d'Alton). As she tells it:
"Xavier's uncle who used to live here with us (remember how I told you that these big châteaux are where everyone in the family comes to live when they don't have a better family situation?).  He was a brilliantly cultured man, extremely funny and opinionated.  I enjoyed cooking with him and arguing over the best way to do things. He definitely made the best ratatouille around!"
Instead of cooking each ingredient separately, as Julia Child instructs (see page 503 of Mastering the Art of French Cooking), Mary preps the ingredients (the very minimum of preparation needed to make a good ratatouille), then adds them layer by layer, which keeps the vegetables intact. They soften slowly, then are gently stirred to coat them with the garlic and herb-infused oil.  Cooking this way reminds us of confit—the process used to cook duck, goose, or vegetables in fat or oil until they are completely and deliciously transformed.
We agree with Mary: This is the best ratatouille around. Amounts of ingredients are very estimative (say it with a French accent and it makes sense).
Uncle Charlie's Ratatouille as told by Mary Pochez
Ingredients
10 garlic cloves
6 big onions
6 bell peppers
3-4 egg plants
4 zucchinis
6-8 tomatoes
1 bunch thyme branches, tied with kitchen string
1 bay leaf
Salt
Olive oil
Preparation
Slice eggplants lengthwise about 1/4″ thick. Place them layer by layer on a big plate or cutting board, covering each slice with A LOT of salt on both sides and let them sit while preparing the rest. The salt causes the eggplant to bleed out liquid that you rinse off afterwards. This makes them less bitter.
Add olive oil to a large heavy-bottomed Dutch oven and heat it over medium-low heat until the oil shimmers.
Peel and slice garlic and put in the pot with the oil. If garlic has a green stem in the centre, cut it out to make them less "indigeste". Reduce heat to low and let garlic cook for 1 to 2 minutes — don't let them turn brown.
Chop onions (or get your sous-chef to do it…)  in 6-8 parts and add them to pot.  Cook over low fire until onions are translucent but not brown.
Rinse and take out seeds of bell peppers, cut into about 1″ x 1″ pieces and add to pot.
Slice zucchini in 1/2 " pieces and add to pot.
Rinse, then thoroughly dry eggplants and cut into 1″ cubes and add to pot.
Add thyme bunch and bay leaf to pot.
Cut tomatoes into 6 parts, taking out seeds and add to pot.
Pour a tablespoon or two of extra virgin olive oil over the top. Salt to taste.
Let the vegetables cook, mixing only occasionally so that the vegetables keep their shape. You can turn the fire up a bit after you've added all of the vegetables. Do not add any liquid to this. The ingredients will make liquid as they cook. If it is too liquid, raise the heat for a few minutes at the end.
We made half of the recipe and it filled a #24 Le Creuset round Dutch oven, which is about 4.5 quarts, enough to serve 6 to 8 people. Ratatouille can be prepared up to a day in advance. The flavors mingle and become even more flavorful when they spend some time together. Mary would serve this with roast chicken or an omelet. A frittata and Spanish tortilla also make a nice, easy, minimal-cooking summer dinner. Leftovers are delicious mixed in blender, salted and served as a "puree" on toasted baguette slices or crackers.
Mary Pochez hosts culinary vacations at her home, the Château de La Barbée, in the heart of the Pays de la Loire. She offers French cooking courses in English, regional culinary tours, and the art of French living.  https://www.lavieduchateau.com
* * *
You may also like
Go to the BLUE HARE home page for more articles for fabulous women