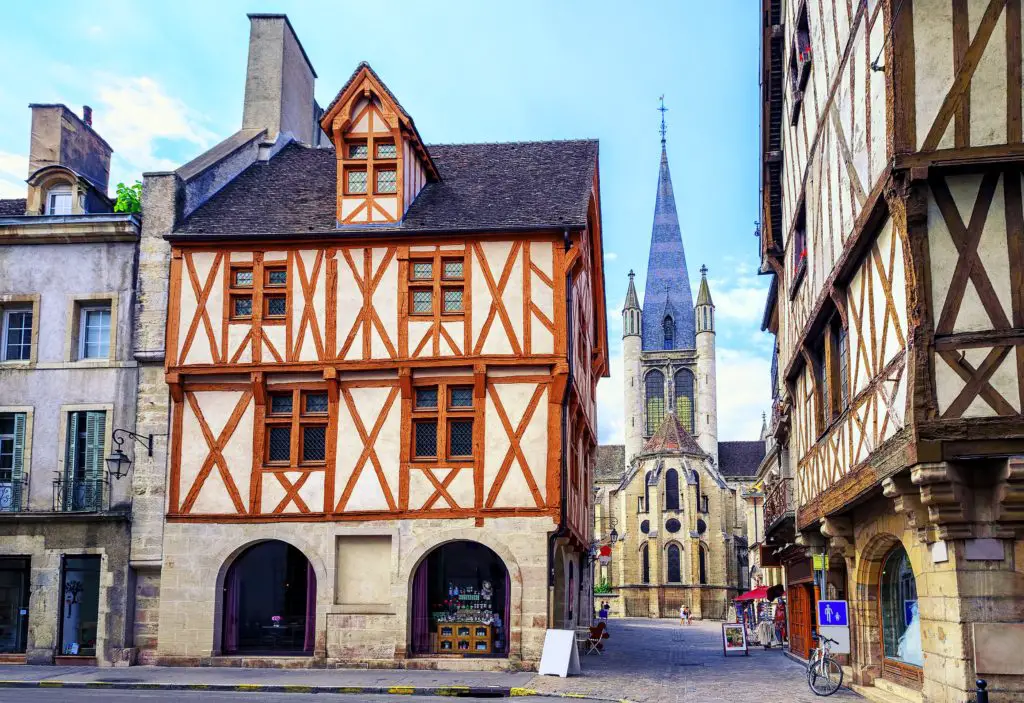 I had not planned on writing about Dijon — until I received a generous pot of seeded mustard from friends who had recently visited France. This triggered my curiosity to learn more about the town, as well as the mustard.
Rich in history and well-preserved architecture, Dijon is the perfect day trip from Paris, which is only 200 miles away, an hour and a half by TGV.  The city of Dijon, capital of the Côte-d'Or département, lies at the head of Burgundy wine country. Familiar to most Americans as a mustard—think of those Grey-Poupon commercials—Dijon once was home to the powerful Dukes of Burgundy and a center of learning and culture.
Today it is a charming town with plenty to do in a day.
Take a walk
Upon arrival, stretch your legs by walking around the charming old town. The Dijon Metropole Tourist Office offers several guided tours through the winding streets of the medieval town, with visits to cathedrals, abbeys, the palace of the Dukes of Burgundy—begun in the 14th century and continually updated through the 19th century—various burial monuments for the ruling Dukes, private mansions built by great parliamentary or bourgeois families between the 15th and the 18th centuries, or to the city's centers of gastronomy, like historic food market Les Halles.

The Owl's Trail (Le Parcours de la Chouette) is a one-hour, self-guided walking tour that takes in the top 22 attractions in the city's medieval center. Optional tours can take you to the Jean-Jacques Rousseau neighborhood, the Zola neighborhood, and to the Well of Moses and the Charterhouse of Champmol—intended to be a burial memorial for the dukes to rival that of the French kings at St. Denis.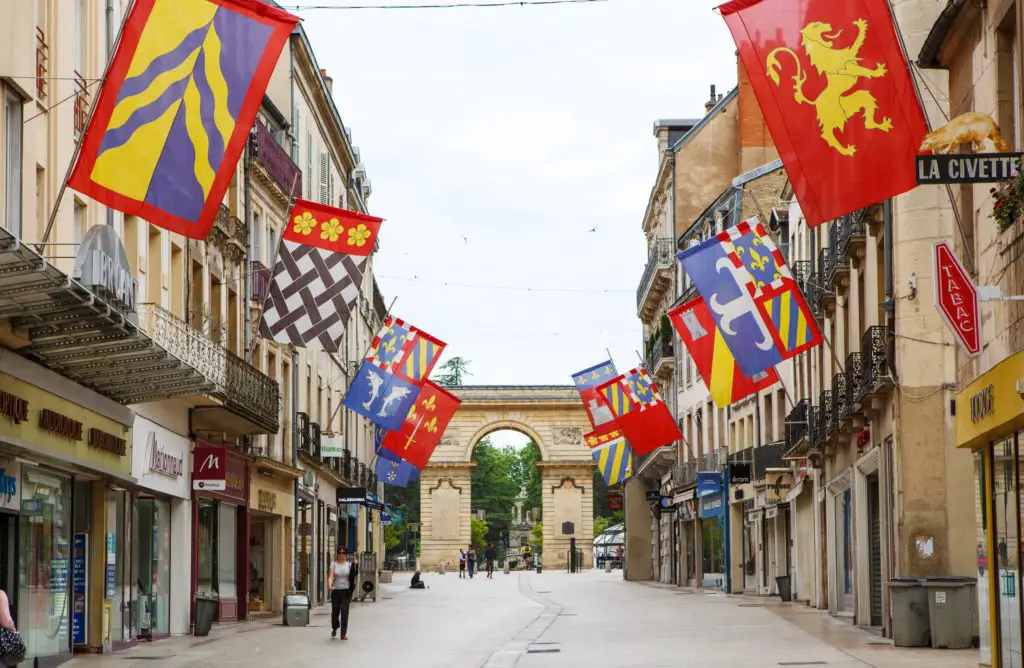 A guide can be purchased on the Dijon Office de Tourisme website for about $4.00. Or get the "Le Parcours de la Chouette" app, which will show you the closest start point and will notify you when approaching a point of interest. Available on iTunes and Google Play for about $3.00.
Wine tasting
As the capital of the Burgundy wine region, Dijon is the perfect place to explore its wines.
Burgundy wines are the most complicated to understand. There are village names and regional names and the names of the "clos"—little parcels that have distinct soil and climate combinations that yield a particular terroir—and the name of the estate. Both red and white wines are important—and expensive—in Burgundy. Only two grape varieties are used: pinot noir for red and chardonnay for white wines (although some white wine is made from Aligoté).
Burgundy wines can be designated as Cote de Nuits, Cote de Beaune, Cote Chalonnaise, and Maconnais. So if you find yourself in Dijon take advantage of the many wine-tasting opportunities to learn how to navigate this maze.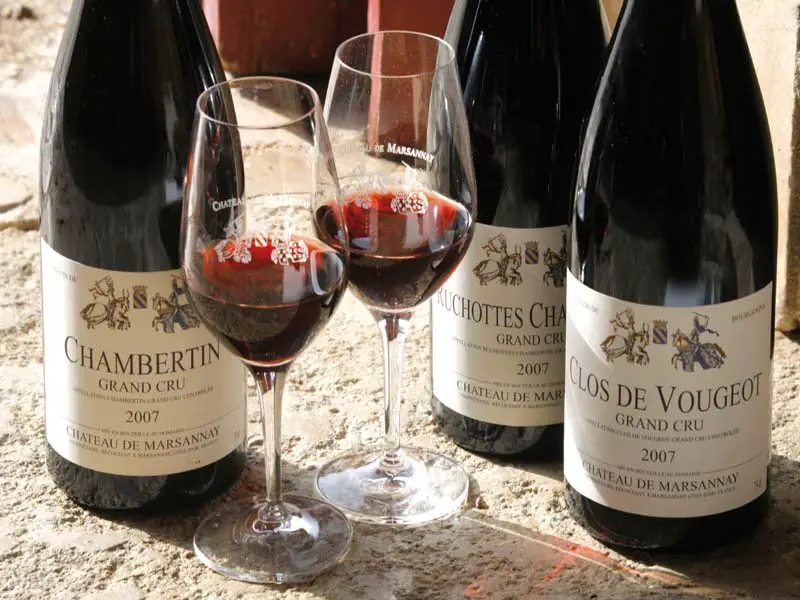 In A Wine Lover's Guide to Dijon on the website Culture Trip, journalist Sylvia Edwards Davis notes that "you can't walk far in Dijon without hitting a wine bar." She recommends the Duché de Bourgogne wine cellar, which offers tastings in its historic cellar. Or you can visit an estate and discover the whole wine making experience. Château de Marsannay is located just beyond the gates of Dijon city. The Château is open for tours and tastings every day from May to September from 10 am to 6:30 pm.
Back to Mustard
Dijon became recognized as a center of mustard production in the 13th century. In the mid-18th century Grey-Poupon was established with a unique recipe containing white wine. Maille Mustard, which originated in Marseilles, was established in 1747 in Paris, and opened its first shop in Dijon a century later.
In 1937, Dijon mustard was granted an AOC (Appellation d'origine controlee). In the 1960s there was a merger of major Dijon mustard brands and the Grey Poupon label was phased out in France soon after. (Grey Poupon sold in the U.S. is made in Michigan from Canadian mustard seeds; it is still produced in France for Canadian and other European markets.)
The highlight of my own day trip to Dijon more than a decade ago was a visit to the Maille mustard store on rue de la Liberté.
Hundreds of jars of enticing mustards with complex and inventive flavors—like blackcurrant and fig & coriander—line the walls. The Maille Mustard Sommelier will offer some to taste. Fresh mustard can also be drawn by hand from a pump and filled into earthenware pots, carefully sealed with cork stoppers.
Savor some fine

Burgundian

cuisine
This may sound like heresy but one of the problems with Paris is an overabundance of great restaurants. The menus offer an endless array of possibilities—some old standards, many amazing and innovative. What is not so easy to find is a restaurant dedicated to specific regional specialties. And that's reason enough to make the trip to Dijon—the center of Burgundian cuisine.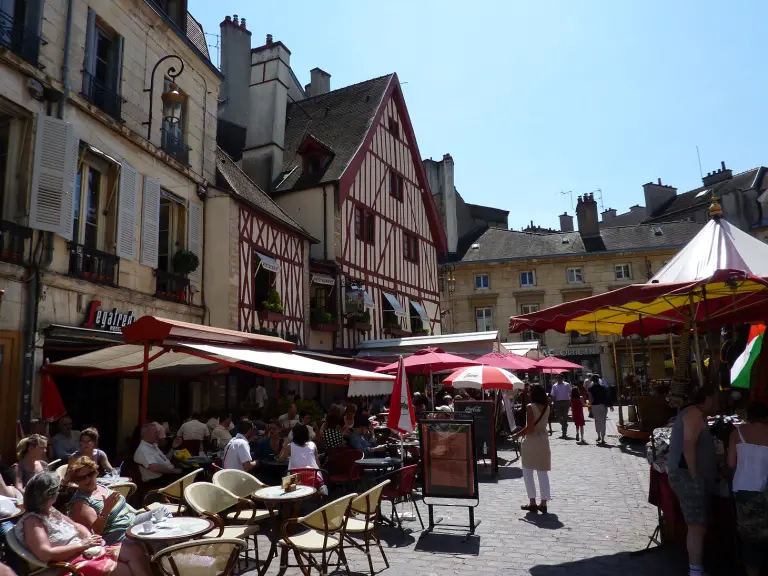 The plazas and streets of Dijon are lined with restaurants, ranging from inexpensive to Michelin-starred, where you can find the finest, most authentic Burgundian specialties—names you will be familiar with but may not have known where they originated: Coq au Vin, which is traditionally made with red burgundy; escargots de Bourgogne (so much better than you might think); jambon persillé, chunky cured ham and parsley in aspic; lapin à la moutarde (rabbit in mustard sauce); frog's legs; eggs in red wine; perfectly roasted Bresse chickens; Charolais beef or lamb, slow-stewed, grilled, or pan-fried with butter; wild mushrooms; and Boeuf Bourguinon, naturally.
Speaking of a local favorite, Chez Leon, a Trip Advisor reviewer gushed:
"Absolutely the best meal we had in France. We started with Escargots, then the Filet de Boeuf Francais and Boeuf Bourguignon. I wish I could eat food like this back home! At lunchtime they fill up fast, we luckily arrived just as they opened.
One can only hope that they will bring you a cheese platter with meltingly stinky Époisses to accompany that last glass of Gevrey-Chambertin."
The average travel time between Paris and Dijon is about two hours. The quickest route, by TGV, is 1 hour 31 minutes. The first train leaving Paris is at 06:23, the last at 20:53. The last train leaving Dijon for Paris is at 20:26 (8:26 pm). There is an average of 21 trains a day between Paris and Dijon, leaving approximately every 40 minutes. Complete information is on the Rail Europe site.
 *   *   *