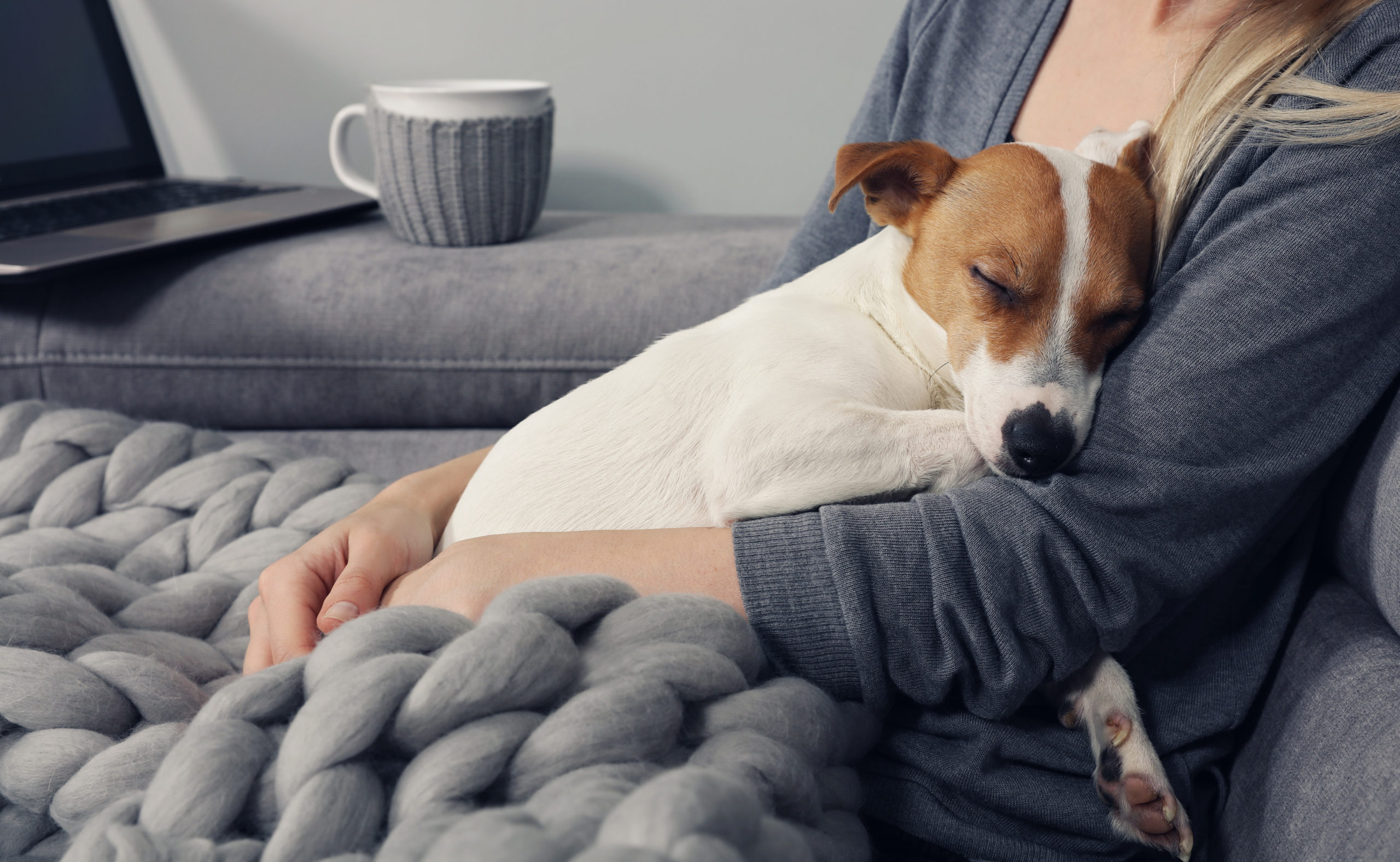 If there is one thing sheltering in place has taught us, it's that comfort is queen. Now that holiday parties are being replaced by more relaxed gatherings with people in our bubbles, holiday dressing is changing as well. These unusual times call for looks that are comfortable but also look as if we haven't given up.  Fortunately the fashion industry is meeting this challenge with a new take on loungewear.
The gorgeous pieces here make you look chic and sophisticated but keep you cozy and comfy, as well (think no more tight waistbands after you eat). They are perfect for entertaining your pod. The velour track suit (circa 2000s) is back, reinvented, and cashmere is being used for everything, including hoodies and pants. Your perfect entertaining-at-home outfit is here. Protective mask and all.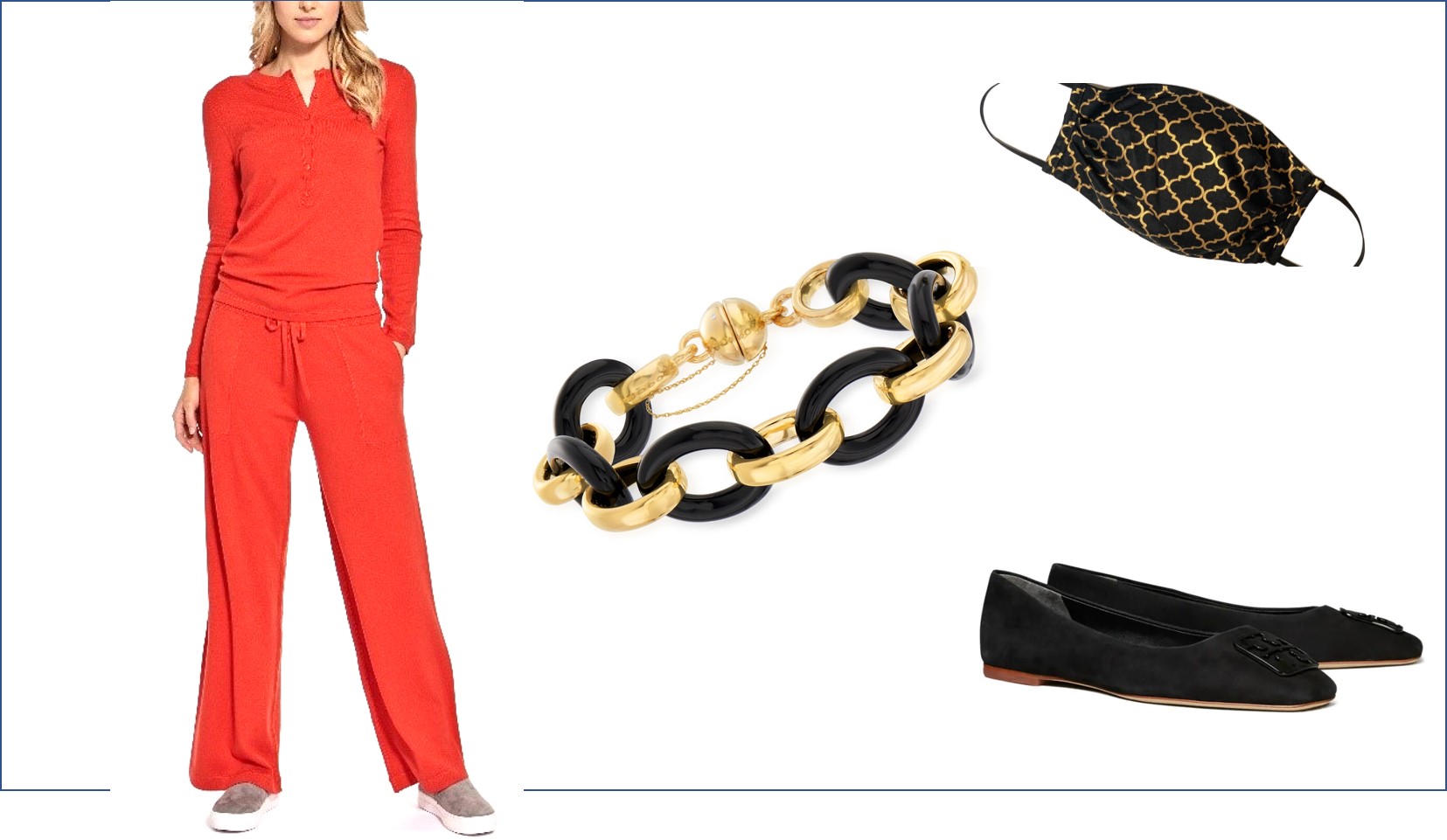 This loungewear set is the definition of cozy. The wide leg pants and relaxed button Henley top have the softness of cashmere but are actually a blend of modal, cotton, nylon and cashmere. Pair with black slip ons and black jewelry to dress it up for entertaining. Also comes in black heather and oatmeal. $156 at Leimere.com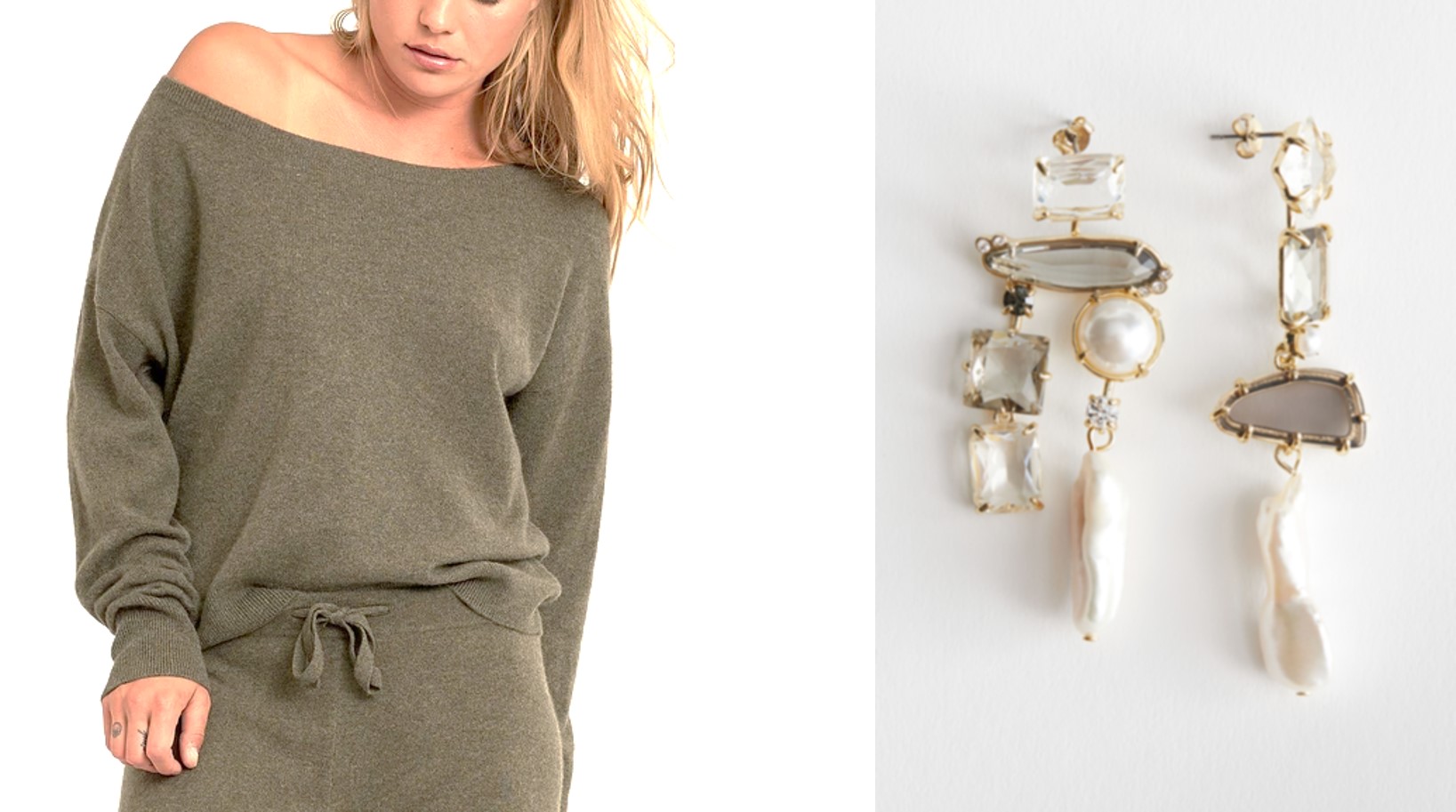 The boat neck sweater is dressy and sexy…and cozy as well.  The "joggers" have a drawstring waist. This is pure 12-gauge knit cashmere against the skin.  Pair this gorgeous olive color with chunky earrings to dress it up.  Also comes in black, midnight, sandy, and smoke.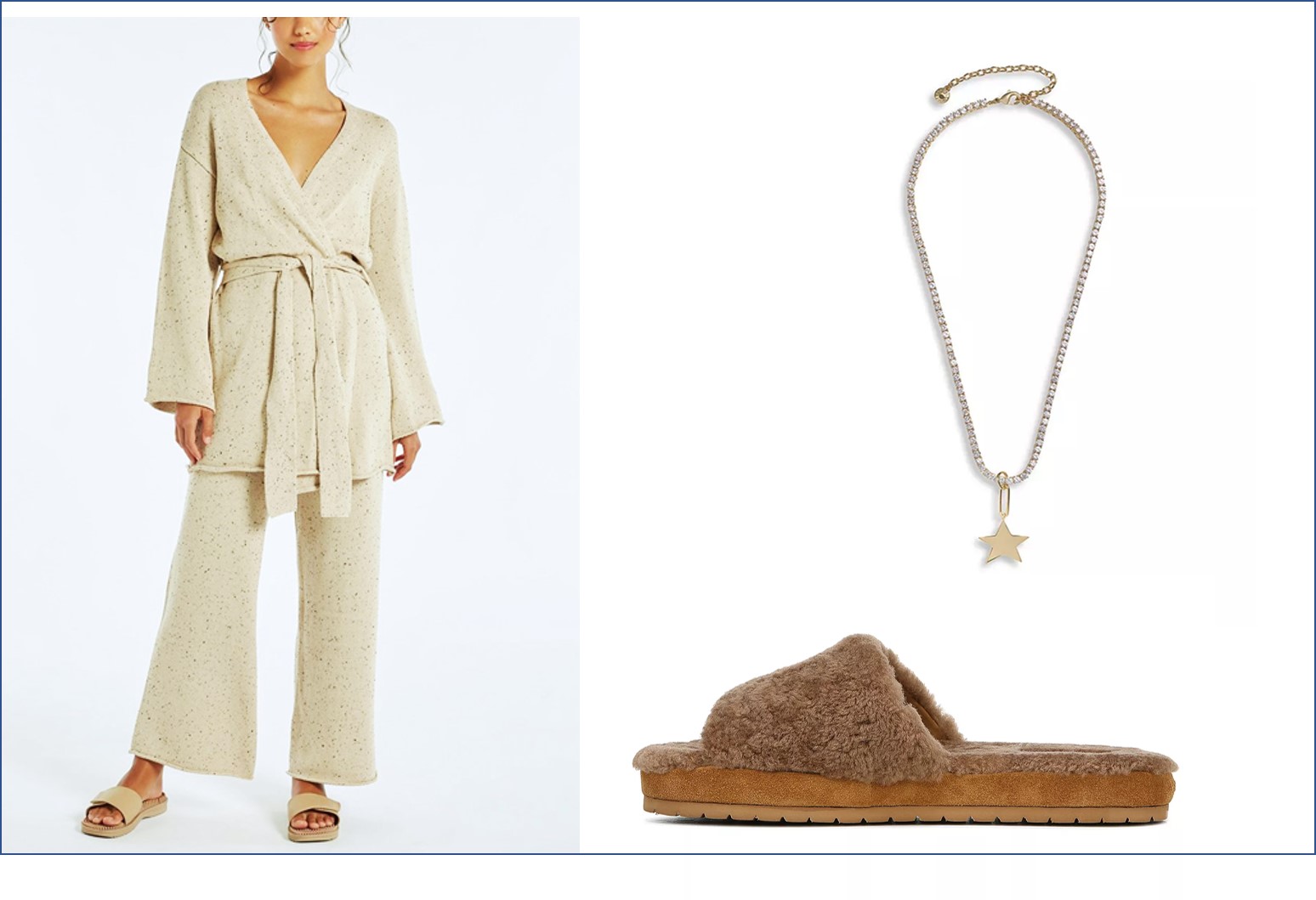 The bell sleeves and matching flared pants make this look stand out. A pretty sleeveless high neck top in a warm brown shade and shearling slippers are just what is needed to complete the look of this cotton speckle set.
We love the description that goes along with this outfit: "Lounge like you mean it.  Netflix isn't going to watch itself, you know."  But Netflix aside, this outfit, pared with a short boxy cardigan and flats, will lend itself perfectly to entertaining your bubble.  The pants feel and drape like silk even though they are tencel and spandex. And the matching top is light and cool, perfect for when kitchen heat overwhelms.  Both top and pants come in Hazelnut (the color shown) and forest and black. Top off the look with a flowing kimono and bold metallic statement earrings.
Since everyone is at home so much during Covid, the joke is that eight o'clock is when you change from your daytime pajamas to your nighttime pajamas.  But these soft, velvet (yes, velvet is back!) lounge pajamas are no joke and no one will be laughing (just admiring) when they see you wearing them. Pair these jewel colors with these stunning silver earrings and matching silk mask (notice the layers—that's what you need.)
N Natori Velour Long Sleeved Top and Pants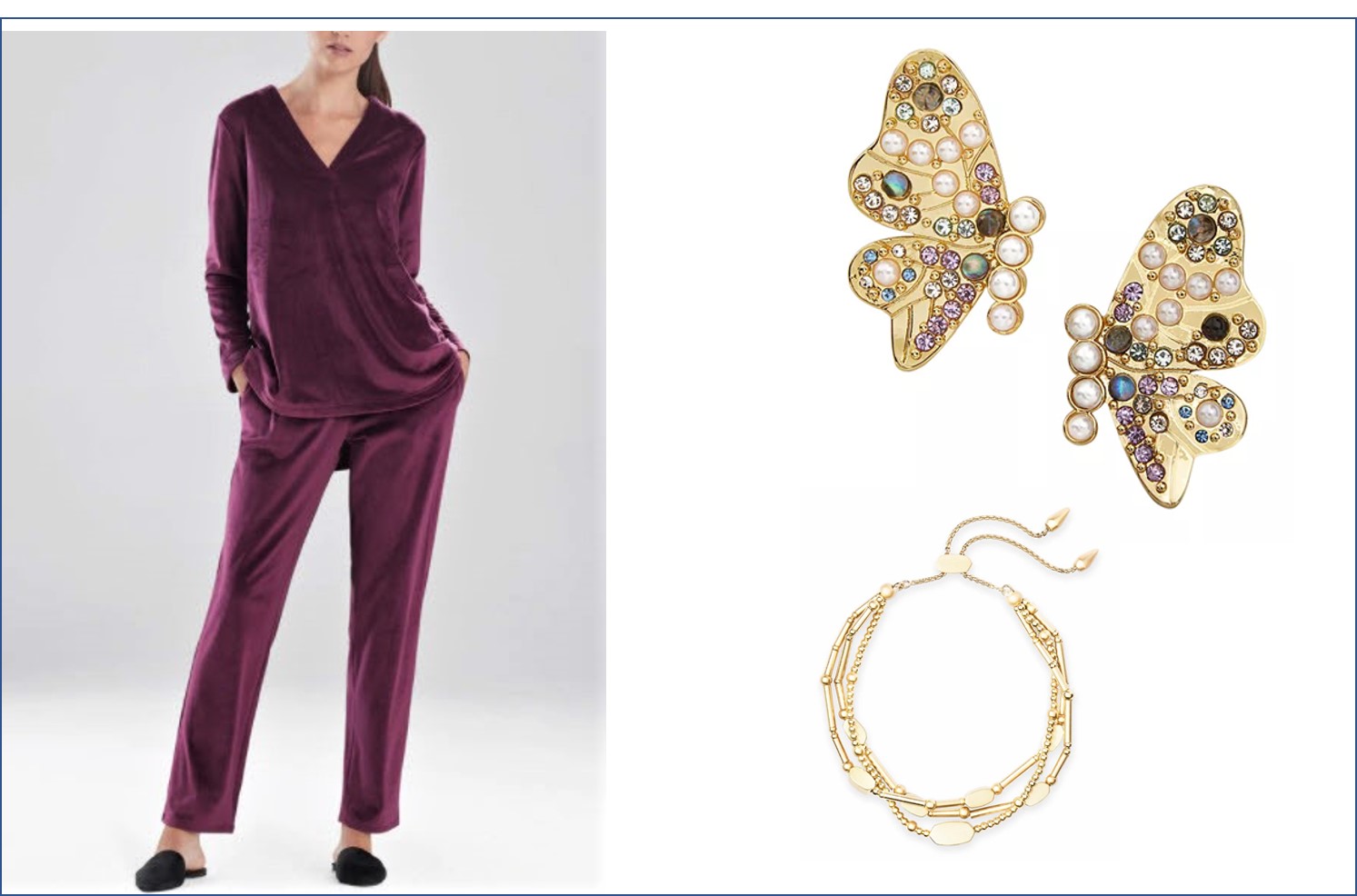 Remember how easy and effortless velour used to be?  And then for some reason, it went out of favor.  Well, the pandemic brought it back.  It's hard to imagine anything more cozy than velour.  And look at the gorgeous drape of this top with its uneven hemline.  One reviewer said this outfit was her "fancy sweats".  Choose jewel toned colors for the season and pair it with eye-catching jewelry.
Eileen Fisher Soft Wool Flannel Lantern Pant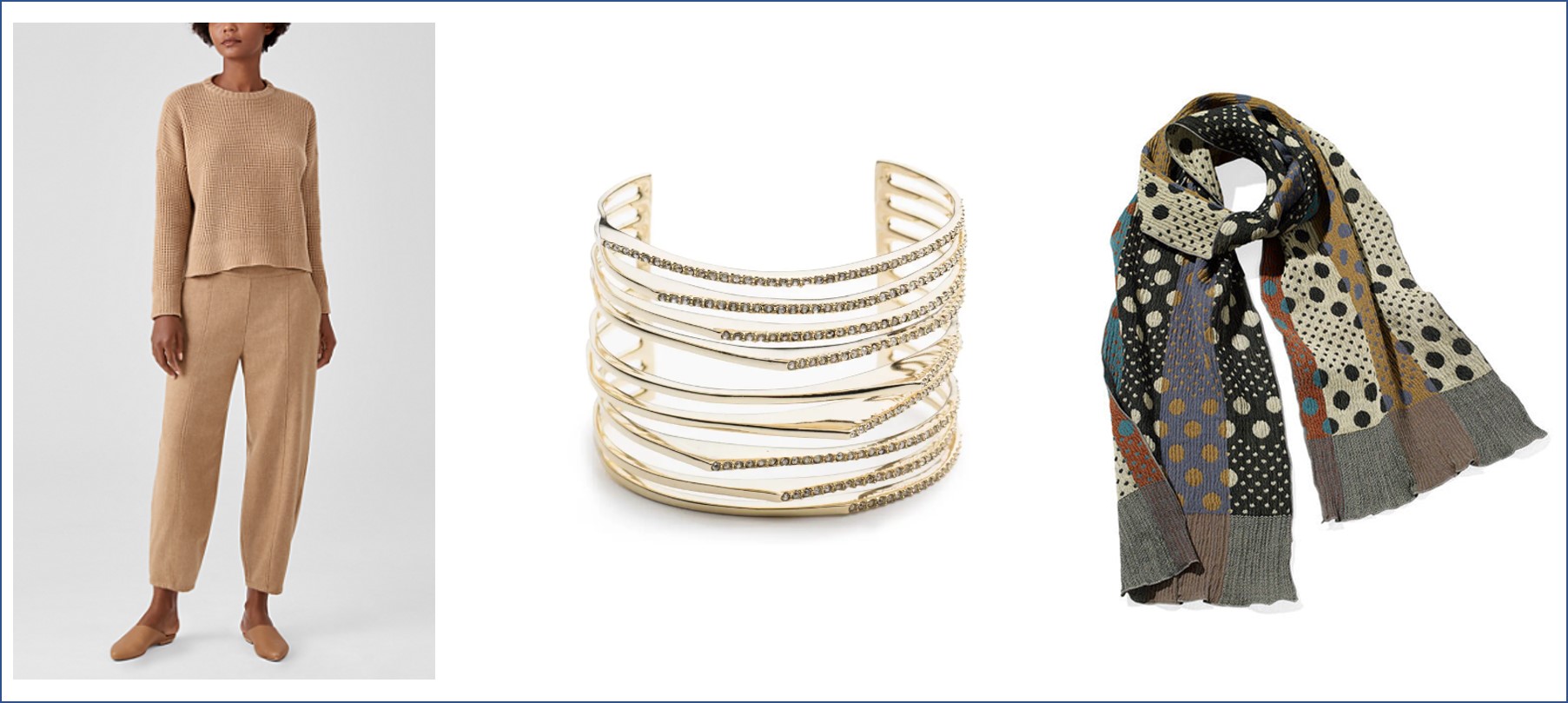 Even Eileen Fisher's casual wear manages to maintain that upscale, country house, classic vibe.  With her understated colors and refined natural fabrics, even a sweater top and loose pants look as if they could go anywhere and not be out of place. The lofty crew neck top is recycled cashmere (we'd expect nothing else from Eileen Fisher), the pants are a soft wool flannel. This classic, understated outfit is so Grace Kelly. Wow your Zoom audience or your holiday bubble and pretend you dress like this every day.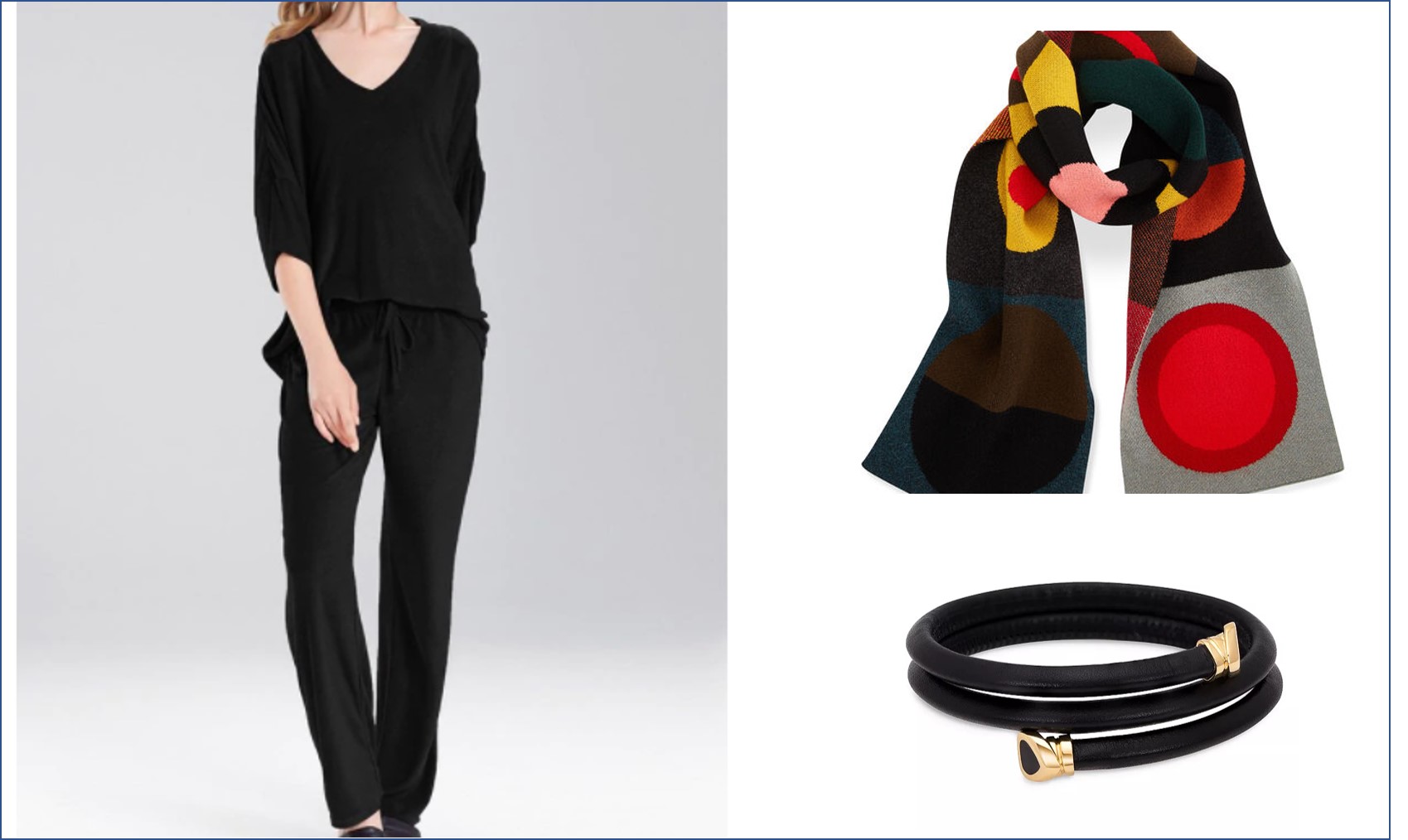 Remember when terry was for bathrobes only? And you wouldn't entertain in your bathrobe, would you? Well, forget everything you know about the old terry. The new terry is reimagined, reinvented, and all in on the pandemic at-home act. Brushed terry fabric make this lounge top and matching pants chic and comfortable at the same time. Pair it with the geometric scarf and a simple coil bracelet and your friends and family won't remember your outfit was terry—they'll just remember it was stunning.
We may receive a small commission from purchases made by clicking on the links in this article.
 *     *     *
You might also like
Go to the BLUE HARE home page for more articles for fabulous women