As the days shorten and temperatures fall, our thoughts naturally turn to the upcoming holidays. We ponder the gifts of edibles we'll share with our friends as well as the tasty dishes that will grace our table.  This year will be different, no doubt about that, so we are doubling down on our commitment to caring about the foods we eat and indulging in new or long relished flavors. Here is a list of foods we'll be giving to family and friends this holiday season.
A traditional New England breakfast is a delicious, hearty way to greet a wintry morning. Stonewall Kitchen's classic breakfast includes Farmhouse Blend Coffee, Farmhouse pancake & waffle mix, Maine maple syrup, Maine wild blueberry jam, strawberry jam and cinnamon bun mix—all packed in a beautiful Nantucket-style basket. From $74.95 on Amazon.com and Stonewallkitchen.com
Since we were young children, we knew that when mom hung up the Advent calendar, the countdown to Christmas had begun. This 24-day advent calendar from Le Palais des Thés in Paris is a welcome variation on the theme. Each day is marked by a specially chosen tea, ranging from Chinese black tea to Scandinavian tea with cranberry and elderflower. Tea lovers will appreciate this unique holiday calendar. Find at uncommongoods.com
Miami's Icebox Cafe specializes in healthy, delicious food and a unique, award-winning line of desserts, created by owner Robert Siegmann. All of its outstanding, hand-crafted desserts are made from scratch and use only the finest ingredients.
In 2006 Gayle King visited the restaurant for a cake tasting. A few months later the Oprah Winfrey Show designated Icebox Cafe's Chocolate Delight Cake as one of "the best cakes in America."  And why wouldn't she love it? Two layers of rich chocolate cake are filled with bittersweet chocolate mousse and a layer of cheesecake brownies, topped off with a bittersweet chocolate ganache. Ordering information at iceboxcafe.com
Everyone loves to receive a surprise gift package, especially when we're staying closer to home these days. Consider this gift basket stocked full of freshly baked pastries, moist cakes, and flavorful muffins. Dulcet's assorted 'delectables' include a chocolate cheese brownie, chocolate chip brownie, chocolate crumb cake, old fashioned crumb cake, raspberry crumb cake, assorted rugelach, pumpkin muffin, and a banana muffin. Find on Amazon.com.
Regular readers of Blue Hare know how much we love all things British. And this carefully curated basket of tasty savory and sweet British goods doesn't disappoint. It's a perfect and easy way to set out a proper English tea.  The tea's foundation starts with fine British cheeses such as Collier's Cheddar, Royal Blue Stilton, Cotswold, and Sage Derby. These are complemented by Duerr's famous British Preserves, delicious lemon curd, unique clotted cream fudge, fine English chutney and, lest we forget, clotted cream–all presented in an elegant gift basket crate. Find on Amazon.com.
What could be sweeter than an elegant chocolate treasure chest filled with delicious gourmet ganache truffles?  Li-Lac Chocolates is the oldest artisan chocolate house in Manhattan, specializing in small batch, hand-made chocolates, expertly crafted using the founder's original recipes, cooking techniques, and quality ingredients.  Find the Treasure Chest and other chocolate gifts at Li-LacChcolates.com.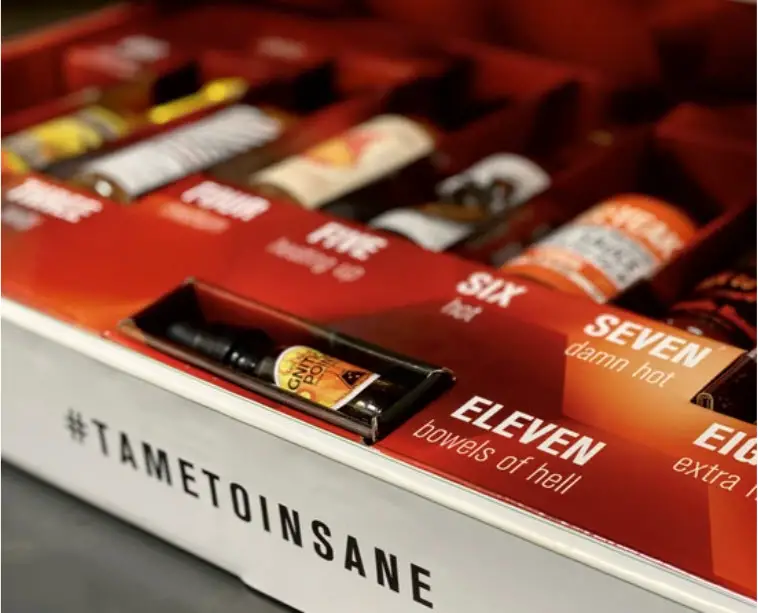 There are hot sauces that add a boost of flavor to foods. There are others that challenge even the heartiest among us. Here's an opportunity to understand the difference between the two—a lineup of 11 hot sauces ranging from mild to hotter-than-hot. Whatever your tolerance for heat, exploring these sauces is truly an adventure. Add a few drops to spice up a dish or—when the current restrictions on socializing have been lifted—invite friends over for a hot sauce challenge.
Each box comes with 10 full size spicy bottles and one mini (very hot) bottle, lined up in order of intensifying heat levels. Find at fuegobox.com
Founded in 2005 as a 200 square foot basement stall in Flushing, Queens, Xi'an Famous Foods has become the standard bearer for the little-known cuisine of the northwestern Chinese city of Xi'an. Xi'an cuisine is known for its unique combination of Chinese and Middle Eastern flavors–the city was the starting point of the famed Silk Road. Its best known dishes include spicy hand-pulled "biang-biang" noodles.
XFF founder Jason Wang brings his old family recipes, with signature hand-ripped noodles and secret spice mixes, to diners across New York City. With XFF meal kits, you can pull your own noodles at home.
Xi'an Famous Foods has been featured on Anthony Bourdain's No Reservations, Rachel Ray, The Cooking Channel, The Wall Street Journal, The New York Times, Bon Appetit, and more.  Hand-ripped noodle kits at Goldbelly.com.
The Ultimate Snacks box by Mouth was created for those of us who love to nibble. The tasters at Mouth pride themselves on knowing their snacks and they've set a high standard for this carefully curated box of treats. It has everything you'll ever want to indulge in the ultimate snack session, such as the best cookies to cross their tasting table, delicious dried fruit, artisanal hard and chewy candies, savory cheese crackers, popcorn, jerky, and more. Find at mouth.com.
Beans may seem like a strange gift but these heirloom beans from Rancho Gordo are a favorite of foodies we know. Rancho Gordo is a small California company dedicated to finding and sourcing the highest-quality beans from Mexico, Central California, Oregon, Washington, and New Mexico. Each gift box is overflowing with beans—five one-pound bags of assorted Rancho Gordo beans, freshly harvested and ready for cooking. Recent selections have included Cassoulet, Cranberry, Flageolet, Garbanzo, and Midnight Black. Also included is a postcard with cooking instructions, a sturdy canvas tote printed with the company's logo, and a cookbook. Find at ranchogordo.com.
We are always on the hunt for intriguing, gooey rich cheeses with nuanced flavors. And the cheeses from Jasper Hill Farm do not disappoint. The Full Spread basket will be a much-appreciated gift this year. Its seven cheeses represent a balanced blend of complex and down-to-earth flavors.
The raw-milk, alpine-style Alpha Tolman is nutty and briny like a great aged Gruyère. There's a spruce-wrapped creamy Harbison, a luscious bloomy rind cheese. The basket also features a new Cabot Clothbound Cheddar, described as "deeply savory and slightly tangy, with caramel sweetness to the finish."
Each cheese is tastefully wrapped in butcher paper, and all of the gift items arrive carefully tucked into a bed of wood shavings. Find at jasperhillfarm.com.
With the kibosh on travel to Europe this year, we are delighted to find foods that can  transport us to some of our favorite travel destinations. This deluxe box of Spanish foods from La Tienda is one such option.
It includes everything you need to prepare tapas at home: five classic sausages; extras like roasted peppers and 'Picos' breadsticks; ñorío de Vizcántar extra virgin olive oil, and four classic terra cotta cazuela serving dishes. All products are sourced from artisanal and small family producers in Spain. Find at tienda.com.
For anyone who misses New York nothing can compete with a virtual visit to the legendary Russ & Daughters on Manhattan's Lower East Side.  A gift of premium Scottish salmon, Scandinavian gravlox, pastrami cured salmon, all-natural cream cheese, and bagels will have them singing New Yawk New Yawk before you know it. Salmon platters from russanddaughters.goldbelly.com.
Another 'frustrated we can't travel this year' option is these selected Italian foods that literally take us on a culinary journey across Italy. This hand-packed gift basket from Sapori d'Italia features favorite cheeses from designated regions, Denominazione d' Origine Protetta or DOP, for short. They include Grana Padano, Montasio Stravecchio, Piave Vecchio, Caciotta Cacioradicchio, and Tuscan Pecorino. The cheeses are complemented by an apricot brandy jam, pickled olives, and balsamic vinegar from Modena.  Find at dolceterra.com.
Serve up some holiday cheer with these bite-sized cupcakes. They're imaginative, rich, and delicious–and allow us to enjoy a little dessert without feeling too guilty. It's obvious that the people at Baked by Melissa are passionate about their cupcakes.
Consider the Snowball, a wintry white confection.  Start with a white vanilla cake, stuff it with fudge, enrobe it in vanilla icing, and garnish it with white sprinkles, pearl sugar and coconut topping. Or the Caramel Hot Cocoa–chocolate cake is stuffed with dulce de leche, iced in hot cocoa topping, and crowned with a mini marshmallow. The final touch? A generous drizzle of dark chocolate and caramel. The Holiday Cheer collection also includes Candy Cane and Snowcap. Find at bakedbymelissa.com.
In our worldview, there is no wrong time to indulge in ice cream. Especially the smooth texture and buttercream body, the bright flavor and clean finish of Jeni's Splendid Ice Creams. Everything tastes so fresh. And just the thought of their many tasty flavors is enough to make our mouths water.
The Glittering Holiday Collection includes pints of Brandied Banana Brûlée, Cookies in Cream, Gooey Butter Cake, Salted Peanut Butter with Chocolate Flecks,  Sweet Cream Biscuits & Peach Jam, and White Chocolate Peppermint.
Dip your spoon into the Gooey Butter Cake, cream cheese ice cream layered with crumbles of homemade vanilla cake and swirls of caramel-butterscotch sauce. Or consider the Brandied Banana Brûlée, banana custard with small-batch brandy, caramel sauce, and burnt sugar candies. It's tough to decide where to start.
All flavors taste great straight from the pint—when no one's looking—or on a slice of warm fruit pie or cake. Find Jeni's holiday collections at jenis.com
As an Amazon affiliate Blue Hare makes a small commission on purchases made through the links on this page. Thank you for supporting Blue Hare.
* * *
You may also like
Go to the Blue Hare home page for more articles for fabulous women.