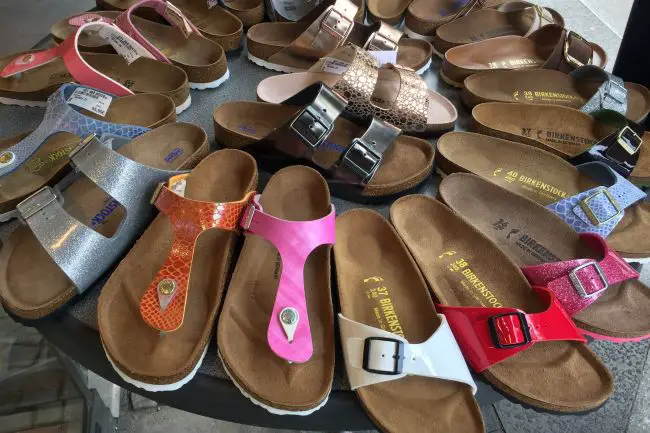 Can you, a woman over 60, join the Birkenstock craze wirhout looking frumpy? Yes, and we show you how.
You undoubtedly recall Birkenstocks as chunky, brown, comfortable–but ugly–sandals from the 1970s. Well, they are back–and in style now—so much so that the 250-year-old company recently sold a majority stake to LVMH.
Birkenstocks began their comeback a few years ago and now are ubiquitous among the It crowd. They have been seen on the runways at designer fashion shows and on Hollywood celebrities. So yes, you can look stylish, even chic, and contemporary in Birkenstocks. All it takes is the right outfit.
Birkenstocks today are perfect for stylish women in their 60s and 70s
Fortunately, today Birkenstocks come in bright colors, patterns, metallic, suede, some with toe posts like flip flops, some with ankle straps and even some with wedge heels.
You will not recognize these new Birki sandals. And best of all?  They still have the same supportive, flexible footbed. Now we can be comfortable and in vogue. The perfect accessory? A refreshing glass of Moët Ice Impérial, Champagne specially developed to be enjoyed over ice.
For the frump-averse among you we put together some styling ideas specifically for the woman over 60 who is reluctant to take the Birkenstock plunge. There is something for everyone—from soft feminine dresses to jeans to urban chic.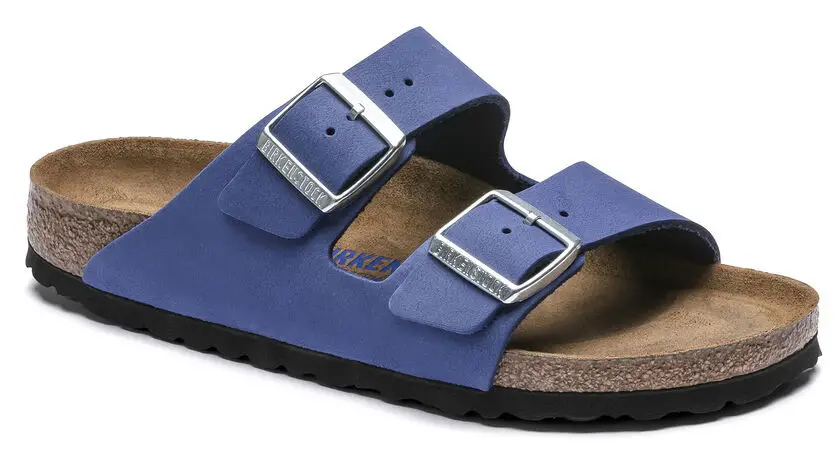 We are saying goodbye to the plain browns and blacks of the Birkis of "back in the day".  Wear this striking color with a fresh white summer midi dress, so popular in 2021. Available at Birkenstock and Amazon.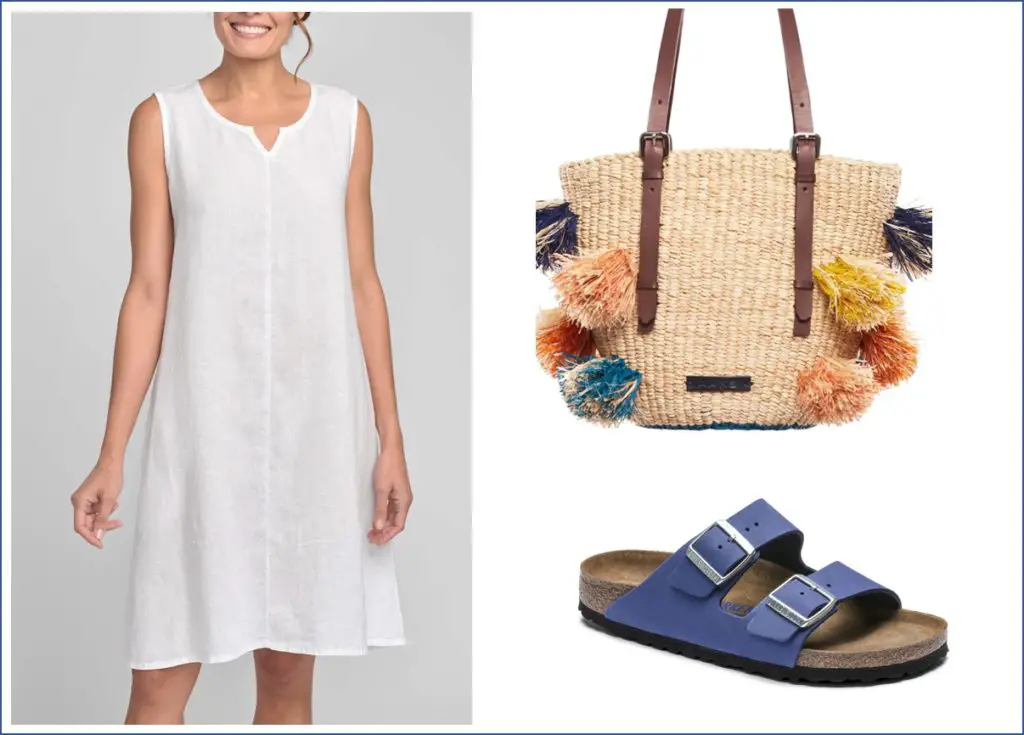 Above: Linen Shift Dress: FLAX; AAKS Hawa Rainbow Raffia Tote: Nordstrom; Birkenstock Arizona Sandal in Azure Blue: Amazon, Birkenstock.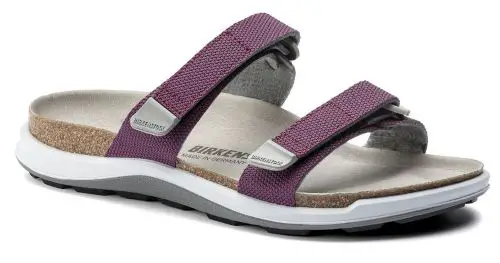 Birkenstock's two-strap designed sandal for those days that have a little bit of everything—a walk in the park, grocery shopping, lunch at a little café. The hook and loop closure makes it super easy to adjust as the day—and your feet—wear on. Wear with linen shorts or crops or a breezy dress. The Sahara Birko-Flor design comes in Purple Pepper (below) and Futura Active Aqua. Available at Birkenstock, and in Black and Melon on Amazon.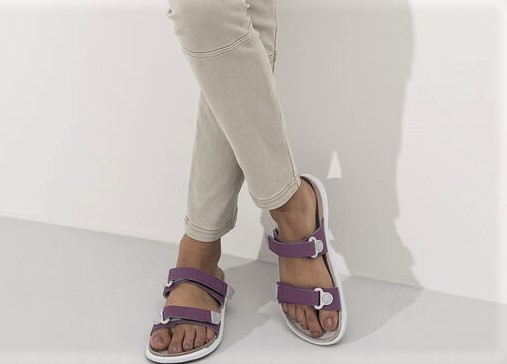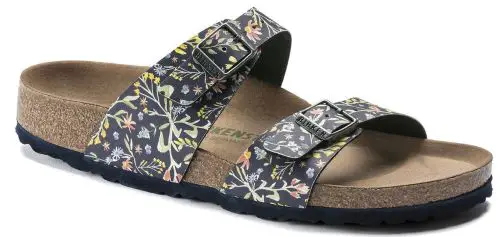 Wear this floral patterned Birki with a pair of cropped jeans or linen flood pants and you are all set for shopping and errands—without your feet killing you at the end of the day. Available at Amazon and Birkenstock.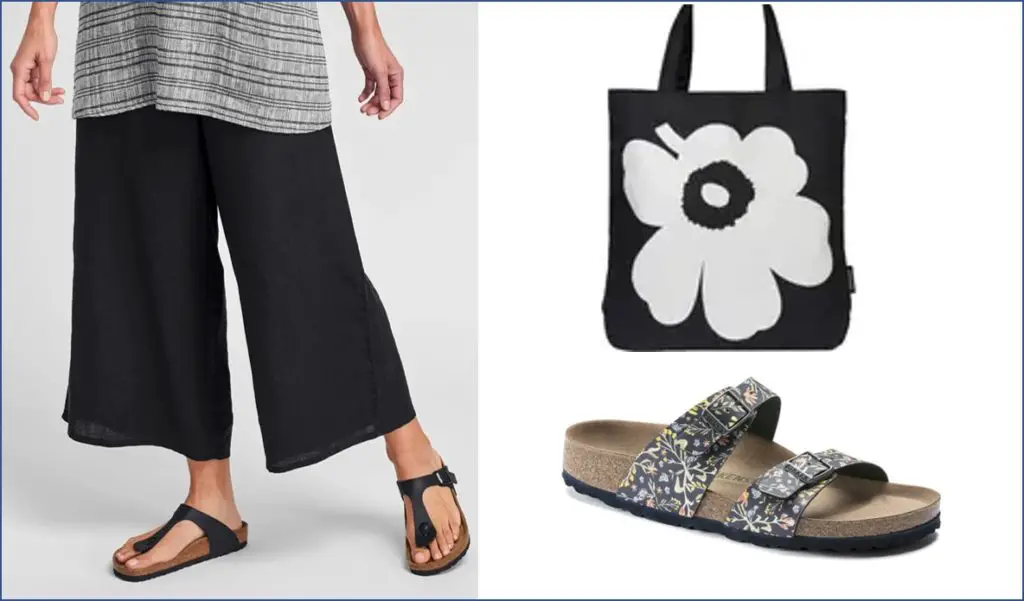 Wide Leg linen Flood Pants: FLAX; Marimekko Canvas Tote Bag: Nordstrom; Sydney Vegan Sandal in Watercolor Flower Navy: Birkenstock and Amazon.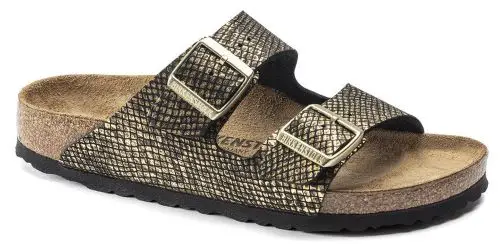 Birkenstocks for evening? Not possible, you say. Pair these black "python" microfiber sandals with a simple black dress or a linen suit and you will be impeccably dressed for a night out. Buy at Birkenstock or on Amazon.  here.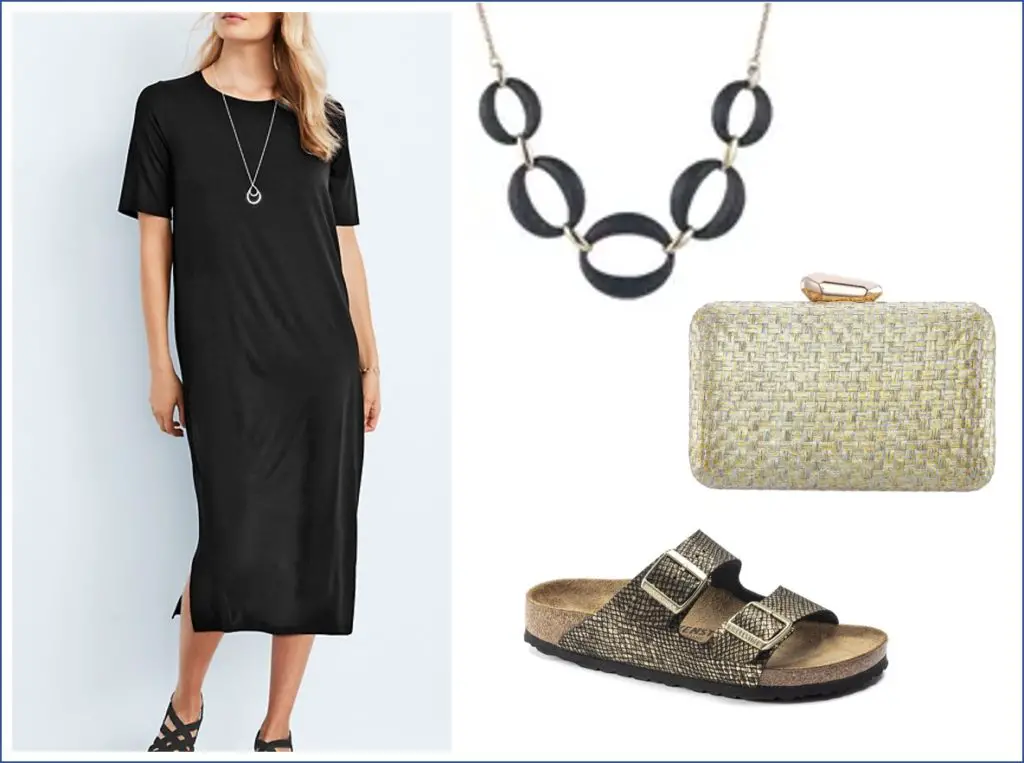 EILEEN FISHER Short-Sleeve Midi T-Shirt Dress: Garnet Hill; Alexis Bittar Large Lucite® Link Necklace: Nordstrom; Nina Metallic Woven Minaudière: Nordstrom; Arizona Micro Fibre in Shiny Python Black: Birkenstock and Amazon.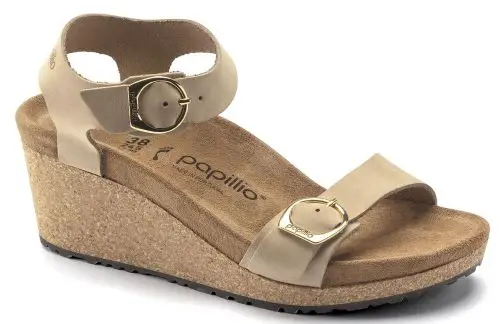 We will be entertaining—and entertained—on lawns this summer.  You cannot wear heels on grass, but you can wear these super comfortable wedges. Women over 60 can pair them beautifully with a flowing floral dress and colorful straw bag. The versatile color, Sandcastle, goes with everything.  Available at Birkenstock.
Dress: Amazon.com; Woven Tote: Nordstrom; Birkenstock Soley Sandal in Sandcastle: Birkenstock.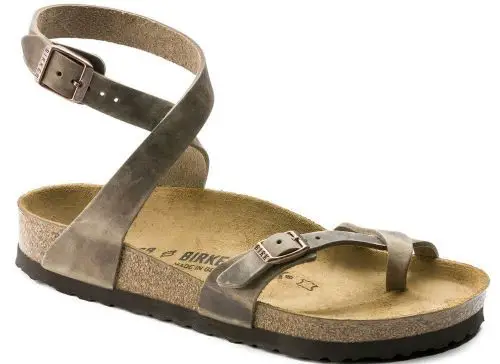 If you have slim ankles, show them off with this strappy Birkenstock sandal, so perfect with boyfriend jeans and a crisp white shirt.  Who thought that a Birki could manage a touch of chic, but these tobacco-colored sandals do just that.  Perfect for the over 60 woman who is young at heart. Available on Birkenstock and Amazon.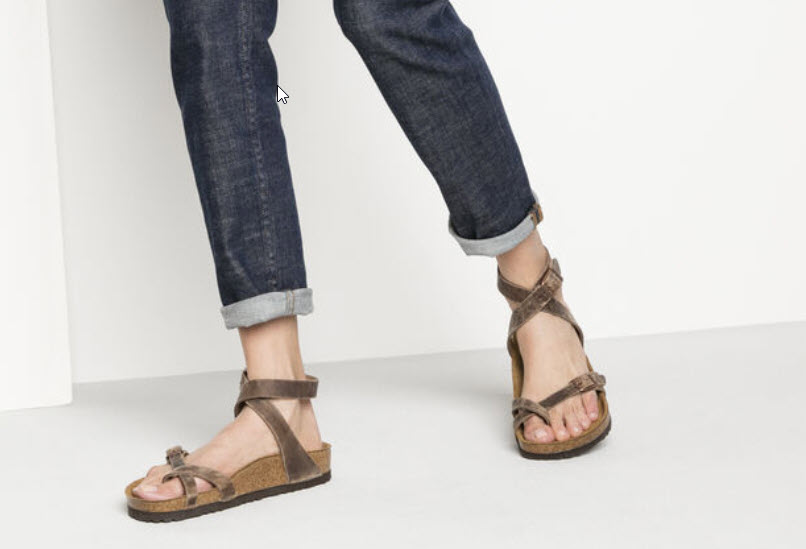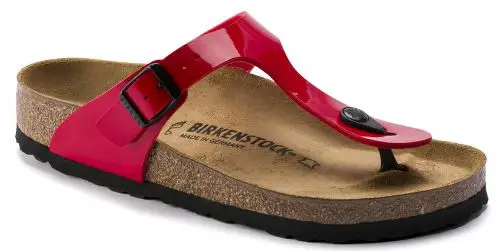 Love red with everything?  And the casual feel of a toe post?  These are your Birkis.  And they are patent leather as well. Comes in Cherry Red and Dove Blue. Available on Amazon and Birkenstock.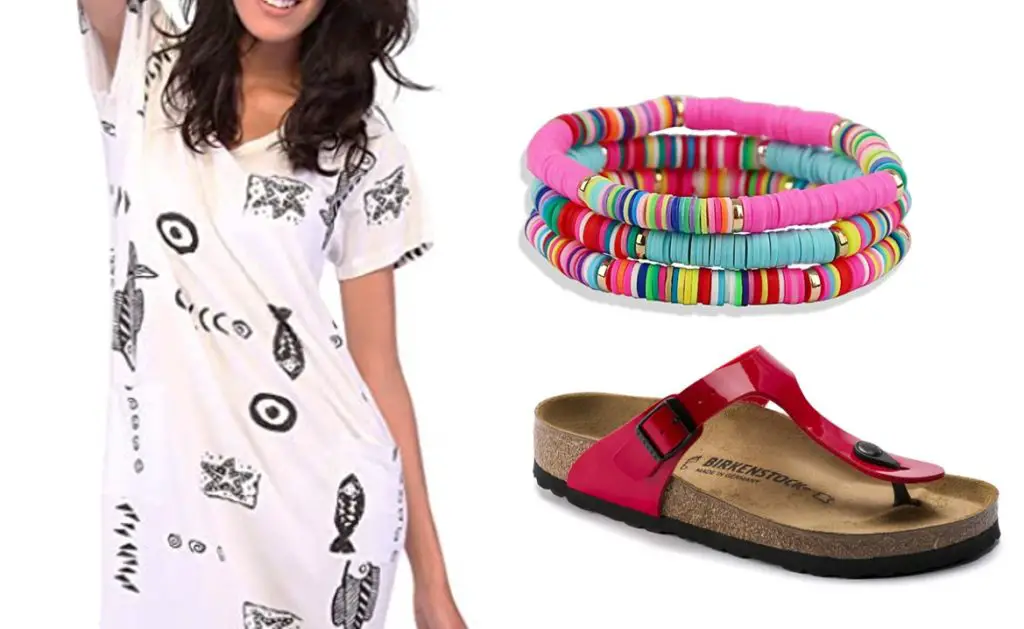 Long Cotton Tee Dress: Amazon; Heishi Surfer Bracelets: Amazon; Birkenstock Gizeh Birko-Flor Patent Sandals: Birkenstock, Amazon
Is it actually possible for a Birkenstock to be dressy?  With a fresh pedicure and a white linen dress or casual summer pants, this is your shoe.  Buy here.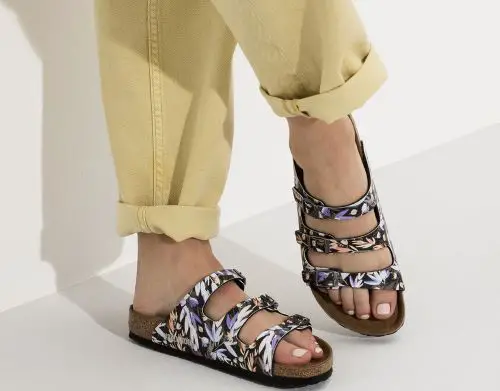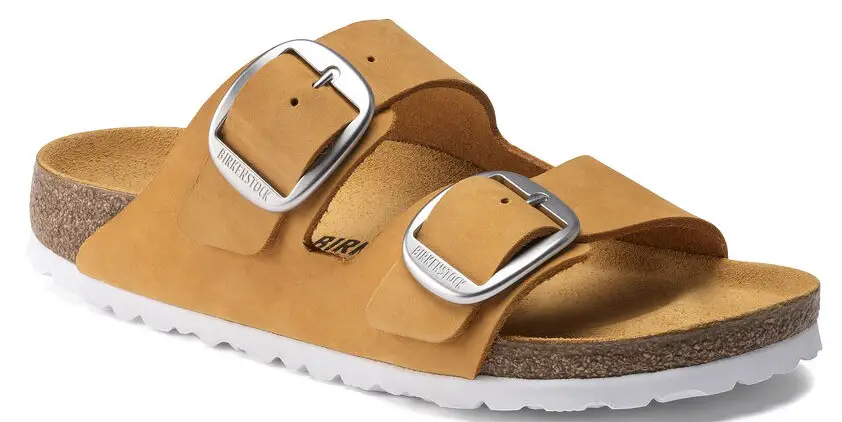 Don't like dark soles or predictable colors?  How about this Birki in Apricot, with the white sole and the "mellow summer" color?  Women over 60 can style it with a comfortable navy t-shirt dress and elegant straw hat. Shoe also comes in Fuchsia Tulip.  Buy  at Birkenstock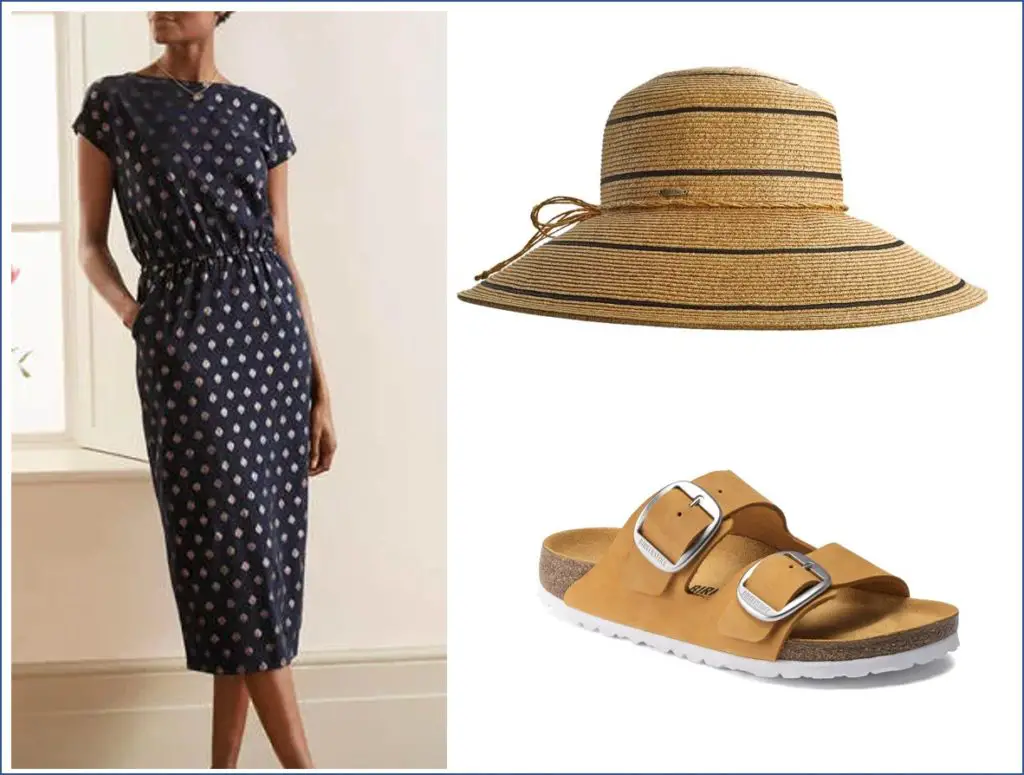 Odile Jersey T-Shirt Dress: Boden; Aubrey Wide Brim Beach Hat UPF 50+: Coolibar; Arizona Big Buckle Birkenstock in Apricot.
 *     *     *