---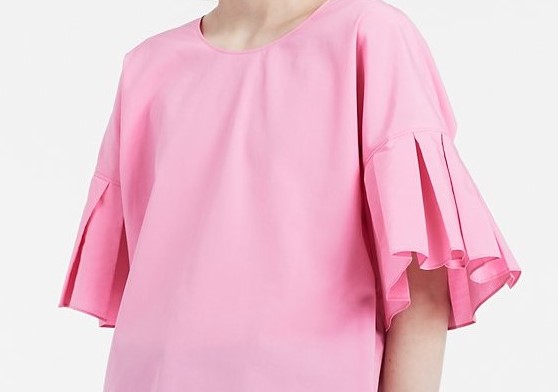 Sleeves are back!  And we're excited for a couple of reasons. First, because the upper arms tend to be a problem area for many women, particularly in our age group.  Second, because summer is here and we need something to wear that will make us look good while helping us stay cool.
The sleeveless look has been around for awhile—even in winter.  Watch the news or morning talk shows and you won't find anyone wearing sleeves (except the male reporters, of course.).  Even Andrea Mitchell (who is 70!) wears sleeveless (and wears it well!).  But now sleeves are back and they are everywhere.  Not just any old sleeve will do, though. Fortunately, there are rules. There are all kinds of sleeves, many of which can help cover up a multitude of bat wing and cellulite ills.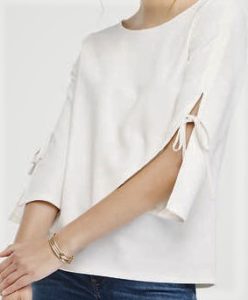 For some years now it has been almost impossible to find anything but cap sleeves on summer tops, and they do nothing for flabby arms. Fortunately, this year the fashion industry has produced many sleeves that are stylish and—may we say—flattering. There are short sleeves that reach the elbow, that flutter, that are pleated; three-quarter length sleeves that roll up, are sheer, are made of lace; bracelet length sleeves with sexy slits, or demure flares at the end.  And there are the classic simple tee-shirts with short, not cap, sleeves. We also found a few examples of this summer's big style trend—the "cold shoulder"—that work for Blue Hares.
How do you decide which of these many sleeves are right for you?
First consider your body type.
Chart and tips from Joy of Clothes
Then consider the sleeves that will look best on you, and which to avoid.
The Inverted Triangle (wide shoulders)
Cap sleeves are not your friend. They will make your upper body look wider; the same is true of puff sleeves (should you be tempted). Look for clean lines that create a natural extension of your body line.
The Lean Column
Sleeves can help create the illusion of shape. Look for loose short sleeves, ¾ length, and cuffed sleeves. You can have fun with the shapes.
The Rectangle
You may have been a lean column, or an inverted triangle, or pear-shaped, but with age your body has lost its definition. Sleeves can help create a waistline. Best sleeves for you are loose fitting. short, ¾ length, rolled up, and cuffed.
The Apple
You carry most of your weight in your torso, so don't let your sleeves add any width to your middle. If your shoulders are not wide and you are not too busty, a short sleeve will draw the eye up to your shoulders and away from your midsection. Your best sleeves are 3/4 length, above the wrist, wrist length, flared or draped.
The Pear
If your hips or thighs are wider than your shoulders, the best sleeves for you are ones that create balance by drawing the eye upwards; avoid anything that adds the appearance of width at hip length, like ruffled cuffs on a long sleeve. Best sleeve types for a pear are short draped, elbow length, 3/4 length, dropped, raglan, and above wrist lengths. A slight shoulder pad can also help to add balance to your figure.
The Neat Hourglass
The classic feminine shape, you have the greatest choice of what to wear—but follow your body line. All sleeve shapes will work for you.
Full Hourglass
You have a full bust and hips with a smaller waist so wear sleeves that bring attention to your center. If you also have full arms select tops with a set sleeve to define your shoulder—no raglans or batwings for you—and avoid sleeves that end at the bust line. Try short shaped, ¾ length, bracelet length, and wrist length.
Now find the sleeves that are best for your body type.
As our fingers walked tirelessly across the internet we found many beautiful sleeves this year—too many to include here. So, we selected a few that illustrate the guidelines above and show the imagination designers brought to sleeves for summer.
Calvin Klein poplin side-tie tee shirt
NYDJ lace flutter sleeve top (Nordstrom)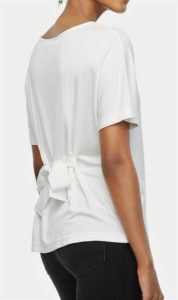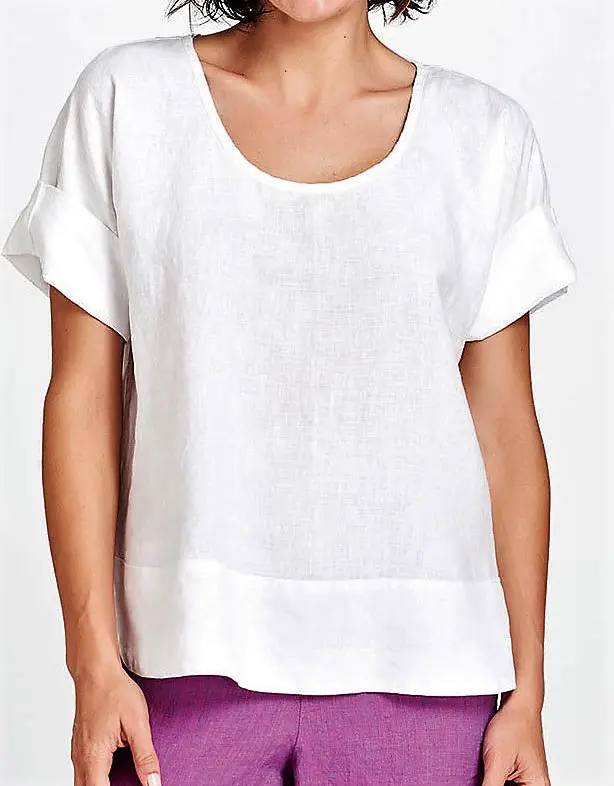 City Chic pin-tuck lace layer top (Nordstrom)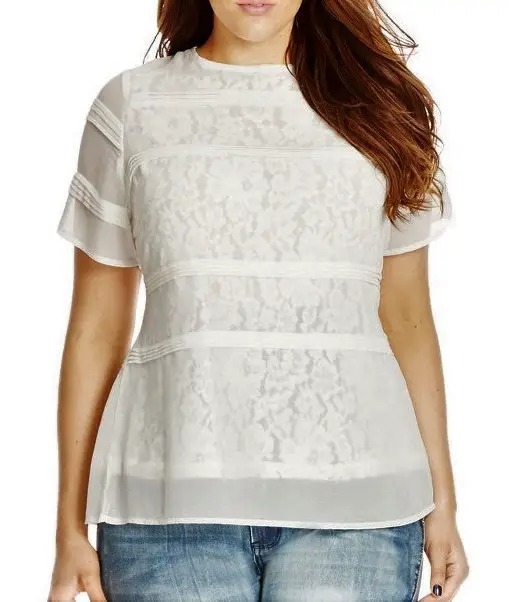 Ann Taylor petal stitched cotton linen top
JM Collection lace keyhole poncho (Macy's)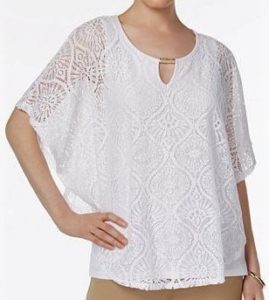 Calvin Klein asymmetrical roll-sleeve blouse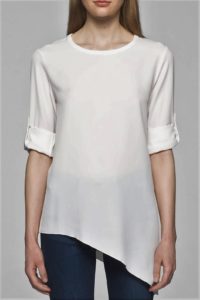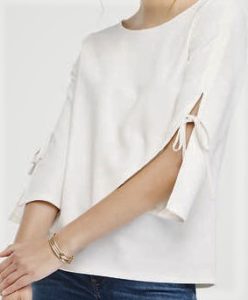 Ann Taylor scalloped eyelet top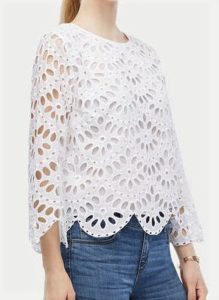 Ann Taylor cut out 3/4 sleeve sweater
Eileen Fisher bracelet-sleeve knit mesh top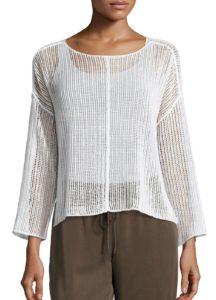 JM Collection bell-sleeve keyhole tunic (Macy's)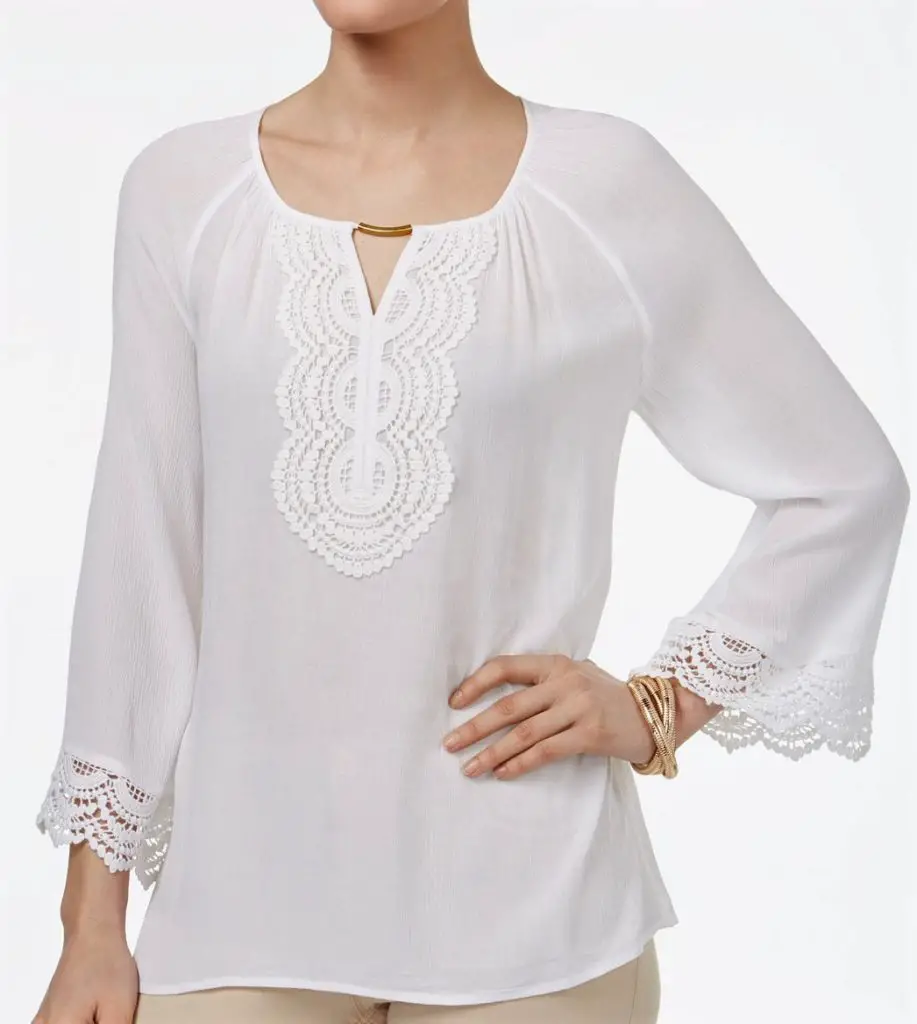 Calvin Klein split bell sleeve top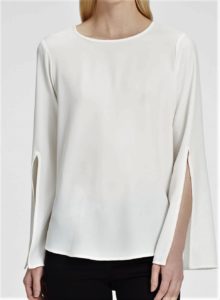 Cold shoulder looks for Blue Hares
The bare shoulder look is a huge trend in 2017, and who knows whether it will be a momentary fad or stick around for a few years. For Blue Hares there are several styles that show a bit of shoulder without baring too much skin. They are fun and a little sexy and great for special summer events.
Calvin Klein V-neck cold shoulder flutter top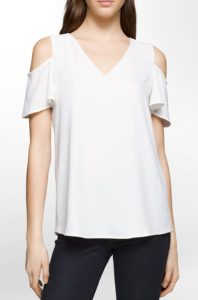 NY Collection cold-shoulder pleated blouse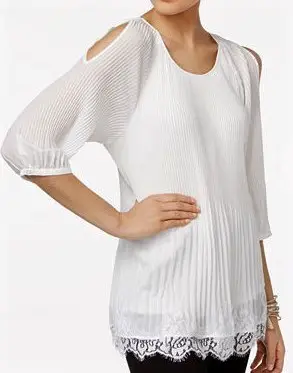 JM Collection cold-shoulder crochet top (Macy's)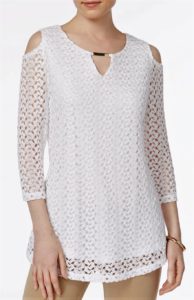 There are some additional considerations to help guide you in choosing the right sleeves:
Sleeve length and shape are only part of the equation in selecting the right top. Some women have a feminine flare, while others are more urban chic, so find a look that suits your personal style.
If you are tall or petite you will want to choose a sleeve that adds balance to your look. Tall women should avoid cap sleeves. Petite women would avoid big puffy or ruffled sleeves that will bury them.
Avoid sleeves in fabrics that emphasize the upper arm like stiff linens, cottons or denim that "stand" on their own. They will only make your arms look larger. The same goes for tight sleeves, which will make you miserable and not look your best.
Choose soft fabrics (not tight or clingy!) that gently skim the skin and flow.
Wear bracelets, watches, rings and have a good manicure to draw the eye downward to the slimmest part of your arm: the wrist.
A tailor may be able to customize clothing that you love but have the wrong sleeve for your body type. For example, you may look boxy in a short sleeve that falls to the elbow but hemming it just a few inches can add shape to your look.
Remember that ¾ sleeves are universally flattering.
If you are drawn to those puffed or full sleeves, ask a friend for a second opinion before you buy.  Make sure that you feel comfortable wearing them and that they are not wearing you—sometimes ornate sleeves can make you look like you stepped out of the Elizabethan-era.
Header photo: Calvin Klein Platinum Matte Cotton Pleated Sleeve Top
Insert photo:  Ann Taylor Slit Sleeve Top
*    *    *    *