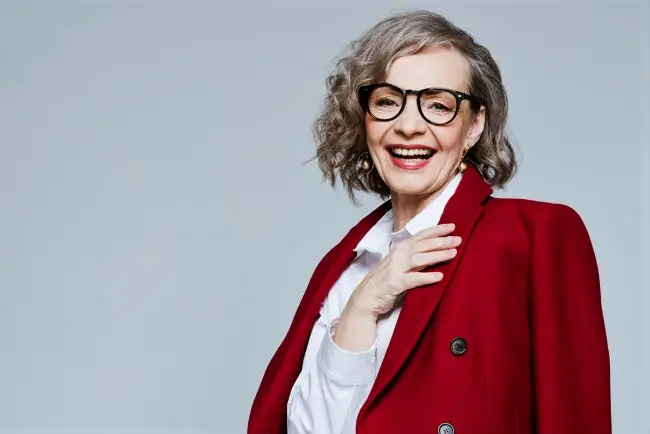 If you've never tried a red coat, now is your time. Why? Because now you're over sixty and you've already done understated—probably for years (remember, black, black and more black because it "went with everything"?).  It's time to embrace color. We've been eyeing these red coats for weeks. They'll make any 60-something woman look cheerful, whether it's the city, the country, date night, or just running errands.
When you wear red, you make a definitive statement. Red is passionate, vibrant, positive, energetic, and strong. Red can make you look fabulous.
If you are one of those women who have embraced your gray hair, red can be especially flattering.  Neutrals or less dramatic colors run the danger of making us looked washed out. Even if you never thought you could wear red, there is a red for everyone—even redheads.
There's a red for every woman: finding your red
The key to wearing red is finding the right shade of red. Reds can be cool, with undertones of blue, or warm, with undertones of yellow.  Just as with makeup, understanding your skin tone is key to finding the right color.
If you've gone gray, look for clear reds or ones with a blue base. Warm yellow undertones can look aging.
And yes, redheads can wear red. The right red can create a very dramatic, vibrant look. If you are a redhead with paler, porcelain skin, try a red with a blue undertone. Blue under-toned reds try a deep true red.
If your skin tone is warm, choose warm reds with yellow undertones, such as brick reds and orangey reds.
If your skin tone is cool, look for reds with a blue undertone. Look for scarlets, maroons, and raspberry.
Red coats are stylish and elegant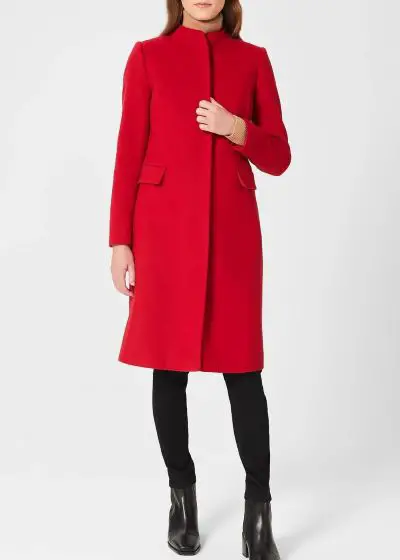 This is a simple, elegant red coat with a slightly raised collar.  The only embellishment are two packet flaps.  If you are small and your look is tailored, this is the ideal coat for you. Pair with a great pair of black boots and a structured bag. 72% wool, 22% nylon/polyamide, 6% cashmere; $560 at Hobbs London
________________________________________________________
________________________________________________________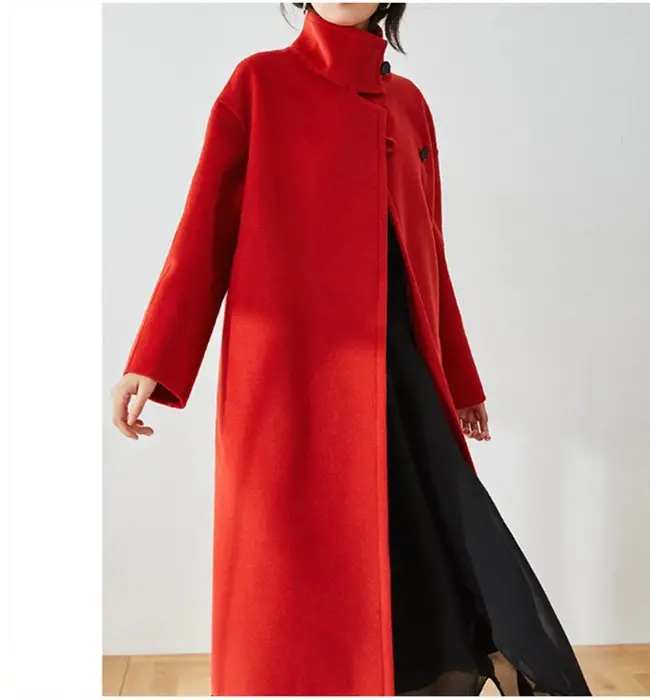 This is an oversized, stunning, slouchy coat that looks as good with trousers as it does with boots and dresses.  It has an asymmetrical closing and a high collar to keep you snug against the elements.  And then there is the pure luxury of cashmere—red, no less!  SimpleLinenLife is a family-run business with designers in China, Japan, France, Italy and India.  The company will custom make wool coats to your size and color.  100% cashmere; $389 at SimpleLinenLife.com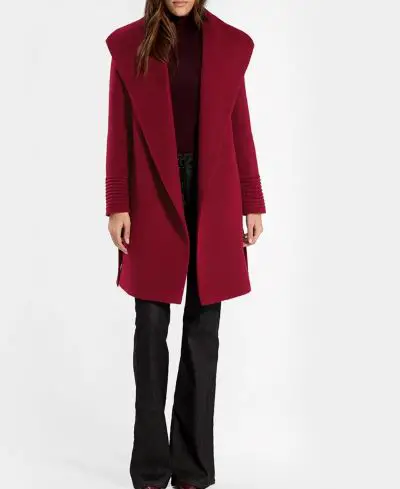 This coat may cost a bundle but that's how you'll feel—beautifully bundled up.  You will own it for years and years and it will be your favorite coat.  It's designed by Bojana Sentaler, the Canadian fashion designer, Founder, President and Creative Director of Sentaler, a company known for its luxury alpaca outerwear and accessories.
Made in Peru, this 3/4 length wrap coat is designed with the coveted SENTALER signature ribbed cuffs and a classic shawl collar. Why so expensive?  It's crafted from baby alpaca wool.  With its huge shawl collar, this highly flattering and feminine coat will be the piece you reach for time and again.  70% baby alpaca wool; 30% wool; $1,595 at  holtrenfrew.com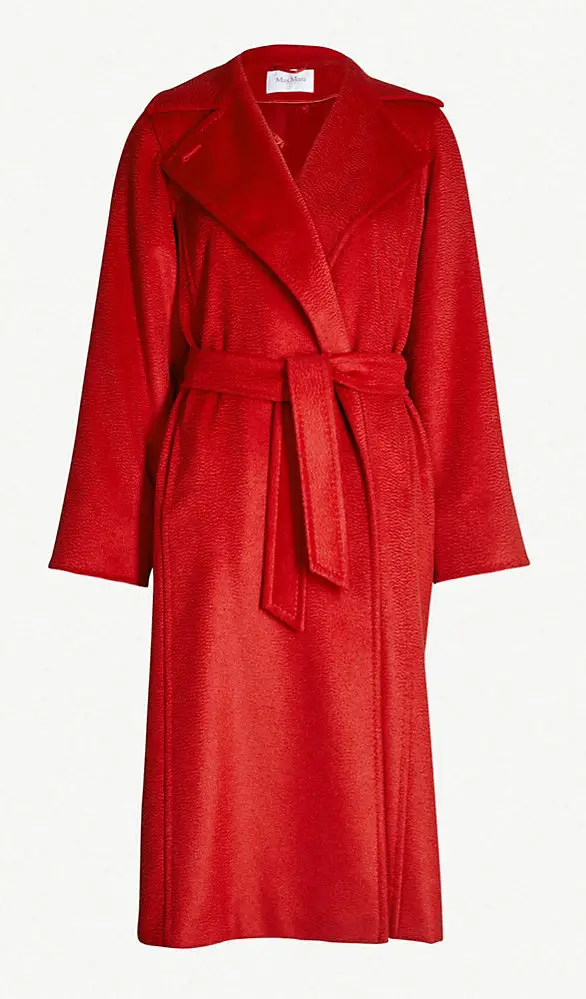 Don't you sometimes wish you could go out in your robe—it's that comfortable.  Well, now you can have that comfort without looking like a slouch.  In fact, you'll look incredibly smart and put together in this cozy, wrap, belted coat crafted from soft camel hair.  100% camel hair; lining 100% viscose;  $2,545 at Selfridges & Co.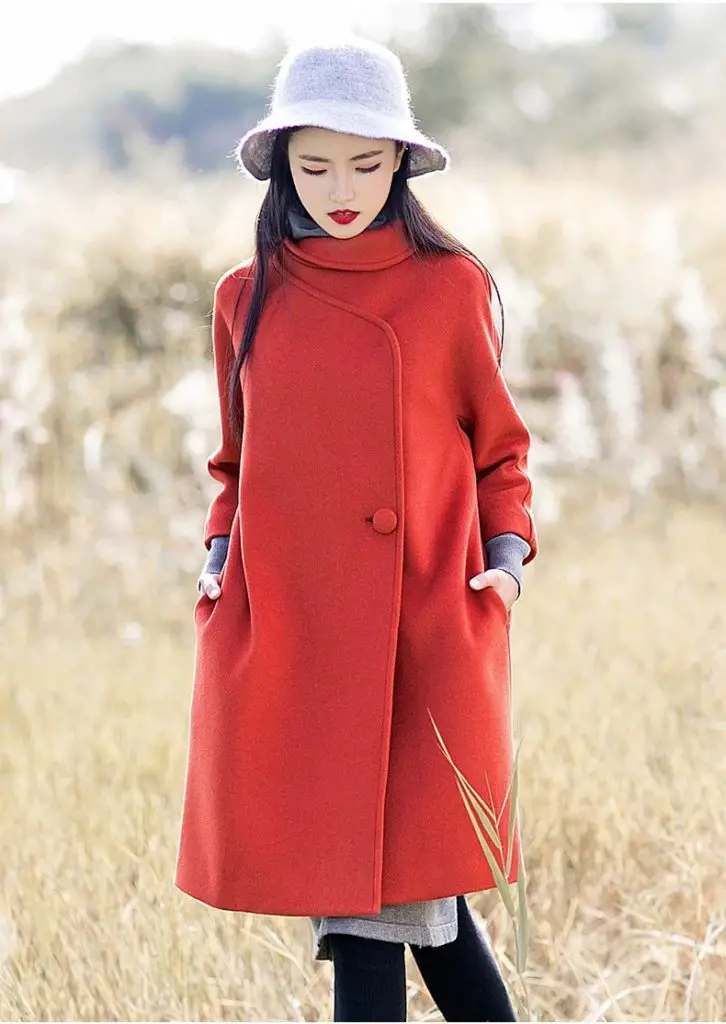 This eye-catching, stylish wool coat with its asymmetrical closing and cozy funnel neckline (worn turned down in this photo) is a head turner, particularly in this warm shade of red.  The sleeves are roomy and there are two large side pockets.  SimpleLinenLife is a family-run business with designers in China, Japan, France, Italy and India.  The company will custom make wool coats to your size and color.  Cotton/Wool/Cashmere; $167 at simplelinenlife.com
________________________________________________________
________________________________________________________
Red coats come in fun and sporty styles

Warm, cozy, versatile and not cruel to anyone, faux fur is everywhere in a whole spectrum of colors.  The simple cut of this coat belies the innovative construction from plant-based KOBA® faux fur and finished with a colorful, satiny lining.  100% polyester;
$500 at Nordstrom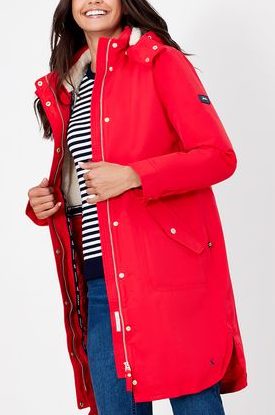 This long length waterproof parka offers ultimate protection from the elements. Not only does it look good, it offers more protection than most layers against howling wind and rain.  The fixed hood comes with bungee toggles and the fleece lining increases the coziness factor.  Waist adjusters allow you to fit and flatter your body shape or accommodate extra layers. Outer shell, 63% Cotton 37% Polyamide; $178 at joulesusa.com

Canada Goose jackets are known for their quality and warmth. This water-resistant puffer jacket packs with ease and boasts a removable hood. Every product is designed with purpose and informed by the rugged demands of the Canadian Arctic. And every piece is made in Canada.  100% recycled nylon; $895  at Nordstrom. (This product meets Nordstrom Sustainable Sourced Materials criteria: contains at least 50% sustainably sourced materials.)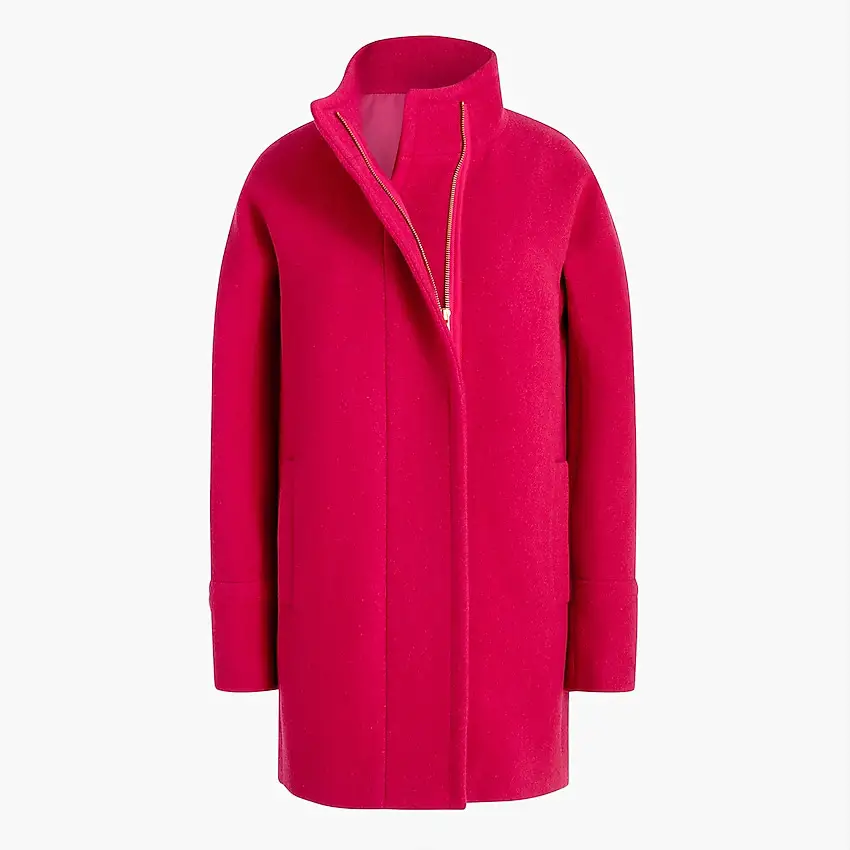 This is a trim, no nonsense coat that goes everywhere.  Says one reviewer, "I love this coat; it has truly upgraded my outerwear game! It elevates every outfit and looks super chic and polished."  Wool/poly combination, contains recycled materials; $129.50 (on sale) at factory.jcrew.com
This is a sleek, light car-coat length jacket in a gorgeous warm red.  It comes with a hood and pockets and is perfect for every day.  The good news?  It's on Amazon–and very popular–and you can get it in two days. 100% Polyester; $49.90 – $70.39 at Amazon.com
Through our affiliate relationships with Amazon and other outlets we earn a small commission on qualifying purchases made through links of this page.
  *   *   *
READ MORE