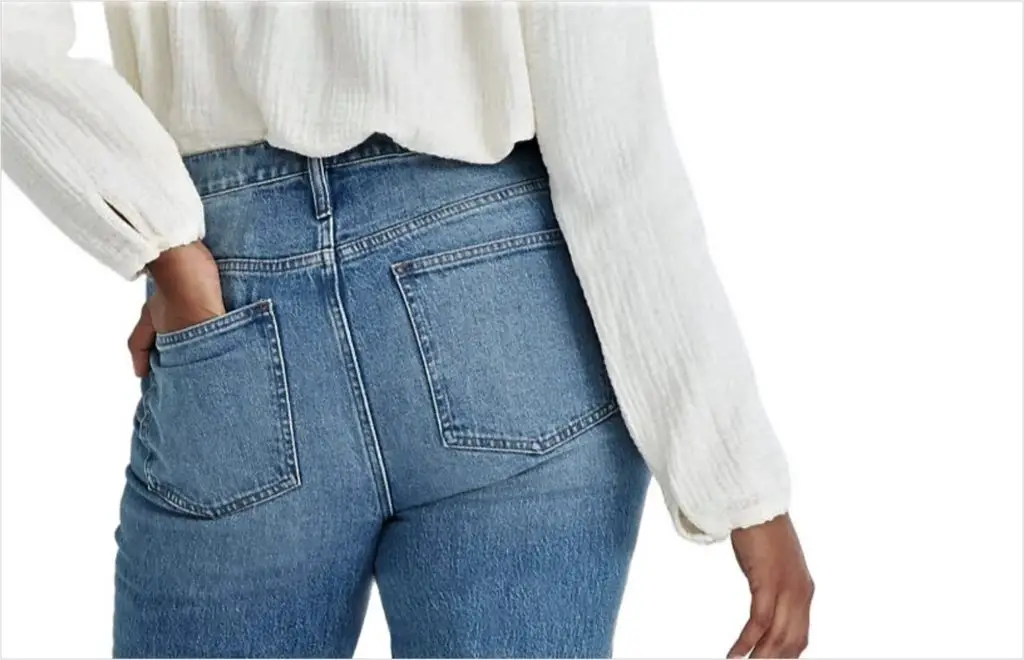 Finally. Jeans that not only look great but flatter women over 60. Here. Now. In stores. Online.
Say goodbye to those low rise and skinny leg jeans, never a great look for us, anyway.
We don't want tight. We don't want jeans that look like leggings. We certainly don't want waistbands that skim across our hips (letting it all hang out).
The new jeans styles have a higher rise, wider legs, and boot cuts that are comfortable and so flattering for women our age. And don't call them "mom" jeans. With these 2023 looks, a relaxed fit makes you au courant. Skinny jeans are so yesterday.
A guide to wearing the new jeans
We chose six of the most flattering jeans for women over 60.  Some caveats to this new style:
Your jeans must fit in the waist and rear, not tightly but with a flattering hug.
If not, it will look as if you simply dragged on an old, pair of too-big jeans.  The new styles are looser than skinny jeans, of course, but not baggy all over.
Don't haul out a pair of jeans from the early nineties (or the 70s!) and think you'll fit right in.
You won't.  Designers make subtle style changes every season.  Trust us, it's easy to distinguish 2023jeans from the Mom jeans of the 90s.  You want to look spiffy, not as if you don't care.
We all love stretch, especially now that we're in our sixties.  Stretch was particularly important with skinny jeans, which were more like leggings than jeans. Stretch was necessary to get them on.  But too much stretch can bag out the knees and rear and make your new, high waist, looser leg jeans look sloppy.
Denim jeans are made of cotton (denim is a sturdy cotton with a twill weave) and may contain additional fabrics like tencel, polyester, and lyocell.
A good rule of thumb is that stretch should not be more than 5% of the overall fabric content.  Stretch comes in a variety of different names like spandex and elastane, to name a few. If the denim is soft and pliable, you may be able to get away with 100% cotton.
Choosing the best jeans for your body type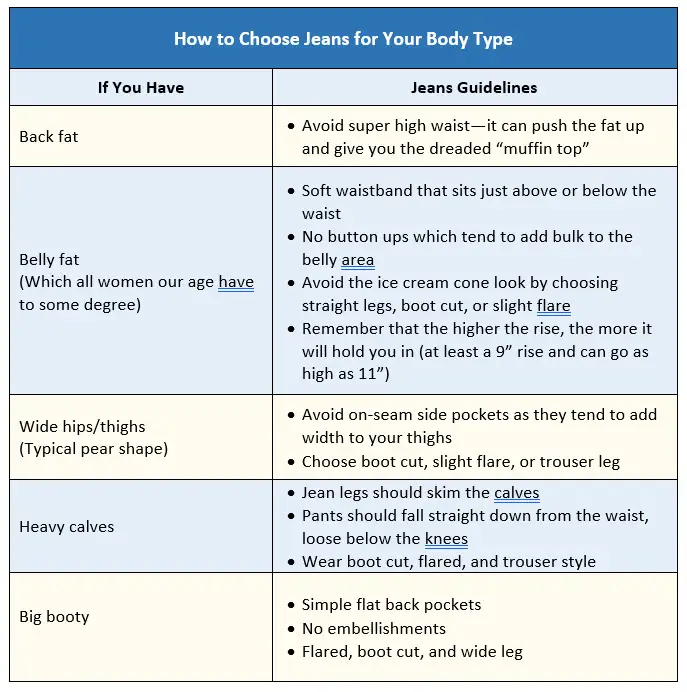 Below are six of our favorites that illustrate the new styles. They can be found at retail stores and online. We may have an affiliate relationship with some of them, which means we will earn a small commission if you purchase anything through the links on this page.
Legal stuff out of the way, here they are.
Who at our age couldn't use a little lift in the butt department?  Everlane calls these jeans cheeky for a reason:
"Meet the Original Cheeky Straight Jean—engineered for the perfect rear fit. This straight leg jean has a super-high rise and a raised back hook seam that lifts and tightens. Plus, it features our Happy Pockets, which are set higher and closer together for a bouncy, lifted look." Available at Everlane.com.  
These comfortable, high-waist, flattering jeans are easy pull-on- with a hidden tummy-control panel and a kicky bootcut silhouette. Available at Nordstrom.
You would expect that the company called Not Your Daughter's Jeans would come up with the perfect, jeans for older women—and they have.
These jeans are a flattering shape and feature NYDJ's proprietary slimming panel with the patented criss-cross design.  There is no outward evidence that there any helpful "features" inside these jeans—they look smooth and flattering and classic.  Choose a size smaller than you usually wear.  Available at Nordstrom.
There is a reason that boyfriend jeans have endured while their skinny cousins are on the way out.  Their casual fit makes them very comfortable and if you have slim ankles, the rolled-up cuff is flattering.  Pair them with a chunky knit sweater and flats or a tailored jacket and a snazzy belt.
JJill's cotton-rich blend is soft yet shapely and has just the right amount of stretch. Available at JJill.com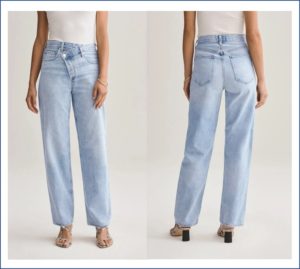 These jeans have a flattering leg with an element of surprise thrown in.  (Of course, you won't want to cover the crisscross feature with a sloppy sweater; choose a short sweater over a tucked in shirt to expose the unique waist band.)  If you are one of those lucky people with a slim waist but more going on in the hips and butt, these jeans will focus the eye on your waist. Available at Nordstrom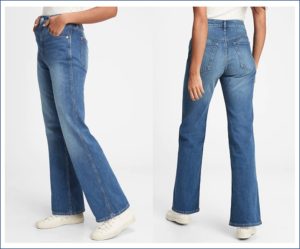 GAP's high-rise jeans are vintage looking (like us!) They are 94% cotton, 5% recycled cotton for softness and a touch of stretch with 1% elastane. The company maintains that because the denim is soft, these jeans will mold to your body after a few wears, even with minimal stretch.
These jeans are part of GAP's water-saving Washwell™ program, which uses less water at the mill, manufacturing and laundry stages. Compared to conventional wash methods, Washwell™ has saved millions of liters of water since 2016.  Available at GAP.com
Top photo:  Madewell, The Perfect Vintage Jean, at Nordstrom.
*     *     *
You may also like
Go to the Blue Hare home page for more articles for fabulous women