Giving a gift is an expression of affection, a gesture that you want the other person to experience a moment of unanticipated joy. What if you could double that feeling by also supporting a good cause or two in the process? You can with these gifts that give back.
Akola is a globally-inspired jewelry brand. It offers loads of beautiful designs with a mission to 'lift up and champion women around the world.' Handcrafted by women in Uganda, relying on local and sustainable materials, Akola jewlery can be found at Nieman Marcus and Saks Fifth Avenue. The Lala Beaded Stretch Bracelet provides much-needed employment that helps to change lives. $58.00 at Akola.co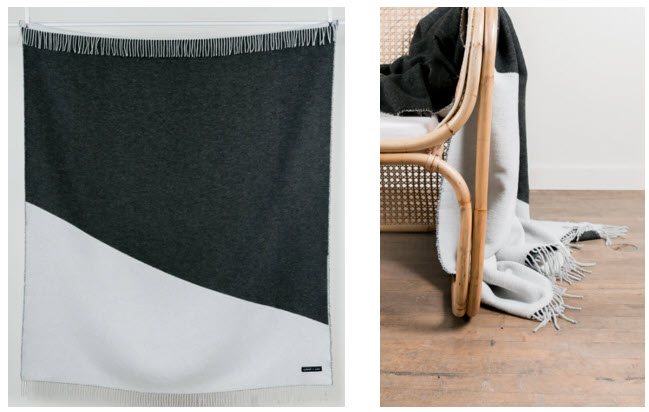 Sackcloth & Ashes was founded with one goal: to provide blankets to homeless shelters. Founder Bob Dalton was inspired to help the homeless when his mother found herself living on the streets in 2013. Her experience inspired him to reach out to local homeless shelters to ask what they needed most. Their reply: blankets. With each purchase of a blanket, one is donated to a shelter in need. Each Sackcloth & Ashes blanket is crafted of thick, warm material in vibrant colors. Find at sackclothandashes.com.
Our dogs love fun toys. And WO Products offers colorful, high-quality toys in all shapes and colors. Even better, sales of these toys help a good cause—widows and orphans in Ethiopia and in the United States. With each purchase of a WO product, WO donates two meals to orphaned children and widows via their Impact Partners. Prices vary. Find at Supportwo.com.
Award-winning actor Anthony Hopkins found a creative way to help children affected by COVID-19: he launched a namesake fragrance brand, Anthony Hopkins, which benefits No Kid Hungry. The fragrances and scents were inspired by the smell of the orange tree in his grandfather's garden. Choose from AH Eau de Parfum, scented candles, and diffusers. Every purchase can provide up to 50 meals to kids in need through No Kid Hungry. From $45 to $75 at anthonyhopkins.com.
Need a reason to indulge in some utterly delicious blondies and brownies? We didn't think so. Greyston Bakery's delicious brownies (they bake the brownies for Ben & Jerry's ice cream mixes) come in several flavors, including Chocolate Fudge Brownie, Brown Sugar Blondie, and Snickerdoodle Blondie, as well as vegan options.
Located in Yonkers, New York, where 15.5% of the population and 13.0% of families exist below the poverty line, Greyston works to transforms lives and communities and help break the cycle of poverty. Its motto is, "We don't hire people to bake brownies, we bake brownies to hire people."  We love their mission as much as we love their brownies. Gift boxes from $25 to $85.
Krochet Kids operates on a simple premise. Once taught a skill, like crochet, they can employ this skill to earn a living that will help lift themselves and their families out of poverty. To this end, the organization offers a wide array of crocheted and handcrafted goods created by women in Uganda and Peru. Every product comes with a label that features the signature of the maker, a unique way to highlight and celebrate these individuals. Prices vary. Find at Krochet Kids.org
Imagine colorful, whimsical, vibrant socks—each modeled for the cause they support. Conscious Step makes socks that help plant trees, or save dogs, or protect the arctic, or a dozen other causes. Beautiful Fairtrade socks from clean, organic cotton, crafted by empowered producers in safe and fair working conditions.
Every Conscious Step purchase supports one of some 19 extraordinary partner organizations.  So far more than 52,643 books have been donated to children in Asia and Africa, 70,486 years of access to safe water provided, 413,944 trees planted for cleaner air and water, 442,040 trees protected in tropical forests, and 83,289 meals provided for children. Prices vary. Find at Conscious Step.
Give the gift of relaxation with Thistle Farms balms and lotions. The Tranquility Set includes a lavender body soak, body wash, lip balm, and soothing body balm blended with invigorating essential oils and all-natural ingredients. Sales of Thistle Farms products are a small positive way to pay it forward. Based in Tennessee, each purchase helps female survivors of trafficking, prostitution, and addiction by providing safe housing, economic independence, and a strong support system. Gift sets $25.00 to $65 at Thistle Farms.
Let them show off their literary creds while packing their groceries into one of these high-quality tote bags. Out of Print offers a wide array of literary themed totes and accessories—Nancy Drew, Little Women, Shakespeare, Harry Potter, Le Petit Prince, among others. Their mission is to spread the joy of reading–Out of Print has donated over 3 million books to communities in need and supported a variety of literacy initiatives around the world. $20.00 at Amazon.com.
Slather on this rich body lotion to leave skin perfumed and soft while doing some good as well. With a floral fragrance of ylang-ylang and rosewood oils in a hydrating cocoa butter base, it is made from ingredients sourced from Sustainable Lush Fund projects that support regenerative agriculture around the world. And, LUSH donates 100% of the price to support small grassroots organizations. $7.95 to  $29.95 at Lushusa.com
Apple's Beats Pill+ speaker is designed to use wherever you to. It fills any room with rich clear sound that has both power and clarity. Pair it with an iPhone, MacBook, or any other Bluetooth-enabled device to play tracks and videos (and games) with optimized sound. And since it's a Product(Red) product, a portion of the proceeds from each sale goes to the Global Fund to Fight AIDS, Tuberculosis, and Malaria. $179.95 at Apple.com
Carefully handcrafted in the Peruvian Amazon, this Pure Tyoski Mala necklace is a beautiful symbol of feminine energy. It comes in a range of colors to express your creativity and every mood. Nintaanzi donates 20 percent of its annual sales to support causes related to sanitation, child welfare, and educating women in Peru. From $85, Nintaanzi.us
With as often as we're washing our hands these days, we developed a luxury soap habit. Here's an opportunity to relish the clean scents of cactus blossom, citrus grove, lavender and sea salt in a bar soap. For each bar purchased, a bar is donated to children in Haiti as part of the brand's clean water program. Since 2012, the company has donated 1.6 million bars of soap, and built and repaired four wells, helping to provide clean water to thousands of people. $22.00 for four bars. Find them at handinhandsoap.com
The United Nations Children's Fund, better known as UNICEF, has long been an avid supporter of children's related causes worldwide.
This lovely carved wood sculpture is just one of many on their website. Crafted by artisan Wayan Rendah of Indonesia, it's made of suar wood so that each sculpture has a unique wood grain, pattern and color. All purchases from the UNICEF Market benefit child-related causes. $44.95 at UNICEF Market
Williams-Sonoma collaborated with some of their favorite celebrities to create this exclusive mug collection to benefit No Kid Hungry® – an effort to end childhood hunger in America. Crafted of durable glazed porcelain, the mug pictured above features artwork by Kristen Bell. 30% of the retail price benefits Share Our Strength's No Kid Hungry® campaign. More mugs–and spatulas–are also available as part of the No Kid Hungry campaign. See the selection at Williams-Sonoma.com.
FEED creates good products that help feed children around the world. Each product includes a number that tells exactly how many meals are given. This delicious Heritage Blend coffee provides five meals for children in need while being a great affordable gift for anyone who enjoys a fresh cup. $17.00 from Feed Projects.
This stunning basket and others like it are handmade by women in Zimbabwe for the basket shop of the Ziensele Foundation. These women are also caretakers of children who've been orphaned by the HIV/AIDS epidemic. For each basket sold, all proceeds go to giving children a head start by paying school fees for children in child-headed households. Prices vary. Find them at the Zienzele basket shop.
ONEHOPE winery was founded in part by women as a company that creates thoughtfully-crafted wines that empower people to do good in the world. Each of their varietals is strategically paired to a different cause, from finding homes for shelter animals (80,000+ homes found and counting!) to planting trees in global reforestation projects. What better opportunity to enjoy an award-winning Chardonnay or Pinot Noir while helping a good cause. Prices vary. Find them at ONEHOPE Wine.
Radical Tea Towels started in Wales by a family that believed there must be other people with progressive politics out there who wanted to give gifts that actually mean something, make you think, and give you hope. Although still a small family operation they fundraise and donate for causes ranging from Refugee Action to Feeding America.
We may make a small commission if you purchase some of the products shown here.
 *     *     *