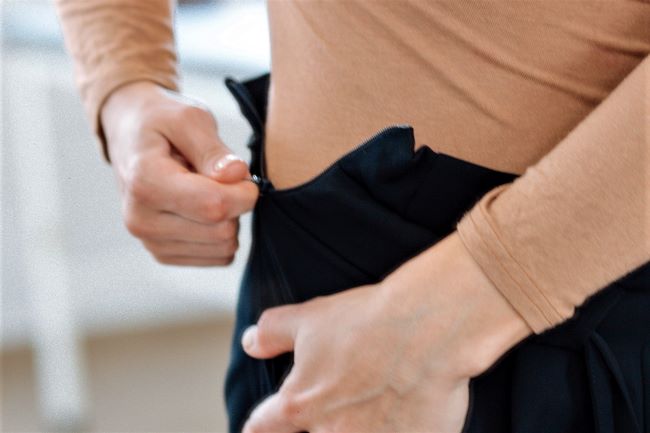 Let's talk about shapewear for women like us, that is to say, for women over 60.
Shapewear quality and style has evolved tremendously in the past few years. No, wearing shapewear will not make us look like we've lost 20 pounds. What it will do is smooth out our body profile so that our clothes have a more fluid fit on our bodies.
We've chosen several pieces of shapewear that make sense for women our age. The shapewear we have chosen assumes that at this stage in our lives we have achieved a positive body image.  We don't want to squeeze ourselves into something that stops blood flow. Long ago are the days when we would lie down on the bed to pull on a tight pair of jeans. And we can't remember the last time that we wore a tight compression garment, the ones that put up a really good fight when it's time to take them off, as we jettisoned them long ago.
The right shapewear can make everything look better
That said, we all have that special dress, those sleek pants, that pencil skirt that looks—let's face it–just a little better with shapewear underneath.  And remember, when it all comes off, your comfy jammies and fuzzy slippers await.
——————–
——————–
There is a lot of shapewear out there. 
Not all of them work for our age group.  We chose this shapewear for the over-60 woman whose goal is to look a little smoother, a little sleeker but most of all, to still be comfortable while looking good.
Biker shorts
Smooths hips and thighs
Bikers can move and breathe when they cycle and so will you be able to in shapewear biker shorts.  Shapewear biker shorts are designed to smooth cellulite and bumps (and just about everyone has cellulite even if you are slim). Nothing makes a pair of slim pants or jeans look better. Get a size larger than you would buy in shorts.  Don't make the novice's mistake of thinking tighter is better–you'll just create a muffin top at the waist and thigh borders.
Spanx Ahhh-llelujah™ 'Fit to You' Everyday Short, $36 at spanx.com
The company maintains that this "soft, smooth, and so comfy Ahhh-llelujah™ short was designed for everyday wear." It has 400% stretch fabric and is designed to adjust perfectly to your body while retaining its shape.
Boody Smoothing Short, $21.95 at boody.com
We love that this woman looks like she could be one of us. We love that this item is "mindfully made and crafted in breathable bamboo viscose, is soft, simple and sustainable." And we love that the company website details the environmental impact of making this item in terms of energy and drinking water saved and land farmed without pesticides.
——————–
——————–
A caveat about high-rise shapers
may be wondering why we didn't include the high waist biker short—the one that goes nearly up to your bra.  Our experience with those is that they roll down and flip over when you move.  They also tend to push back fat up and out, calling attention to it rather than smoothing it (see the shaper tank below if you need back fat smoothing).  The shapewear we have chosen has to work in practice, not just in theory.  The high-rise shaper may work for other age groups but typically not for ours.
Shaper panties
Flattens the tummy, rounds and supports your butt
If you don't need to do the whole biker short thing, and you are going somewhere casual but still want to look good in your jeans, shaper panties can be just the ticket.
Vanity Fair SMOOTHING COMFORT™ Seamless Brief Panty, $16 at vanityfairlingerie.com
This shaper panty smooths your stomach—just what you need for zipping up that final inch or so.  Notice the unique back seaming that is engineered to give you a subtle rear lift.
Spanx Everyday Shaping Panties Boyshort, $22 at spanx.com
These Spanx boy shorts are a best seller for the company.  They flatten the tummy, round the butt but are comfortable enough to wear every day of the week.
The bodysuit
Smooths your middle and accentuates an hour-glass shape
Think of a bodysuit as a onesie for grownups.  After all, you wear a swimsuit, don't you?  With any luck, you'll forget it's on.  And of think how smooth your midsection will look in that special clingy dress.  People will ask if you've lost weight.
Body Shaper with Built-In Bra & Anti-Static, $68.00 at maidenform.com
This body shaper lets your clothes glide over it thanks to anti-static, cling-free fabric.  It smooths and sculpts the tummy hips and rear and the built-in bra boosts your bust.
Shapermint Empetua® Open Bust Bodysuit Shaper Panty, $26.99 at shapermint.com
If you like the idea of the bodysuit but love the fit of your own bra—and we all know how hard it is to get a bra to fit perfectly—then you'll love this body shaper.  The company maintains that the fabric is breathable and soft on the skin, and pairs with any bra.  It tames you from hips to ribs and is effortless to pull on and take off.
——————–
——————–
Shaper tank
Minimizes bra bulge
If you've never considered going braless, the shaper tank might well change your mind.  After all, it's typically bra straps and the band around your rib cage that accentuate flesh in that area.  What if you had lift and support without those tight straps?  That's what the shaper tank is designed to do.
Don't mistake them for a camisole.  These have full cup support without the straps and smooth you from waist to shoulders.   Look for a flattering wide scoop or V-neck front and back and that crucial 6 to 16 percent spandex blend for smoothing power.
Evelyn & Bobbie DEFY V-Neck Bra Tank, $68 at breakoutbras.com
Evelyn & Bobbie's soft smooth bra tank lies flat under clothing without drawing attention to any back or bra fat.  The company describes this tank as having "built-in wireless shelf bra with unrivaled support and uplift along with a smoothing microfiber fabric that provides light shaping without showing under your clothing. The bonded seams and microfiber elastane are made to last, reinforced with bonded layers.  The ergonomic design mimics your anatomy, reducing pain and discomfort compared to underwire bras."
Knix LuxeLift Tank, $55 at knix.com
Knix states that "going braless has never felt better than in our super-versatile, one-of-a-kind tank. Featuring the wire-free, built-in support and luxurious feel of our LuxeLift Technology, in a seamless, figure-flattering fit. Find your new favorite wardrobe essential with support for cup sizes A to G."
Super control body suit
Bringing out the big guns, so to speak
This is the big gun for the big-deal event—the high school or university class reunion. Pull it on slowly to prevent snags from long nails or jewelry and remember, extra-compression shapers are not for those with circulation issues or sensitive skin.
Will it be your most comfortable evening ever?  Will it feel as if you are home wearing your jammies and fuzzy slippers?  No, it won't.  But you'll look like a million bucks and people will talk about how great you looked.  And the guy who dumped you way back in the day will sneak glances at you all evening when his frumpy wife isn't looking.  There is some satisfaction in that.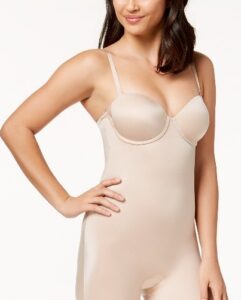 SPANX Women's Suit Your Fancy Strapless Cupped Mid-Thigh Bodysuit, $145 at spanx.com
SPANX calls this the ultimate bodysuit for when you're getting glam!  It has removable straps that convert five ways: traditional, racerback, criss-cross, halter, and strapless.  It has clean-cut leg openings stay invisible under clothes and the cling-free, single layer shaping (good for when it's hot) offers a "lightweight yet firm hug".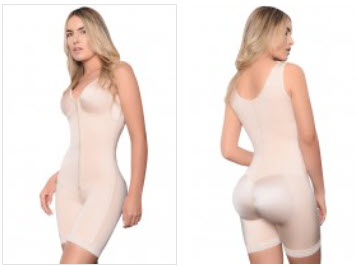 Vedette Celeste Front Zipper Compression Garment, $107 at classicshapewear.com
This front zipper, full throttle body suit smooths the entire figure that with a little help in the back to shape and lift your rear.  It downsizes the tummy and thighs with no bulging or riding up.  It has underwire lifts to support the bust.
Through our affiliate relationships with various outlets we earn a small commission on qualifying purchases made through links of this page.
 *     *     *
You may also like
Go to the Blue Hare home page for more articles for fabulous women