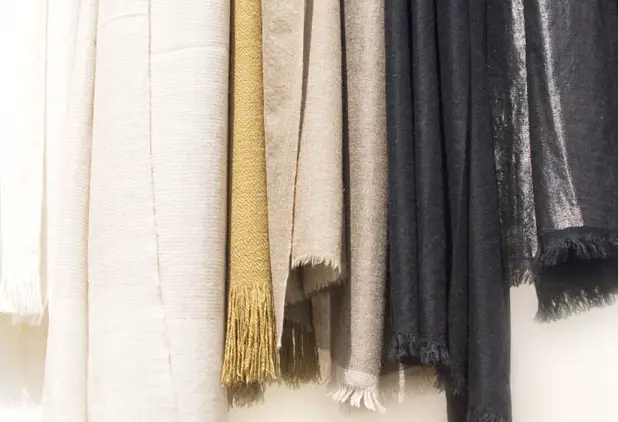 Some 20 years or so ago, the Pashmina—that gorgeous slice of rare cashmere that formed the perfect wrap—was everywhere.  Exclusive department stores were selling them and Pashminas hung from the shoulders of smart women everywhere.
Then it all went away.  Today you rarely hear of a wrap called a Pashmina.  Few, if any, department stores carry them. So what happened to the Pashmina?
As with any fashion piece, no one wants what everyone else has.  Fake Pashminas sprang up faster than you could say Katmandu.  And the Pashmina was easy to fake.  After all, it is a simple rectangle of fabric, not exactly a daunting challenge for unscrupulous counterfeiters who made them out of polyester and acrylic.  Soon the market became saturated with "Pashminas." Customers couldn't tell the real ones from fakes, and department store buyers shied away from buying them, fearing that they, too, might be duped. Thus, reputable vendors got swept away with the counterfeiters.
What is Pashmina, exactly?
The word "pashmina" comes from the Persian (Farsi) word for "soft silky wool" and translates to "soft gold" in Kashmiri. In the strictest sense, Pashmina is the fabric and not the garment.  Pashmina wool comes from the light winter undercoat of the Changthangi (also called Changra or Chyangra or pashm) goat, which inhabits the Tibetan plateau and neighboring areas of Ladakh in northern India. The Pashmina goat can only thrive at high altitudes; to produce the fine hair that constitutes pashmina the goats must be kept at altitudes of more than 14,000 feet. They are hardy enough to survive subzero temperatures.
To understand why real Pashminas are so rare and so sought after, it helps to understand the story of these incredible goats.  One goat produces about 150g, or five ounces, of Pashmina wool per year. In the spring when it loses its winter hair, the goat is combed to gather the silky insulating hair undercoat, which is longer and of higher quality than the rest of its hair.  The finest and softest hair is found in the goat's neck and stomach area.  In fact, the very soft wool produced by the goat is a biological response to the extreme cold weather conditions at these very high altitudes.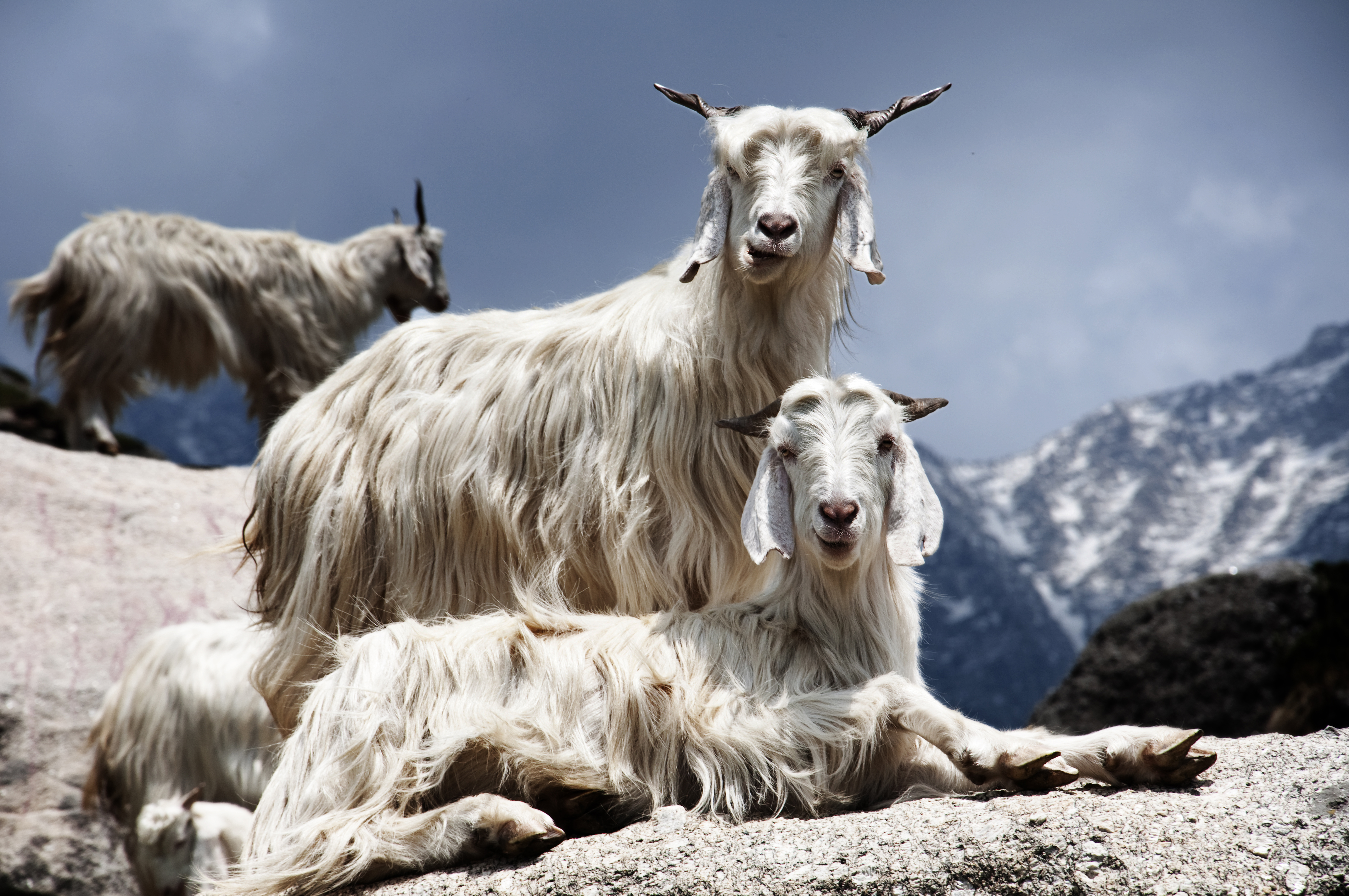 The key to the glorious feel of a Pashmina wrap is the fineness of the fiber.  Regular cashmere fiber has a diameter of less than 19 microns (equal to zero inches!); Pashmina fiber is 15 microns. For reference, the average human hair is about 17-18 microns in diameter.
There is no legal definition, or labeling of, pashmina fiber, which is one of the reasons it is challenging to determine whether the shawl you're fingering is made of real Pashmina or cashmere from other sources or even from man-made fiber.
From goat to wrap: how Pashminas are made
A true Pashmina shawl is made from 100% pashmina cashmere.  It is acceptable practice to combine the Pashmina with a quantity of silk to give it more drape and slip, although purists insist that pashmina blended with silk cannot truly be called Pashmina.  With the Changra goat producing only around five ounces of wool fiber each year, a fine Pashmina shawl could require the annual growth of at least three goats because only a small part at the root of each hair is soft enough to yield high quality Pashmina.  That is why you will pay handsomely for a real Pashmina.  Pashmina has been called "the most noble cashmere variety." In fact, Pashmina shawls were once so coveted and so exclusive, they were worn only by kings.
Finding a real Pashmina
It is well worth the trek to find a real Pashmina.  But how can you can tell a real one from a fake?  No advice is foolproof, but these tips will help:
Real Pashmina fabric is said to be almost weightless. Man-made fabrics will not have the same true feel as the Pashmina fabric.  No man-made fabric can duplicate the feel of threads that have a diameter of 15 microns, which gives it its exquisite lightness.  Also, if you hold man-made fiber in the light, you may see plastic threads that run through it since most of these man-made fabrics have some quantity of plastic in them.
Real Pashmina is warm and light at the same time, much warmer than wool. Some estimate that it is seven- to eight-times warmer than Merino wool.
A real Pashmina will cost a pretty penny.  Although there is no fixed rule regarding price, if you pay less than $200 for your garment, you probably are not getting a real Pashmina.  Other factors that affect cost are weight, ply, color (the best are hand dyed), patterns, prints, and embroidery.
A real Pashmina will pass through an average-sized man's wedding ring.  Since real Pashminas are so silky and weightless, the fabric will pass through a wedding ring from end to end, although it's not advised to do so.  It is impossible to do this with a polyester or acrylic scarf.
Beware the braided fringe.  Fringes help eliminate blends mixed with silk, synthetic or even Kashmir from Mongolia. A true pashmina almost never has fringed edges because the fiber is too fine. The edges will be raw rather than fringed.
Check the label. For a Pashmina to be imported and sold in the United States as such, importers must comply with the U.S. Wool Act and its regulations. As with all other wool products, the fiber content of a wrap, scarf or other item marketed as a Pashmina must be accurately disclosed. The label cannot say 100% Pashmina, as "Pashmina" is not a legally recognized material. Instead it will list cashmere or a mix of cashmere and silk.  If you are buying a Pashmina and the label says "100% Pashmina" and nowhere does it provide a breakdown of the fabric, there is a good chance that the wrap is a fake made from man-made, or combinations of natural and man-made, fabrics.
Pure authentic pashmina is soft, lightweight, wrinkle-resistant, and warm. It is labeled 100% cashmere. If the label also says "Hand loomed" or "Made by Hand" it is likely real Pashmina.  And it will NEVER be cheap.
Where to find authentic Pashmina shawls 
Kashmir Loom
Kashmir Loom supplies some of the top fashion houses in the world. The company was founded by English textile historian Jenny Housego and her Kashmiri partners. Kashmir Loom produces a unique collection of fine cashmere and wool stoles, scarves and throws in subtle textures and softly harmonizing colors.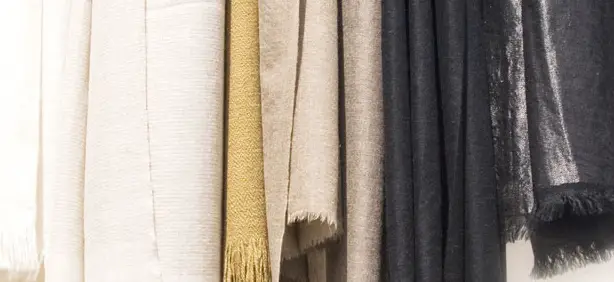 Because the company feels that the Pashmina name has been overused and usurped by counterfeiters, they chose the name "Lena" cashmere for their collection.  Lena is the Ladakh name for the fiber they use. Kashmir Loom products may be marketed in the U.S. under the name "Lena cashmere."
While their website is a bit cryptic and hard to navigate, the photos of their products are beautiful and so clear you can see the silkiness and fine quality of the fabric and the nuanced subtlety of the beautiful colors.
This video  will take you on a virtual tour of Kashmir and behind the scenes to watch weavers at their looms.
You cannot order online from Kashmir Loom but they will work directly with customers the old-fashioned way—they will send you samples and then take an order.  You can make the initial contact with Sardar Patel Margin in Jaipur, India, by phone at +91 141 405 4251 or you can email the company at [email protected].
Princesse Moghole
Princesse Moghole is a small firm that works with small family workshops in India and Nepal to create hand-made Pashmina products.  A video on the Princesse Moghole website demonstrates how the fiber is spun, then woven, then printed or embroidered to become a prized possession.  Princesse Moghole offers eighty-four 100 percent Pashmina stoles in an array of colors from soft neutrals to those with multicolored embroidery.
Prices for Pashminas from Princesse Moghole begin at 149 euros (approximately $158 USD) and go as high as 990 euros (approximately $1050 USD).  Princesse Moghole ships worldwide. Shipping and handling fees to North America is an additional 20 euros. Delivery generally takes one to two weeks. To order from Princesse Moghole, order from the website, http://www.princessemoghole.com/en/6-pashmina; or use the email form at http://www.princessemoghole.com/en/contact-us.
Novica
Novica, a site that sells a wide range of goods from around the world, including Pashminas, was created in 1999 to provide an online market for artisans and connect them to the customers seeking their beautiful creations.  In 2000, National Geographic became a strategic investor.  The price for shawls made of 100% Pashmina cashmere range from $128 to around $300.  To order from Novica, order from the website, https://www.novica.com/pashmina/s/; send an email to [email protected]; or call 1-877-266-8422.
Pashm & Co.
Pashm & Co. offers exceptional handcrafted Pashmina cashmere garments from the Chyangra goats, to benefit the Himalayan people.  Every Pashm & Co. bespoke item is handcrafted, never machine woven, and bears the exclusive Chyangra® Pashmina tag. A purchase from this site helps to sustain the Chyangra herds, preserving Himalayan artisanship for future generations.  Pashm & Co. offers bespoke and in-stock wraps, mufflers, robes, throws, and blankets with selections from four seasonal palettes (remember that Color Me Beautiful book?) to compliment your hair and complexion.  To order from Pashm & Co., order from the website, https://pashm.com/shop/himalayan-cashmere-wrap/; email [email protected]; or call 1-707-235-8762.
A joy to own and eco-friendly
A Pashmina shawl or scarf is the ultimate holiday or special birthday gift. It is weightless and incredibly warm in winter and cool in summer.  And it has unmatched versatility.  It can complement an evening look as easily as it does a tee-shirt with jeans and boots.  Its feel against the skin cannot be duplicated.  It is a joy to own and has a hundred wardrobe applications.
Still trying to decide whether to splurge?  Maybe it will help to know that you will be supporting an endangered industry. In 2013 Agence France Presse reported, "weavers have produced exquisite shawls in Kashmir for centuries, but their craft risks dying out in the face of cheap foreign imports and a young generation uninterested in mastering the skill."  Distinguishing between a fake and a genuine Pashmina shawl when making a purchase has a social impact.
And finally, while goats are likely not thrilled during the shaving of their bellies to produce Pashminas, they do not lose their lives.  They are far too valuable for their milk and their wool.