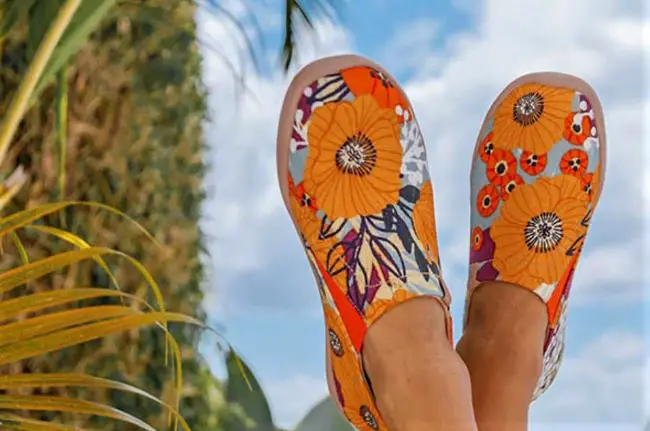 What do women over 60 look for in everyday summer shoes?  We want comfort, we want flat soles, and we want stylish. Enter UINs. They check all the footwear boxes that women our age need—and they are striking and spirited to boot.
UIN is a footwear company based in Toledo, Spain.  UIN shoes are a testament to the company's two passions — travel and art. The company collaborates with artists around the globe to recreate the great classic paintings or use their own artwork and designs to adorn UIN's shoes.
What took so long?
When you look at UIN's festive, comfortable, and vibrant footwear, you will wonder why it took so long for everyday, comfortable shoes to make a statement. In addition to being colorful, they are breathable, light weight, machine washable, have some arch support and EVA soles, and enough room for your toes to stretch. And unexpected bonus: There is a map of Toledo, Spain etched into the rubberized sole of your shoe.  If you visit Toledo just take off your shoes to plot your walkabout.
UINs shoe styles include slippers, slides and flip flops, ballet flats, slip-ons, sneakers, and espadrilles.
You can find them on the UIN website and Amazon. Beware, though. You may ending up buying more than one pair (as we know from personal experience).
_____________________
_____________________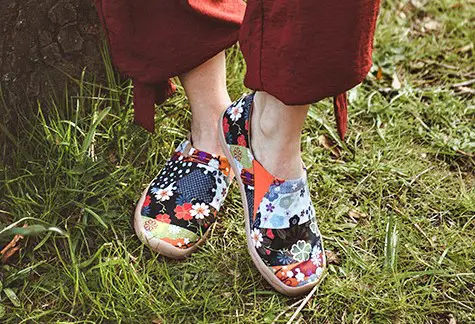 The shoes are the star when you wear UINs. They'll elevate a pair of jeans or a breezy linen dress. Let your clothing echo the dominant color in the shoes, or use them to accent neutrals. Or be bold and mix some patterns. Above all, let the shoes do the talking. You'll look fabulous.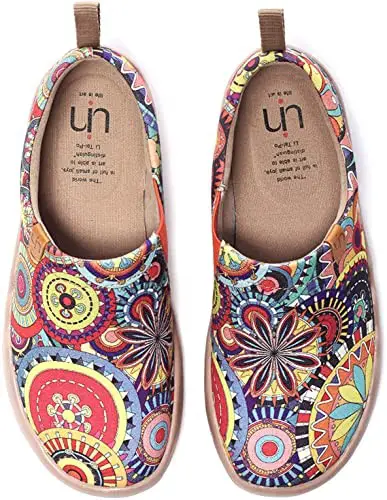 These are the shoes that first caught our eye–and landed in the Amazon cart. The enchanting paisley pattern on these shoes  is said to come from Hindu "tree of life." We're drawn to the bright colors that practically shout "happy feet." Blossom slip ons bring your denim jeans–and many other summer outfits–to life. But why wait? Wear them now. Available at Amazon.com.
UIN designers created this blossom (Hana in Japanese) pattern as part of its Japanese collection. Traditional flowers and plants are painted on contrasting colored layers and backgrounds. The blossom with leaves interprets the traditional Japanese style to give these shoes an upscale, contemporary look. Wear with black linen floods and a breezy linen top. Buy them on Amazon.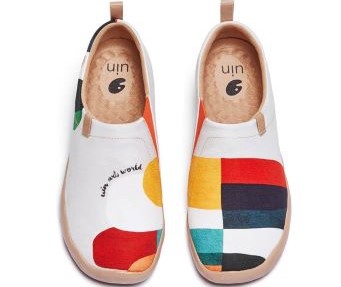 We would expect to see these colorful shoes on the beaches of the Costa del Sol. They are equally welcome closer to home to brighten any day. Imagine the fun pairing these with your summer duds. Happy feet. Happy life. Buy Hold That Color shoes on Amazon.
Imagine lying in the wilderness, enveloped by the darkness, thousands of stars flush the dark night with brief flames. As you prepare your best outfits and pack your camping gear for stargazing, don't forget about the one accessory that you carry with you everywhere you go, your Starry Night slip ons, inspired by Van Gogh. Buy on Amazon.com or UINfootwear.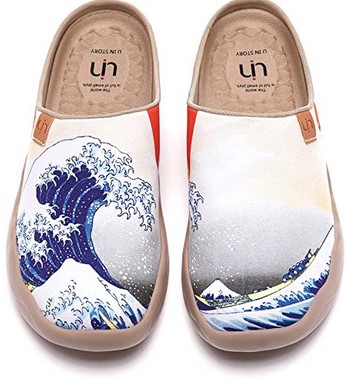 Recreating the work of Japanese artist, Katsushika Hokusai, almost 200 years ago, these Great Wave sliders bring a masterpiece to your feet but. Slip on a pair and dream about a new life as a surfer. Buy on Amazon.com.
________________
________________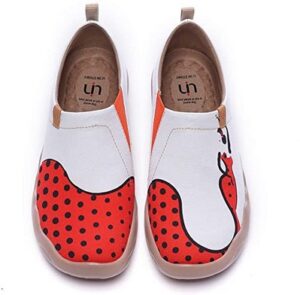 These stunning shoes are perfect with white, black or red pants or dress.  Notice the stylized art deco woman on the left shoe and how the train of the dress continues onto the right shoe.  They are surprisingly versatile and can be worn with some patterns–like stripes and checks–as well as solids. Olé! Buy on Amazon.com.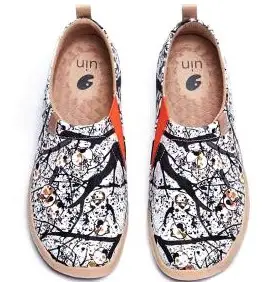 Taking Chinese traditional ink painting as key design element, this style unfolds a fruitful pomegranate tree. In Chinese tradition, the pomegranate is the incarnation of blessing for a prosperous, beautiful and auspicious day. To us UIN's Pomegranate sneakers recall the energy of Jackson Pollack, which makes them perfect for musing or dancing.  Buy them on Amazon.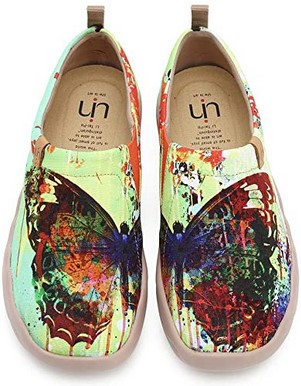 It is said that when butterflies were created, all colors of the rainbow were used, and that is true of these Colorful shoes. When you're walking or sitting the shoes look like they were painted by some tortured artist having a good day. But put your feet together and voilà! The picture comes together. Wear neutrals to bring out the spectacular burst of color on these stunning shoes.  Available at Amazon.com.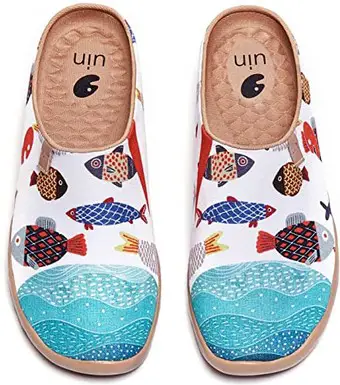 Pool parties are calling. You'll steal the show in your Happy Fish shoes.  Pair them with a white or blue linens and you are ready for your trip to that beach town in August. Buy them on Amazon.com.
__________________
__________________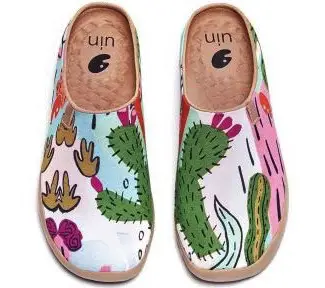 If you happen to be in the southwest where cactus abound, these UIN Cactus sliders are your perfect desert shoes.  Wear them around the house when you're making tacos and guacamole and a pitcher of Margaritas. No sombrero needed.  Buy Cactus UINs on Amazon.com.
These Porpoise slip-ons are perfect for vacations by the sea.  The vibrant blue works well with summer dresses during the day and jeans when the day cools down.  Buy them on Amazon.com.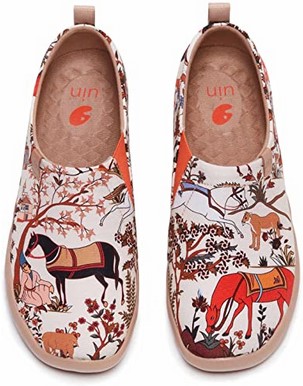 Tang horses are among the most famous works of Chinese art. Artists created porcelain horses that captured their strong, muscular builds. To purchase one of these porcelain horses today will set you back anywhere from hundreds of thousands to millions of dollars.
Fortunately, UIN's Horses in Tang Dynasty loafers cost a fraction of that. With their intricate Tang Dynasty artwork and muted colors, they go perfectly with warm reds and a range of browns and beiges.  Buy them on Amazon.com.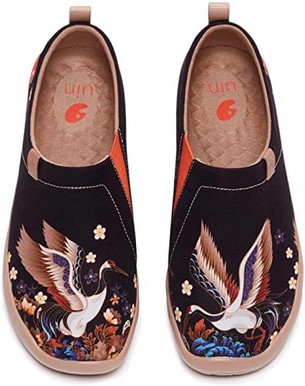 The dramatic artwork of the Crane Dance shoes make them perfect for evening. Pair with slim black pants and a tailored white shirt for an elegant, yet casual, look. Available on Amazon.com.
As an affiliate of Amazon and other retailers, Blue Hare makes a commission on qualifying purchases made through the links on this page. 
* * *
You may also like
Go to the Blue Hare home page for more articles for fabulous women