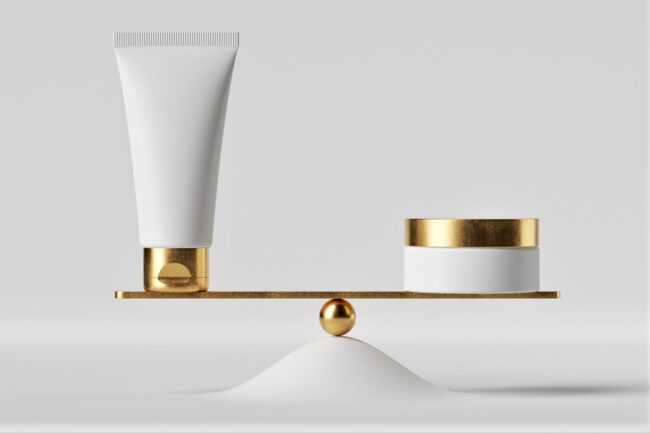 The old adage, you get what you pay for, may be true for appliances but it often doesn't apply to cosmetics. More than ever we are mindful of how and where we spend money, so as women over 60, affordable beauty products are highly attractive—as long as we are pleased with the results.
Can value brands equal expensive brands?
We challenged our beauty editor to find affordable beauty products that work beautifully for women over 60. All of the products in the eight categories below were tested and more than hold their own against their high-end cousins.  And some—at 1/10th of the price—even outperform them. You can save as much as $200 by switching to these products.
——————–
——————–
Foundation
The two foundations here are equally good. Both come in a glass bottle, both provide medium coverage, both have a good color range to choose from and both have a believable finish when applied with a foundation brush. And the Believe Beauty foundation is almost 1/10 the price of the Estee Lauder.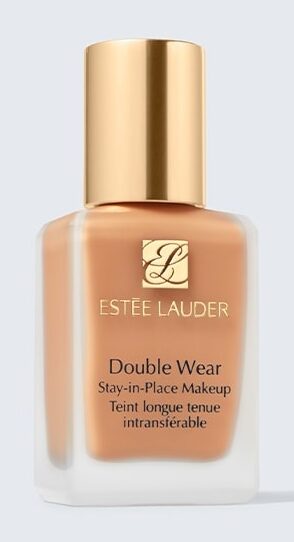 Estee Lauder Double Wear Stay-in-Place Makeup, sephora.com, $46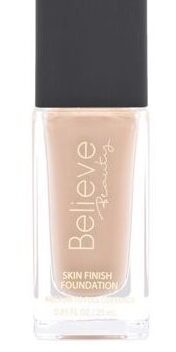 Believe Beauty Skin Finish Foundation, Believebeautycosmetics.com, $5
Foundation Brushes
When our skin was firm and smooth and clear, we could use our fingers to apply foundation.  The result was good because our skin was good.  Now that we are over 60 our canvas is not as smooth and clear. We need all the help we can get. That comes in the form of a foundation brush.
[Read more: Try this quirky makeup technique to make your skin look flawless]
A good foundation brush can help you to achieve that flawless skin look that we took for granted so many years ago. Dot your face with foundation only in the areas that need a little help and then stipple/blend with the brush until you achieve the desired look. You will use very little foundation with this method.  Both of these brushes are dense, soft and facilitate the blending process easily.  Reviews for both products agree, "Best foundation brush I have ever used."  You can buy four of the Real Techniques brushes for the price of the MAC brush.

MAC 170 Synthetic Rounded Slant Brush, nordstrom.com, $38

Real Techniques Expert Face Professional Foundation Makeup Brush, amazon.com, $7.59
Concealer
Both the NYX and ILIA concealers we tested here here are infused with serum for the under eye area, which makes them a treatment as well as a makeup. They smooth on easily, do not crease, and do not settle in lines. They manage to be moisturizing and not cakey.  The Nyx Bare with Me Concealer is nearly one third the price of the ILIA.

ILIA True Skin Serum Concealer with Vitamin C, sephora.com. $30

Nyx Bare with Me Concealer Serum, amazon.com. $11
Mascara
The mascaras we examined are tubing mascaras.  They work by coating each individual lash with product which is easily removable with warm water and your fingers.  Many women prefer tubing mascaras since they are so easily removed at night.  One of the complaints about tubing mascaras is that they create length but no volume.  These two mascaras manage to do both.
——————–
———————
Thrive Causemetics (they have incorporated "cause" into their name because for every purchase, they donate to homeless or women's shelters to help woman thrive) have won beauty awards for their tubing mascara.  Although they don't purport to have a cause, essence, an Australian cosmetics company, has a very similar tubing mascara of the same quality and performance as Thrive.  Essence's Bye Bye Panda Eyes is almost 1/5th the price of the Thrive mascara.
Thrive Causemetics Liquid Lash Extensions, thrivecausemetics.com, $24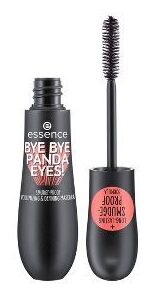 essence Bye Bye Panda Eyes! Smudge-Proof Volumizing & Defining Mascara, target.com, $4.99
Eyebrows
The eyebrow pencils we compare here are from Dior and e.l.f.  They are made with micro fine leads so you can create the illusion of tiny hairs with their fine points.  Both produce the same effect, last the same length of time on your brows, are similar in color offerings (the e.l.f taupe and the Dior Universal Shade are almost identical) and are easy to use.  Neither contains a great deal of product, which makes the e.l.f. product a much better value.  The e.l.f. Ultra Precise Brow Pencil is 1/5th the price of the Dior product. 

Diorshow Brow Styler Ultra-Fine Precision Brow Pencil, sephora.com, $29.50

e.l.f., Ultra Precise Brow Pencil, Amazon.com, $4.99
Blush
These blushes from Hourglass and Milani come in a flattering rose, a universal color that tends to suit many skin tones.  Rose is a particularly suitable blush color for our age group when we need our blush to look like a natural flush rather than makeup sitting on top of our skin.  These blushes are both highly pigmented, not powdery and last all day.  But at a third of the price of the Hourglass blush, the Milani palette offers three rose colors to choose from.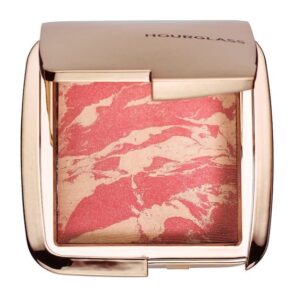 HOURGLASS COSMETICS Ambient Lighting Blush in Diffused Heat, Sephora.com, $43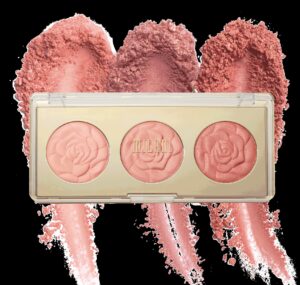 Milani Rose Blush Trio Palette. Milanicosmetics.com, $12.99
Lipstick
Chanel lipsticks are iconic and Pirate is often impossible to buy because it sells out so quickly.  You pay for the name, the tube and the whole Coco Chanel legacy. But if $45 is a bit much for your budget, Honeybee Gardens Truly Natural Lipstick in the color Romance is a nice option. 
It's full of organic oils, from sesame and sunflower seed to and castor seed oil. Certified organic cocoa butter soothes, rejuvenates, and hydrates your lips, which is especially good for women over 60. Honeybee lipsticks are pigmented, long lasting and so good to the lips. 
Obviously, if you are looking to recreate the old-time movie star feel, the solid metal tube of the Chanel lipstick makes more of a statement.  However, there is almost a $30 difference between the two, more than some people would pay for a lipstick to start with.   
[Read more: Can women over 60 wear red lipstick? Yes, and we show you how.]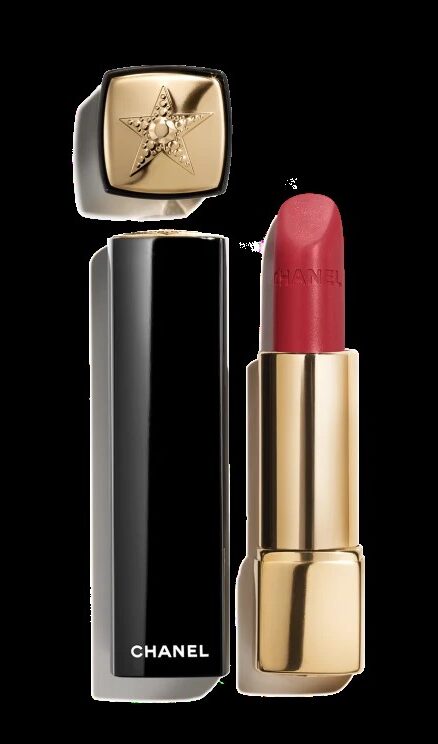 Chanel Rouge Allure in 99, Pirate, chanel.com and major department stores, $45
Honeybee Gardens Truly Natural Lipstick in Romance, $15.99 on Amazon
Eyeshadow
In our late 50s and 60s our lids begin to droop and become more wrinkled, which makes it is harder to get powder eyeshadow to stay all day.  The answer can be cream eyeshadow which tends to have more staying power.  However, cream eyeshadow is not as easy to apply as powder as you must blend it quickly before it "sets."
The two cream eyeshadows we looked at, from Tom Ford and Butter London, are easy to blend and once they are in place last the entire day. The Tom Ford eyeshadow is obviously the glamorous choice, with its little glass jar and the impressive pedigree of its creator.  But the Butter London choice holds its own in terms of wear and ease of application.  Best of all, you can get two Butter London Sheer Wisdom Serum Shadows for the price of the Tom Ford and still have money left over.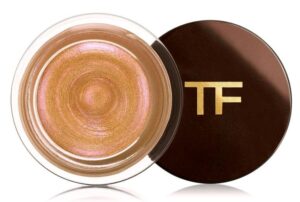 Tom Ford Cream Color for Eyes, nordstrom.com, $46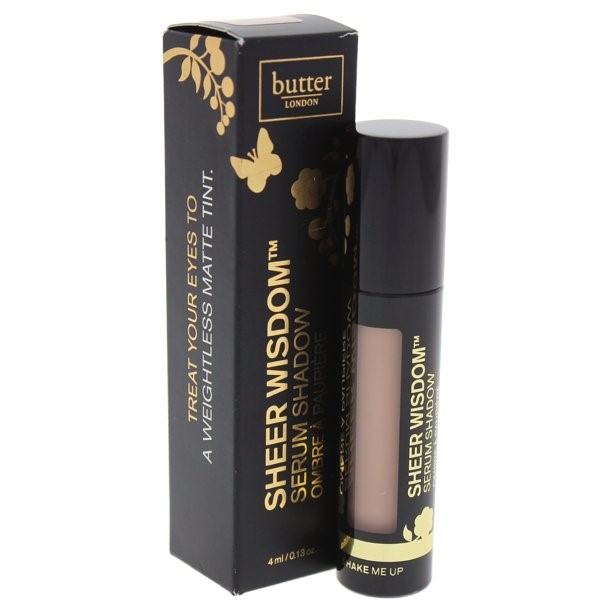 Butter London Sheer Wisdom Serum Shadow, walmart.com, $17.14
Through our affiliate relationships with Amazon and other outlets we earn a commission on qualifying purchases made through the links of this page.
 *     *     *
You might also like…
Go to the Blue Hare home page to discover more articles for fabulous women.