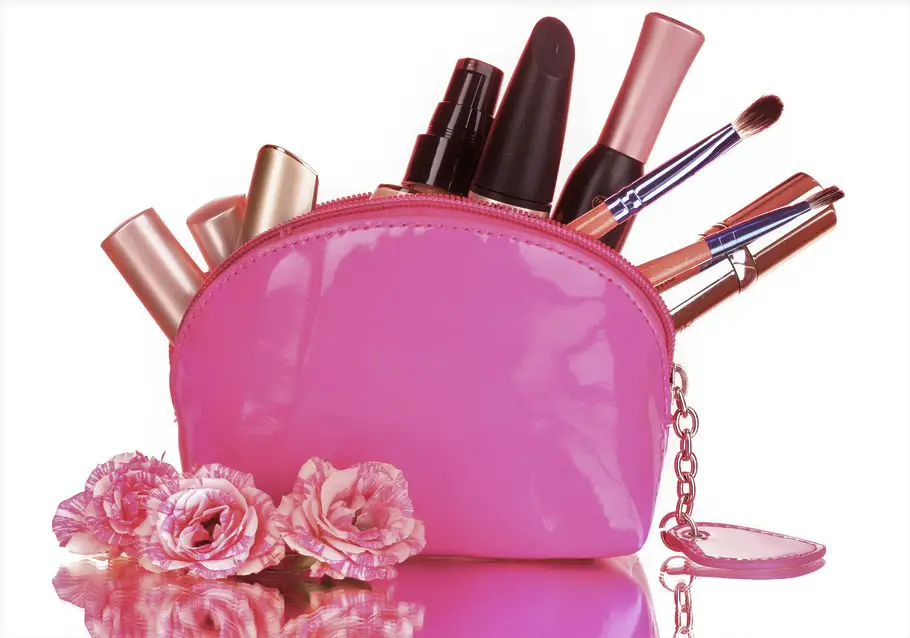 What if you could look younger and more radiant with just five makeup products? Would you be interested? With the holidays fast approaching, there will be many opportunities to appear your best and shine. These five makeup essentials can help, especially if you are a woman over 60. What makes them so effective? The magic of light reflection.
Reflected light, the key to looking younger
Skin that reflects light is moist or at least it appears to be.  You can make your skin appear younger and fresher when you use makeup products that reflect light.
To achieve this effect, look for products with descriptors like "glow", "luminous", "sheen", "radiant", and "dewy", for starters. You should steer clear of all matte makeup, including lipsticks, eye shadows and foundations.  Mattes are not made for women over 60. They are designed for young, smooth, and moist skin.
_______________________________________________________
_______________________________________________________
Through our affiliate relationships with Amazon and other outlets we earn a small commission on qualifying purchases made through the links of this page.
Check out these five makeup essentials for women over 60. With a little luck, you may be able to set the clock back a few years.
Must have product #1–Highlighter
No one product brings as much light and life to your face as a good highlighter. When the sun or light is reflected from your cheeks, your skin looks moist and beautiful.  Those of us who aren't using a highlighter are missing a perfect opportunity to look stunning.  If you aren't currently using a highlighter, the holidays are a great time to try one out.
In our hunt for the best highlighters, we tested numerous products.  While some of them looked beautiful when first applied, they left obvious "product" on the cheeks to give a caked on appearance.  We also sought out natural colors as we wanted the color to be believable.  When did frosty, exaggerated color ever appear natural?  After many trials, we found a product that imparted the most natural "lit-from-within" glow–Becca Highlighter in Vanilla Quartz.  It is a fine milled, soft, air-spun powder that imparts a subtle glow.  Buy it at Amazon.com.
How to use it
Using at least a 7x magnifying mirror, put your hands up to your face and feel along the top of your cheekbones.  Trace your cheekbones back to your ears or hairline.  That is the ledge where you want to sweep your highlighter.  A good highlighter will accentuate your cheek bones and give the impression of moist, flawless skin.
Must have product #2 – Luminous foundation
The search for a good luminous foundation was a real challenge as there are literally hundreds of foundations to choose from.  Many foundations today have a matte finish because mattes are all the rage now. Still, we did find some products that reflect light. Some possibilities covered well or blended well but lacked that quality of dewiness that makes skin look younger and moist.  In fact, if not used properly, foundation can be aging.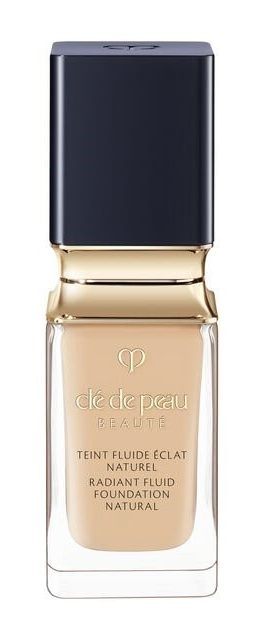 The best luminous foundation we tested is Clé de Beaute's Radiant Fluid Foundation Natural.  (The company also makes a Radiant Fluid Foundation Matte. Be careful not to buy it by mistake). This foundation goes on like a dream, gives medium coverage, and keeps your skin moist without breaking down or oxidizing during the day.  It's on the expensive side but the generously sized bottle is made to last.  This product is truly luminous and will make your skin look younger.  These qualities make it a clear choice for our list of five makeup essentials for women over 60. Buy it at Nordstrom.
How to use it
The goal is not to apply too much of this foundation onto your skin.  The less you apply, the better.  To apply flawlessly, use a foundation brush with dense soft bristles or a moistened makeup sponge.  Use sparingly, starting with very little product on your applicator. You can always add more as you go along.
________________________________________________________
________________________________________________________
Must have product #3– Pink lipstick
A lush pink lipstick is one of our five makeup essentials for women over 60. This must-have product may surprise you. Perhaps you have never tried a pink lipstick before.  Pink lipstick is incredibly soft and youthful looking.  It is the perfect day time—and everyday–lipstick color.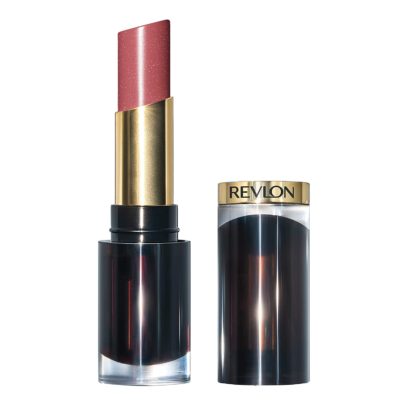 There are two caveats when choosing a pink lipstick.  The first is to select a lipstick that is a sheen, lustrous or a cream.  Avoid mattes and lipsticks described as frosts, metallics or glitters.  We recommend a line of lipsticks by Revlon called Super Lustrous.
There is a good reason they have become classics.  They are perfect for women our age. There are 87 shades in the lipstick line. They are reasonably priced so you can experiment with a range of colors and not risk busting the bank.
Revlon has an ingenious site where you can try on the lipstick virtually using a photograph or your computer's camera. Or you can see how it works with your skin tone by selecting a lip color and sliding the rule along a range of skin tones.
The second caveat to choosing your pink lipstick is to make sure it complements your skin tone.
Skin tone may be tricky to determine but a knowledgeable sales assistant at a good department store can help.  Just as in paint colors, pink lipsticks have blue undertones (cool) and orange undertones (warm).  The Revlon Super Lustrous site has a chart that can help you to determine how the colors might look with your skin tone.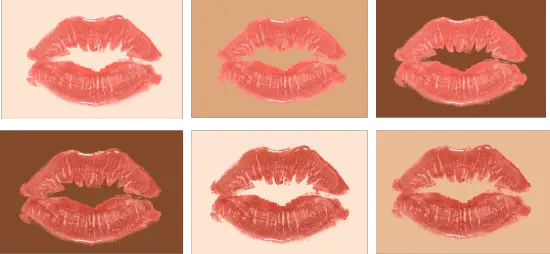 To get a better idea of how this works, take a look at the diagram above. It shows how these two lipsticks, Demure and Rum Raisin, look against pale, medium and dark skin tones.
Demure, a pearlized pink peach, is a neutral pink against light to medium skin tones but appears washed out against darker skin tones. Rum Raisin, a  creamy medium berry, is vibrant and bold against light skin but strikes the perfect neutral daytime pink against dark skin tones.  Buy Super Lustrous Lipstick at Revlon.com. Certain shades also are available at Target, Ulta, at Walmart, and Amazon. Prices vary.
How to use it
Apply your lipstick from the tube and then use a lip pencil around the lips.  Your lip pencil must be as close as possible to the color of your lipstick.  You are not going for contrast or effect; you are going for a well-defined lip line.  Apply your pencil after you have applied your lipstick.  The lipstick will make it much easier to smooth your pencil onto your skin.
Must have product #4– Translucent Powder
When you use translucent powder for the first time, you will look in the mirror and think that did absolutely nothing.  Trust us, it will grow on you.  Translucent powder smooths your skin tone, gives you a subtle glow (but not with glitter) and makes you look radiant.
You may not be immediately convinced until someone tells you how good you look, you catch sight of yourself in a mirror and think, wow, my skin looks good, or you will see yourself in a photograph and be surprised at how polished you look.
We recommend Translucent Setting Powder by Laura Mercier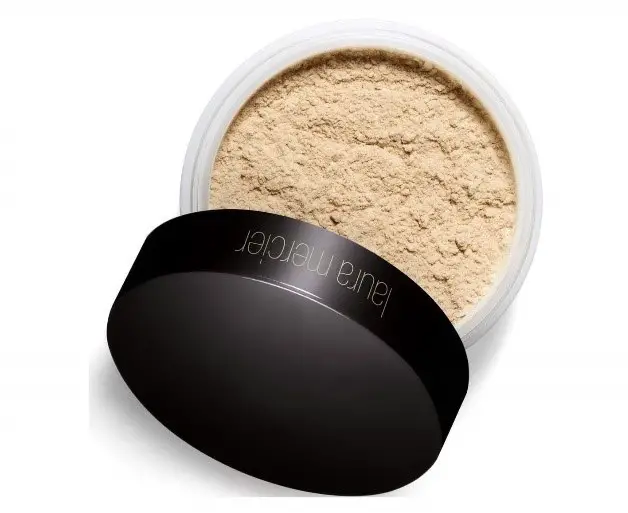 Laura Mercier has the market cornered on translucent powder.  Her Translucent Setting Powder blurs fine lines, locks in makeup and give a soft focus to the skin.  This product has a near perfect rating on Amazon.  Buy it on Amazon.com.
How to use it
Apply this product with a fluffy brush all over your face after you have applied your foundation.  It won't add color to your skin; just a soft blur of fine lines and imperfections.  This is the product that you didn't think you needed until you used it.
Must have product #5– Radiant Concealer
When watching a movie, you may notice how the area under a female actor's eye seems to reflect light.  That is because the products used on movie sets are designed to make the most of light reflection, to achieve an appearance that is always most flattering to the skin.  Radiant concealer that reflects lights, rather than a cakey one that you may use to conceal dark circles, will highlight your eyes in a flattering glow.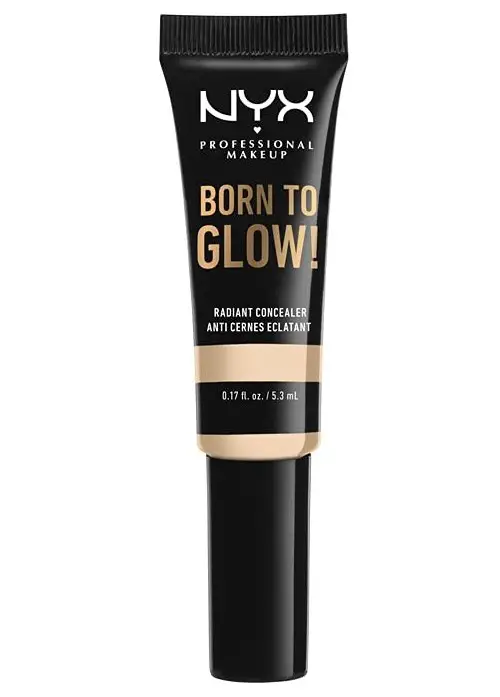 The name of this inexpensive, drug store concealer says it all: Born to Glow Radiant Concealer by Nyx. It comes complete with a little dab sponge that is part of a squeeze tube.  This product is not cakey, doesn't sink into lines and manages to stay luminous throughout a long day.  This may truly be the best concealer you have ever used. Buy it at Amazon.com.
How to use it
As with foundation, start with a little and build up.  Remember, you are not trying to cover, you are trying to highlight.  Some women find the dab sponge is sufficient to apply and blend; others use the sponge to dab on product and prefer to blend with their fingers.  Simply pat the product gently onto your under-eye area.
 *     *     *