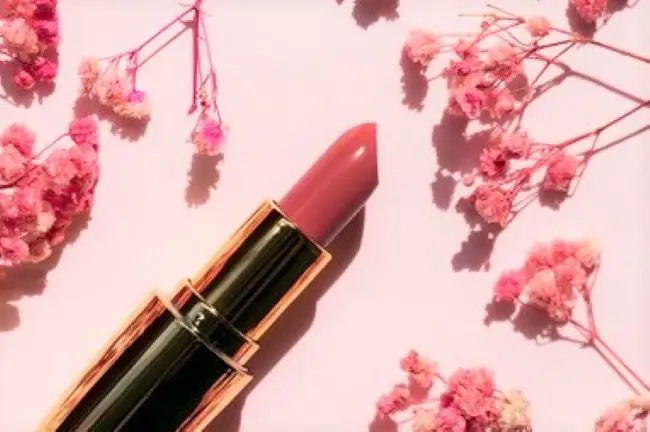 Florals are everywhere this spring and lipstick is no exception. Somehow, the dead of winter doesn't seem to be quite the right time to apply lipstick with names like "Tulip" or "Orchid". But that first glorious warm day is the perfect time to consider rejuvenating your look with a fresh new spring shade. These colors are not just for the young. Women over 60 can wear spring tones if you know how to select the best color for your skin.
Lipsticks come in cool tones (with blue undertones), warm tones (with orange undertones), and neutral tones (with neither warm nor cool tones). They also come in many different finishes such as balms, stains, satins, and mattes that may or may not look good on older skin. Some are also long-wearing, made to last through eating and drinking.
How do you choose the best spring lipstick color and finish for you?
Skin undertone is key to choosing a flattering color 
Consider your skin undertone: Undertone is not to be confused with skin tone. By the time we are in our 60s, we generally know our skin tone: light, medium or dark. It may change when we get slightly darker in the summer but your skin's undertone–the color that lies beneath your skin–remains the same. It may be warm, cool or neutral.
How to determine your skin undertone
Look at your veins
If your veins have a green tone you may have warm undertones.
Blue or purplish-looking veins are a hallmark of cooler undertones.
People with neutral undertones have veins that appear colorless or match the color of their skin.
If your skin appears more ashen or gray you could have a natural olive tone. Olive skin has both neutral and warm undertones along with green, unique to olive undertones.
Do you look better in gold or silver jewlry
You may find you are attracted more to silver or gold jewelry. That may be a clue to your undertone.
Traditional yellow gold looks good on skin with warm or olive undertones
Silver, platinum, and rose gold tend to flatter cooler undertones.
If you tend to look good in both silver and gold your undertone is neutral.
Your eye and (original) hair color offers a clue
You many not be wearing your natural hair color now but your natural eye and hair color can help you identify your undertone.
If your hair has a platinum or ash-colored tone–this applies to blonde as well as brown and red shades–you likely have cooler undertones.
Golden blondes and mahogany browns usually have warmer undertones.
Blue, green, grey and deep brown eyes have characteristics of a cool undertone.
Green, amber or hazel eyes with golden flecks have a warm skin undertone.
In my experience, the best way to determine your undertone is to get the advice of an experienced sales assistant of a cosmetics line you admire. Steer away from the 20-something with blue hair. If you are comfortable with lipstick and clothing colors, you may already know that orange undertones suit you more than blue undertones or that a neutral undertone is most flattering.
Not all lipstick finishes are created equal
Determine what lipstick finish you like. If lipstick staying on is important to you, there are many long-wear lipsticks on the market. Personally, I find that long-wear lipsticks are too drying and when they do wear off, they wear off in clumps around the outer lines of our lips.
Mattes tend not to be suited to women over 60 because they show up in every line on our lips. The most flattering lipstick finishes for women over 60 tend to be the balms, satins and stains. Satins are particularly flattering because they reflect light and reflected light, whether on our skin or lips, tends to make the skin look moist and less dry.
Our favorite lipsticks for spring
It's time to leave the dark, smokey lips of winter behind. These freh spring lipsticks are botanically inspired, bright, beautiful and glorious. Pick a handful for yourself and lift your lips out of the winter doldrums.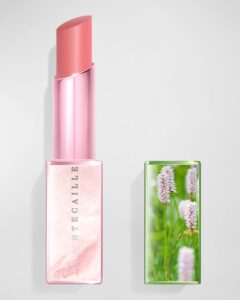 Could anything look more like spring than this beautiful lipstick and its gorgeous case adorned with pussy willows? This warm-toned shade is Meadow with a satin finish. Buy it at neimanmarcus.com.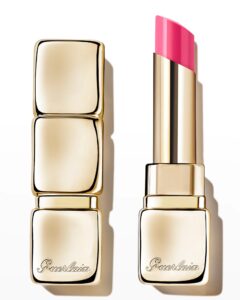 This beautiful lipstick from Guerlain is a balm so it won't last through eating and drinking without reapplying. But who wouldn't want to pluck this incredibly decadent case from her makeup bag. And this formula will moisturize your lips like nothing else. The color is a beautiful cool tone called Fuchsia Glow from Guerlain's Florals Collection. Buy it at neimanmarcus.com.
This one makes my heart patter. Look at that bloom on the lipstick itself. The gorgeous color that this imparts to your lips is a flattering, warm-toned pink. I could own this one just for the joy of staring at it. And the good news is, you can buy it at Target. Buy it at target.com.
The beauty of this very reasonably priced bundle is that it contains a warm-toned, cool toned and neutral toned lipstick. With a lovely satin finish and cute cardboard cases dotted with spring flowers, these lipsticks will take you anywhere. Buy them at colortheworld.com.
Flower Beauty Perfect Pout Moisturizing Lipstick
Orchid is a beautiful cool-toned red/pink from Flower Beauty. And you won't pay Neiman Marcus prices for these. Flower Beauty lipsticks are available at CVS for around $10. Buy it at cvs.com.
Spring will truly have sprung when you wear this ultra-flattering shade called Blushing Peony. If you are not sure of your skin undertone, this is a neutral-toned lipstick. It is smudge and transfer resistant in a light-reflecting satin finish. Buy it at ulta.com.
As an affiliate of various retailers, Blue Hare may make a commission on purchases made through some of the links on this page. Thank you for supporting Blue Hare.
* * *
You might also like
Go to the BLUE HARE home page for more articles for fabulous women like you.