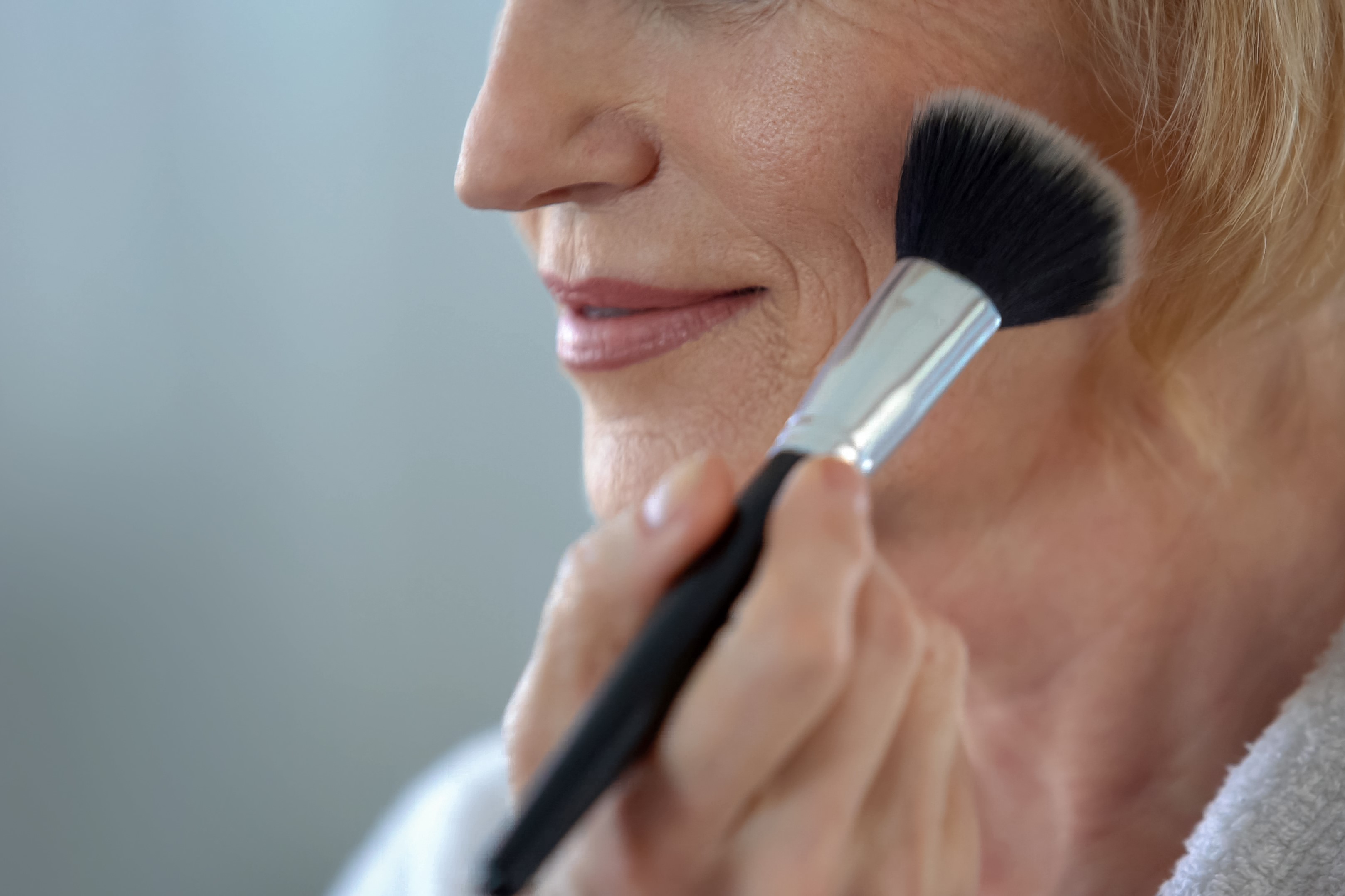 Have you noticed lately that your foundation, which used to give you flawless, velvet-smooth skin, now looks more like a pitted lava field? There's a reason for that. And a technique–buffing–that can roll back the years.
As we age, age our skin becomes thinner and dryer.  When our skin is dry and no longer plumped up by collagen, our pores become more visible. So now when you apply foundation it's accentuating your pores rather than covering them up.  That's because as our pores become larger, the foundation tends to sit on our skin rather than fill in our pores.
You may have attributed this effect to your foundation.  You may have searched, at great expense, to find one that doesn't accentuate pores.  But it's not the fault of your foundation.  It's all in the application.  We found a simple buffing technique for applying foundation that promises a smooth, flawless look to your skin.
_________________________________________________________
_________________________________________________________
What you will need
Before we explain the technique, there are a few getting-started items to note.
You need a good magnifying mirror. If you haven't purchased that 7X magnification mirror now is the time to do it. In this mirror, you will see the results of your buffing and how your pores have virtually disappeared.
You do not need a special foundation. A high-quality foundation geared to your skin type will work with this technique.
You need a good foundation blending brush. A blush or powder brush does not work for this technique so you may have to shop for a specific brush.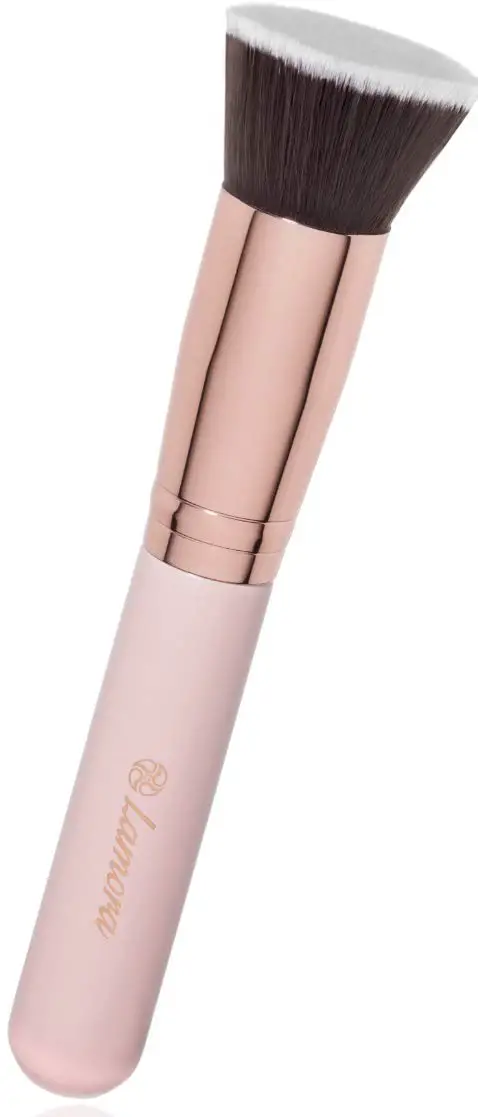 It has stubby, firm, short bristles.  The bristles will be dense and firmly packed.  You are going to be buffing your face, so long, wispy bristles will not work.  Notice how buffing brushes tend to have a flat top unlike other brushes.  Most of the cosmetic companies sell these brushes and Amazon and Sephora have good selections of foundation brushes at reasonable prices.
Do not apply foundation over your entire face. As teenagers we may have spent a lot of time applying loads of foundation to our faces with big, eager strokes. We didn't need it then, but we didn't know.  As we age, we can't get away with this.  The goal of foundation is not really to cover anything up; it evens skin tone and makes you look refreshed.  The less you use, the better.
_________________________________________________________
_________________________________________________________
The buffing technique
Buffing is a really smart technique that can absolutely give you the appearance of an airbrushed face. but with a natural look. To keep things real (i.e., your skin looking like skin), your makeup needs to be buffed in. This means applying your foundation, then making small circular motions with a flat-topped makeup brush to gently push the product into your skin. It should look and feel seamless, as if it's melted in instead of just sitting on top.
The technique works best used just where your pores are visible. You want to look real and approachable and not like a mannequin. As Wayne Goss, the well-known British makeup artist, says, "Pretty as it looks, in pictures of your life it can be a bit disturbing."
How to buff your foundation for a flawless appearance
Moisturize and exfoliate first.

In good light, using your magnifying mirror, dot your foundation onto moisturized skin.

Don't put foundation all over your face; dot it only onto the areas you want to camouflage, such as redness across the cheeks, and around the nose, and on any age spots.

Use less foundation rather than more.

You can always add more later if needed.

Use your buffing brush to buff the dotted areas.

Use a circular motion with a gentle but firm touch.

Buff until your foundation evens out your skin tone.

You will notice that your pores disappear. Add more foundation if needed. But remember, your goal is not to cover up.

Admire the air brushed look you have achieved in your magnifying mirror.
For a demonstration of how to use this technique, watch Wayne Goss' video on how to buff your face with foundation.
Buff your way to flawless skin.  This technique could well become the way you apply foundation in the future.
 *     *     *
You may also like
Go to the Blue Hare homepage for more articles for fabulous women