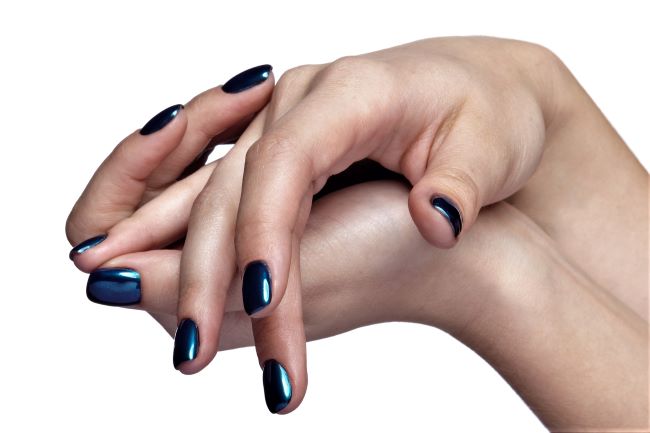 Dark nail polish is tailor-made for women over 60. It is classic, dramatic, elegant and perfect for mature women. Dark polish says sophisticated, confident and self-assured.  There is nothing light, cute or playful about this look. Simply said, this is not your granddaughter's nail polish.
The beauty of dark polish is that it stands on its own. It's perfect for the holidays.  With a simple jewel toned dress and understated jewelry, your polished nails will complete the look: timeless, classic and elegant.
————————-
————————-
Some things to know about wearing dark nail polish
Your manicure must be impeccable
You don't quickly slap on this look on before you run out the door.  Light polish is more forgiving; dark polish will underscore every mistake.  Unless you are very skillful and sure handed, this polish falls into the "don't try this at home" category. Leave this job to a skilled manicurist. You will be happy you did.
Dark polish stains your nails
Have your manicurist use two coats of base coat. Dark polish will turn your natural nails yellow unless they are protected by a good base coat.  Also, it's a good practice to rotate your manicures from dark polish to light. This gives your nails a chance to go back to their natural color.
Keep your look simple
Your dramatic nail color and manicured hands will be a focal point of your look.  So, keep your outfit classic and fuss-free.  With too much going on, the eye doesn't know where to look and the drama of your hands will be lost.
Just in time for the holidays: the season's most beautiful dark polishes
We have chosen some of the most iconic and beloved dark polishes.  The colors range from black to navy to burgundy to deep forest green.  Most of them run on the expensive side…but so will your look.
————————-
————————-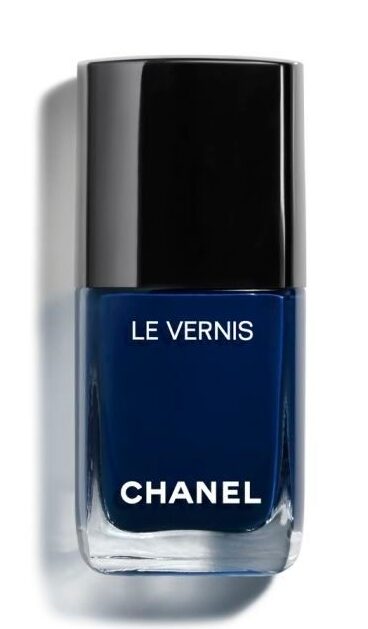 Chanel's Le Vernis protective nail polishes are formulated to last long while showcasing dazzling, vibrant colors. Long-wearing, extra-fine and ultra-shiny, each coat offers an absolutely even and lacquered result. This rich, dark nautical navy is available at Chanel.com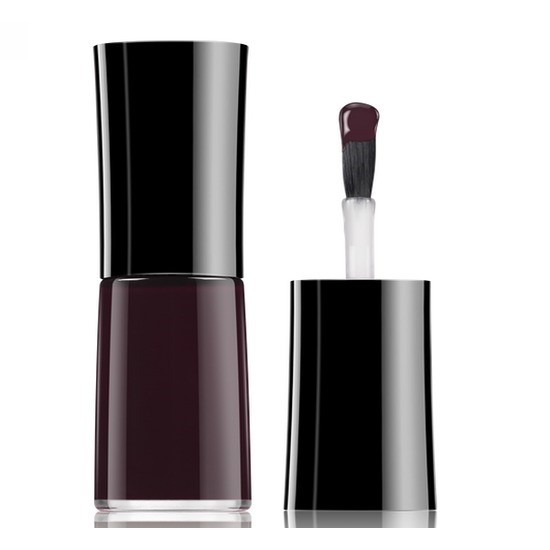 Giorgio Armani nail lacquers have a reputation for their high shine and long-lasting wear. And their most recent formulation makes them even easier to apply. This moody, dark cream polish is available at giorgioarmanibeauty-usa.com
Dior Nail Polish Nuit 1947 
Infused with peony and pistachio extracts, Dior's Vernis formula enhances nails with shades harmoniously pigmented and more couture than ever, inspired by the trends and the latest creations from the House of Dior. This dark red polish is reminiscent of film noir and aptly named 1947. Available at department stores and Dior.com
————————
————————-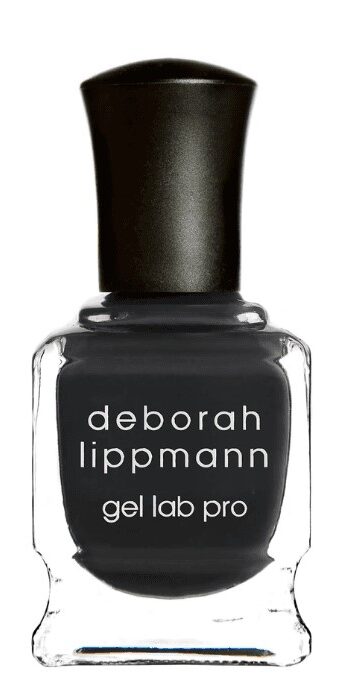 Gel Lab Pro Color is the healthy alternative to gel polish. It delivers the gloss and cushion of a gel manicure without the nail damage. Contains Evening Primrose, Keratin, Biotin, Green Tea Extract, Aucoumea, and Rice Protein to pamper your nails. This stormy grey almost black color is available at deborahlippmann.com
A dark, dark hunter green with a wildly creative name, it's one of many colors in OPI's Scotland collection. This nail lacquer is the original nail polish formula that is the preferred choice for those who update their manicures weekly. Apply two coats for maximum richness. Available at opi.com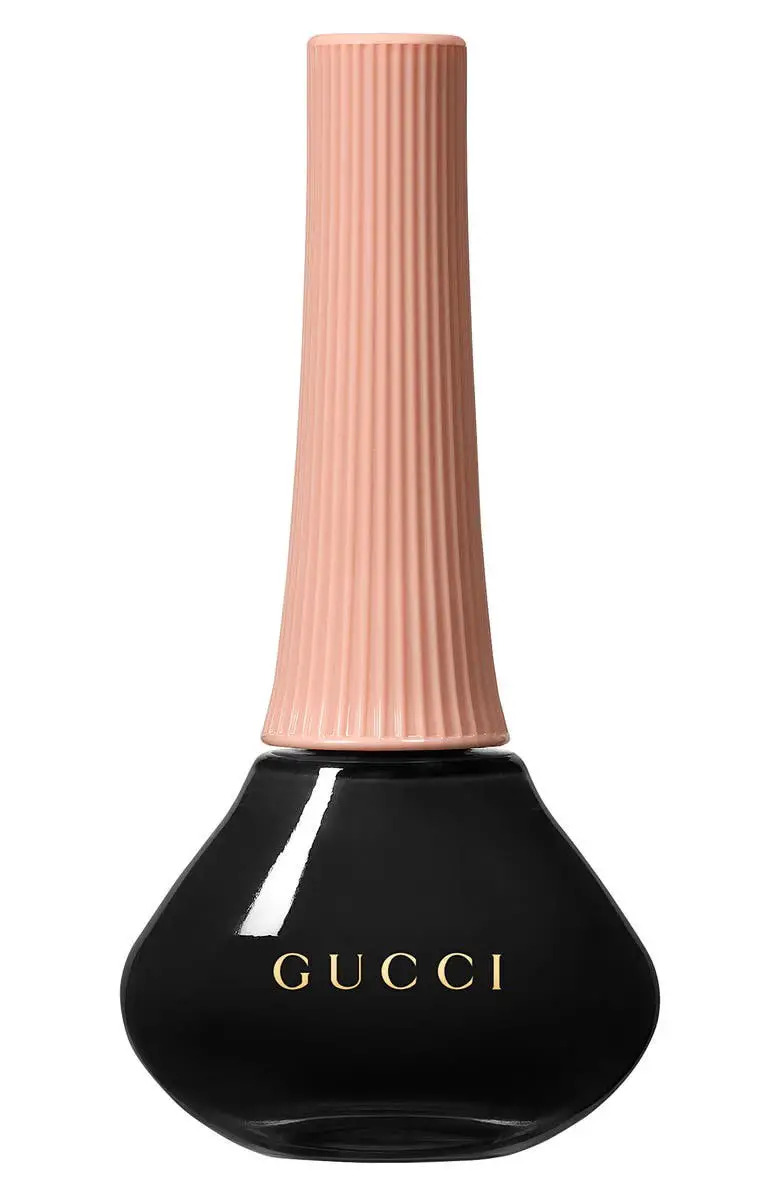 From the House of Gucci, this brilliant and intense dark black nail polish delivers long-lasting gloss and shine. Its plant-based formula goes on extra smooth while offering high coverage from the very first coat. Made in France. Available at Nordstrom.com
————————-
————————-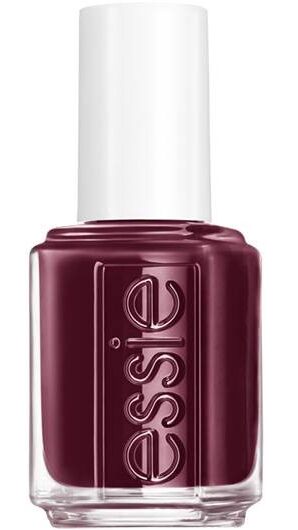 For more than 35 years, Essie has been the go-to nail polish for salon professionals, industry insiders and fashion icons. This warm deep plum nail polish is available at Amazon.com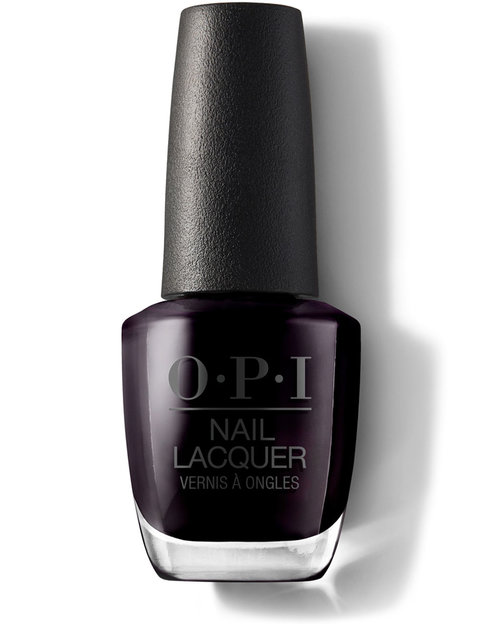 This aubergine, near-black crème is perfect for nights out on the town. OPI's Nail Lacquer dries fast and lasts for up to a week of wear.  Available at opi.com.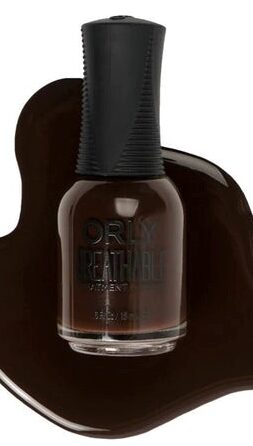 This rich winter brown polish is infused with Argan Oil, Pro-Vitamin B5 + Vitamin C for stronger, healthier-looking nails. Available at orlybeauty.com
Butter London Patent Shine 10X Earl Grey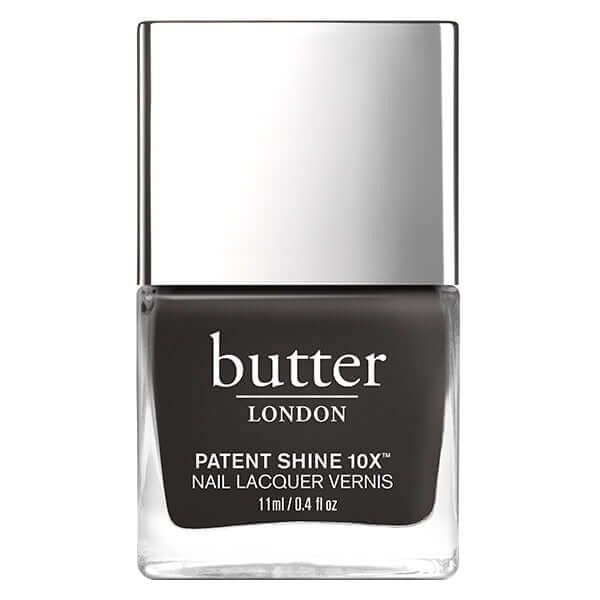 Butter London's Patent Shine 10X in Earl Grey is perfect for holiday gatherings. This almost black crème nail lacquer gives nails a posh and polished appearance for every occasion. Available at butterlondon.com
 *     *     *
You may also like
Go to the Blue Hare home page for more articles for fabulous women