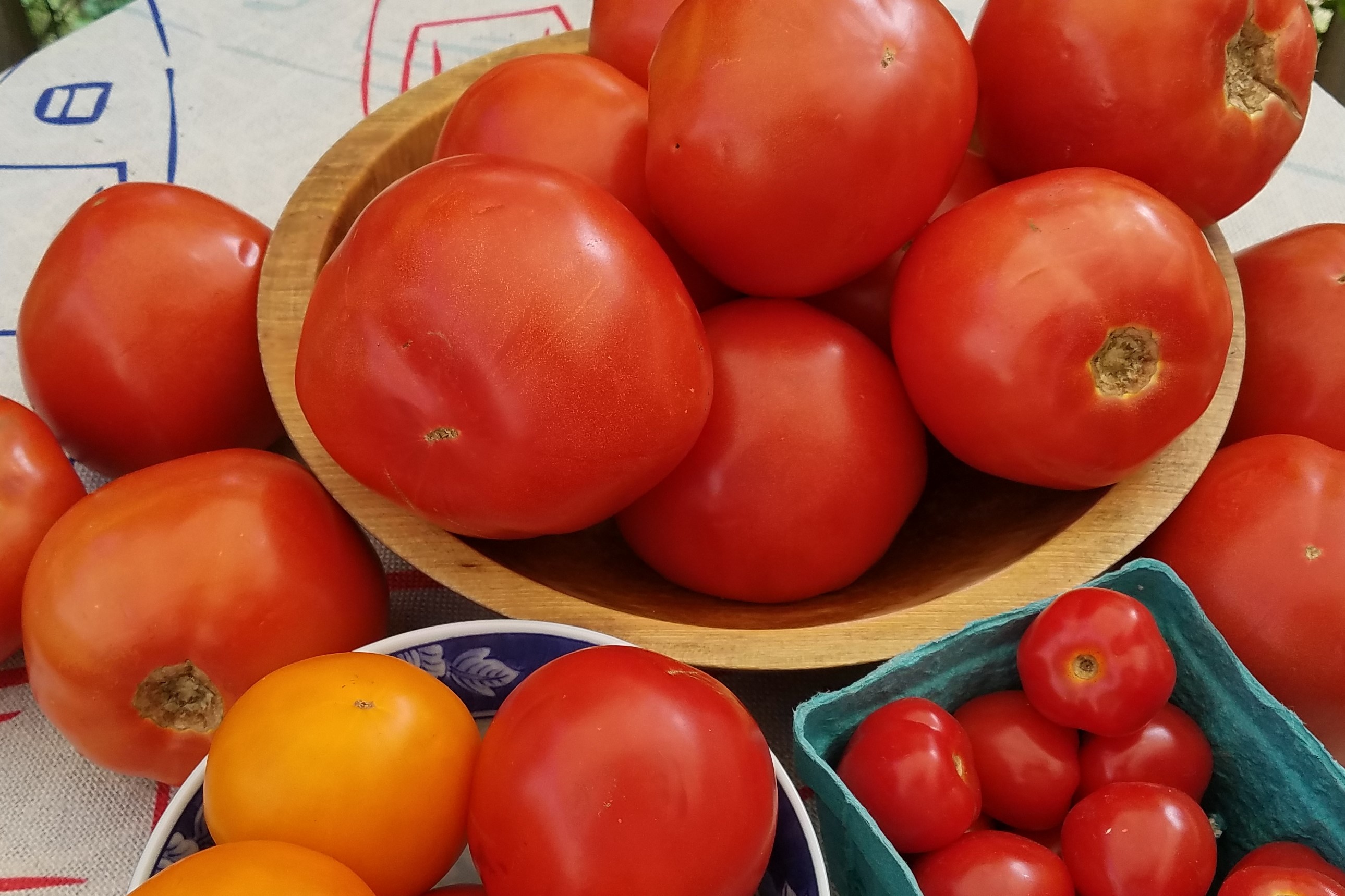 Who doesn't leap for joy at the sight of the first local tomatoes at a farm stand? For six to eight precious weeks we have at our command Beefsteaks, Romas, Big Boys, cherry, grape, and the odd basket of heirlooms. Naturally you buy too many, and by the middle of the week some of them begin to look a little sad. What to do? Cook them.
Tomatoes have a rich life beyond the salad bowl. They can be stuffed and baked, slow roasted into a luscious confit, turned into a pie or tart, or whipped into a quick sauce. And you'll load up on the antioxidant lycopene, which has been linked to many health benefits, including reduced risk of heart disease and cancer.
While cooking reduces the amount of Vitamin C tomatoes contain, it substantially raises the levels of beneficial compounds called phytochemicals, including lycopene.  Lycopene devours more than 10 times more oxygenated free radicals than vitamin E.
In a study published in the Journal of Agriculture and Food Science, Rui Hai Liu, M.D., Cornell assistant professor of food science, notes, "This research demonstrates that heat processing actually enhanced the nutritional value of tomatoes by increasing the lycopene content — a phytochemical that makes tomatoes red — that can be absorbed by the body, as well as the total antioxidant activity. The research dispels the popular notion that processed fruits and vegetables have lower nutritional value than fresh produce."
Blue Hare likes nothing better than finding ways to combine health with delicious food. We rounded up a few of the recipes we make over and over again until the last tomato ushers out the last vestiges of summer. It's all about health, after all.
(Recipes at the bottom.)
Tomates Farcies à la Crème de Ricotta

(Tomatoes stuffed with ricotta cheese)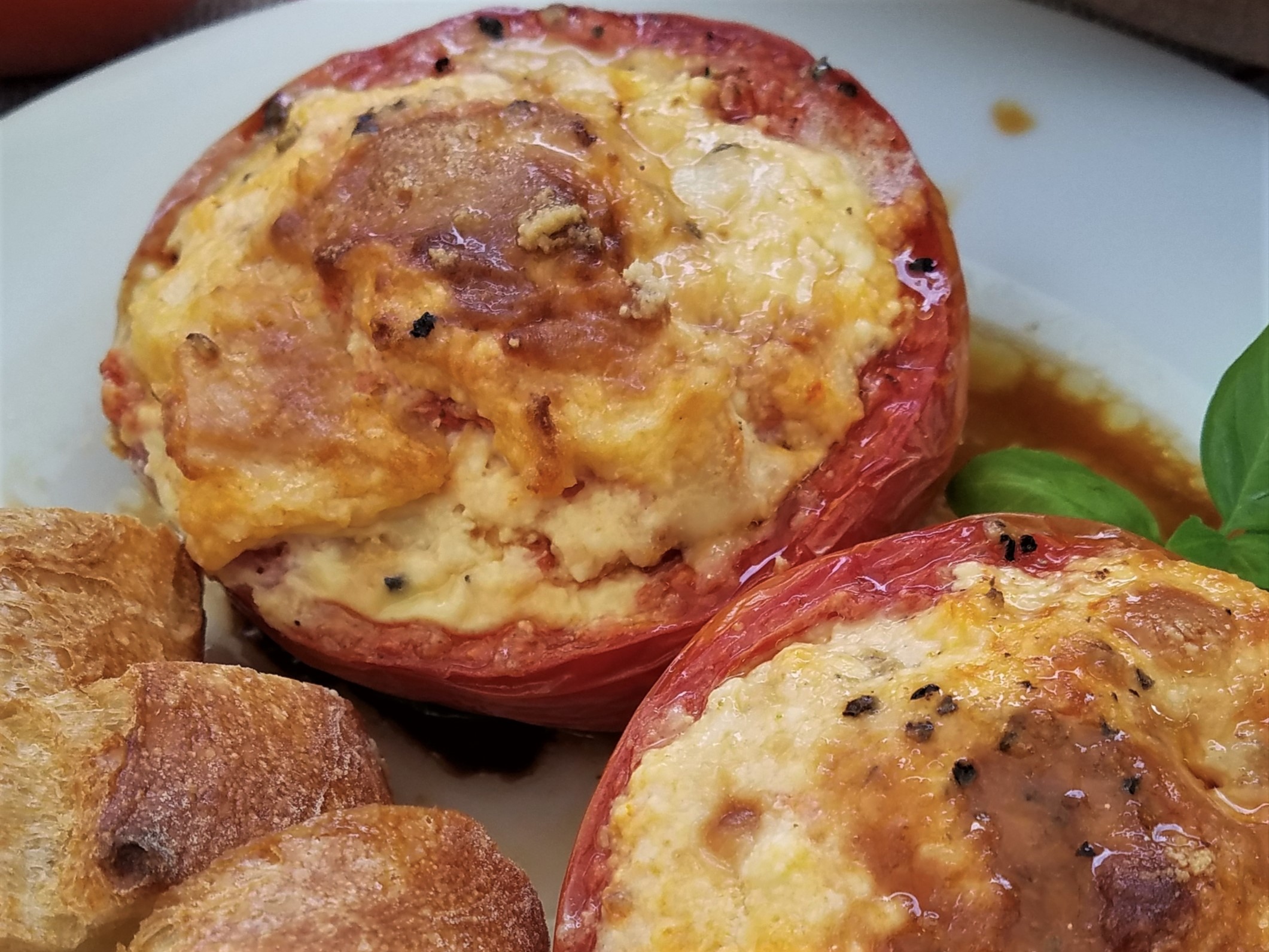 In France, tomatoes are stuffed with meats, vegetables, rice, cheese, and mixtures thereof, and baked until their flavors melt together in an orb of deliciousness on your plate.  We looked to Provence for inspiration and found the recipe for these ricotta-and-cheese stuffed tomatoes in an old issue of Cuisine Actuelle.  Enjoy them as a first course followed by grilled fish or sausages, or as a light main course with bread, olives, and a green salad. Pour a glass of chilled rose, close your eyes, and imagine rows of lavender as far as you can see.
French Tomato Tart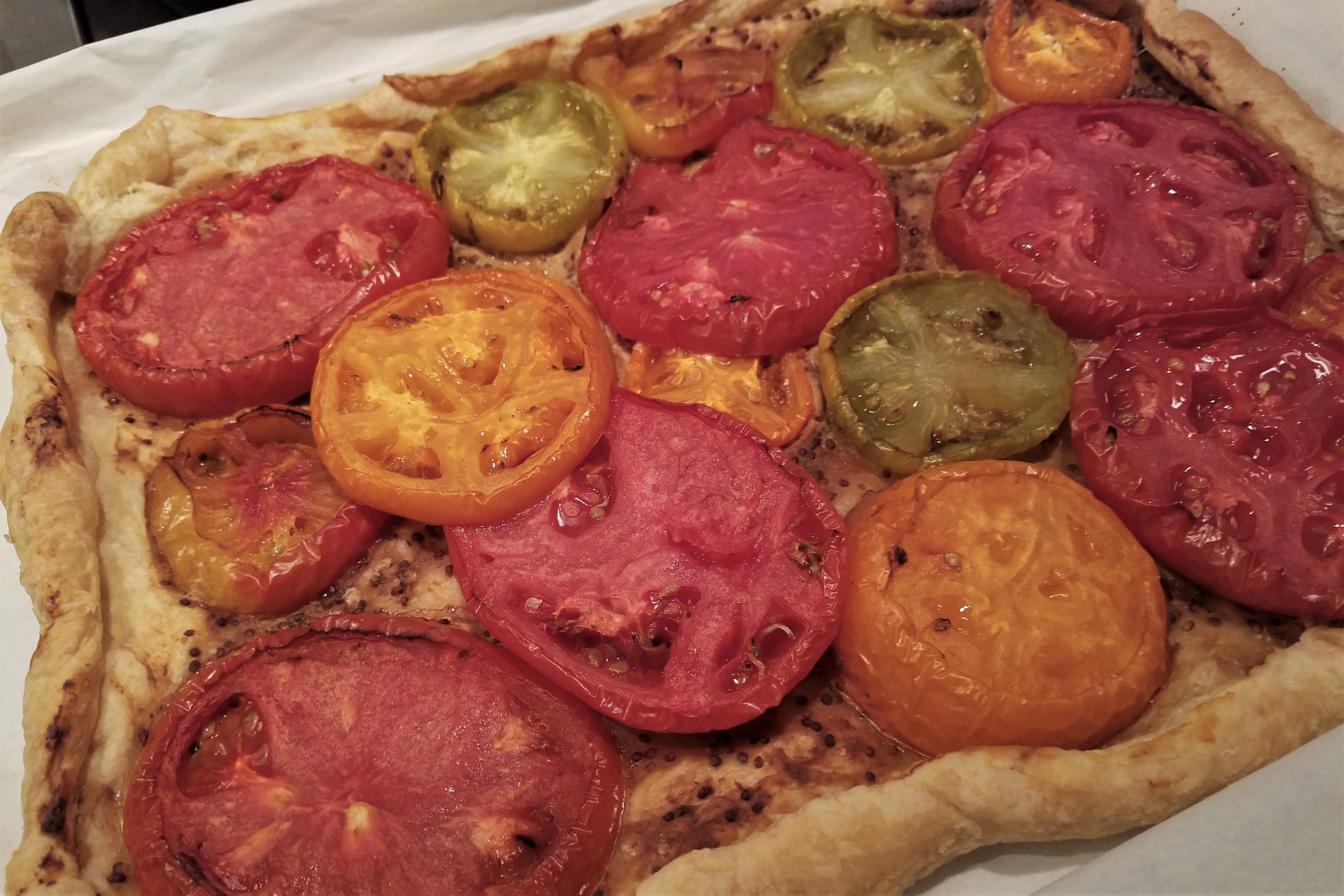 A tomato tart is a thing of beauty, simple to prepare and certain to wow your guests, your family, yourself. Pastry, sharp Dijon mustard, and tomatoes at the height of their season – these three simple ingredients make an exceptional dish. It looks impressive yet couldn't be easier to assemble. Use a variety of colors and sizes to create a colorful palette, or line up rows of perfect red circles for an architectural look.  The shape can be round or rectangular or rustic. Cut into small squares for hors d'oeuvres or larger slices for lunch or a first course. Best served right out of the oven while the crust is crisp.
Tomato Crumble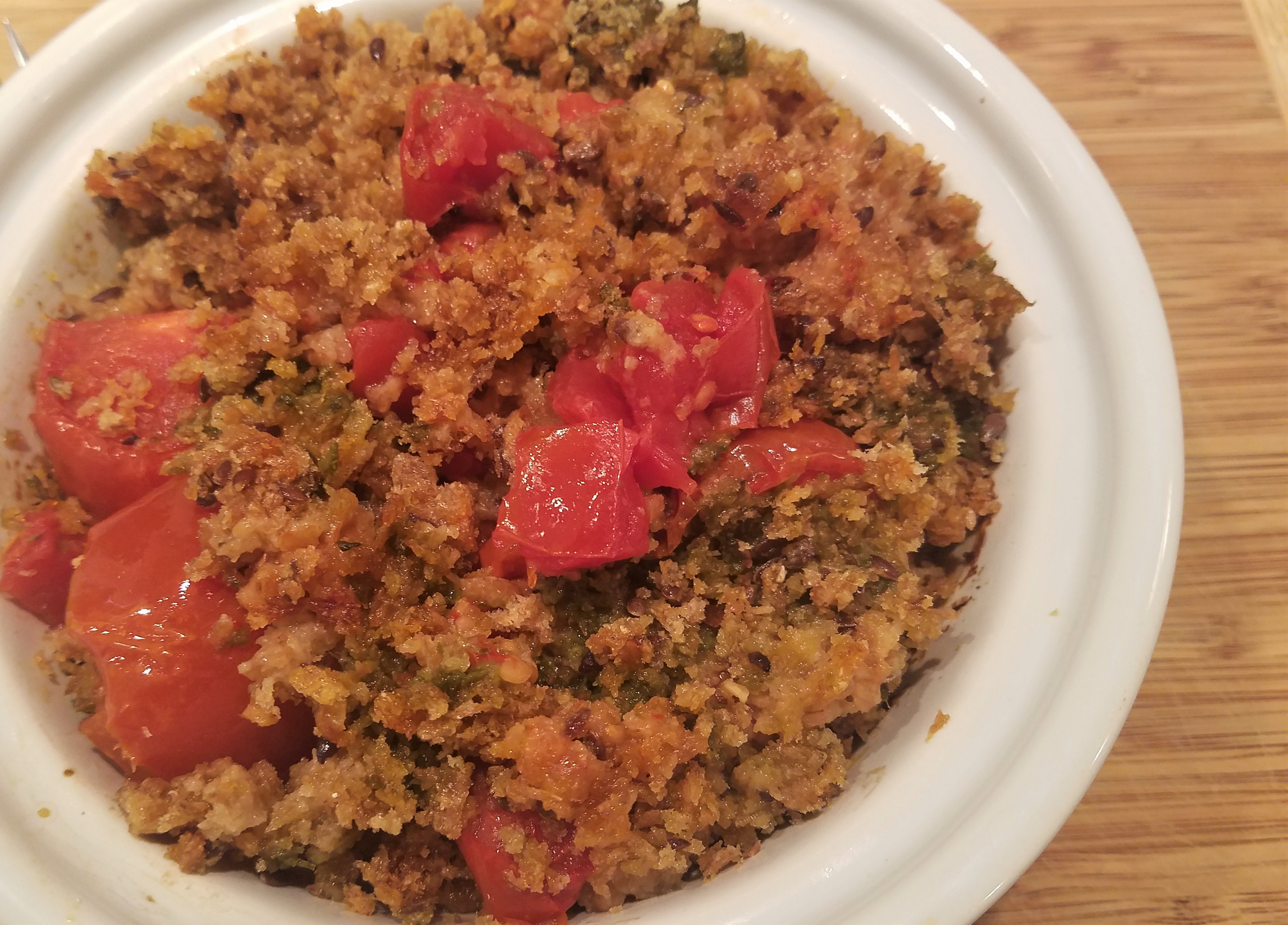 Think of a summer fruit crumble, but savory and with tomatoes instead of peaches or apples.  Tomatoes roast slowly for an hour before being topped with a thin layer of pesto and a fresh breadcrumb. mixture. The recipe is so flexible there are no quantities indicated.  Just use your best judgment to create the dish that most appeals to you.
Recipe for Tomates Farcies à la Crème de Ricotta
Ingredients
4 large ripe but firm tomatoes
1 C. fresh bread, diced (baguette, Pullman)
1 C. fresh ricotta
2 eggs
¼ C.  grated Parmesan cheese
2 T. extra virgin olive oil
Salt and pepper
Ground nutmeg
Directions
Cut tomatoes in half. Using a Parisian scoop (melon baller) or other spoon, remove the pulp from each tomato half, leaving a wall of about 3/8".
Empty the pulp into a mixing bowl, stir in bread cubes, and set aside. (Drain some of the liquid if there is excess.)
Salt the interior of the tomatoes and turn upside down on a rack or on paper towels to drain for about 30 minutes.
Preheat the oven to 400° F.
Add the ricotta and eggs to the tomato pulp/bread mixture in the bowl. Add half the Parmesan, salt, pepper, and 2 pinches of nutmeg and mix with a wooden spoon to combine.
Using a paper towel, blot the inside of the tomato halves, then stuff the tomatoes with the cheese mixture.
Use 1 T. olive oil to coat bottom of a roasting pan large enough to fit all of the tomatoes. Place tomatoes in the pan, sprinkle with remaining Parmesan and drizzle remaining olive oil over the tops.
Bake for 35 to 40 minutes, or until tops are lightly browned.
Serves 4
   *     *     *
Recipe for French Tomato Tart
Ingredients
1 sheet puff pastry dough
2-3 large tomatoes
1-2 smaller tomatoes
3-4 tablespoons plain Dijon mustard (Our favorite is Maille.)
Freshly ground pepper
Flaky sea salt
1 large egg, lightly beaten, for egg washing the edges of the tart
Directions
Preheat oven to 400˚F. Line a baking tray with parchment paper.
Slice tomatoes into ½ inch slices. Place them in a single layer on a baking tray lined with paper towels and cover with a single layer of paper towel. This will help prevent the tart from becoming too soggy when it's cooked.
Remove pastry from the fridge and let it sit for about 10 minutes so it's easier to work. Roll out the pastry to an approximately 10 x 14-inch rectangle. Place the pastry on the parchment-paper lined baking tray.
Spread the mustard evenly around the pastry base, leaving approximately 2-inches (5 cm) around the edge.
Layer the tomatoes in a single layer over the mustard. Fill in the gaps with the smaller slices of tomato to create a decorative pattern.
Sprinkle the salt and pepper on top of the tomatoes. Tuck the pastry edges around the tomatoes.
Bake until the tomatoes are roasted, the edges of the tart are golden brown and the bottom is cooked through, approximately 45 minutes.
Remove from the oven and allow to cool slightly on a wire cooling rack. Serve warm or at room temperature.
Serves 9 as appetizer, 6 as light lunch
   *     *     *
Recipe for Tomato Crumble
Ingredients
1 1/2 to 2 lbs. plum tomatoes (or any other cooking tomato–not heirlooms). Amount will depend on the size of your casserole.
Sugar
Salt
Pepper
Extra virgin olive oil
Fresh bread, torn into pieces. Use white Pullman, baguette, or whole grain bread.
2 to 3 T. cold butter, cut into small cubes
1/4 C. grated Parmesan cheese, or use grated Pecorino
Basil pesto
Directions
Slice plum tomatoes into 1/2″ slices, enough to make a thick layer in a baking dish—9"x 9" or 11"x 14" or round casserole. Sprinkle the tomatoes with a little sugar, salt, pepper, and olive oil and roast uncovered in a 325°F. oven for about an hour, or until they have wilted.
While the tomatoes are roasting, add bread pieces (anywhere from 2 to 3 cups), butter, and Parmesan cheese to a food processor. Pulse until mixture resembles moist crumbs.
Remove tomatoes from the oven and spread a thin layer of pesto on top.  Spread a layer of the breadcrumb mixture over the pesto, then return the casserole to the oven and bake for another 30 minutes or until crumble is golden.
Serves 4 to 8, depending on size of baking dish
* * *
You may also like
Go to the Blue Hare homepage for more articles for fabulous women