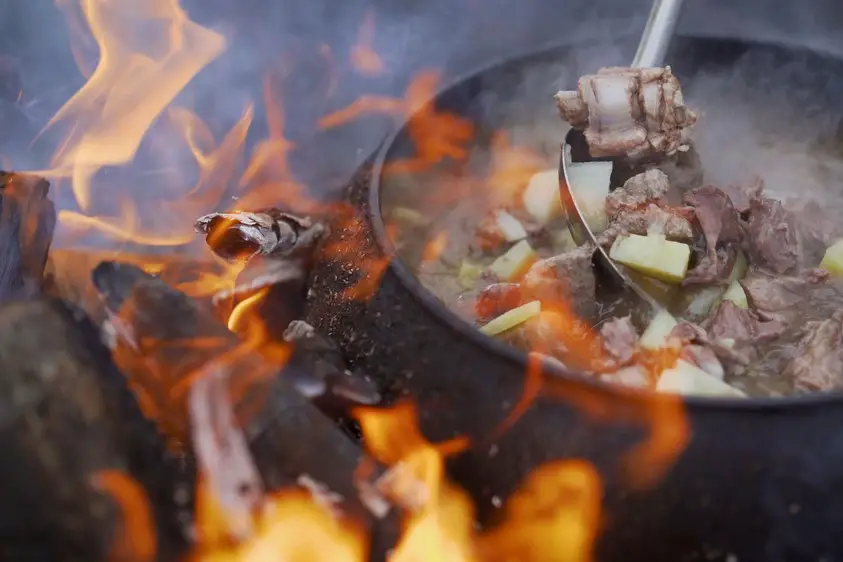 There may be nothing more comforting on a cold snowy day than a pot of beef stew simmering on the stove. After a brisk walk, the tantalizing aromas wafting from the kitchen fill our senses and promise to restore us, body and soul.
Stews undoubtedly date back to the discovery of fire and have evolved as peasant fare in nearly every corner of the globe. Sometimes professional chefs elevate the dish to a meal fit for the king. More often they have been refined over generations until they attain the status of national dish.
Since we were inspired to try something more than the recipe handed down from our mothers and grandmothers, we selected 11 dishes from around the world to fill out our winter menus. They range from noble Beef Stroganoff to the Gardiane of France's cowboy country.
All beef stews start in much the same way
The meat is briefly browned in fat for flavor, along with any other ingredients—onions and carrots form the backbone of most stews—then covered with liquid and left to cook gently until the meat is tender. Other ingredients like mushrooms, bacon, and other root vegetables are treated more as a garnish, added towards the end of a long braise.
There are secrets, though, to creating a sumptuous stew with meltingly tender meat and a sauce so flavorful you will sop up every last drop with a crust of bread.
Select the right cut of beef
Look for tough cuts of beef with plenty of collagen and fat.  Cook it long enough and it will transform into meltingly soft gelatin, giving the meat a moist and tender texture. Lean cuts like filet turn into tough, rubbery nuggets when cooked for three hours.
The best cuts for stew are chuck, followed by bone-in short ribs and second-cut brisket. Hard to find cuts like beef shin and bottom sirloin flap make excellent stews–if you can find them.
Buy the meat in one piece, not in pre-cut "stewing beef" packages. This gives you more control over the size of the pieces as you cut them yourself.
Choice of wine
Many recipes that call for wine are quite cavalier about it. But these recipes developed in specific regions use the local wines in their cooking. Grand crus are not necessary, but a decent, drinkable wine from the relevant locality can make an important, if subtle, difference.
Low and slow
Stews can be made on the stovetop or in the oven, but they were born for the slow cooker. Long, slow cooking at low temperatures–where the stew barely simmers–yields the most succulent result. And that is what you are looking for.
New York Times food writer Harold McGee explains in his book, The Curious Cook, "strands of beef collagen don't even begin to unravel until the temperature exceeds 140 F, and they don't dissolve into gelatin in any appreciable quantity below 180 F."
Avoid the temptation to add everything in the refrigerator
Sad to say but the term "stew" often means "I'll see what's in the refrigerator and throw it in the pot." And to be politically correct, we say there is nothing wrong with that. Except everything is wrong with it. To achieve the distinct flavor of a region's specialty it is important to follow the recipe closely. Sometimes an errant parsnip can throw off the whole flavor profile. Add a bunch of carrots to boeuf bourguignon and you end up with boeuf carrotte instead.
The recipes below are living examples of these principles as they play out in various corners of the world.
Boeuf Bourguignon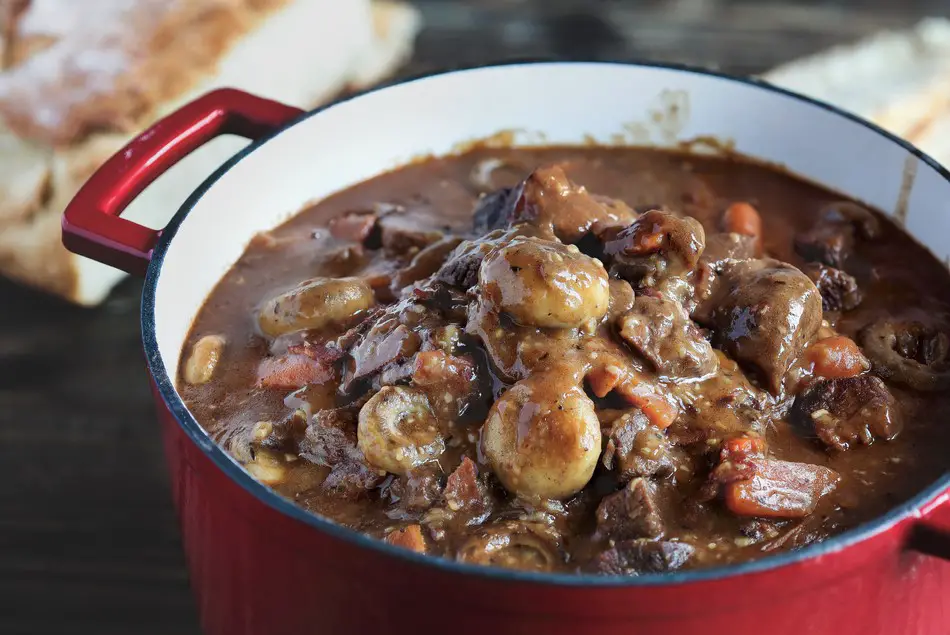 Boeuf (beef) bourguignon is the grande dame of beef stews. Originally a peasant dish from Eastern France, it was discovered and elevated by Escoffier, then translated for Americans by Julia Child. Julia's recipe calls for sizable pieces of beef that stew in a mixture of wine, broth, and some onions and a carrot for flavor. The sauce is strained after cooking, then rejoins the beef along with garnishes of braised pearl onions and sautéed mushrooms. Assembling everything at the end preserves the flavors of the individual components, which contrast and complement each other in the mouth.
Julia Child's recipe for Beouf Bourguinon: food.com
Carbonnade a la Flamande (Flemish Beef and Beer Stew)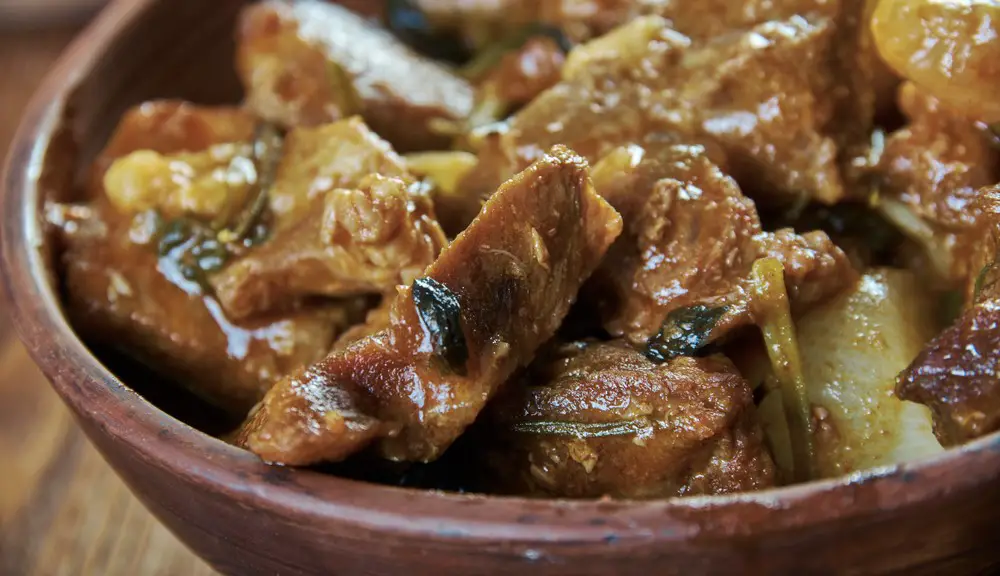 Carbonnade is a Flemish beef and onion stew that relies on the deep, dark flavor of Belgian abbey-style beer for its distinctive character. It is a favorite in Belgium and French Flanders, the north western area of France that borders Belgium, and where dialects of the Flemish language are still spoken. Carbonnade is served with French fries, boiled potatoes, or crusty bread.
Recipe for Carbonnade: saveur.com
Gardiane La Camargue (Beef Stew with Black Olives)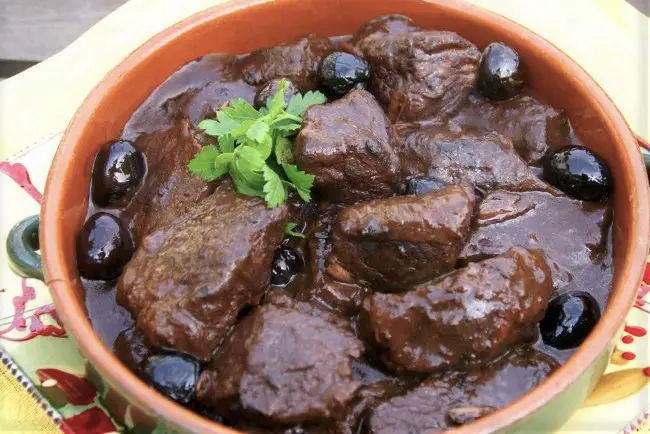 The Camargue is a wetlands area located south of Arles, France, between the Mediterranean Sea and the two arms of the Rhône River delta. Camargue is famous for its pink flamingos, fighting black bulls, and wild white horses. National Geographic calls the place the Wild West of France, with local cowboys herding and rounding up the bulls, many of which are then shipped to Spain.
One of the most popular regional dishes is the gardiane, a hearty wine-infused stew of beef (or bull meat; traditionally, the gardiane is made with meat from the bulls of the Camargue: neck, cheek, flank) and Provencal black olives. The best wine will be a full-bodied Corbières from the Languedoc-Roussillon region of southern France, or a Côtes du Rhône from the Gard.
Recipe for Gardiane La Camargue: rivercottagefarm.net or find it in Patricia Wells' Bistro Cooking cookbook, 
Alcatra – Portuguese Pot Roast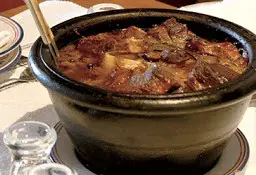 The Azorean Portuguese from the Island of Terceira are famous for this unique dish. Simply seasoned with allspice, pepper, salt and bay leaf, it is traditionally served on the Feast of the Holy Ghost, but can be served on other occasions as well.
Cooked in red wine, the meat takes on a deep mahogany color. This recipe from portuguesediner.com originally was published in the cookbook Portuguese Homestyle Cooking by Ana Patuleia Ortins. It was traditionally cooked in a clay pot, but a heavy Dutch oven or a slow cooker with a porcelain insert will do just fine.
Recipe for Alcatra: portuguesediner.com
Beef Stew with Red Wine and Vegetables à la Marcella Hazan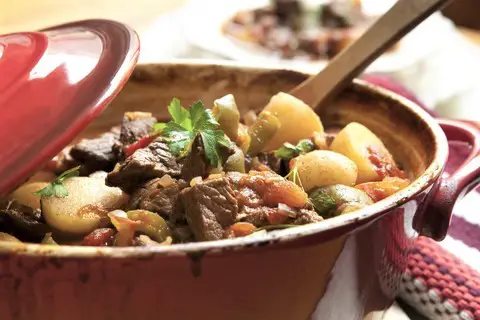 Not often will you find a recipe for Italian food that does not include tomatoes–unless you look to Marcella Hazan, the "Julia Child" of Italian cooking. Marcella introduced Americans to the wide variety of cooking styles to be found across the peninsula in her cookbook, Essentials of Classic Italian Cooking. Her expertise is rooted in that of the north, where she was born and lived during WWII.
Her recipe for this beef stew with red wine and vegetables has few ingredients and is deceptively simple. But as with all Marcella recipes, the result will be outstanding if you follow the recipe closely. Serve with grilled or roasted polenta.
Recipe for beef stew with red wine and vegetables: adrianaskitchen.blogspot.com
Beef Stifado (Greek Beef Stew)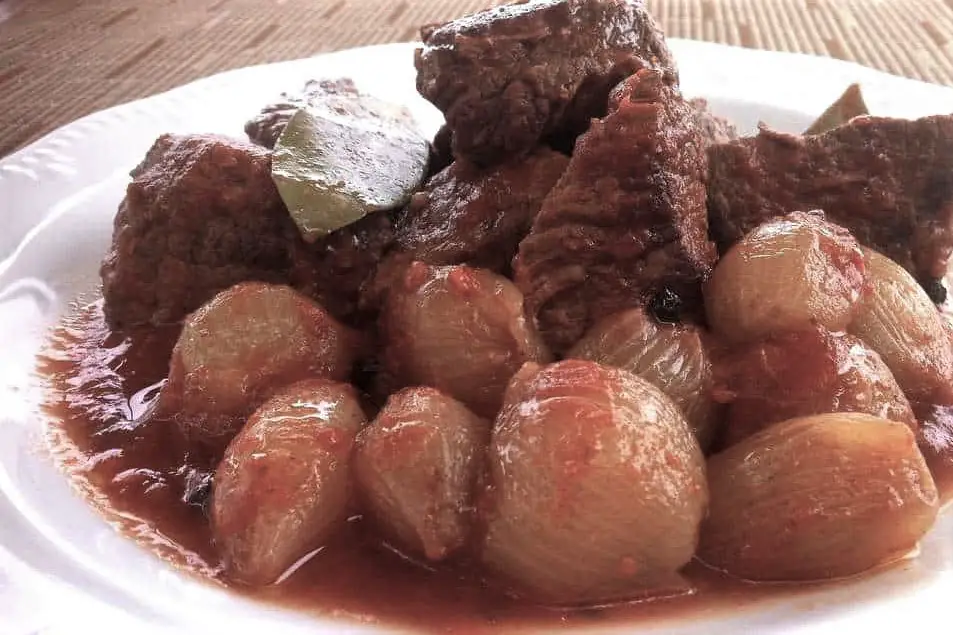 Stifado is a hearty Greek one-pot stew made with large amounts of onions, tomatoes, wine or vinegar, and sometimes garlic. Some add mushrooms or warming spices such as cinnamon, cloves, and allspice. The use of spices and the name of the dish–stufato, meaning stewed in Italian–point to an Italian influence, possibly Venetian. Or brought to Greece during the exodus from Constantinople during the Ottoman takeover of the Levant.
Stifado is served with orzo pasta or simply with some crusty bread to soak up the delicious sauce.
Recipe for Greek stifado: mygreekdish.com
Hungarian Goulash (Gulyas)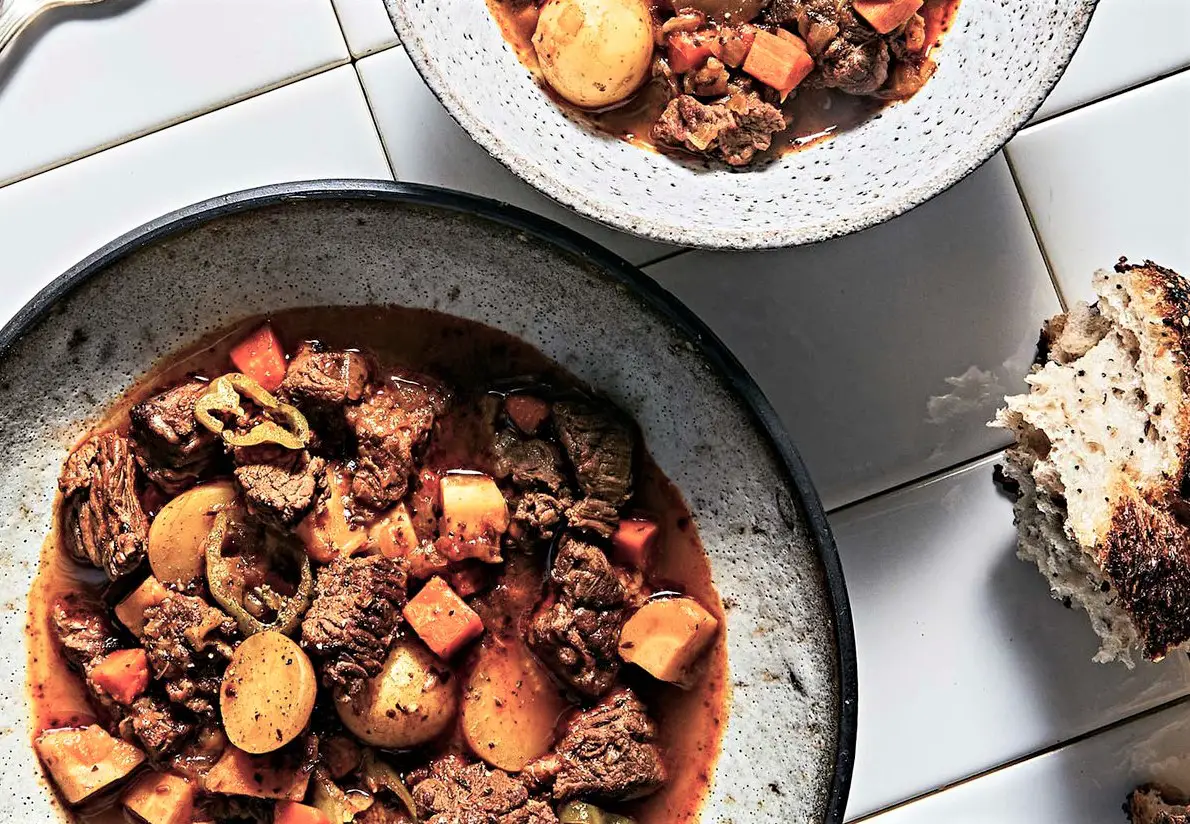 It is possible that goulash is the national dish of Hungary, although it has spread to nations around the world. Goulash–or gulyás–is a rich soup of meat and vegetables seasoned with paprika. (Gulyá translates literally to a herd of cows, and gulyás are the herdsmen. More cowboy food.)
It is  not a stew in the classic sense. The flavors deepen and the soup concentrates as it simmers, with help from the natural starch in the potatoes and collagen in the beef. Caraway and onions are essential building blocks for a proper gulyás. The meat could be beef (neck or shoulder), although it can also be made with pork. Vegetables could include peppers, carrots, potato, and paprika—or even parsnips.
Goulash is traditionally served with egg noodles.
Recipe for Goulash: saveur.com
Szechuan Red-cooked Beef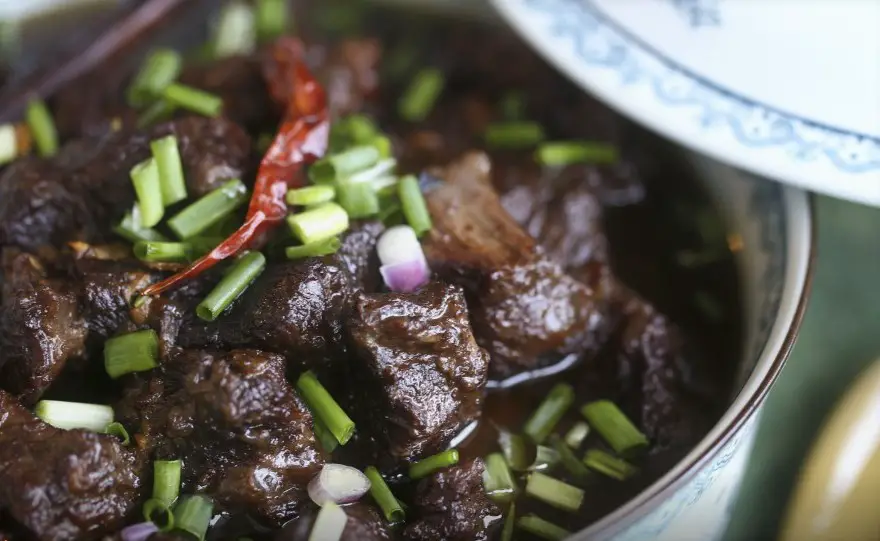 Red-cooked beef is a Chinese beef stew — made by simmering well-marbled beef in a combination of soy sauce, cinnamon, star anise, tangerine peel, and chilies. Red cooking is popular throughout most of northern, eastern, and southeastern China. The name is derived from the dark red-brown coloration of the cooked ingredients and its sauce.
It is traditionally cooked in a wok, but instead of a quick high-heat stir-fry, it is a slow braise, more like a savory stew. It can be made successfully in a Dutch oven.
Red cooking may be heavy in meat content, so a side of dry-fried long beans makes a nice accompaniment. Serve with long life noodles for good luck.
Recipe for red-cooked beef: scmp.com
Ropa Vieja (Cuban Beef Stew)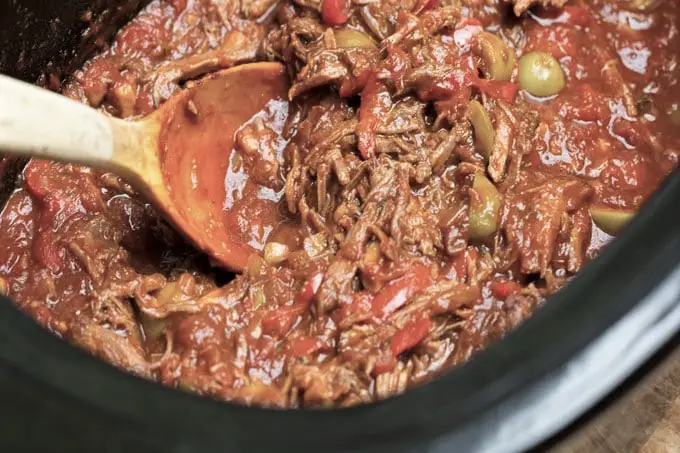 Ropa vieja–shredded beef stew– is Cuba's national dish. According to panningtheglobe.com, "Ropa vieja means 'old clothes' in Spanish. Old clothes tend to be shredded and so is the beef in this stew, hence the name." But don't let that put you off.
Typically this dish is made with flank steak, which is lean and has long, shredable fibers, but it can be a bit tough, even after it has been braised for a long time. Chuck roast, on the other hand, produces a tender and rich dish. Once cooked the meat is torn–in the way you would make pulled pork–until it is shredded and incorporated into the sauce.
Serve with rice, fried plantains, and Cuban black beans alongside.
Recipe at panningtheglobe.com
Beef Stroganoff (Govjadina po-strogonovski)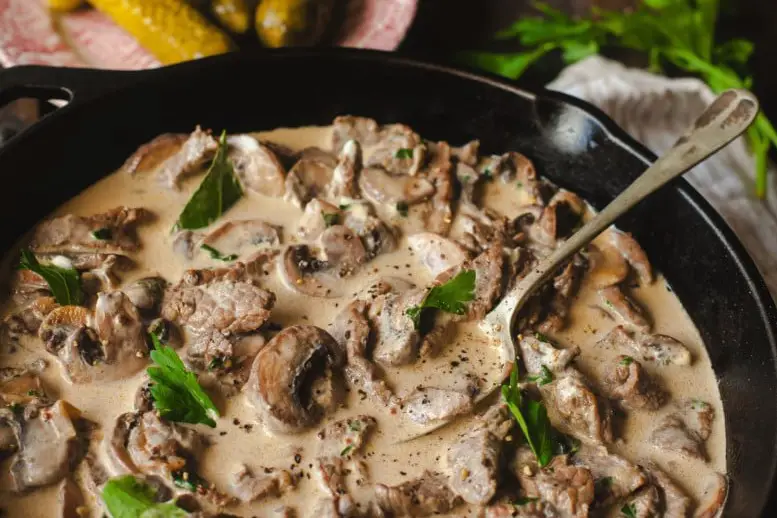 Beef Stroganoff (or Stroganov) is a Russian dish of sautéed pieces of beef served in a sour cream-based sauce. The dish is named after one of the members of the Russian noble Stroganov family.
It is a refined version of older Russian dishes. Beef Stroganoff is a dish that has traveled the world, resulting in countless variations. Some use strips of beef filet. Others more closely resemble a stew and use a cut like top round, which we suggest if using in a slow cooker. In the United States, most versions of beef Stroganoff also include onions and mushrooms.
The traditional accompaniment in Russia is shoe-string potatoes, but egg noodles are more common in the United States.
Recipe for Beef Stroganoff: vikalinka.com.
Classic British Beef Stew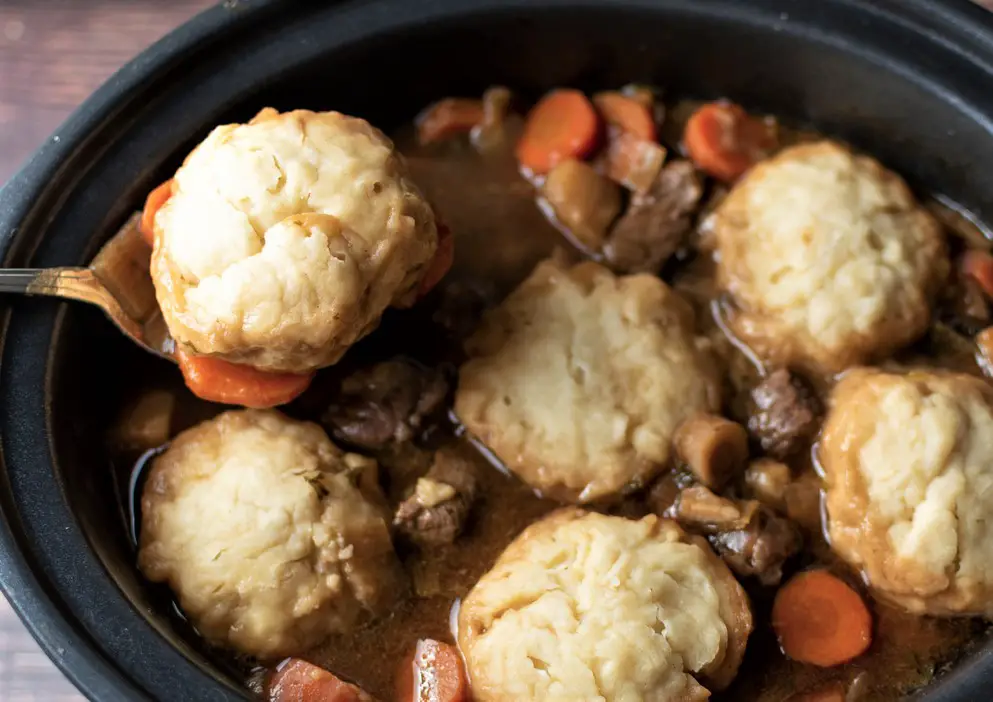 In 2011 The Guardian newspaper asked the question, "Can British beef stew hold its head high in the face of the international competition?"
Felicity Cloake, who wrote the story, consulted noted British and Irish cooks–among them Jane Grigson, Darina Allen, Hugh Fearnley-Whittingstall, and Francatelli, formerly chief cook to Queen Victoria–to unearth the perfect beef stew.
The article is long and comprehensive and well worth reading. Her takeaways, in a nutshell:
Use beef shin rather than stewing meat for the "gorgeous silky gelatinous texture of the shin" and unctuous gravy.
For a truly British flavor use half stout, half stock for the braising liquid.
No garlic here. Carrots, turnips, bay leaf, and thyme provide gentle seasoning without overpowering the rich beefiness of the dish.
Instead of using a thickening agent like flour, make some suet dumplings and drop them into the stew for the last half hour of cooking.
Recipe for classic British beef stew: theguardian.com
*     *     *